Stuff & Nonsense #45: Beginning to See the Light (DANGEROUS ENDS is out tomorrow!)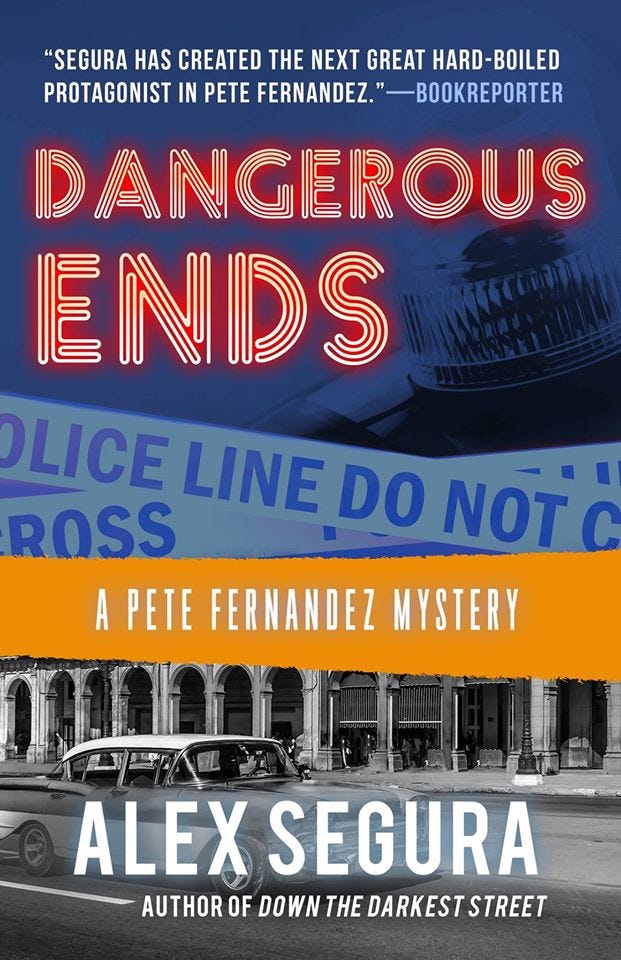 Hi there. Hope you're doing great.

"ICYMI," Dangerous Ends, my third Pete Fernandez Miami Mystery hits tomorrow from Polis Books.

What's it about? Glad you asked:
Pete Fernandez has settled into an easy, if somewhat boring life as a P.I. He takes pictures of cheating husbands. He tracks criminals who've skipped bail and he attends weekly AA meetings. The days of chasing murderous killers are behind him. Or are they?
When his sometimes partner Kathy Bentley approaches him with a potential new client, Pete balks. Not because he doesn't need the money, but because the case involves Gaspar Varela, a former Miami police officer serving a life sentence for the murder of his wife – one of the most infamous crimes in Miami history. The client? None other than Varela's daughter, Maya, who's doggedly supported her father's claims of innocence.
As Pete and Kathy wade into a case that no one wants, they also find themselves in the cross-hairs of Los Enfermos, a bloodthirsty gang of pro-Castro killers and drug dealers looking to wipe Pete off the Miami map. As if trying to exonerate Varela wasn't enough, they find themselves entangled in something even older and more surprising–a bloody, political hit ordered by Fidel Castro himself, that left a still-healing scar on Pete and his dead father's past.
Fast-paced, hardboiled and surprising, Dangerous Ends pushes Pete Fernandez into a battle with a deadlier, more complex threat, as he tries to shake off the demons haunting Miami s own, sordid past.
You can also read an excerpt here.

This was by far the most challenging and fulfilling book to write for me. It really expands Pete's world, pushes him forward as a person (and a detective) and blends it all in with a heavy dose of Miami and Cuban history, all while trying to tell an engaging modern day mystery. I hope it succeeds. You'll have to let me know.

I'd like to thank Jason Pinter at Polis Books for making this possible, and for his dedication and faith in the Pete books. It means a lot and Polis has done great by me. Also thankful for my agent Dara Hyde at Hill Nadel, my amazing beta readers and, of course, my friends and family - especially my wife and son. Most importantly, I'd like to thank the readers who've supported Pete over the years. Your feedback, kind words and dedication is impossible to quantify. Thank you.

Anyway, I hope you check it out. If you read it and find the time, reviews are always helpful, as is spreading the word on social media.

We'll be launching the book tomorrow night at The Mysterious Bookshop - so if you're in the area, please drop by. Friend and fellow crime writer Rob Hart will be interviewing me, so it'll be a fun time. (You need to read his books - they're excellent.)

If you can't make it, here's a quick recap of other events I have coming up, including stops at The Strand, The Astoria Bookshop and more, including stops in Miami, Delray Beach, Washington, DC, San Diego and more.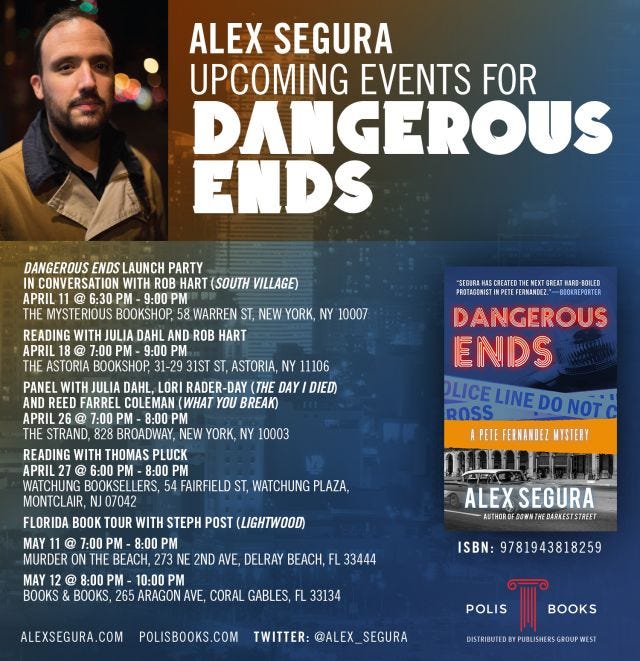 Before I pass the mic to our superb guest, here's a quick link roundup of recent coverage:

I talk about how my Cuban heritage played a huge part in the writing of Dangerous Ends at LitReactor.

BOLO Books had nice things to say about the book:

Alex Segura's take on the P.I. series perfectly straddles the line between modern and old-school. With each new entry, Pete Fernandez further assures himself a place on the list of reader's favorite private investigators. A love letter to Miami, Dangerous Ends makes excellent use of the diversity found in this hot and unique American city.

Jon Jordan turned me into a LEGO piece and interviewed me at Crimespree Magazine.

I reveal the origins of Pete Fernandez at ITW's The Big Thrill.

I made a cameo in this great Guardian piece on the durability of hardboiled fiction.

I was also profiled by Andrew Smith of the Tribune Content Agency.

Alright, on to my conversation with the amazing Julia Dahl!

***

As writers, we draw a lot of inspiration from those that came before, or started earlier. I think that can also be said when discussing our contemporaries. One of the many current writers I admire is Julia Dahl, author of the Rebekah Roberts mysteries. Her latest, Conviction, is a leap forward - which is a huge compliment, since I loved her first two books, invisible City and Run You Down. We've also taken similar paths to the world of crime writing: we're both journalists (or, recovering, in my case), new-ish parents and juggling pretty demanding careers in addition to writing. We're pals and I'm extremely excited about the great response Conviction has gotten. Well deserved. Here's how the publisher describes it:

New York City 1992: a year after riots exploded between black and Jewish neighbors in Brooklyn, a black family is brutally murdered in their Crown Heights home. A teenager is quickly convicted, and the justice system moves on.

Twenty-two years later, journalist Rebekah Roberts gets a letter: I didn't do it. Frustrated with her work at the city's sleaziest tabloid, Rebekah starts to dig. But witnesses are missing, memories faded, and almost no one wants to talk about that grim, violent time in New York City―not even Saul Katz, a former NYPD cop and her source in Brooklyn's insular Hasidic community.

So she goes it alone. And as she gets closer to the truth of that night, Rebekah finds herself in the path of a killer with two decades of secrets to protect.

From the author of the Edgar-nominated Invisible City comes another timely thriller that illuminates society's darkest corners. Told in part through the eyes of a jittery eyewitness and the massacre's sole survivor, Julia Dahl's Conviction examines the power―and cost―of community, loyalty, and denial.

I wanted to take a minute to chat with Julia about the book, the many hats we wear in life and what's next for her. Glad she could take the time.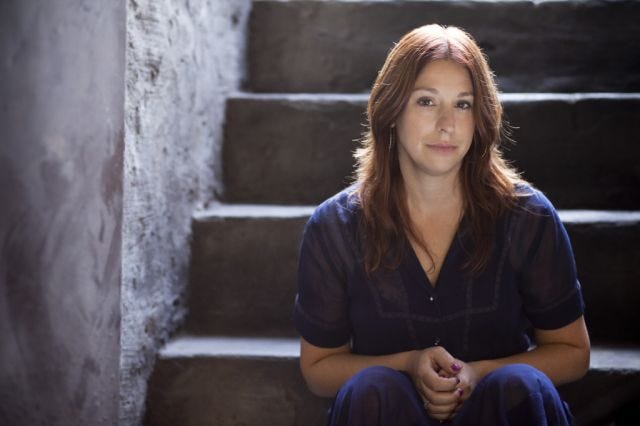 Julia, thanks for chatting. I want to keep this short and sweet since we're both busy - but we're also in similar spots, I feel like. Conviction is your third novel in the Rebekah Robert series and Dangerous Ends is the third Pete Fernandez book. We've also got pretty challenging jobs and are new parents. I'm still sussing out the answer to this question myself, but I have to ask: how do you find the time?

I'm still figuring it out. I wrote about three-quarters of Conviction while I was pregnant, then didn't write for the first three months of my son's life. When I finally got back to it, I had to get really serious about organizing the manuscript before I could finish. Conviction moves back and forth in time, and is told through multiple perspectives. Creatively, writing in multiple perspectives was thrilling, but it was a challenge to pull it off. I asked a friend (writer and professional poker player Matt Matros) to help me learn the program Scrivner so I could map out chapters and voices, and that made it possible to get myself going again.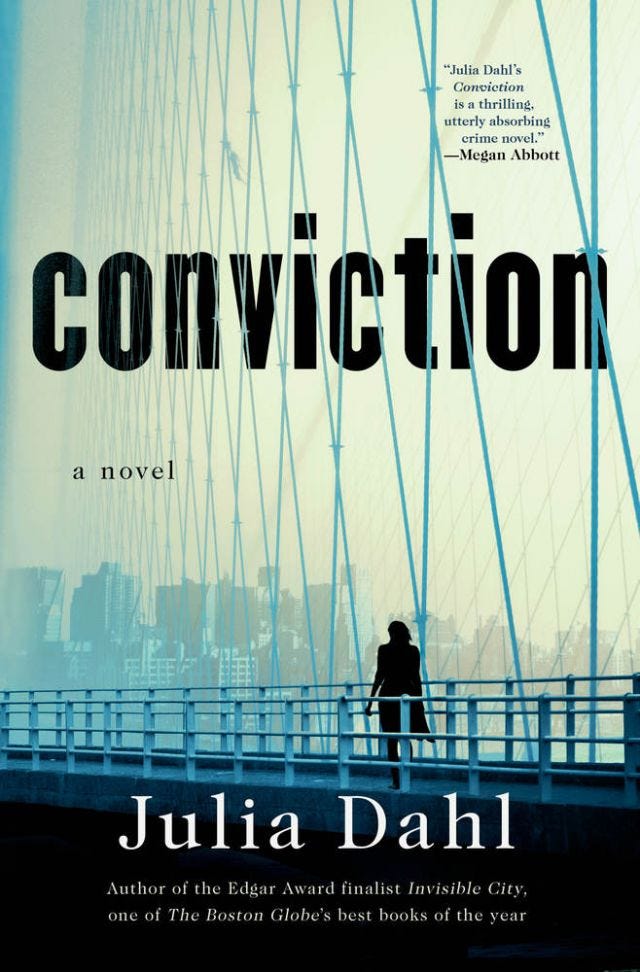 But it is true that when you have a child to care for, everything in your previously independent life changes. I get less sleep, which affects my creative thinking, and I suddenly have a human being I love who needs hands-on care every waking moment. Presently, I only have one day each week that is devoted to writing the next Rebekah Roberts book, and clearly that's not enough. But even more than the time to actually get words on the page, I think I had taken for granted all the free headspace I had before becoming a mother. So much of writing – at least for me – is simply living with the characters and story in my mind. Now, my mind is occupied with a lot more than it used to be and it's a struggle to create enough room for the people I'm writing about to grow.

Yeah, while I'm extremely tough and I'm impressed by everything my wife does daily. I realize I'm restating the obvious, but being a new parent does change everything. The amount of "free time" we have goes out the window. I guess the only easy part of transitioning to being a writer without kids to a writer who is also a parent is that most of my writing happens during "found time." While I wish I had the ability to wake up at five in the morning and write for a few hours before heading to work, it just never materializes. I soon figured out the best way for me to write was to maximize the pockets of time as I found them. Which really keeps you on your toes! Not surprisingly, I had a lot more of that before our son was born. In his first year of life, I've found myself just using the time I often spent on TV or movies or relaxing in the early evening on writing instead, because there just isn't an opportunity elsewhere in the day, especially with a demanding day job and other responsibilities. I'm not complaining, though. Having a kid is amazing and it reminds you why you do the things you do, and helps you prioritize better.

I was in a similar position to yours with the fourth Pete book - I'd written about half a first draft while waiting on edits for Dangerous Ends, and I felt really good about it. Then the edits came back and the next few months were spent in revision land. When I got back to the draft, tentatively titled Relics, I found a lot of the twists and cool moments had organically made it into the third book during revisions. I don't know if it was a byproduct of less sleep or just my subconscious doing its job, but it made revisiting the fourth book harder and with less time to do it. But after a few weeks of banging my head on the wall, I just started over. And that felt liberating and I've made up the lost time and even used huge chunks of the earlier draft. Short version: writing is hard.

You grew up in Miami and write about Miami, but live in New York City. How does NYC impact your work, if at all? And what about Miami keeps you writing about it?

I started writing Silent City, the first Pete book, around the time I moved to New York. And, at the time, I just didn't feel ready to write a New York PI novel. It felt like really well-mined territory, explored by writers that were much more experienced than I was. I just didn't have that familiarity or comfort writing about New York. I also wanted to shed a light on my hometown, and show that it was more than just beaches and Cuban sandwiches. That the sprawl of Miami was home to a lot of different places, people and cultures. Miami is a city unlike any other. It's definitely unlike the rest of Florida. There's also a long history of crime and corruption that is really fertile territory for a writer. Basically, I felt like I h ad a unique perspective I could bring to the table, rather than try and ape someone else. That said, I learned a lot from not only writers who did write PI novels set in New York - like Lawrence Block and Reed Farrel Coleman - but from living in the city and experiencing it. The first year in New York is brutal, I think. For a place that's so densely populated, it can be lonely, overwhelming and intense. But it's great for people-watching. For experiencing the human condition and for tapping into the best and worst of the world. There aren't any filters in New York - you get a dose of humanity right out of the gate. That's something that influenced my writing immediately, and as I've gotten more and more comfortable with the idea of being a New Yorker, as opposed to constantly reminding people that I wasn't from the area, I started toying with the idea of doing a New York novel. I can't spoil anything about Pete or where he ends up, but if you read Dangerous Ends, it definitely signals a change for him and his status quo, and that was a very intentional move on my part to reflect the kind of dual-citizenship I've been working with over these last three books.

Now, we both come from journalism backgrounds and I know I've put the skills I gained as a reporter and editor to good use in my writing. Do you find you approach your fiction in the same way you do your journalistic efforts? Has that helped or created stumbling blocks for you?

Being a reporter has helped my fiction immeasurably. I wrote a pretty terrible novel in my 20s, then stepped away from fiction for a while and focused on becoming a better journalist. When you're writing an article, the story is what matters. Who did what, why, how, where. There is no time for filler. Get to the point fast and keep it straightforward. Bringing some of that aesthetic to my fiction made it stronger. I can enjoy the language and the ideas I'm playing with, but I force myself to come back to the story I'm telling, and to be ruthless with my edits. Each sentence has to have a purpose.

You've been writing a series...do you think about doing a stand-alone?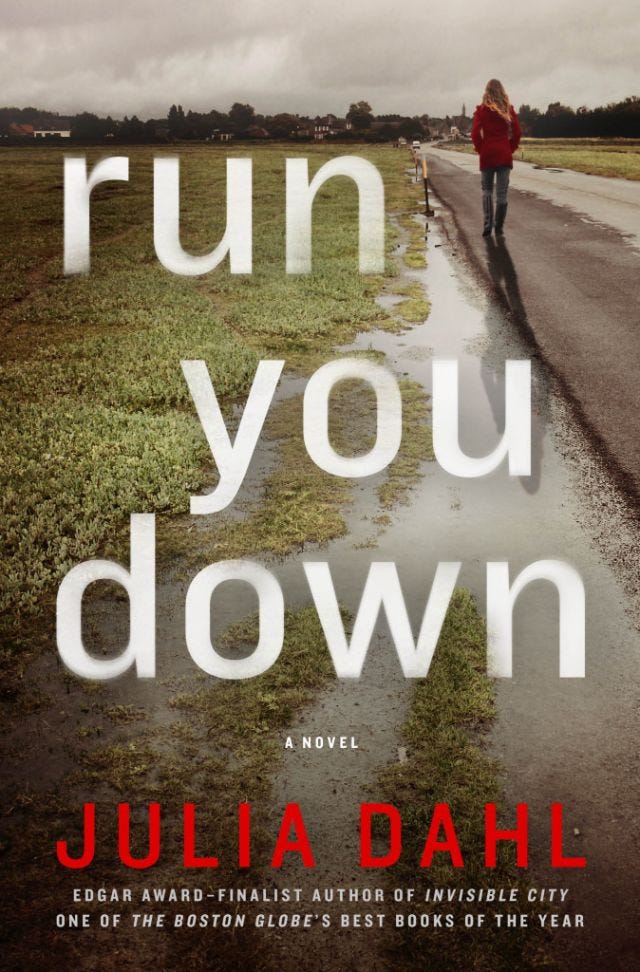 Completely agree with how you describe journalism, and I think I try to do that with my writing. Keep it clean, clear and to-the-point. If a nice description or joke doesn't push the story forward, I'm more prone to cut it on revision.

I have a few standalone ideas. I find, as I get further into a series, the idea of doing a standalone becomes more appealing. With each book in a series, you have to walk that tightrope of telling a great story but also reintroducing what's come before to appease the series readers while still making it accessible enough for a newbie. It's not easy. But you do come to love your characters and setting - there's some comfort there. I think Dangerous Ends is a good pause point, so I may do a standalone next. But I'm also well into the fourth Pete book, so what do I know?

OK, last question. Your new book, Conviction, deviates a bit from the territory covered in the first two, and I think it happens very organically and effectively. It feels like a great series kicking into gear after a solid start - I hope it's clear that's meant as a compliment. Were you anxious at all about changing things up? I know I was with Dangerous Ends - the first two books had a lot to do with Pete, his drinking and solving a murder mystery - but I wanted the new book to really deal with the bigger picture, and also show Pete's evolution. Were you happy with how things turned out, and what are you planning on writing next?

When I wrote Invisible City, it didn't occur to me until the very end that I was writing a series. I finished the book and realized I needed to write another in order to tell the whole story of Rebekah and her mother, and I was lucky enough to have a publisher that was game to let me do that. But once I finished Run You Down, I felt like I wanted to branch out from focusing quite so much on Rebekah. I love her, and I love that she still has so much to learn - and, in some ways, so much to teach - but there were other people whose lives I wanted to explore.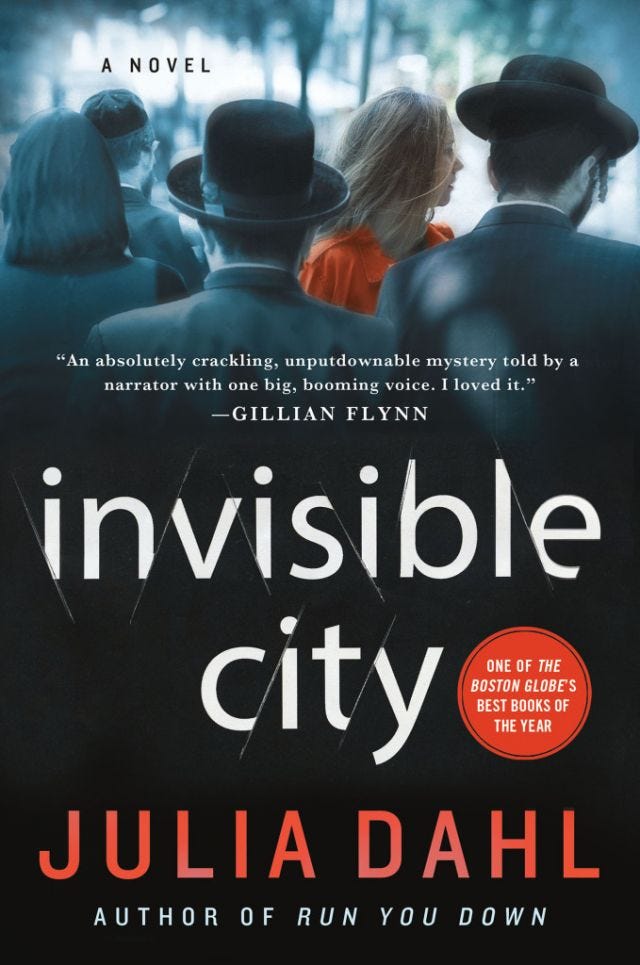 I started writing Conviction and realized it was going to be very different from the first two, so I talked to my editor and told her that I wanted to bring in other voices and write some of the book in the third person. Happily, she was cool with it. Her words were, I think, "If it works, you can do it." So I was off. I had fantastic time writing Conviction, and it was exactly the challenge I needed. I'm writing the fourth book in the series now and I've set yet another challenge for myself: for the first time, my story doesn't involve Hasidic Jews. I suppose some people who read the series might be disappointed, but if I do it right, I think I'll be able to take people inside yet another world that exists in New York City. One I hope they'll be as interested in as I am.

Thanks for visiting, Julia!

***

Links!

You can read an excerpt of Kimberly McCreight's new novel.

Steph Post tackles the "Girl" title craze.

Vanity Fair profiles acclaimed artist Robert McGinnis.

If you enjoyed my interview with Julia, this one's even better.

This Miami crime story is...wow.

David Joy on why he writes the stories he does.

A great profile of Spawn creator Todd McFarlane.

Paul French, who wrote the excellent true crime book Midnight in Peking, on the greatest French crime writer you've never heard of.

A Chicago cop is accused of framing 51 people for murder. This is what happens next.

The secret lobotomy of Rosemary Kennedy.

That's a wrap! Thanks, as always.