Stuff & Nonsense 061: Look What You Made Me Do
Greetings!

It's been a spell, hasn't it? I have to be honest, dear reader - I've struggled a bit with this newsletter. From a purely selfish standpoint, I've wondered about the, ahem, "ROI" that comes with crafting these notes, and the work that goes into creating the interviews and other stuff. But the process, when it happens, is fun - and I love plugging other writers and staying in touch.

So, that's a long-winded way of saying I'm tinkering with the format to improve my speed in writing these and, in theory, increase the frequency.

One of my favorite newsletters is The Sunday Longread, where Don Van Natta Jr. and Jacob Feldman (ably assisted by guest hosts) curate the week's best longform journalism. I read as much of it as I can each week, and the format is soothing and informative.

With that in mind, and for the foreseeable future - as I head into one of the busiest periods in a good long while - I'll be sharing links to pieces I've enjoyed, relevant stuff to my own writing and spotlight links on authors I love and support, for your enjoyment. I'll also keep plugging things I'm reading/watching/consuming, because, why not?

I'm toying with the idea of making this email newsletter somewhat self-supporting, either via this platform or another (I've heard good things about Substack..?), but until that's resolved, it will continue to exist in this casual, lightly-edited form.

Okay, with that said, let's go.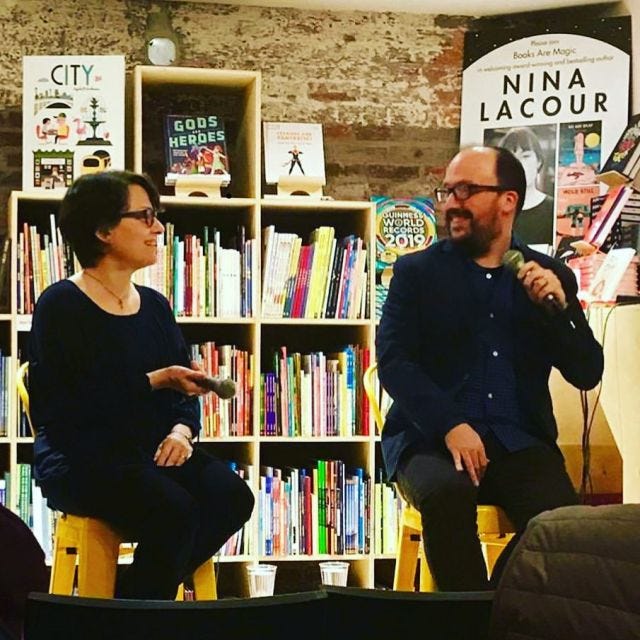 I had a fabulous time talking to friend and crime writer Katia Lief (Karen Ellis) about her riveting new novel, Last NIght, at Books Are Magic in Brooklyn. Please do check it out. It's the second in a series but reads like a standalone, if that's more your speed. Katia's always charming and thoughtful, and the crowd was great.

I have quibbles with this list of essential neo-noir films, but I enjoyed it. Paywall warning, etc.

Gentle reminder that my latest Pete Fernandez Miami Mystery, Miami Midnight, is available for pre-order.

Kew & Willow Books, my local indie and home to Noir at the Bar: Queens, was profiled by Book Riot.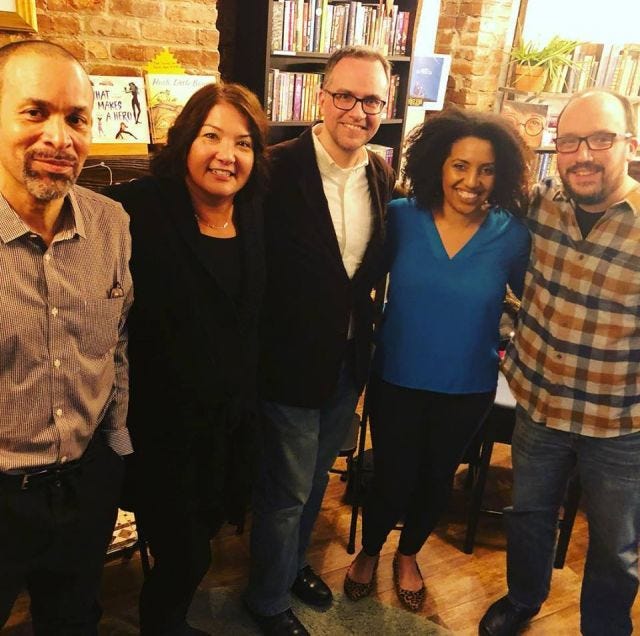 And, speaking of N@B QUEENS, we had a wonderful time last week in the latest edition of the noir reading series - this time with a new, panel-centric format. The evening featured readings by Alafair Burke, Kellye Garrett, Scott Adlerberg, and Rhiche Narvaez (his new novel, Hipster Death Rattle, just hit - I had the pleasure of beta reading and blurbing it!), plus a discussion. Thanks to all that came and participated. Looking forward to doing more in this style.

Also, well, this happened.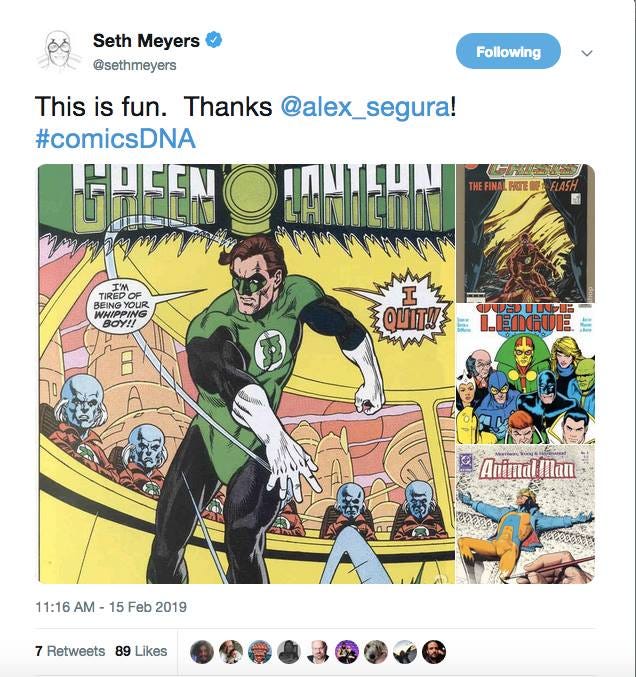 If you're a Bouchercon 2018 attendee or if you've registered for this year's show in Dallas, you probably got an email asking you to nominate books for the Anthony Awards. With that in mind, let me gently remind you that my fourth Pete Fernandez novel, Blackout, is eligible. The very kind and talented Matt Coleman included it on his suggested ballot at Book Riot, along with books by other great authors, including Lori Rader-Day, Kellye Garrett, Jennifer Hillier, Amina Akhtar, Aimee Hix, Erica Wright and more.

Stereogum on Wilco's summerteeth turning 20 (!!!).

Polis Books debuted the first three covers spinning out of their diversity-focused Agora imprint at EW.

There is a new Laura Lippman book coming SOON. This brings me great joy. But until I can get my hands on a copy, I'll have to make do with engaging profiles of the author, like this one.

One of my favorite crime comics ever - Ms. Tree, by Max Allan Collins and Terry Beatty - will be back in print soon. I got to speak to Max about his new thriller, Girl Most Likely, over at The Big Thrill.

I joined authors Beau Johnson and Nik Korpon on an "e-panel" discussing short fiction, wonderfully moderated by Erica Wright, at The Thrill Begins.

The Bosch books were formative for me. I devoured this CrimeReads spotlight on the characters evolution across media.

This Molly Young profile of St. Vincent is ::chef kiss::

Monica Rambeau was the first character I met, as a reader, with the codename "Captain Marvel." James Whitbrook looks back at her "unfortunate and obscure" history, as we celebrate the launch of the movie.

In case you need a bit more rage-fuel.

I think about this a lot, so it was great to read writer Radha Vatsal's take on "the author as brand."

I have to admit, just between us, that I've gotten hooked on the superhero drama series Arrow. I watch it while working out, mostly. I'm about four seasons in. The quality can fluctuate, but even at its low points, I find the show entertaining, well-cast/acted and smart with cliffhangers and plot twists. I wasn't surprised to see that it's coming to an end, with an abridged season eight, but it did make me want to accelerate my viewing so I can try and enjoy the final stretch in "real time."

Some new(ish) books that should be on your radar:

The Unrepentant by E.A. Aymar. My blurb for it: The Unrepentant is a powerful, darkly evocative story that features an unforgettable protagonist in the wily Charlotte Reyes. These elements combine to make for a thrilling revenge tale peppered with sharp humor and feeling both timely and timeless. E.A. Aymar has arrived."

A Friend is a Gift You Give Yourself, by William Boyle, which I was also lucky enough to read early: "Heartfelt, evocative, and bursting with indelible characters, William Boyle's A Friend Is a Gift You Give Yourself is not only an unpredictable and off-the-wall noir, but a meditation on the true meaning of friendship and family. Boyle has created another potent jolt of can't-miss New York crime fiction."

A true crime podcast co-hosted by Billy Jensen? Yes, please.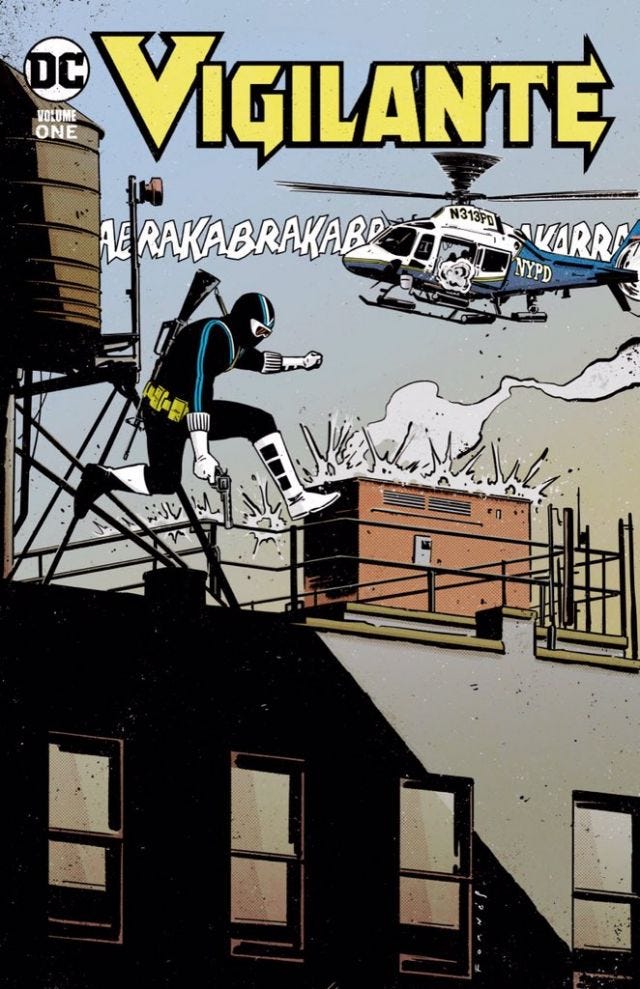 Someone, please put Jorge Fornes on a Vigilante comic book. (image via Jorge's Twitter, not any actual announcement)

That's all for now. Until next time.