Stuff & Nonsense 060: Digital Witness
Hi! How are you? I'm fine, I think.

I'll keep this lean because I want to get to this installment's interview, with dear friend/amazing author Steph Post, but I'd be remiss if I didn't point you to this big, big news: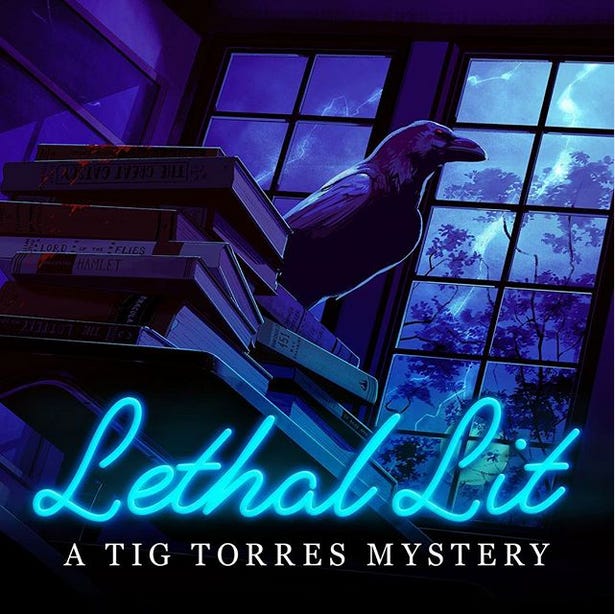 Lethal Lit is real! The podcast I co-wrote/co-created with Monica Gallagher, with co-creators/producers Einhorn's Epic Productions and iHeart Media, drops on October 29!

But wait, what *is* Lethal Lit? Glad you asked. It's the first-ever scripted fiction podcast from iHeart, and tells the story of teenager Tig Torres - who has to return to her hometown of Hollow Falls to investigate a decade-old series of murders by the "Lit Killer." But as she gets closer to the truth, the killings, each based on murder scenes from classic literature, begin anew...with her as the final target.

It's a six-episode season, and you can subscribe via your favorite podcasting tool at the website. I hope you give it a chance. The first trailer is already up, with more to come. This project has dominated my life in the best way for the last 8-10 months, so I'm really excited to see it come to life, and the entire team behind it has done a fantastic job of bringing Tig Torres into the world and telling a compelling, dark and emotional story. Thanks for giving it a shot.

In other news - I'm putting the finishing touches on a new Miami Midnight draft, which will be the fifth Pete Fernandez Mystery. Should have some news in that department soon. After that, tinkering with a comic book project that I'm really excited about and diving into The Next Book, which will be very different and challenging in the best way possible.

Also! Was honored to see Blackout - my latest Pete Fernandez Miami Mystery - spotlighted in the new issue of Mystery Scene Magazine! The novel and I are listed as "Fresh Blood" writers to watch - along with five other great books and writers! Thanks to Oline Cogdill for the kind words. Here are some pics: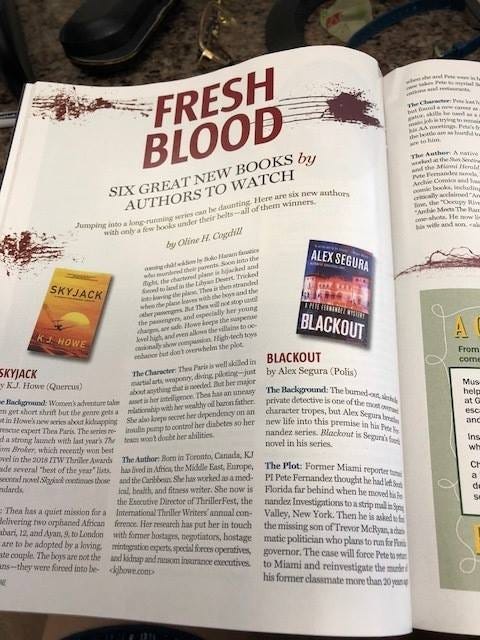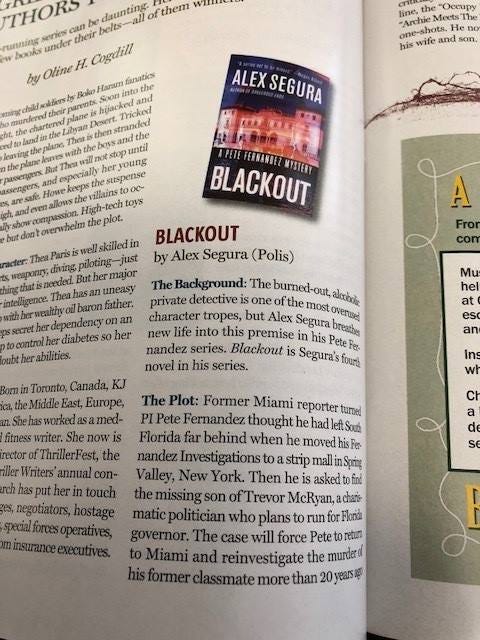 BLACKOUT is out now wherever books are sold via Polis Books. The new issue of Mystery Scene is also out now.
Okay! Now onward to the interview.

Steph Post is not only one of my favorite crime writers, she's one of my favorite people in this diverse, fun, and wacky crime fiction community. We've had the pleasure of doing a number of events together over the years, and those have always been lively, engaging affairs. I'm really looking forward to Steph's latest book, Miraculum, a departure from crime fiction but one that is loaded with verve and confidence. I think you'll all enjoy it. I know I did.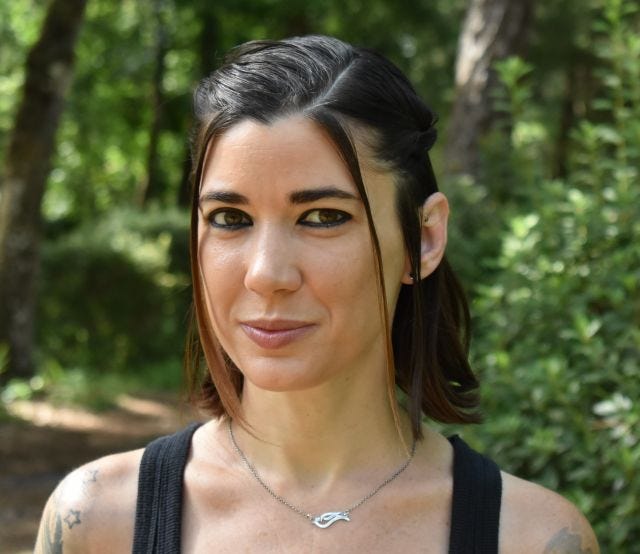 Steph Post is the author of the novels Miraculum, Walk in the Fire, Lightwood, and A Tree Born Crooked. She graduated from Davidson College as a recipient of the Patricia Cornwell Scholarship and winner of the Vereen Bell award, and she holds a Master's degree in Graduate Liberal Studies from UNCW. She has been nominated for a Pushcart Prize, a Rhysling Award and was a semi-finalist for The Big Moose Prize. She lives in Florida.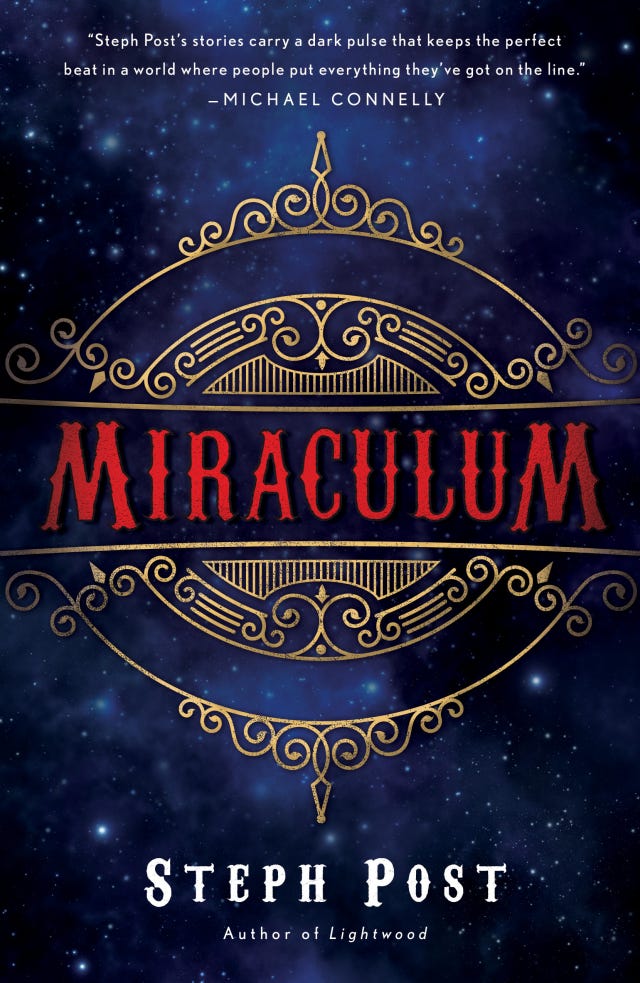 Hi Steph! Okay - so, what's on your TBR pile?
Jesus, what isn't? I feel like I live with stacks of books towering over me at all times. I have Several to-be-read piles, scattered throughout the house. So, let's see. I just, today, started Michael Farris Smiths's The Fighter, which I've been dying to get to. Then there's The Changeling by Victor LaValle, Circe by Madeline Miller, In the House of Wilderness by Charles Dodd White, The Infinite Blacktop by Sara Gran and Bluebird, Bluebird by Attica Locke. And that's just one pile, in one room. I scored an advanced copy of Trigger by David Swinson in my Bouchercon swag bag and I'm excited to dive in there, too. So many books!

What are you working on next or promoting now?
Right now, I'm in the final throes of writing the third, and last, 'Cannon novel' to follow Lightwood and Walk in the Fire and close out the trilogy. I'm splitting my time between that and promoting my new novel, Miraculum, due out this January. Miraculum has my heart and I'm so excited to share something with the same style, but a completely different vibe (historical, gothic, some fantasy for good measure) from the rest of my work.

Name a few writers readers should keep an eye on - and explain why, if you can.
Oh wow, for the sake of space, I'll try to keep it down to three. I always say Taylor Brown. He's been around a few years now, but his recent novel Gods of Howl Mountain is just stunning. He's starting to make a name for himself in short and non-fiction as well. Keep an eye on him. Beth Gilstrap is absolutely one of my favorite short fiction writers. Nobody can write complicated, messy, Southern women like she can. I hear there's a novel somewhere on the horizon and I'll be first in line to buy it and shout it from the rooftops. And then Jared Yates Sexton, whose The People Are Going to Rise Like the Waters Upon Your Shore is the best non-fiction book I've read all year. He's on the front lines, trying to make sense of both politics and people and I admire the hell out of him.

Biggest misconception about being a writer?
This comes from people who are definitely not writers or who don't know any writers personally: that writing is easy, all sunshine and rainbows, you just sit down and put your thoughts on paper and 'poof' you have a book. Being a writer is hard. It's a battle. It's war on the page sometimes. Worth every second, sure, but it's not a job for the faint of heart.

Aside from writing, can you talk a bit about any other hobbies you have and why you're passionate about it?
Chickens and dogs. Though those aren't hobbies so much as an integral part of my every day life. My animals rule me. So, for hobbies... I'm all over the place. Rose gardening. Herb and vegetable gardening. Archery. Tarot card reading. Art, mostly printmaking these days. But those are pretty much every day things for me, too. I live out in the country now and so anything creative or connected to the land has really come to rule my days.

***

In terms of links, more people need to be talking about Adam Sternbergh's fantastic Jonathan Lethem profile.

Also: Emma Cline on The Virgin Suicides.

And: Reed Farrel Coleman on why alcoholism and crime fiction are entwined.

WATCHING: New season of Better Call Saul; Sharp Objects; Curb Your Enthusiasm S7; final The Americans season
READING: Jim Henson: The Biography by Brian Jay Jones; The Bling Ring by Nancy Jo Sales; The Secret History of Wonder Woman by Jill Lepore; Football for a Buck by Jeff Pearlman; Wild Dog by Max Allan Collins and Terry Beatty

That is all for this episode. See you soon! And don't forget to subscribe to Lethal Lit!