Discover more from Alex Segura
News and updates about my novel and comic book-writing work, plus reading recommendations!
Over 3,000 subscribers
Stuff & Nonsense 058: It Never Entered My Mind
Hi.

Lots of stuff going on here, though not nearly as front-facing as the last few months, which were focused on launching my most recent Pete Fernandez novel, Blackout.

I'm hard at work on the next Pete novel, Miami Midnight, scripts for the Lethal Lit podcast that was announced recently and a few other things I can't talk about yet.

But hey, speaking of, here's the Lethal Lit logo!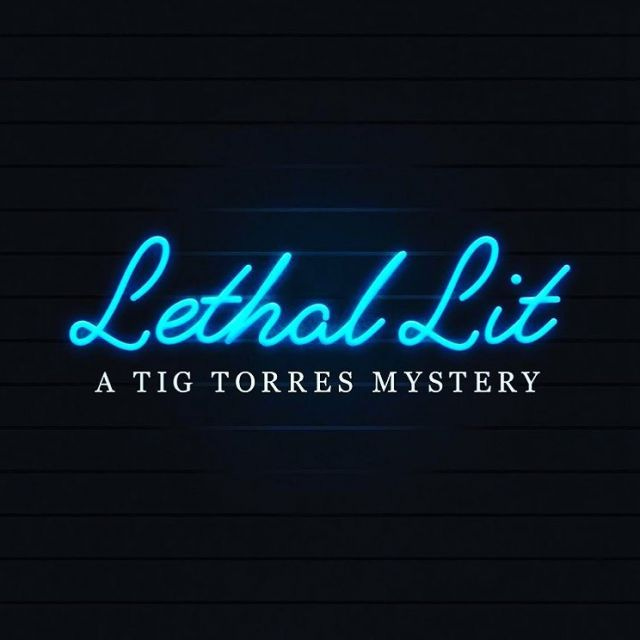 Can't say a ton about the podcast beyond the following: it's a fictional crime series that follows high schooler Tig Torres as she returns to her hometown of Hollow Falls to investigate a series of murders. Cryptic stuff aside, I'm really excited to be co-writing Lethal Lit with Monica Gallagher, who has been a dream to work with. Both Einhorn Epic Productions and iHeart have really put some muscle behind the project and we can't wait to share it with you. Stay tuned for more.

If you remember, I hinted at a format change in the last newsletter. Well, here we are! It's not a major overhaul, but I wanted to get back to the interview format. It was great to spotlight authors via essay, but I missed the direct interaction of an interview. Time is an issue with these, as they're put together in my (haha) spare time, so I needed a format that would be easy to produce every few weeks. So, while the questions might not change much, the answers certainly will.

I'm honored and excited to have my friend Chris Holm as my first guest. Chris is a supremely talented writer, a good friend and a great advocate for authors and books. Check out his work. Stick around after the interview for a few links and an update on what I'm reading. If you're an author or creator who'd like to pop by for a quick chat, shoot me a message. Okay, onward to Chris!

***

Chris Holm is the author of the cross-genre Collector trilogy, the Michael Hendricks thrillers, and thirty-odd short stories in a variety of genres. His work has appeared on more than fifty year's best lists, been selected for THE BEST AMERICAN MYSTERY STORIES, been named a New York Times Editors' Choice, and won a number of awards, including the 2016 Anthony Award for Best Novel. Chris lives in Portland, Maine.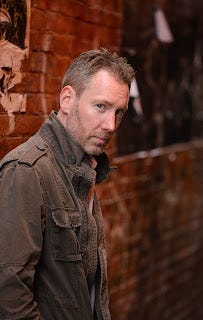 What have you read recently that's really grabbed you?
Elizabeth Hand's WYLDING HALL is a delightfully creepy horror novella any music geek would love about the recording of a legendary (and fictitious) acid-folk record. Matthew FitzSimmons' upcoming fourth Gibson Vaughn novel, DEBRIS LINE, is smart, white-knuckled, twisty fun. Megan Abbott's GIVE ME YOUR HAND stands among her best, which is saying something. And I read an ARC of Jennifer Wolfe's WATCH THE GIRLS a while ago, but it deserves a shout-out anyway because it just came out, and it's a thriller with an engaging, original premise, a great voice, and a strong feminist bent.
What's the best writing advice you've ever gotten? What bit of advice would you give to a new writer?
The best technical advice I've ever gotten was courtesy of my editor, Josh Kendall. My natural storytelling voice is first-person, and I was struggling to wrap my head around how THE KILLING KIND's third-person narrative should unfold. Josh suggested I think of the novel as a dialectic between protagonist and antagonist. If the first chapter is from the protagonist's perspective, then the antagonist should 'speak' next. Occasionally, as in any conversation, other characters should chime in when they've got something worth adding. Once he told me that, everything fell into place.
The best business-of-writing advice I've ever gotten came from Sandra Ruttan, who said something to the effect of, "The first rule of networking is STOP TRYING TO NETWORK." Publishing is a tight-knit community chock full of fascinating people who like the same stuff you like. If you treat them as such, instead of as resources, the network-y stuff will sort itself out.
Maybe it's selfish of me, but if I could tell a fledgling writer only one of those two things, it'd be the latter.
What are you working on next or promoting now?
I'm not promoting much of anything right now, although I won't cry if anybody reading this decides to check out my Michael Hendricks thrillers, THE KILLING KIND and RED RIGHT HAND. (I hear they're decent. Lord knows I can't tell.)
As for what I'm working on, I've got a bunch of stuff in progress. A quirky twist on a serial killer novel, even though I swore I'd never write one; a heist novel; a horror thriller I think of as my ode to John Carpenter; a whole bunch of material for an original TV series a producer and I spent some time developing… but the project that's consumed the majority of my waking hours for a couple years is a high-concept scientific thriller that plays into my background as an infectious disease researcher.
(A note on the TV thing, since some are gonna wonder: it's a modern spin on the classic Cold War thriller, and it generated some serious interest, but ultimately failed to coalesce. I've no doubt the story will eventually see daylight in some form.)
Thoughts on writing during the current political climate?
OH, I HAVE THOUGHTS, ALL RIGHT. Honestly, there are so many facets to this question, it's tough to whittle down my answer. I've found that stepping back from social media is key to getting any writing done, because the news cycle is so rapid—and the discourse so toxic—that keeping up with the latest outrage is a full-time job unto itself. Then there's the fact that reality is so implausible these days, it's difficult to create a work of fiction that's simultaneously believable and reflective of it, or to find an audience if you do. And as a straight white dude who also happens to be a minor public figure, I feel an obligation to stand up for those who can't, my sales and at-messages be damned.
Aside from writing, can you talk a bit about any other hobbies you have and why you're passionate about it?
Reading, obviously; I'd imagine there's not a writer worth a damn who'd say otherwise. I run regularly, which is great for clearing my head and working out tricky plot points. It also keeps me from becoming morbidly obese, since I'm pretty passionate about good food and drink. (I kinda bristle at the term foodie.) To me, a truly stellar meal or beautifully crafted spirit are as satisfying, and as much a labor of love, as a good book. What else? I'm an awful, if enthusiastic, guitarist. And, after a twenty-odd year hiatus, I recently started drawing again. I'm pretty rusty, but it's nice to create for the mere pleasure of it, instead of constantly worrying if it's good enough to pay the bills.

***

Links and what I'm reading...

I interviewed Megan Abbott about her new, must-read novel, Give Me Your Hand, at ITW's The Big Thrill.

A very nice Blackout review at Pop Culture Vulture.

I outline the elements of a successful PI novel at the MWA-NY blog, along with a suggested reading list.

At CrimeReads, I talked to fellow crime writer Sebastian Rotella about writing crime fiction at the border. Check out Sebastian's new novel, Rip Crew, if you can. It's great.

RIP, jazz great Tomasz Stanko.

All of Taffy Brodesser-Akner's profiles are reason to celebrate, but this GOOP/"G.P." piece was...::chef kiss::

When your favorite crime writers suggest their favorite true crime books. Also: when the authors of two of your favorite 2018 releases interview each other.

Evan Narcisse interviews Anne Nocenti about her new Berger Books comic book series, The Seeds, with artist David Aja. One of my favorite new launches of the year.

This Steve Silberman essay for The Believer on jazz trumpeter Richard "Blue" Mitchell is really worth your time. Hat tip to AJ Frost for the link.

Michael Chabon asks "Are kids the enemy of writing?" Spoiler: they are really not.

Clare Shearer interviews the amazing Maggie Nelson.

Wallace Stroby on the disappearing newsroom. I very much enjoyed Wallace's latest, Some Die Nameless.

Amanda Petrusich on the intoxicating promise of a lost John Coltrane album.

Scott Adlerberg on the literary icons who brought detective fiction to Argentina.

The publishing obsessive in me really enjoyed J. Kingston Pierce's look at the many faces of Philip Marlowe, post-Chandler.

I guess it was foolish of me to think Buffy could dodge the reboot craze, but I'm cautiously optimistic.

At The Washington Independent Review of Books, I'm quoted - along with Mr. Holm and Lori Rader-Day - about our contributions to Unloaded 2, a crime fiction anthology that features stories sans guns, with proceeds going to the nonprofit States United to Prevent Gun Violence.

Jen Doll's Grubstreet Diet is everything.

As far as I'm concerned, San Diego Comic Con was a success this year: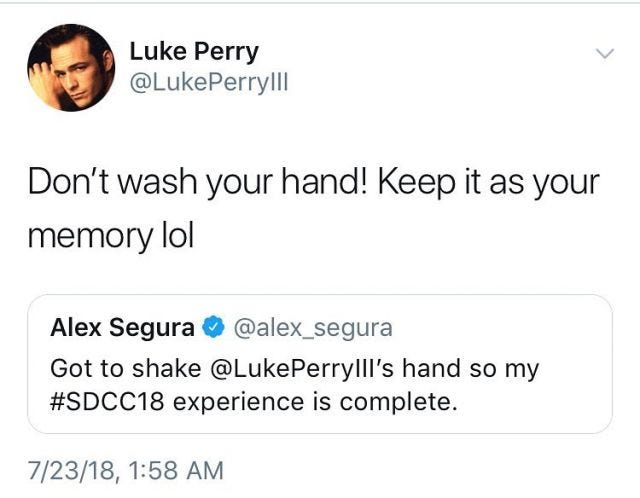 ICYMI, I posted my mini-review of Sarah Weinman's stellar The Real Lolita on Twitter: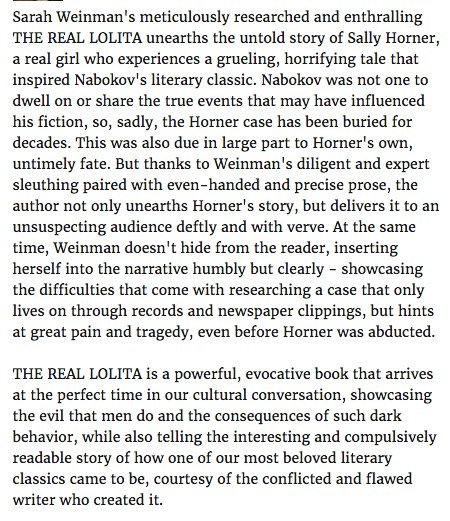 In terms of events: I'll be on a "Secrets to Succeeding as a Mystery/Thriller Author" panel this Saturday afternoon at the Writers Digest Annual Conference with a great lineup that includes Kellye Garrett, Paula Munier, Jane K. Cleland, Kate Moretti and moderator Jessica Strawser. Should be fun. I will also be at Bouchercon this year, on a few panels and co-MC'ing Noir at the Bar with Eric Beetner. More on that as we get closer. In the meantime, please drool over this lineup (missing Reed Farrel Coleman, who will also be joining us - new poster TK)!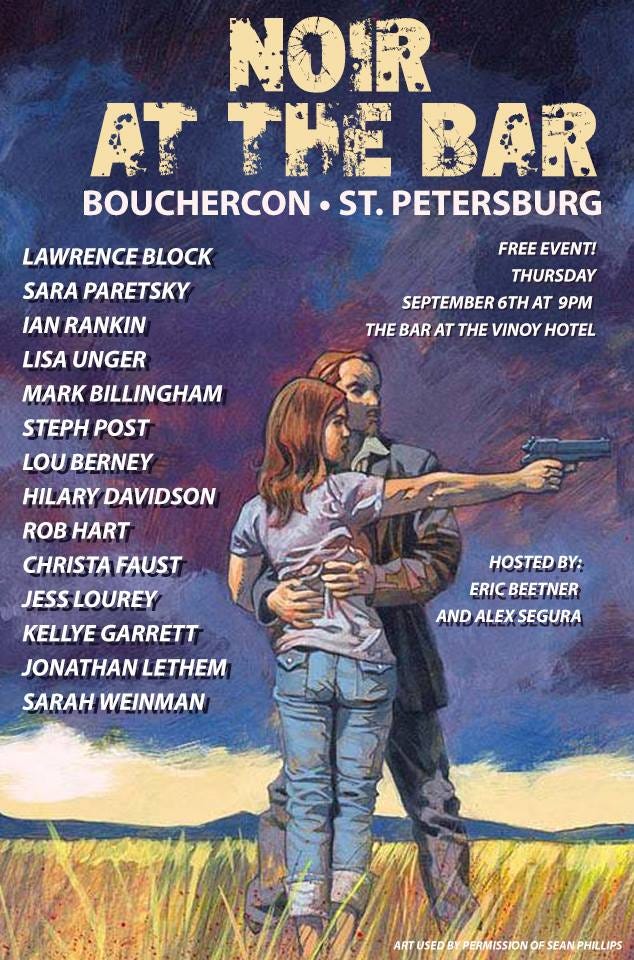 I'll also be among the "Author Faculty" at SleuthFest in Boca Raton, FL March 14-17 2019.

Had fun reading at Noir at the Bar: NYC and being "in conversation" with friend and fellow Polis Books author Rob Hart for the launch of his great new novel, Potter's Field (the finale to his Ash McKenna series) at The Mysterious Bookshop. Here are pictures to prove it: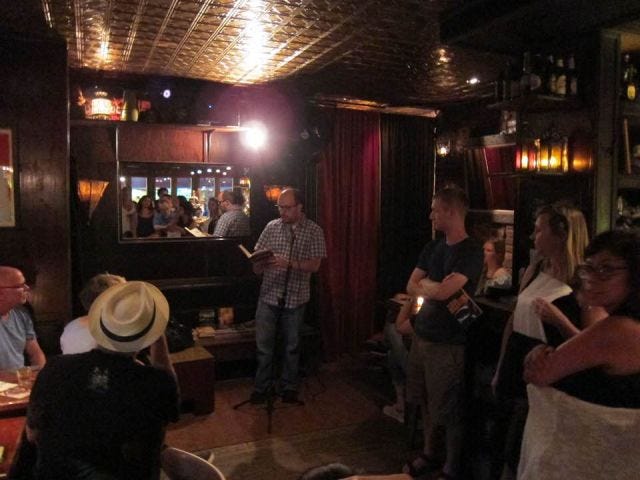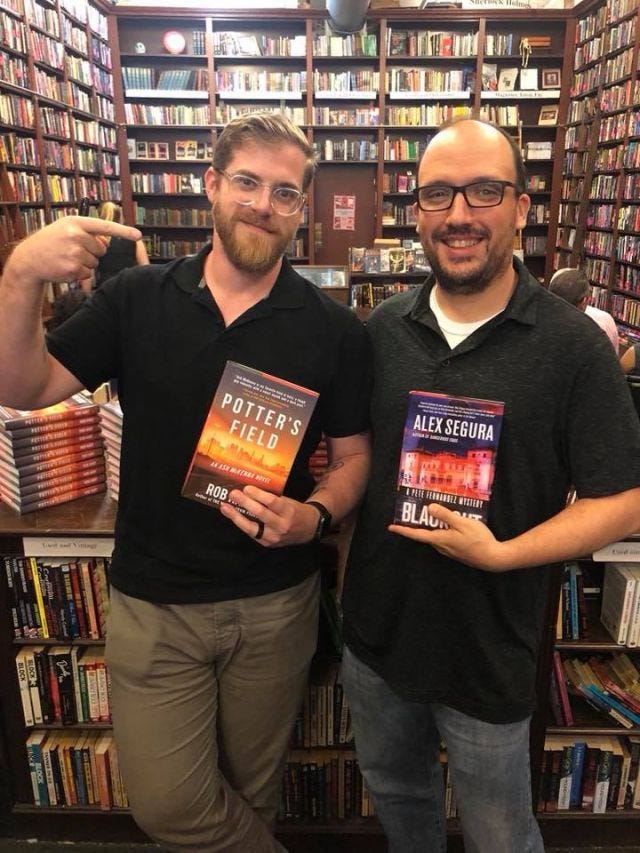 Also got the chance to catch Megan Abbott on her book tour promoting Give Me Your Hand at the B&N in Eastchester, NY. I'd never heard her read before. Not surprisingly, she was fantastic.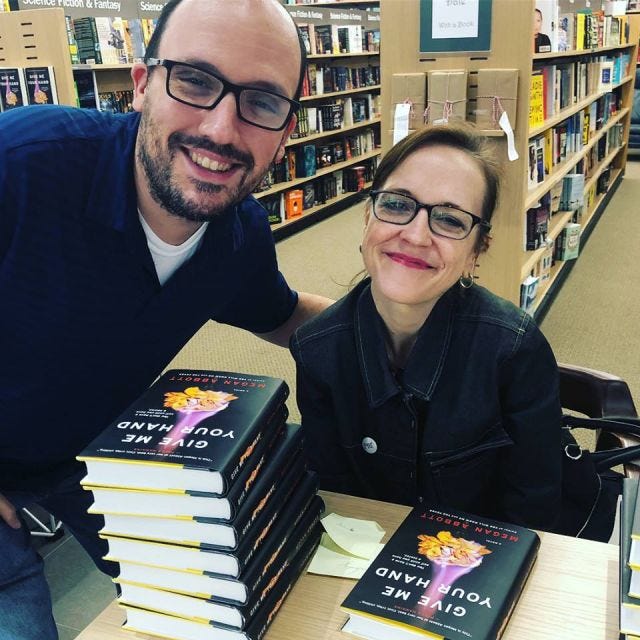 In some Archie news, we'll be debuting a new creative team with Archie #700 in November. Here's the New York Times story.

WHAT I'M READING: Marvel Comics: The Untold Story by Sean Howe (reread), Slugfest by Reed Tucker, The Feral Detective by Jonathan Lethem, Soon I Will Be Invincible by Austin Grossman (reread), Moon Knight by Doug Moench and Bill Sienkiewicz, Mister Miracle by Tom King and Mitch Gerads, Give Me Your Hand by Megan Abbott, Tales of the Batman by Len Wein.

That's all for now. See you soon!