Stuff & Nonsense 056: My Foolish Heart
Hello!

It's a two-for-one week here at Stuff & Nonsense HQ, as we have William Boyle - one of my favorite crime writers working today, and someone I chatted with recently about music and movies at Under the Radar - discussing his superb new novel The Lonely Witness and co-editors Sarah M. Chen and E.A. Aymar spotlighting their novel-in-stories anthology The Night of the Flood. Should make for a fun read.

But before we dive into that, a few quick updates:

I'm going on book tour for my new novel, Blackout, which hits May 8 from Polis Books!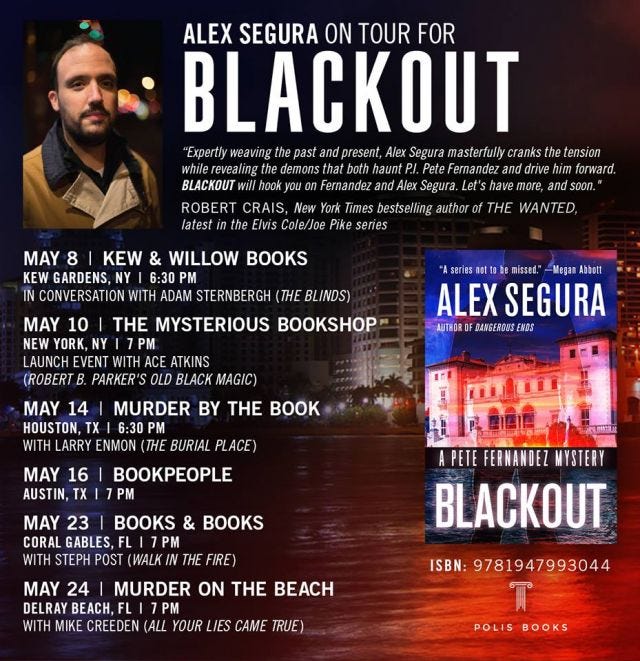 We're plotting another NOIR AT THE BAR QUEENS at Kew & Willow Books, too - this time on June 8. Mark your calendars because this is a can't-miss lineup: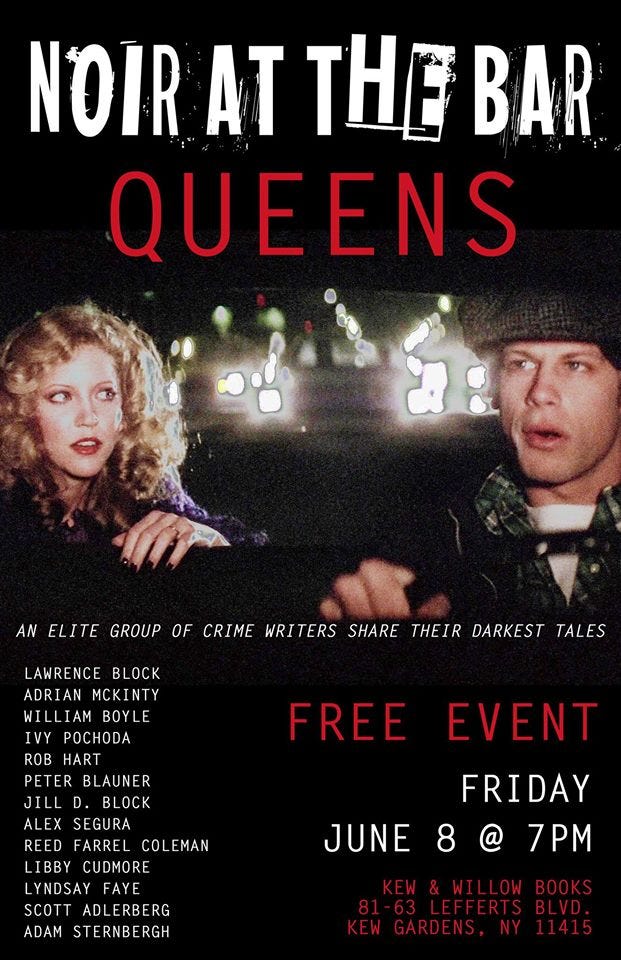 My third Pete Fernandez Mystery, Dangerous Ends, is out in paperback this week. Great time to catch up with the series ahead of the release of Blackout.

Speaking of, this happened last night: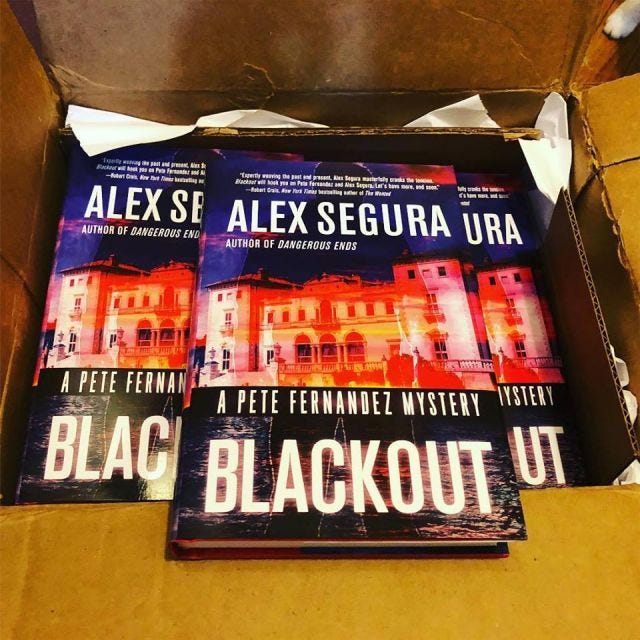 It's always a treat to hold an actual finished copy of your book, no matter how many you've written. Release is a few weeks away and I'd be grateful if you help spread the word or review the book where appropriate when the time is right. (I hear Amazon and Goodreads are nice spots for that sort of thing.)

Anyway, on to our spotlight essays!

***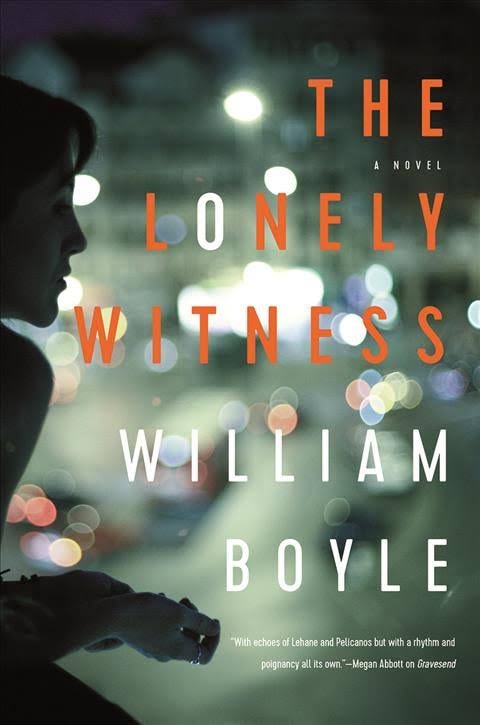 My new novel, The Lonely Witness, centers around a character, Amy Falconetti, from my first novel. I knew when Gravesend originally came out that I wanted to return to the world of the story, but I also knew I didn't want to write a traditional sequel. Amy was a character I worried about and wondered about. I kept thinking of the poster for Hal Hartley's Fay Grim (his follow-up to Henry Fool) and imagining a book about Amy called Falconetti. I had a sense that it would be interesting to put her, a Queens girl, deep in the heart of Brooklyn, having stayed behind there after her girlfriend Alessandra Biagini (one of the main characters from Gravesend) broke up with her.

Beyond all else, I'd say, my writing is deeply rooted in place. The neighborhood where I grew up: Gravesend. Writing the noise down. Watching the old people hide in their houses as everything changes around them. Small lives lived on the ropes. I'm haunted by those avenues and alleys, by the El, by the cracked sidewalks, the falling-apart houses, the nostalgia for what was and the dream of what can be, by the voices of the sick and the sad and the lost. In The Lonely Witness, Amy is an outsider and so is seeing and experiencing the place more as the average outside reader would. Though my mom and grandma still live in the house where I spent my childhood, I now see everything there as an outsider, in exile, far away from it, mapping and photographing in prose this part of Brooklyn that isn't much represented in fiction. The Lonely Witness is noir, but it's a punk song too. All those noises colliding. I write about this place with blood, with its dirt under my nails, with desperation, with the awe and reverence of someone who has been broken there and is going back to figure out how and why.

I used to sit out on my grandparents' porch with a cassette recorder and tape them talking. And they were always talking about the people passing by, the people parking their cars. So I had a pretty early obsession with the rhythms of what they were saying but also with the wonderful gossipy content. My grandfather would say things like, "Look at this bastard. He lives around the block and he's gotta park in front of my joint." So there was always that smallness to not only my neighborhood but the block. I could spend the rest of my life writing about the block and not run out of things to say. I'm really interested in the narrowness of the place, too. When people think about narrowness in terms of race and sexuality, they probably think about the South first, not New York City. But that's not the way it is, certainly not in my experience. I'm always interested in people who seek to work outside the margins. And even though characters like Amy and Alessandra are different, even though they've broken from a certain way of thinking, they still belong to the neighborhood. They're chained to it.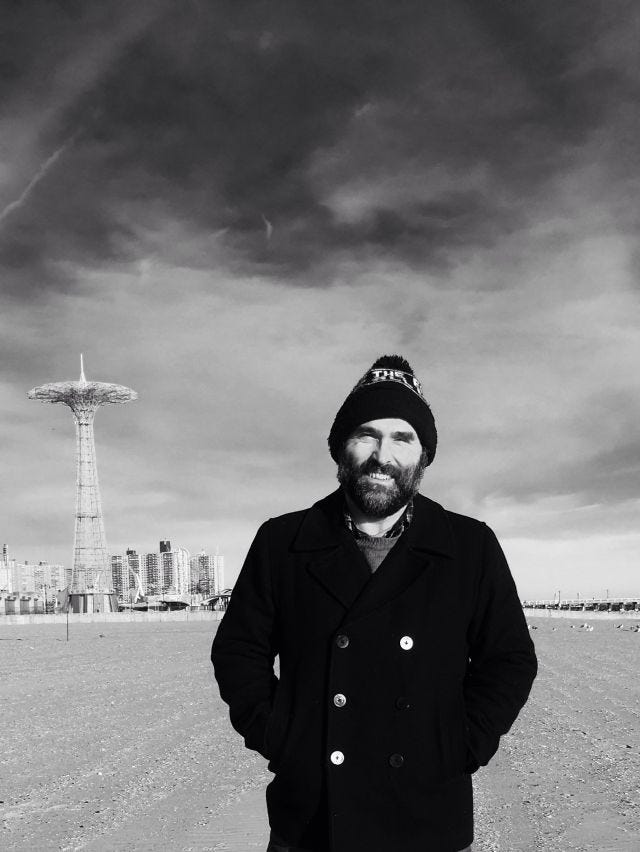 William Boyle is from Brooklyn, New York. He is the author of the crime novels Gravesend and The Lonely Witness. He lives in Oxford, Mississippi.

***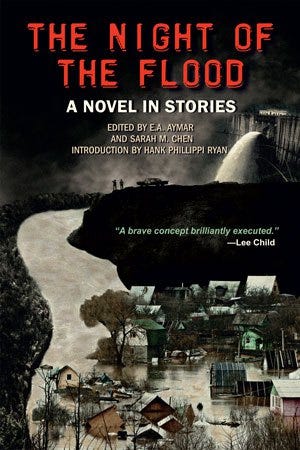 Six Things We Learned from The Night of the Flood

By Sarah M. Chen and E.A. Aymar

The Night of the Flood is a novel-in-stories that tells the story of Everton, PA, a fictional town ravaged by an intentional explosion at a nearby dam. Fourteen crime fiction writers came together to tell the story of that doomed night, and we had the fortune of contributing to and co-editing the book. Here's what we learned from the process.

E.A. Aymar
You guys are violent. Tell a bunch of crime writers that they have one night of lawlessness and chaos, and there's a good chance you could build another dam with the dead bodies. We kept the kill count in mind, and tried to make sure the population of fictional Everton, PA, didn't get sliced in half (and I mean that in every way imaginable). Happily, none of the stories ventured into gratuitous territory, and the deaths were earned, but we worried about the numbing of repeated violence. And that was of particular concern when we realized – a realization that occurred as we were writing and editing – that The Night of the Flood was inherently an examination of violence as a tool.

It's not always dark at night. So, along those lines, the theme needed to naturally ebb and flow. Given that this book was both an anthology and a novel, it had to follow the rhythms of a traditional novel, despite lacking some of the elements novels incorporate (a constant sense of timing, intentional refrains in the theme, repetition of certain words or phrases). One thing that helped turn the anthology into a novel was the variety in the stories. Some of the stories were hardboiled and, in that sense, necessarily bleak; others were dependent on good Samaritans and offered hope. The scales definitely tip in one direction, but the fact that there's a scale at all was hugely important.

Work with good people. That's sort of a gimme, right? But I can't overstate the necessity of good writers. Not only that, but work with a good publisher and editor. Down and Out Books understood what we wanted, had the same goal, and we worked in concert to produce a book we could be proud of years later. And, listen, I'd never tell her this, but Sarah M. Chen was fantastic to work with. A powerful writer and whip-smart editor who has a ferocious memory and relentless eye for detail. Work with people you admire.
Sarah M. Chen
There are many ways to promote a book. One of the benefits of working with multiple writers on a book is taking chances with a new way of doing things. One of these is promotion. I'm terrible at promotion and still feel like a schmuck whenever I do it. I knew there were other platforms besides tweeting or Facebook, but I never really took the time to explore much else. With The Night of the Flood, I was able to take advantage of these other opportunities, such as answering questions through videos on the UrbanAMA app. What a blast! I learned about scavenger hunts (which I never quite figured out but sounds awesome) and I finally knew what it was like to have a book trailer (it's pretty amazing). I probably wouldn't have attempted any of these on my own.

You don't have to be a hermit to be a writer. For the most part, writing is solitary. This is quite suitable for an introverted control freak like me. My kneejerk reaction to the word "collaboration" is to flee. However, with The Night of the Flood, I learned collaboration can be fun and extremely rewarding. Who knew?

Co-editing is ideal. Since I've never edited a collection solo, I can't say from personal experience that it's a lot of work, but I think it's safe to say it's a lot of work. Yes, editing The Night of the Flood was work but sharing the responsibility with Ed really helped. I know I wouldn't have been able to do it alone and frankly, I wouldn't want to.

Here's something I never did learn. What does the "A" stand for in E.A. Aymar?
E.A. Aymar
The A. It can mean anything, much like the final "P" in "O.P.P."
-
"Each of the 14 varied and fitfully amusing stories in this solid anthology takes as its starting point the destruction of a dam and the subsequent flooding of Everton, PA. Aymar and Chen deserve kudos for putting together a distinctive anthology." —Publishers Weekly It happened the night Maggie Wilbourne was to be put to death, the first woman executed by the state of Pennsylvania in modern times. That was when a group of women passionately protesting Maggie's imprisonment struck. They blew up a local dam, flooding the town of Everton and indirectly inspiring a hellish night of crime and chaos. Fourteen of today's most exciting contemporary crime writers will take you to the fictional town of Everton, with stories from criminals, cops, and civilians that explore the thin line between the rich and the poor, the insider and the outsider, the innocent and the guilty. Whether it's a store owner grimly protecting his property from looters, an opportunistic servant who sees her time to strike, or two misguided youths taking their anger out against any available victim, The Night of the Flood is an intricate and intimate examination of the moment when chaos is released—in both society and the human spirit. Contributors: E.A. Aymar, Rob Brunet, Sarah M. Chen, Angel Luis Colón, Hilary Davidson, Mark Edwards, Gwen Florio, Elizabeth Heiter, J.J. Hensley, Jennifer Hillier, Shannon Kirk, Jenny Milchman, Alan Orloff, and Wendy Tyson. With an introduction from Hank Phillippi Ryan.

***

Thanks Bill, Ed and Sarah! What a fun installment. A few quick links before we jet:

Huge congrats to the great and wonderful Megan Abbott!

Molly Odintz's requiem for Bernie Gunther is a must-read as we all collectively mourn the loss of Bernie's creator, Philip Kerr.

RIP Steven Bochco. Also of interest, in the wake of the sad news, I discovered that Bochco had written a memoir (which he self-published!). I read the excerpt in THR - which features an impressive double-diss on David Caruso and CSI: Miami - and I'm making my way through the full book. Lots of great stories.

Intense and impactful essay by Leslie Jamison - I'm looking forward to reading her new memoir.

Speaking of jarring essays, this one by Junot Diaz is difficult and unforgettable.

These Stan Lee stories are heartbreaking, and I hope something is done to help the man soon.

That's all for now. Stay frosty.