Stuff & Nonsense 055: 'Round Midnight
Hey, we're back!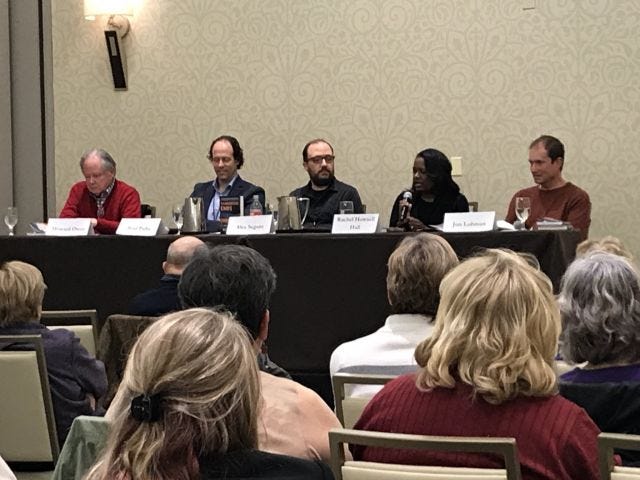 It's been an eventful few days, and as some of you saw via fellow Polis Books author Rob Hart's various social media postings, we were at the wonderful Virginia Festival of the Book over the weekend. As exhausting as events can be, it's always nice to hang out with friends old and new and, most importantly - connect with readers about my current book, Dangerous Ends and the next Pete Fernandez Mystery, Blackout, which hits on May 8 (!!!). It was my first time at the Festival and I had a blast - the event was extremely well organized, the staff was helpful and friendly and I got the chance to spend time with many of the attendees and fellow crime authors throughout the weekend. Would love to come back at some point. If you're in the area, make it an annual stop.

As we speed toward publication for Blackout, the frequency of these newsletter will rise and I want them to be more than just self-promo, so I'll be opening up the venue for authors looking for space to talk about an upcoming or recent work. It's important to shed light on great books and authors that might not get the recognition they should, so I hope you enjoy these guest-spots from authors interspersed with my own self-promo and links of note. Ping me if you're interested.

Here's some eye candy - the final dust jacket for Blackout. Really excited for people to get their hands on this: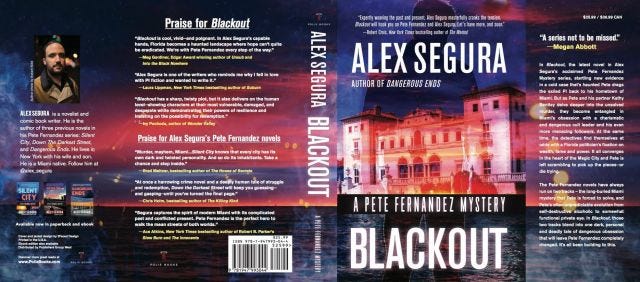 Hilary Davidson is a friend and a helluva writer, and I sent her an early copy of Blackout to get her thoughts. She came back to me with an effusive blurb that I'm still fawning over. It means a lot when writers you like dig your own work. Most importantly, Hilary will have a new book next year, and that's news to celebrate.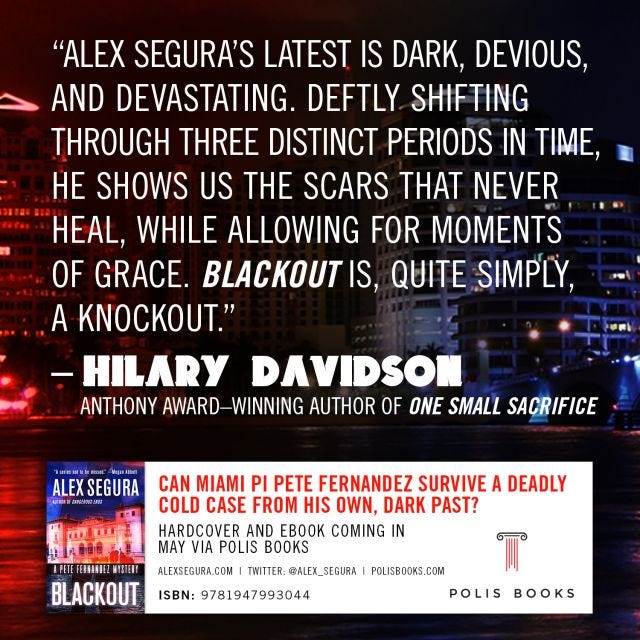 I'll be reading from Blackout for the first time on Tuesday as part of MWA-NY's KGB Bar reading series, along with some other great authors.

Crime fiction blog Sons of Spade had nice things to say about Blackout, including a Dennis Lehane Kenzie/Gennaro comparison - a compliment I will cheerfully accept.

I was included in this CrimeReads piece on the 11 Florida Crime Fiction Authors "defining noir in the Sunshine State" - which was very cool. Thanks to writer Steph Post, who should have a spot on her own list. Go check out Lightwood and Walk in the Fire if you haven't yet. Rural, Florida noir at its finest.

Also, this was pretty surreal - Blackout was listed by Bookbub as one of the 22 Biggest Mystery and Thriller Books hitting this Spring. That alone is excellent and blush-worthy, but to see my novel sharing space with the likes of Stephen King, Dean Koontz, Brad Meltzer, Alison Gaylin, Ruth Ware and more? Yeah, that was a fun one.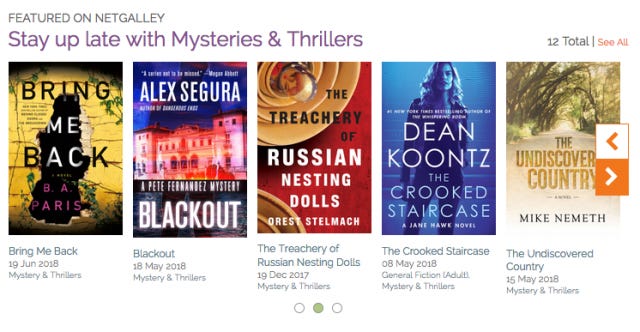 Speaking of lists and Dean Koontz, NetGalley is featuring Blackout as one of its notable mystery/thriller titles alongside a bunch of great novels (including the aforementioned Mr. Koontz!) - so, if you're a blogger/reviewer and would like a copy of my latest, you can request it from Polis here.

Oh, and this is being worked on: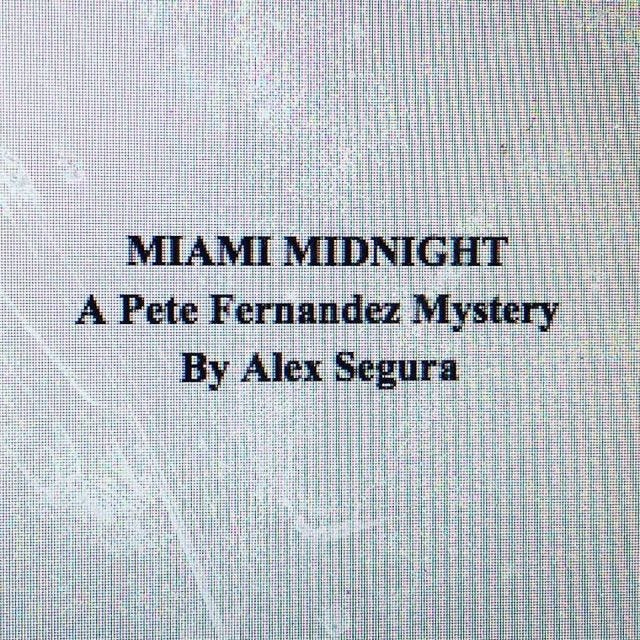 A few other things worth mentioning:

I spoke to writer/editor Paul D. Brazill at his website.

I had the absolute pleasure of talking to the always awesome Laura Lippman about her new, magnificent novel, Sunburn.

Havana Nocturne by TJ English was one of the many books on Cuba I read as I prepped for my third Pete Fernandez Mystery, Dangerous Ends, which touches on the early days of Castro's regime (I list the books in the acknowledgments for the novel), so this excerpt from his new nonfiction book was particularly interesting. This Glenn Garvin Miami Herald piece recaps the book pretty well, too.

Still processing the news of author Philip Kerr's sudden death. I came to his work relatively late, at author Chris Holm's suggestion. The Berlin Noir novels are fantastic works of literature, and among the best PI novels I've ever read. Kerr's Berlin is a conflicted, dark and menacing place, pulsing with corruption and dark, deadly corners. As Otto Penzler notes in his own remembrance of Kerr, the author's frequent hero, Bernie Gunther, is as close as anyone's come to fully channeling Chandler's own tainted knight, Marlowe. My thoughts are with Kerr's family and legion of fans. He will be missed.

Okay, on to our featured essay.

***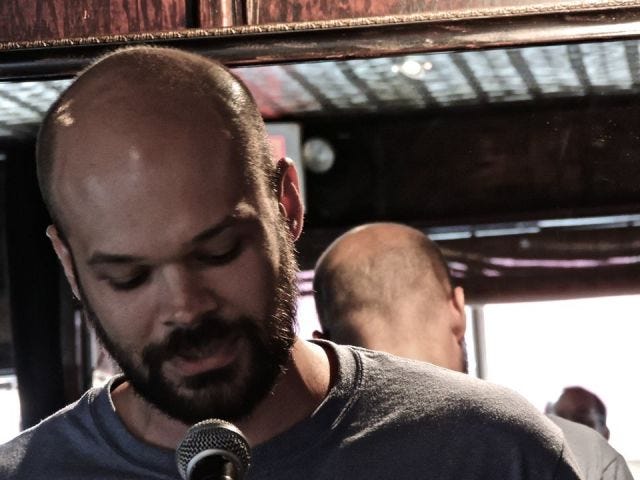 Nick Kolakowski is the author of Slaughterhouse Blues and A Brutal Bunch of Heartbroken Saps. His short fiction has appeared in Thuglit, Mystery Tribune, Crime Syndicate Magazine, and various anthologies. He lives (and writes) in New York City.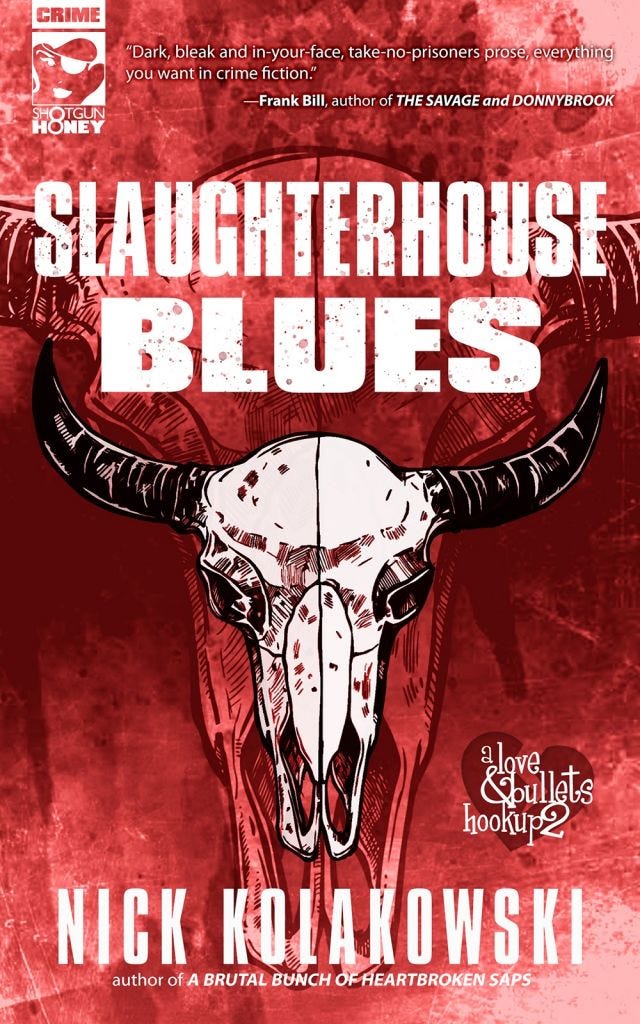 The Beauty of Fragments by Nick Kolakowsi
When he accepted this year's Academy Award for Best Original Screenplay (for the horror film "Get Out"), writer-director Jordan Peele said: "I stopped writing this movie about 20 times because I thought it was impossible… But I kept coming back to it because I knew if someone let me make this movie, people would hear it and people would see it."
Within minutes of Peele walking off the stage, little gold man in hand, it seemed like half the writers I knew had posted that quote on Facebook and Twitter. And with good reason: for any writer mired in the swamps of creation, the idea that someone struggled so long, so hard, and finally won in such a spectacular way is a powerful one.
All of which brings me to the subject of fragments. Like many writers, I carry a notebook on me at all times (although in recent years, the notepad app on my phone has often substituted for a paper Moleskine). I jot ideas, snatches of dialogue, chunks of stories, and brief character sketches. Some of these fragments get quite long, but most run out of steam within a few hundred words, and I inevitably abandon them for new, shinier ideas.
When I sat down to write "A Brutal Bunch of Heartbroken Saps" and "Slaughterhouse Blues," the first two novels in the "Love & Bullets" trilogy, I discovered something interesting: many of those fragments, some of them years old, were (with a bit of editing and shaping) perfect fuel for the larger narrative I was building. Scattered notes from a trip through Nicaragua, for example, grew into an entire sequence at the beginning of "Slaughterhouse Blues"; amusing dialogue overheard in a bar five years ago, and jotted in the margin of one notebook, formed the backbone of a car conversation that ends very, very messily for one main character.
All of which is to say: your old fragments, your jotted musings, are worth coming back to—even many years later. The trick is deciding which of those bits are truly useful, and actually enhance the narrative you're building (rather than just adding to the page-count). Don't abandon things just because they don't work in a particular context or time.

***
What I'm Reading: Just finished Alison Gaylin's superb If I Die Tonight - one of the best new releases of the year by far. Also finally got to Attica Locke's great, topical and powerful Bluebird, Bluebird, which would have easily earned a spot on my Best Books of 2017 list had I read it in a more timely manner. Just started English's The Corporation, which is crisp end informative.

What I'm Watching: We've stumbled into a rewatch of The Wire, thanks to the Abrams oral history. It's been fun. Cheers to the Laura Lippman book cameo in S01E07. Bunk's a fan!

What I'm Listening To: Was completely creeped out by the Dirty John podcast in a great way. Catching up on Missing & Murdered: Finding Cleo as time permits.

That's all for now.