Stuff & Nonsense 054: Laminated Cat
Is this really the first newsletter of the year for me? Time has moved quickly of late. Writing a book does that to you.

Now, I'm in that weird pre-pub state where all your work on the book is done - so, you're really just waiting. I mean, at least that part of my brain is. I'm still working on stuff - some of which I can't announce, some related to a new Pete novel, some just the regular churn of life. I guess Tom Petty was right - the waiting is...well, you get it.

All that said, I'm excited to share the new Pete Fernandez book with you. Blackout hits May 8 from Polis Books (you can pre-order it now, or request a review copy on NetGalley) and it seems like some other people are looking forward to it, too - MysteryPeople and LitHub/CrimeReads both included it on their "most anticipated" lists for 2018, and I've been staring at these beauties for the last few days: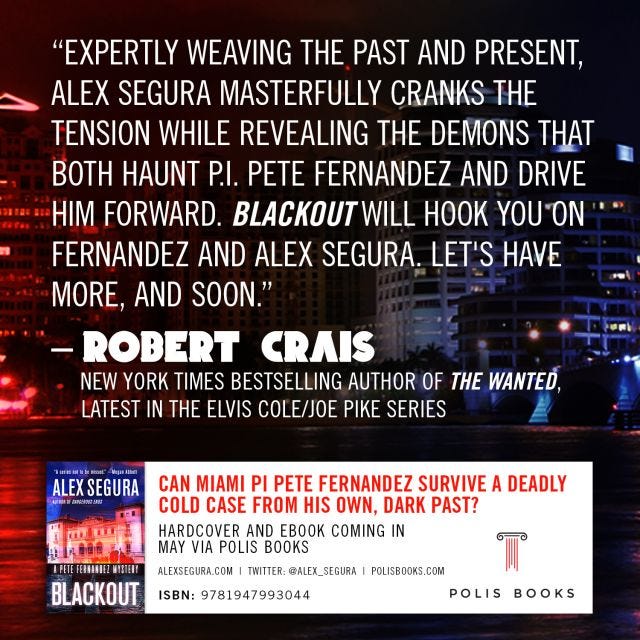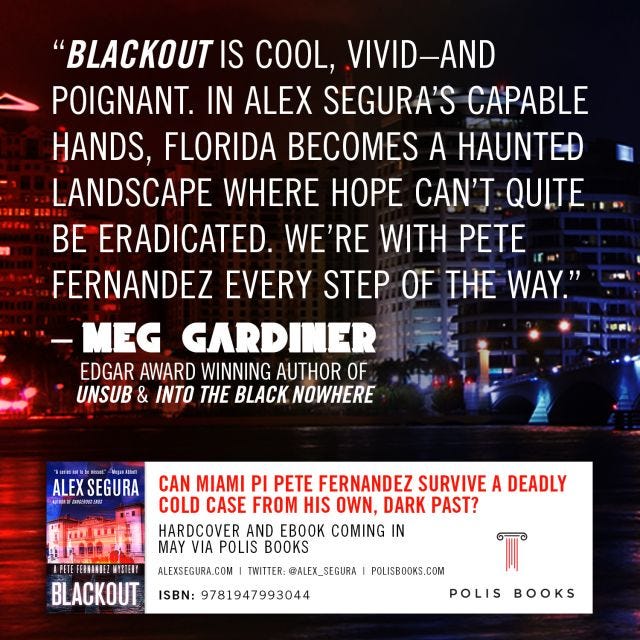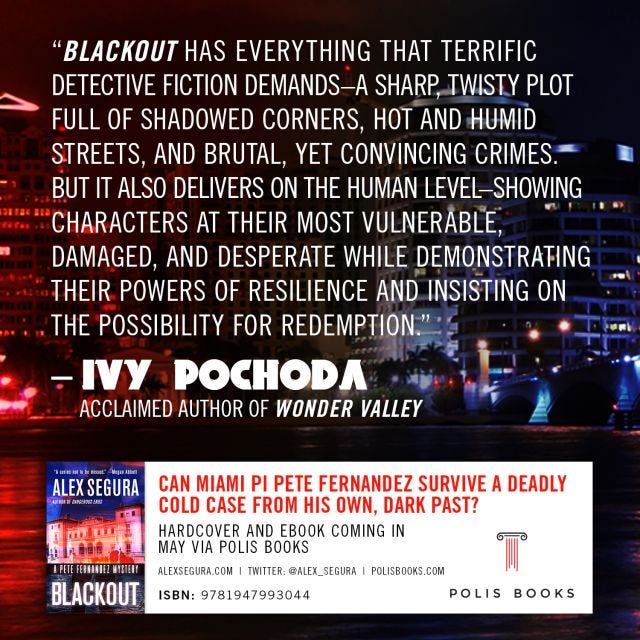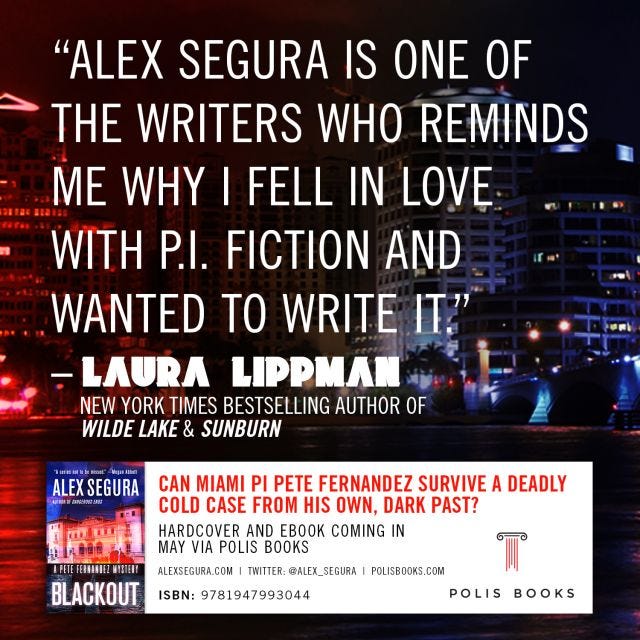 I can't do these endorsements justice, but they all mean the world to me. Laura's Tess books were a major influence on my own work, as were Crais's Elvis Cole/Joe Pike novels, and I would consider UNSUB and Wonder Valley two of my top books in recent memory. Very grateful they enjoyed Pete's latest ride.

In other news, I'll have a Pete-centric short story in this year's Bouchercon anthology, which means I can check "Share space with John D. MacDonald" off my list, which I never expected to do. The other contributors are stellar, and I'm lucky to have a slot among them. I've also got a story in Unloaded 2, which got a nice review in PW.

Blackout features Pete diving back into a cold cause that's haunted him for years, only to find it's somehow entangled with a faded Miami cult. The research for the book was eye-opening and hard to shake, so it was nice to blow some of that steam off in conversation at Boing Boing with bestselling thriller writer Gregg Hurwitz, who is no stranger to cults, having created one for his early novel, The Program.

I'll have more info on events and other cool stuff next week - probably with some non-Alex author content, too.

In terms of comics, The Archies is coming to an end with #7, but before then, we'll have the kids run into Blondie, so not all bad.

Speaking of Laura Lippman, I like how she organizes what she's reading in her own, must-read newsletter - so I'm ripping that off, if just a bit.

What I'm Reading: Jonathan Abram's All The Pieces Matter, an excellent oral history of The Wire TV show. Before that, I enjoyed the first three "Berlin Noir" Bernie Gunther novels by Philip Kerr. Thanks to superstar Chris Holm for the suggestion.

What I'm Rereading: Because I loved it and I'm sure you will, too, I listened to the audio version of Laura Lippman's lovely, engrossing modern noir, Sunburn. In advance of a class I taught a few weeks back on the evolution of the modern private eye (American), I revisited Devil in a Blue Dress by Walter Mosley. Spoiler: it's still good.

What I Plan to Read: Michelle McNamara's I'll Be Gone in the Dark, McMafia, Alison Gaylin's new novel, If I Die Tonight, Rob Hart's last Ash McKenna novel, Potter's Field (#humblebrag) and old issues of Amazing Spider-Man.

What I'm Watching: Nothing, believe it or not. Waiting impatiently for the final season of The Americans to start. I think we're still watching The Crown?

What I'm Listening To: The new Breeders and David Byrne records. Lots of Miles Davis Quintet. 23-year-old me would be quite happy. CrimeWritersOn, always.

That's all for now. Talk soon.