Stuff & Nonsense 052: Don't Make Me a Target
The past few months have involves some travel (Miami Book Fair!), revisions on the next Pete Fernandez novel (Blackout, which hits May 8 from Polis Books), learning to (co)write a monthly comic book (The Archies), plus the usual day-to-day of work/family/sleep (ha-ha-ha on the last one). I also somehow thought it'd be a good idea to do three Noir at the Bar events over six weeks in three different states. So, yeah. It's been a busy time. But busy is good, as the saying goes. Anyways.

I, like every other sane person I know, have been a bit despondent over some of the news (tax murder bill, the Roy Moore saga), slightly optimistic over other stories ("Lock him up!") and trying to stay level by spending time with my family, squeezing in some good television when possible (Mindhunter and The Deuce, off the top of my head), and, of course, books.

With that in mind, and realizing it's already (!!!) December, here's my "best of" list, in no particular order—with the caveat that I did not read everything. In fact, a big chunk of my reading time this year was spent with Stephen King, as some of you may recall. As much as I wanted this list to be comprehensive, there are books that I just couldn't include because I haven't had the chance to read them yet. So, apologies to Righteous, Bluebird, Bluebird and the two Michael Connelly books released in 2017. Diving into those very soon, promise.

As an aside: I was also tempted to subcategorize/asterisk some of these picks because I'm friendly with a few of the authors on the list (okay, many), but that'd minimize my love for their books. They're included below because they wrote superb novels that stuck with me. So, onward:

Wonder Valley, Ivy Pochoda - I make a point of not reading much fiction while writing or revising, but I make exceptions for books that I know will make me painfully jealous…er, I mean, up my own game. This is a strong example of that kind of book—a character-driven thriller that evokes place and the human struggle while still keeping the pages turning. Pochoda is a force.

The Blinds, Adam Sternbergh - A can't-miss read that blends elements of noir, sci-fi and Richard Bachman-esque dystopia to create something completely new and compelling. Cinematic and evocative.

Little Deaths, Emma Flint - I was surprised to find this was a debut, because it read so confidently and wove various plot threads with the precision and ease of an old pro. An excellent and dark modern noir.

From Holmes to Sherlock: The Story of the Men and Women Who Created an Icon, Mattias Bostrom - I'm not a Sherlockian, though I do enjoy the works of Doyle and the stories formed an early and essential introduction to the mystery genre for me. That made this book, which chronicles the creation and evolution of the Holmes IP through various stages and owners, all the more successful—once I was done, I returned to the Holmes stories with a new vigor, and found myself falling for them all over again. A meticulously researched and thoughtful look at one of the most lasting characters in the history of fiction.

Lightwood, Steph Post - I love what Steph adds to the Florida crime fiction world, and her Cannon crime saga is one I will happily follow for two more books. Walk in the Fire, the sequel to this impressive first installment, hits next month.

What You Break, Reed Farrel Coleman - I very much enjoyed the first Gus Murphy novel, Where It Hurts, so I was fully expecting to enjoy the sequel. I wasn't let down, and you could make a strong case for it being the stronger of the two. Coleman's terse prose and knack for a well-timed plot twist are on display here, and I devoured it in a day.

UNSUB, Meg Gardiner - I didn't think much could be added to the serial killer genre, but Gardiner manages to accomplish that and much more with the launch of her new series.

Since We Fell, Dennis Lehane - I dunno, I liked it. I feel like this book got a mixed response, and I'm not sure why? It's classic Lehane through the filter of Gone Girl—which is a milkshake I will always drink. Er, with almond milk, that is.

The Road to Jonestown: Jim Jones and Peoples Temple, Jeff Guinn - This haunting biography of cult leader Jim Jones is disturbingly relevant and chilling. If you were enthralled by Guinn's Manson bio, this one is worth your time—and arguably better, cementing his place as the definitive chronicler of 60s/70s cult figures and movements.

The Grim Sleeper, Christine Pelisek - A powerful piece of true crime reporting with an added layer of humanity and personality that I find is missing from some of the more popular books in the genre. Pelisek humanizes not only the devious serial killer, Lonnie Franklin, but each of his victims while framing it with her own experiences covering the winding saga. Human, touching, gripping and hard to put down.

My Fair Junkie, Amy Dresner - I'm a sucker for a compelling addiction/recovery memoir, and this was no exception—intense, brutally honest and raw. Dresner writes in a casual, whispering-in-the-library tone that instantly puts the reader at ease, and I found the book to be heartfelt and often hilarious.

Blind to Sin, Dave White - This series continues to surprise and evolve, things that are essential for me when it comes to reading PI fiction.

The Woman from Prague, Rob Hart - Why am I not seeing this book on end-of-year lists? Baffling. Rob Hart hits a new level with this one, and morphs his Ash McKenna PI series into a bonafide spy thriller. A bravura performance from one of the genre's rising stars.

Conviction, Julia Dahl - The best book in a great series. Dahl keeps getting better.

The Day I Died, Lori Rader-Day - Another book that leaves me scratching my head when it comes to best-of lists. A smartly-crafted and suspenseful novel that will keep you on your toes throughout. What more could you want? Rader-Day's best yet, which is saying a lot.

The Force, Don Winslow - I liked it, too.

***

Some links:

This Emma Cline story is crazy, and the tactics her soon-to-be-a-Wikipedia-footnote ex's lawyers have taken are nothing short of vile.

This made me laugh...and cry.

Sabrina is coming to Netflix.

I talked to EW.com and Under the Radar magazine about the band CHVRCHES appearing in the third issue of The Archies.

Writer's Bone asked me to list a few books I've been loving of late (spoiler—it includes the new, wonderful Laura Lippman novel).

I spoke to Robert Crais about his new Elvis Cole/Joe Pike novel, The Wanted, at ITW's The Big Thrill.

A belated link to my interview with Adam Sternbergh on his fantastic novel, The Blinds. See what I did there?

I was profiled at GeekDad.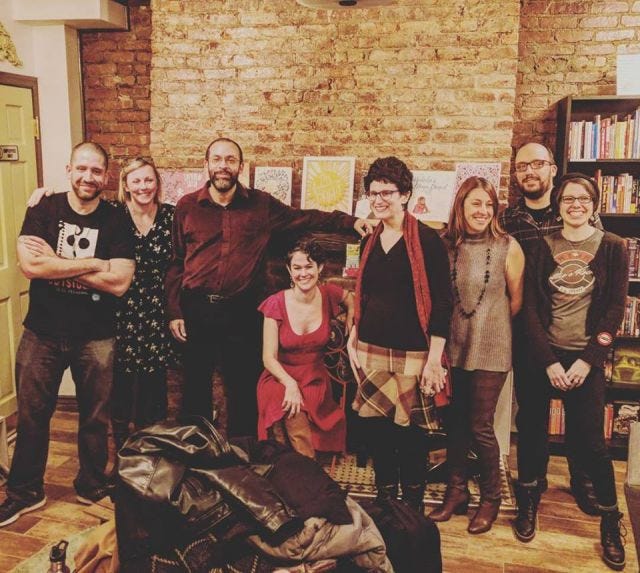 Here's a pic from last weekend's super-fun Noir at the Bar: Queens event, which I co-hosted at the newly-opened indie bookstore Kew & Willow Books in Kew Gardens, Queens.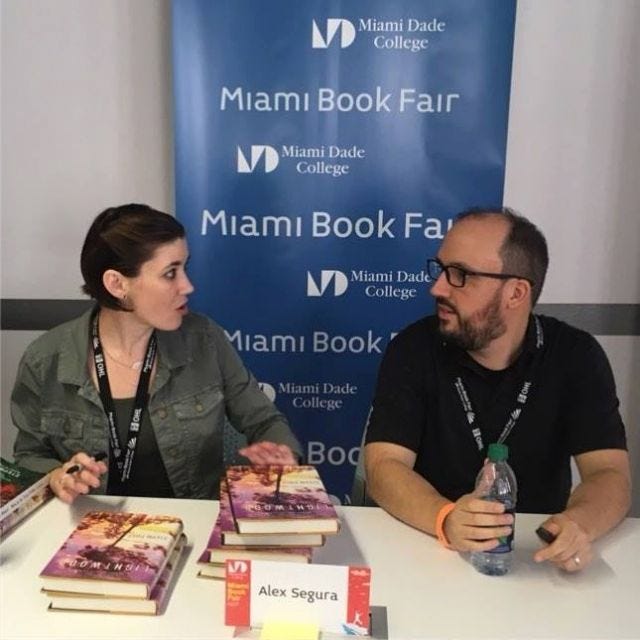 And candid shot of Steph Post and I signing copies after our Florida crime panel at Miami Book Fair. The entire event was a blast (including Noir at the Bar: Miami!), and this photo cracks me up each time I look at it.

That's it for now! I'm sitting on a great piece on becoming a hybrid author by Kristi Belcamino and a Holmes interview with Cavan Scott, so keep your eyes peeled for those in future newsletters.