Stuff & Nonsense 051: I Left My Wallet in El Segundo
This newsletter is packed. Packed, I tell you! So, I'll keep the intro light.

This week's installment features an interview with Meg Gardiner, the author of one of the summer's most-talked about books, UNSUB. I've known Meg a long time. Not sure if she remembers this, but she was one of the first authors I met at my debut Bouchercon. She was immediately warm, friendly and quick to provide sage advice. She's also super-talented, professional and good people. I'm happy to see her book doing so well, and it's a really, really strong read.

But that's not all: we've got two spectacular essays following the interview - one from Another Man's Ground author Claire Booth and the closer via the dynamic duo of Kate and Dan Malmon. The beloved Malmons are editing the must-read Killing Malmon anthology, which will feature a story by yours truly (not to mention a ton of spectacular writers). Claire, Kate and Dan are dear friends and exceedingly talented, so if their writing moves you, don't hesitate to pick up their books.

With that, let's get started.

***

About Meg:
Edgar-winning novelist Meg Gardiner writes thrillers. Fast-paced and full of twists, her books have been called "Hitchcockian" (USA Today) and "nailbiting and moving" (Guardian). They have been bestsellers in the U.S. and internationally and have been translated into more than 20 languages.
UNSUB, her current title, is the first novel in a series featuring homicide investigator Caitlin Hendrix. The AP calls it "An intelligent, sharply written, compelling page-turner that is satisfying on every level." It has been bought for adaptation as a television series by CBS.


About UNSUB:
Caitlin Hendrix has been a Narcotics detective for six months when the killer at the heart of all her childhood nightmares reemerges: the Prophet. An UNSUB—what the FBI calls an unknown subject—the Prophet terrorized the Bay Area in the 1990s and nearly destroyed her father, the lead investigator on the case.
The Prophet's cryptic messages and mind games drove Detective Mack Hendrix to the brink of madness, and Mack's failure to solve the series of ritualized murders—eleven seemingly unconnected victims left with the ancient sign for Mercury etched into their flesh—was the final nail in the coffin for a once promising career.
Twenty years later, two bodies are found bearing the haunting signature of the Prophet. Caitlin Hendrix has never escaped the shadow of her father's failure to protect their city. But now the ruthless madman is killing again and has set his sights on her, threatening to undermine the fragile barrier she rigidly maintains for her own protection, between relentless pursuit and dangerous obsession.
Determined to decipher his twisted messages and stop the carnage, Caitlin ignores her father's warnings as she draws closer to the killer with each new gruesome murder. Is it a copycat, or can this really be the same Prophet who haunted her childhood? Will Caitlin avoid repeating her father's mistakes and redeem her family name, or will chasing the Prophet drag her and everyone she loves into the depths of the abyss?


Meg, I really enjoyed UNSUB - it was a fast, compelling read and it kept me engaged, which is all you can ask for. When did the idea for the book strike, and how long did it take to put together?
The idea didn't strike so much as bubble up and finally rise to a boil. I grew up in California, where some notorious killers have wrought havoc. The Zodiac. The Golden State Killer. They're unsubs—unknown subjects in a criminal investigation. They've never been identified or caught. Because of that, an unsettling thought lurked in the back of my mind: These killers were never arrested. What was to stop them from killing again? And, as a thriller writer, I take what unsettles me and twist it into fiction. What if a legendary cold case turned hot again? What if a killer decided, after twenty years, to pick up where he left off? Turning this idea into a suspenseful novel—UNSUB—took a couple of years of work.
I feel like serial killer novels can get a bad rap, with the idea that there's only so much you can do in the sub-genre. Having written one myself, I don't think that's necessarily true. Did you have any reservations before diving into the work that became UNSUB?
I always wonder, and worry, about the idea at the core of a book. Is it strong enough? Fresh enough? Big enough? But I didn't worry about writing about a serial killer—I worried about creating a fascinating villain, who has a lust for power and violence, a penchant for mind games, and a hunger to torment the cops and the public. I worried about creating a fictional killer with a mission that the heroine of the novel, homicide cop Caitlin Hendrix, must decipher, so she can hunt him down. The book is loosely inspired by the Zodiac Killer, which as far as serial killers go, is one of the most well-known cases. How much research did you have to do? Did any books in particular serve you well?
I read a ton of journalism about the Zodiac. The more I read, the more I was horrified, fascinated, and gripped by the case. Many of the original police and FBI files have been digitized and are available online. I went through them. I also read Robert Graysmith's book Zodiac, and of course re-watched the movie Zodiac, which brilliantly captures the terror and obsession at the heart of that case. UNSUB doesn't track the Zodiac murders in any close way. I didn't want to recreate the case. I wanted to dig into the psychology of the killer, and show how somebody with a narcissistic, Machiavellian mindset could manipulate the press, terrify the public, and torment investigators. One thing I found, at least with research, is that I tend to do most of it on the front-end, before I start the actual writing. This allows my brain to soak up the info and then I'm off to the races, which means my mind tends to focus on the stuff I want to retain for the actual crafting of the novel. What's your process like?
I do a lot of my research up front too. I want to understand a subject—at least well enough not to make a fool of myself on the page. But I also use research as kindling, to fire up ideas for the story. Research and writing are a back-and-forth. And It works best for me to start writing while I'm still in the midst of research. I always tell aspiring writers: What matters most is the story. Write it. Keep researching as you go, then get knowledgable people to read your work and tell you what you got right, got wrong, and what you need to change. But don't try to master a subject before you sit down to write. If you wait to write until you've become an expert on a subject, you'll end up building a reference library for yourself. But you won't ever have a novel. I don't think it's a stretch to say UNSUB has been your biggest hit and also garnered a ton of critical acclaim, with the book already optioned and the buzz continuing to, well, buzz! Aside from it being a great book, what can you attribute that to?
The time and care I took when writing it. And the support I've gotten from my publisher, Dutton (I mean, look at the book. It's beautiful!) and from my agent, Shane Salerno. He pushed me to write a novel that's above and beyond what I'd written before. And he's worked along with my Dutton publicist to get the word out to reviewers and the press—that's raised the book's profile. Some great booksellers have also helped put the novel in readers' hands. Helping readers discover a new title is always a huge task. I feel like I have a lot of people pulling with me here. Were there any serial killer books or novels you looked to as inspiration or guides of sorts while writing UNSUB? What are you reading these days? Of course I reread Thomas Harris: Red Dragon and The Silence of the Lambs. Those novels are brilliant, and reminded me what the gold standard is. I also read a number of books by former investigators, particularly retired FBI profiler John Douglas. This summer I've been reading a ton of fantastic thrillers—Blame by Jeff Abbott, The Force by Don Winslow, The Marsh King's Daughter by Karen Dionne—and catching up on Stephen King. Red Dragon is such an essential read in that space, for sure. It was a huge influence on my own serial killer book, Down the Darkest Street. We need to share notes on King, too. Can I ask what you're working on next? The sequel to UNSUB. Caitlin Hendrix works with the FBI's Behavioral Analysis Unit to track a charming, devious killer across the western US. It's called Into the Black Nowhere. It'll be out in 2018.

***

About Claire:

Claire Booth spent more than a decade covering crime as a daily newspaper reporter before turning to book writing. She's reported on many high-profile cases, including the Laci Peterson murder and the San Francisco dog mauling case, writing extensively about the trial of two lawyers accused of killing their neighbor with vicious dogs. While working in the Bay Area she also covered the case of Taylor Helzer, the self-proclaimed prophet whose murder spree became the subject of her first book, The False Prophet. Her Sheriff Hank Worth mystery series takes place in Branson, Missouri, where small-town Ozark politics and big-city country music tourism clash in unexpected ways. The second in the series, the just-released Another Man's Ground, begins with a odd theft report and quickly snowballs into murder, conspiracy, and political backstabbing.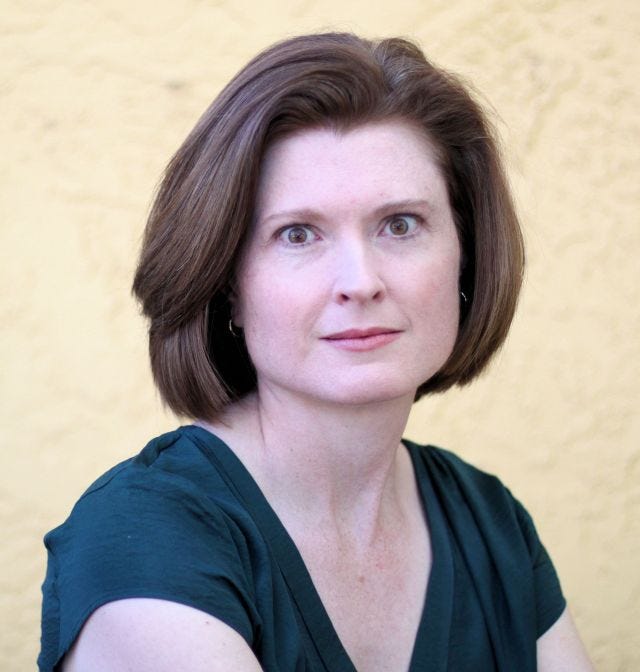 About Another Man's Ground:
It starts out as an interesting little theft case. Branson, Missouri's new Sheriff Hank Worth is called out to look at stands of trees that have been stripped of their bark, which the property owner had planned to harvest for the booming herbal supplement market. At first, Hank easily balances the demands of the investigation with his fledging political career. He was appointed several months earlier to the vacant sheriff position, but he needs to win the fast-approaching election in order to keep his job. He thinks the campaign will go well, as long as he's able to keep secret the fact that a group of undocumented immigrants – hired to cut down the stripped trees – have fled into the forest and he's deliberately not looking for them.

But then the discovery of a murder victim deep in the Ozark backwoods sets him in the middle of a generations-old feud that explodes into danger not only for him, but also for the immigrants, his deputies, and his family. He must rush to find a murderer before election day, and protect the vulnerable in Branson County, where politicking is hell and trespassing can get you killed.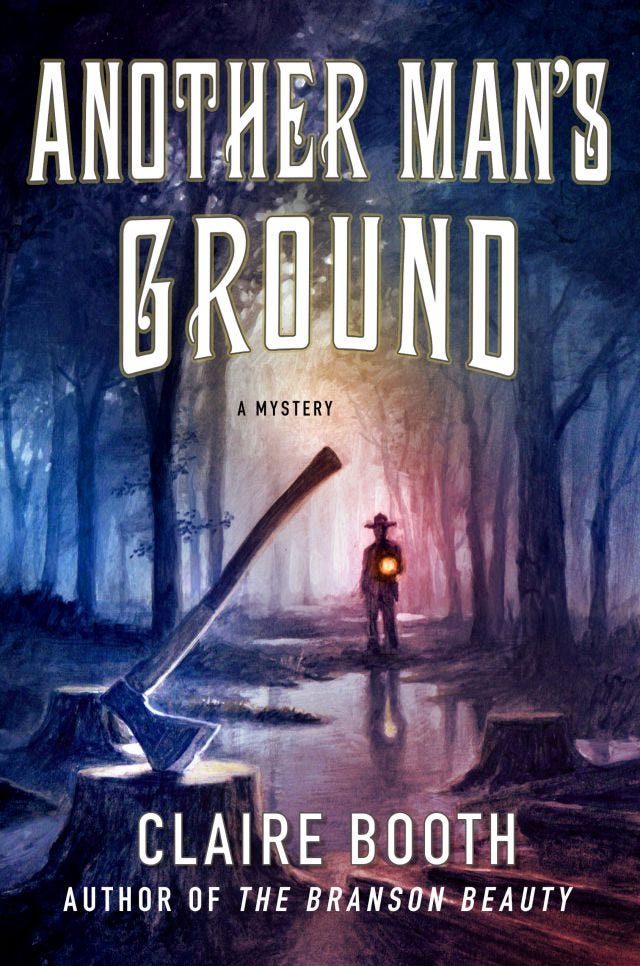 Several years ago, I heard about a very peculiar kind of crime – tree bark theft. Thieves sneak onto land owners' property and strip specific types of trees. It turns out that the underside of the bark is extremely valuable as an ingredient in herbal supplements and teas. And if it's done improperly, it kills the trees.

This fascinated me, even more than crime usually does. It was unique and strange and a little absurd, and it wouldn't leave me alone. So when I sat down to write my second novel, there was really only one place to start. In a grove of de-barked trees.

And it couldn't have been a better fit. One of the regions lucky enough to have a whole pharmacy worth of wild plants is the Ozarks of Southern Missouri. And people there don't take kindly to trespassing, which opened up all sorts of possibilities for me. My herbal theft quickly branched out into feuding and murder. And it allowed my characters to investigate in locations – forests, ravines, hilltops – that were not only unusual for a police case, but that also were themselves integral parts of the mystery. And it's all because I couldn't shake the image of a stand of pale, stripped trees, left to die in the middle of a mountain forest.

***

About Kate and Dan Malmon:

Kate and Dan Malmon have been reviewers for Crimespree Magazine since 2011. Both grew up in houses where reading was encouraged, and crime fiction and comics still play a major part in their lives. Kate has been waging her battle with MS since 2005. Dan gets grumpy if he eats late.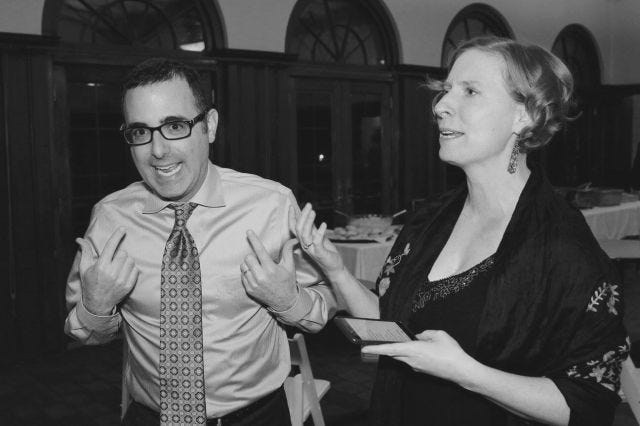 About Killing Malmon:
We are having a book.
And some amazing people are joining us on this adventure. The anthology is called KILLING MALMON, and it'll be out on October 19, 2017. It's funny and sad and shocking and suspenseful and all sorts of other adjectives, and it will benefit a charity close to our hearts. Here's the skinny, straight from the Forward of the book. We hope you dig it. Down and Out is publishing it and Eric Beetner did the cover.
Seriously, this book is like the biggest and badest jam band ever. We'll have stories from Hector Acosta, Eric Beetner, Dana Cameron, Sarah M. Chen, Matthew Clemens, Angel Luis, Colon, Hilary Davidson, Cory Funk, Danny Gardner, Paul Garth, and Rob Hart. We can't forget about stories written by Ed Kurtz, SW Lauden, Jeff Macfee, Russell McLean, Erin Mitchell, Erica Ruth Neubauer, Brad Parks, Thomas Pluck, Bryon Quertermous, and Todd Robinson. There will also be stories by Alex Segura, Jeff Shelby, Josh Stallings, Jay Stringer, RD Sullivan, Bryan VanMeter, Holly West, and Dave White. Whew.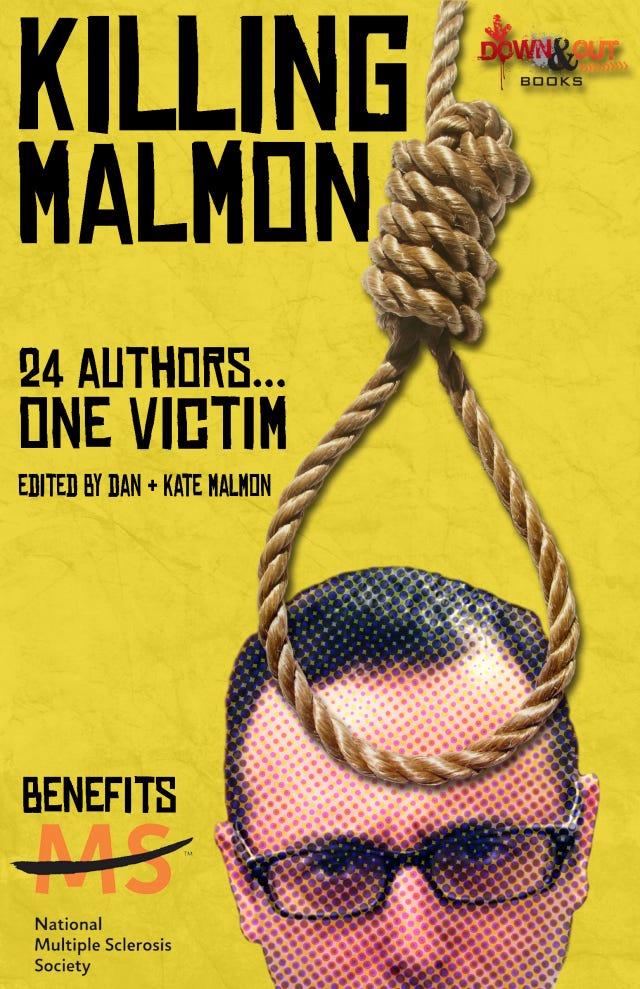 Killing Malmon. What started out as an online flash-fiction contest will become a living, breathing anthology October 19th. This is crazy, right? The kind folks at Down & Out Books have agreed to publish the original KILLING MALMON stories that ran red on the internet in 2014, plus a slew of new entries from friends both old and new. As the editors of the collection, we didn't have to do the heavy lifting of actually writing the stories where some unfortunate soul by the name of "Dan Malmon" had to meet his demise, but let's be real. There were some challenges.

When Down & Out said they'd be interested in putting out a bound collection of the stories, we agreed to do it on the condition that 100% of the proceeds would go to The National MS Society, Upper Midwest Chapter. If Malmon is going to suffer at the hands of thirty of the most creative writers in the game today, then by golly, some good has to result from this. Besides, Dan's mother really, REALLY isn't a fan of the whole thing. We tried explaining the concept of the "Royal Malmon," but she just grumbled and continued wringing her hands.
Moms, amiright?

Anyway, you know how when you plan a wedding, you plan on 25% of those invited aren't going to show up? You're just trying to get names on a list. What do you do when everyone shows up? As first-time editors of anything, we didn't know how many people would actually agree to do the deed for no actual payment. The responses were overwhelming and we had an embarrassment of riches when it came to content.

ALMOST EVERY SINGLE ONE OF THESE BLOODTHIRSTY JERKS SAID YES.

Almost every single one of these wonderful, generous, talented and caring jerks cleared time on their schedules to put pen to paper for us. To create cover art for us. To answer texts and Facebook Messenger… er… messages when we panicked about the most trivial things.

No one made a dime from this project. But hopefully, the MS Society will get a nice check from Down and Out Books because of it. And in the memo line, it will read "For Killing Malmon."

***

Some quick links: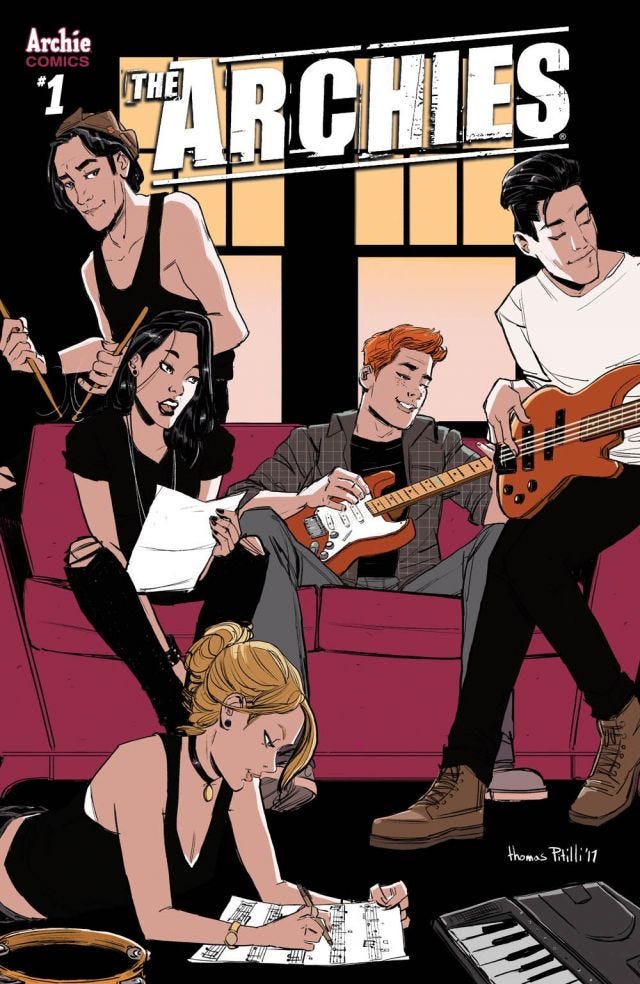 ICYMI, I'm co-writing THE ARCHIES ongoing comic series with Matt Rosenberg, with art by Joe Eisma. We got to talk about the book at Multiversity Comics and The Beat. The latter also features a Spotify list of songs that inspire us while we work on the book.

I spoke to Adam Hill about my Pete Fernandez Mystery series.

Crimespree Magazine asked me (and a bunch of other writers) to talk about their favorite crime TV shows. Spoiler: I picked The Wire.

Reviews! Some nice words for my latest, Dangerous Ends, at No More Grumpy Bookseller, Denise Costello's book blog, Jathan & Heather, Sara the Introvert, Bewitched Bookworms and Out of the Gutter. Writer-you-should-check-out Gabino Iglesias really dug Silent City at Verbicide Magazine and Sons of Spade gave props to Shallow Grave, the Pete Fernandez/Jackson Donne e-short I co-wrote with Dave White.

The Black Hood/Revolver/Dangerous Ends signing with Duane Swierczynski at Mysterious Galaxy in San Diego has been rescheduled! Come by if you can.

My LitReactor comic pitch class, SPLASH PAGE, returns in October. If you have a comic pitch you want to refine before shopping it around, consider the class. I've already seen some former students turn their pitches into actual comics, which is extremely gratifying.

That's all for now. Catch you soon!