Stuff & Nonsense 050: Grow Old With Me
Huh.

Kind of crazy to think this is the 50th edition of the Stuff & Nonsense newsletter. It was started a few years go on a whim - inspired mainly by Sarah Weinman's excellent The Crime Lady. I saw it as a way to connect with readers. I knew I wanted to have an "author" newsletter to keep interested folks informed about my work, but I also didn't want it to just be that. Self-promo can be a little soul-sucking. So, S&N It started off as a forum for me to talk about what I was reading/watching/experiencing, plus some links and missives about whatever struck my fancy. About a dozen newsletters in, I thought it needed to be retooled, mostly to keep me engaged.

If you know me at all, you know one of my favorite things to do, either in person or on social media, is to talk about books, and to plug my very talented friends or people I know who've done good work. That's what the newsletter has become, after the initial growing pains. It's been fun, and I hope to continue it.

I hope you've enjoyed reading these. Here's to a few more.

Speaking of, I got the chance to talk about "crafting a successful author newsletter" (along with Sarah and Crime By the Book) at The Thrill Begins, if the nuts and bolts of author newsletters interest you.

This week we have an interview with author and friend Rob Hart, who's no stranger to this newsletter. His latest Ash McKenna novel, The Woman From Prague, is one of the most-buzzed about books this summer, with raves and mentions in places like The Boston Globe, BookBub, Literary Hub and a star turn on PW's Best Books of Summer list. I had the pleasure of interviewing Rob at his launch party at The Mysterious Bookshop earlier this week, and if you missed that, be sure to catch him as he heads out on tour. The book is the real deal.

And, speaking of buzz books, A Negro and an Ofay author Danny Gardner swings by for this week's essay. Danny's a great writer and huge supporter of the crime fiction community. Most importantly, I enjoyed his book and I'm happy to give him a spotlight here.

After that, I'll update you on some stuff going on with me - including a new comic book announcement.

***

About Rob:

Rob Hart is the author of New Yorked, City of Rose, South Village, and The Woman from Prague. He is also the co-author of the upcoming novella Scott Free with James Patterson. His short stories and non-fiction articles have been published widely.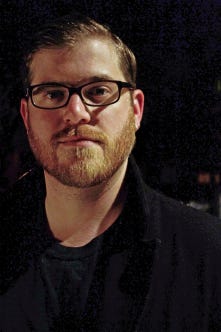 About The Woman from Prague:
Amateur private investigator Ash McKenna's time is about to expire―on his visa, that is. Having fled the demons that haunted him in the U.S., Ash has been laying low in Prague for nearly three months. Now, it's time to move on. But as he contemplates his next stop, a man named Roman appears, claiming to work for the U.S. government, and possessing intimate knowledge of Ash's many sins. Sins nobody should know. Roman offers to protect him… in exchange for a favor.
It sounds simple: a bank employee named Samantha Sobolik is set to receive a package containing covert information in a handoff on the Charles Bridge. Ash must intercept the package, and deliver the contents to Roman. Ash refuses―until Roman threatens to kill his mother. Out of options and too far away to protect her, Ash agrees.
But when Ash gets to the bridge, he discovers that the handoff is actually a hit. Ash ends up battling a mysterious and deadly assassin in a fight he barely survives. As it turns out, the job is far more complicated and dangerous than anyone thought. Ash finds himself in a strange city, outmatched, hunted, and trapped in a dangerous game where nobody is what they seem―including Samantha. The Woman From Prague is a riveting novel of international suspense from one of the very best crime writers working today.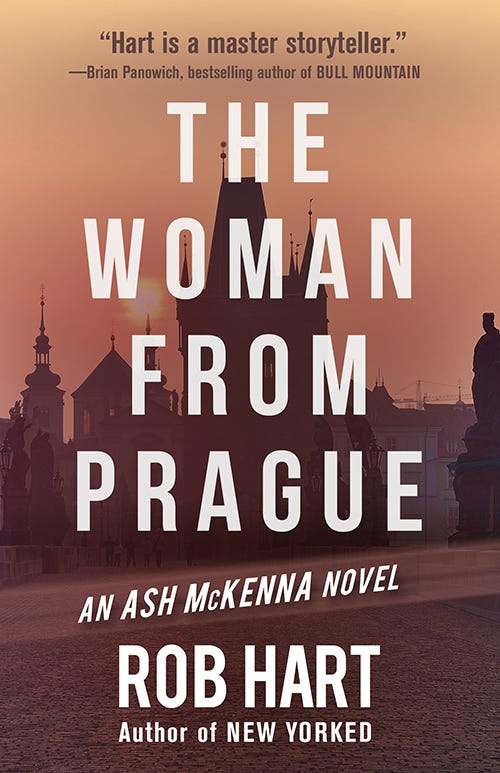 Rob, The Woman from Prague is arguably one of the most buzzed about books this summer. How does that feel? Has it been surreal? How does that compare to how you felt when you clicked send on the final manuscript? Did you feel confident in the work?

It feels great. It knocked me on my ass when Publishers Weekly and the The Boston Globe picked it as one of the best books of the summer. I did not see that coming. I had a hell of a lot of fun writing this book, and it came together far easier than the previous three—so maybe I've hit my stride, at least where this series is concerned.

Give us the elevator pitch for Prague - and a little bit of an idea of how you got there.

Ash McKenna is an amateur PI hanging out in Prague and he's blackmailed into doing a mission that goes sideways. It's a spy novel. At least, my take on one. I visited Prague a few years ago and loved it. By this point in the series, I wanted to put Ash in a situation where he was outgunned and completely alone, in a somewhat alien setting.

Prague is the fourth Ash book, but in many ways, it can be read as a standalone. Do you feel that's true? What are some of the challenges you face writing a series while trying to gain eyeballs on your work, which, I think, is trickier when writing an ongoing, evolving series/protagonist?

I'm glad you thought that, because I really wanted this one to stand alone. All the books can be read separately, but for this one I really wanted it to be its own thing. It's hard to strike that balance with a series—you have to reintroduce the character each time, without making it a slog for people who are now reading him for the fourth time. I think the key is, when referring to past events, paint in broad strokes and trust the reader to keep up. We live in a world of serialized content; they're more than up to the task.

We've collaborated, and one of the things that I liked most about working together is that, well, you put in the time and effort. You treat writing like a job, not a hobby or thing you do for fun, which is admirable. What's your writing routine like?

I write in big bursts, whenever I can. It might be when my daughter is napping. It might be when I wish I could be doing something else. The work gets done or it doesn't. That said, I don't understand those people who say you NEED to write every day. I can't do that. My schedule won't allow it. I think you have to find the system that works for you, and I'm lucky to have found mine.

I agree, and that system isn't always what you read in "how-to" books. It's very much a product of your environment.

Were there any particular books or movies that played into The Woman from Prague, in terms of inspiration?

Oh definitely—I wrote a whole post specifically about this at Booklist Reader. But one of the biggest was Six Days of the Condor by James Grady. It's a great entry in the man-on-the-run sub-genre, and I was pleased as punch that Grady gave me a kind blurb for Prague. Even more glad that I convinced a movie theater in Brooklyn to screen Three Days of the Condor in August, and to let me do a Q&A with Grady after...

That sounds like it'll be a great event. I have a few more questions, if you'll humor me. What are you reading now that's got you jazzed?

Just finished UNSUB by Meg Gardiner. Couldn't put it down. I'm reading a lot of plays now, too. The Strange Undoing of Prudencia Hart is lovely. And She Rides Shotgun by Jordan Harper was so good it made me angry.
In closing—what's next for you, writing-wise?

Currently finishing the first draft of Potter's Field, the fifth and final Ash book. That'll be out next summer. Then: A standalone that's pretty different than anything I've written before. And looking for a new agent, now that mine has stepped down from the game. It's good to be busy.

***

About Danny:

From his beginnings as a young stand-up comedian (Def Comedy Jam All-Stars vol. 12), Danny Gardner has enjoyed careers as an actor, director, and screenwriter. He is a recent Pushcart Prize nominee for his creative non-fiction piece Forever. In an Instant., published by Literary Orphans Journal. His first short fiction piece, "Labor Day", appeared in Beat to a Pulp, and his flash fiction has been featured in Out of the Gutter and on Noir On The Air. He is a frequent reader at Noir at the Bar events nationwide. He blogs regularly at 7 Criminal Minds. He is a proud member of the Mystery Writers of America and the International Thriller Writers.

Danny lives in Los Angeles by way of Chicago. A Negro and an Ofay is his first novel.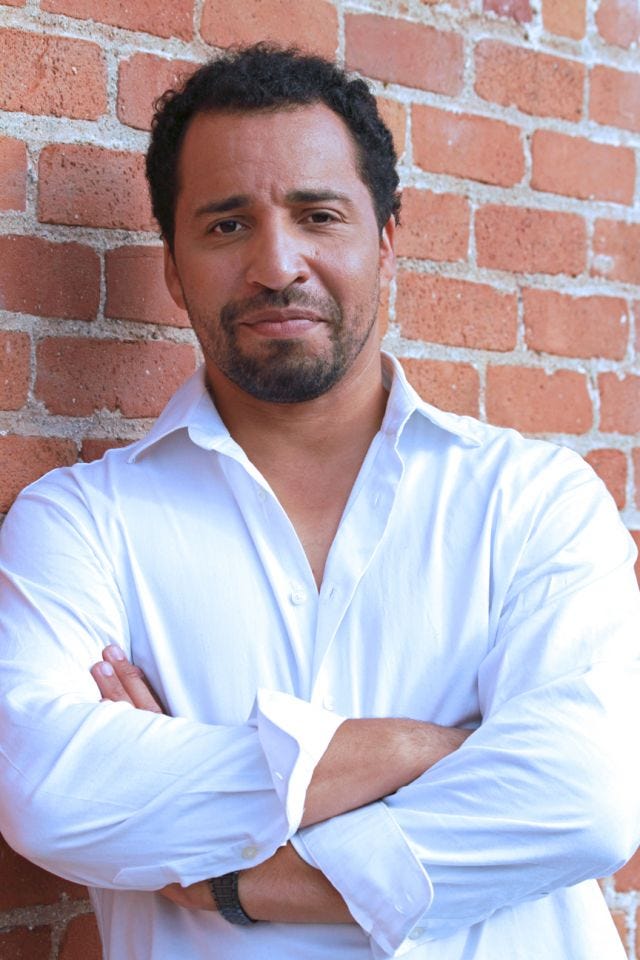 About A Negro and an Ofay:

In 1952, after a year on the run, disgraced Chicago Police Officer Elliot Caprice wakes up in a jailhouse in St. Louis. His friends from his hometown secure his release and he returns to find the family farm in foreclosure and the man who raised him dying in a flophouse. Desperate for money, he accepts a straight job as a process server and eventually crosses paths with a powerful family from Chicago's North Shore. A captain of industry is dead, the key to his estate disappeared with the chauffeur, and soon Elliot is in up to his neck. The mixed-race son of Illinois farm country must return to the Windy City with the Chicago Police on his heels and the Syndicate at his throat.

Good thing he's had a lifetime of playing both sides to the middle.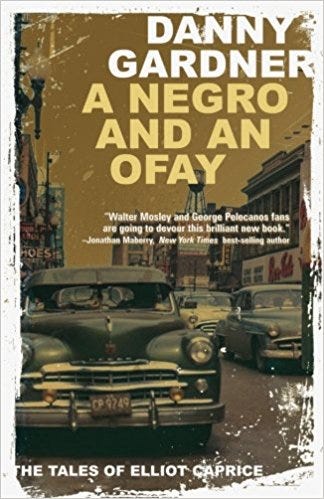 By Danny Gardner

My worst day in the publishing game is still better than my best day doing anything else. I'm no Pollyanna. It's been tough getting to this point. Taking the first deal I'd ever received for the first novel I'd ever written, just to watch it go down the drain, would have made me feel like a fool, except that was the bridge that got me across to steady sales, critical acclaim, and new opportunities.

Certainly, the stigma of an abandoned first edition and the personal ruin of its publisher was hard to work through, but I've endured much opprobrium in my life, often over events that weren't my doing. The stigma of failing in a worthwhile endeavor is a lot more manageable. One of the characters in A NEGRO AND AN OFAY tells my protagonist Elliot Caprice, "Jes 'cuz you tha last one to touch it don't make it yo' mess." Long ago I learned that the hard way.

"I could've told you about that guy."

I heard that a lot. Sometimes I fixed my mouth to respond "Well, why didn't you?" That's not how life works.
Now I'm glad no one told me. I wouldn't have changed course if they had. I'm from the streets of Chicago, where you have to walk through plenty of shadows to get back into the light. Shady doesn't frighten me. I trust my own intentions. Everything else ain't my business.

Of course, I can say that now, but talk is cheap, and my words work much better for me when I reserve them for the page. That's how I got here. I'm thinking that's how I'll remain.

***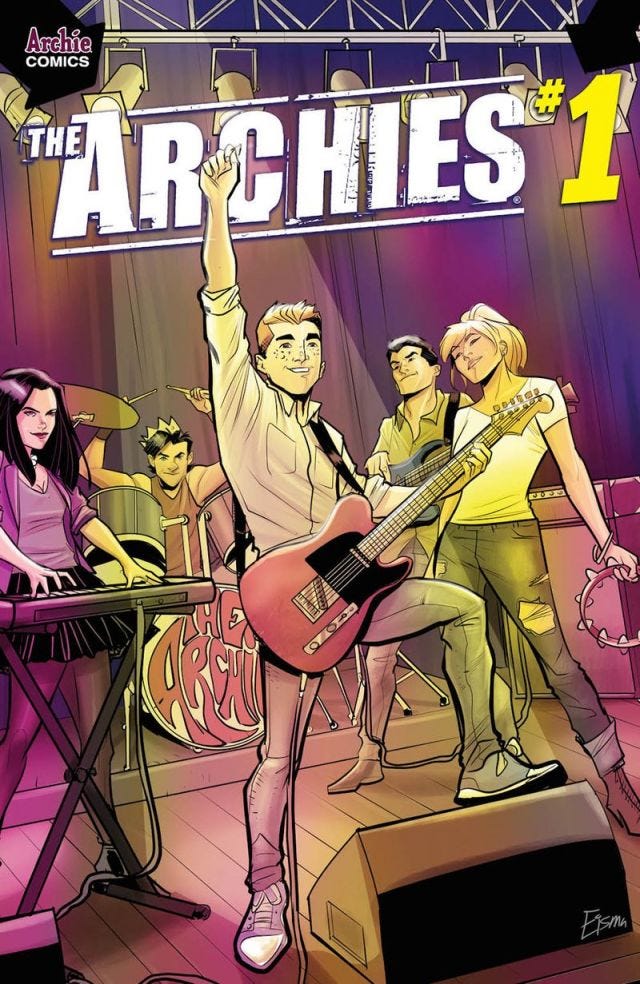 I'll be co-writing THE ARCHIES ongoing series with Matt Rosenberg, joined on art by the amazing Joe Eisma. Book launches in October and is my first-ever monthly title. I am excited. It'll feature some real-life guest stars, too!

If you're in San Diego for Comic-Con next week and happen to be sticking around for a day or two, come see me in conversation with Duane Swierczynski at Mysterious Galaxy the Monday after. We'll be talking about our most recent books—Dangerous Ends and Revolver, respectively—and also plugging the recent trade collection of The Black Hood comic series Duane wrote and I edited for Dark Circle Comics.

Speaking of conventions: I put together a handy conference survival guide at Writer's Digest.

I gave some tips on how to eliminate those annoying, repetitive phrases from your work at Criminal Minds.

There's a pretty good sale going on for my Pete Fernandez books, if you're looking to get into the series. For around $8, you can get all three in ebook form.

Until next time!