Stuff & Nonsense 048: Black Star
Hello!

It's been an interesting week - which sounds cheerful, but considering the political landscape, I'd be OK with "typical" or almost "boring" for a change. Thankfully, books are a great way to get your mind off things and I'm spotlighting two authors I've enjoyed of late that you might dig as well. She Rides Shotgun is arguably one of the most buzzed-about novels in crime circles in recent memory, and I was lucky to get author Jordan Harper to answer a few questions about it. Andrew Case is a writer I've followed for a bit and I've always wanted to hear more about his series directly, so it all works out.

Before that, I wanted to point you to an essay I wrote at LitHub. I've been meaning to talk about my Stephen King binge-reading, and the more I thought about it, the more it felt like it was best served as a personal exploration of fatherhood and how we seek solace from other things to calm our anxieties over the real world. Thanks to Lisa Levy for letting me ramble a bit about how reading books like It, Salem's Lot and more helped me during the early days of fatherhood (which, to be fair, still applies). Hope you enjoy it. Just in time for Father's Day, too.

In the Pretty Big News Department: I'm excited to confirm that I'll be writing two more Pete Fernandez Mysteries for Jason Pinter and Polis Books. Next year will see the release of the fourth Pete book, Relics, followed in 2019 by the fifth, The Midnight Children. Really excited to share these books with you.

A few more bits before we dive into the newsletter proper: Dangerous Ends got a nice review from Kate Malmon at Crimespree Magazine and I'll be reading with some crime fiction all-stars tomorrow night at KGB Bar as part of MWA-NY's reading series. Do come by if you can swing it. It was also nice to hear that Dangerous Ends made the May bestseller list at one of my favorite mystery bookstores, Murder on the Beach. Always nice to see your name among rock stars like Dennis Lehane, David Baldacci, Lisa Unger and fellow Polis crime writer Steph Post. Hoping to be back at the store next year.

***
Q&A WITH JORDAN HARPER, AUTHOR OF SHE RIDES SHOTGUN

About Jordan:

Jordan Harper was born and educated in Missouri. He has been a music journalist, film critic, and TV writer. He lives in Los Angeles.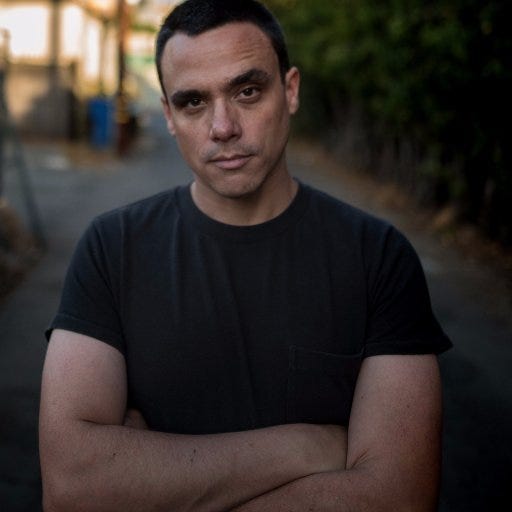 About She Rides Shotgun:

A propulsive, gritty novel about a girl marked for death who must fight and steal to stay alive, learning from the most frightening man she knows—her father.
Eleven-year-old Polly McClusky is shy, too old for the teddy bear she carries with her everywhere, when she is unexpectedly reunited with her father, Nate, fresh out of jail and driving a stolen car. He takes her from the front of her school into a world of robbery, violence, and the constant threat of death. And he does it to save her life.
Nate made dangerous enemies in prison—a gang called Aryan Steel has put out a bounty on his head, counting on its members on the outside to finish him off. They've already murdered his ex-wife, Polly's mother. And Polly is their next target.
Nate and Polly's lives soon become a series of narrow misses, of evading the bad guys and the police, of sleepless nights in motels. Out on the lam, Polly is forced to grow up early: with barely any time to mourn her mother, she must learn how to take a punch and pull off a drug-house heist. She finds herself transforming from a shy little girl into a true fighter. Nate, in turn, learns what it's like to love fiercely and unconditionally—a love he's never quite felt before. But can their powerful bond transcend the dangerous existence he's carved out for them? Will they ever be able to live an honest life, free of fear?
She Rides Shotgun is a gripping and emotionally wrenching novel that upends even our most long-held expectations about heroes, villains, and victims. Nate takes Polly to save her life, but in the end it may very well be Polly who saves him.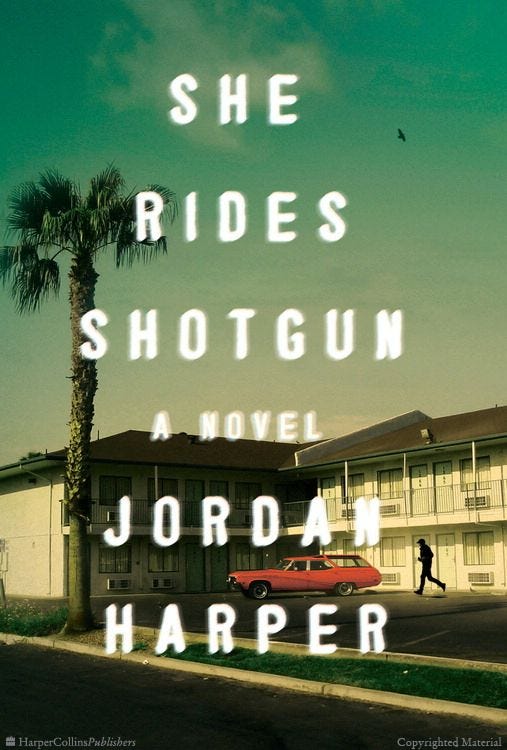 Jordan, first off - great to speak with you. I loved She Rides Shotgun - it was heartfelt, gritty and moved at a great clip. What can you tell us about how the book came together? Was it something you'd been working on for a while? I told somebody last week that the earliest draft of the book came about in 2014, but earlier this week I was poking through my files and found an early draft from 2013, so it's been in development for four years. Having it come out made me realize that I'm not sure how many novels I have in me. Five? When I started work on it, I'd been working at The Mentalist, my first TV job, for a couple of years. I'd gotten my sea legs enough that I was ready to get back to fiction, which I'd put to the side while I learned the ropes of TV writing. I was ready to create something on my own again, and TV had taught me how to tell a story quickly and well. I was ready to write a book.
Polly's a really developed protagonist. What made her come to life for you as you were working on the book? What did you like most about writing her? It took a long time to find Polly and get her right. The section about Polly being from Venus, which I think is the central metaphor for her, didn't come to me until just before turning the novel in to my publisher. So I'm talking 6th or 7th draft. I'm a big believer that you build in layers, and that's why I like re-writing to writing. Polly to me is just that dream character, the mouse that rises up. I'm a sucker for the weak finding their strength, and pulling that out of Polly was part of what I loved about her.
Were there any particular books that inspired Shotgun? Are there any writers you'd cite as strong influences on your own work? The obvious inspiration, which I do explicitly reference in the book, is the Japanese comic book Lone Wolf & Cub, which is about a samurai who takes his son with him on the Road of Death when they are marked for assassination by the Shogun. You could also point to Paper Moon, The Professional, The Road to Perdition. I think my style is someplace between Stephen King and James Ellroy, with a little Cormac McCarthy on my best days. For tone, I look to early Tarantino like Reservoir Dogs and True Romance.
You've written for TV, covered the music scene and write novels - how does each kind of writing feed your brain? Have any great war stories? TV is great because you work in a group, and some of the best times in my life were being in a room full of writers trying to solve a problem. Covering music was fun in my 20s, but it's a young man's game. Eventually you don't want to go to concerts four to five nights a week, or I didn't anyway. Also I got sober, which made hanging out in bars listening to bands less fun. Novels are really hard. Man, I wish they weren't so hard.
They really are. But it's worth it, I guess? That's what I tell myself. Speaking of - what books are you reading and enjoying these days? I'm reading To Live and Die in LA right now, which is pretty good. It feels very real, and counterfeiting is a crime nobody writes about anymore.
What's next after your book tour is done and you're back home? Well, the tour is sporadic, so I'm at home now. I'm trying to figure out what's next. I'm working on a pitch for a TV show, and I just turned in the script for the film version of She Rides Shotgun, so I'm hoping something comes of that. And maybe I need to crank out a short story just to get back into the game.

***

ANDREW CASE ON HIS NOVEL, A FALLING KNIFE

About Andrew:

Andrew Case's second novel, A FALLING KNIFE, was released this spring by Thomas & Mercer. His first book, THE BIG FEAR, received a starred review from Publishers Weekly and was chosen as a "must-read" book by the New York Post. His plays have been commissioned and produced at the Manhattan Theatre Club, Steppenwolf, and many others.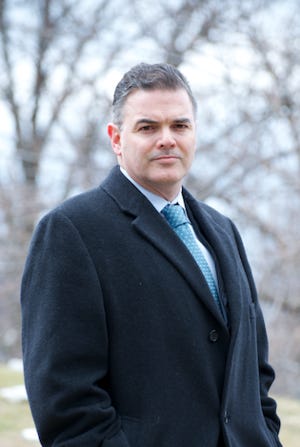 About A Falling Knife:

Something's rotten in the borough of Brooklyn. And it's not just the wave of glossy condos pushing longtime residents out of their neighborhoods. A construction worker has plunged to his death, and suspicion has fallen on a fellow hard hat for turning a crane into a killing machine. When the suspect does a disappearing act, a pair of unlikely partners reunite to chase him down.

Leonard Mitchell once investigated dirty cops, and Detective Ralph Mulino was his target. Mulino was cleared. But Leonard ran afoul of the system and ended up pushing paper for the Parks Department. Now Mulino drafts him to infiltrate a real estate mogul's operation and expose a financial scam that may be behind the murder. But when the suspected killer gets tossed from a tenement roof, it seems the price of probing the housing market might just be too high.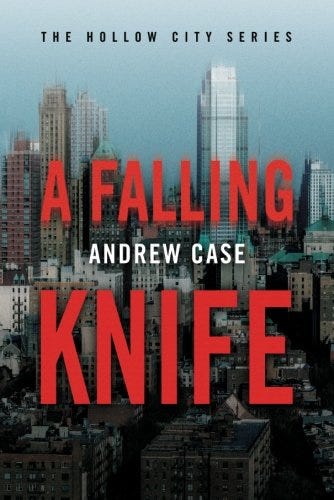 I spent eight years investigating police abuse for New York's Civilian Complaint Review Board, so when I sat down to write BIG FEAR, the topic was easy. One detective shoots another on a dark confusing night. A civilian is assigned to investigate the shooting and has to fight for every inch of the truth. I knew how that worked; I'd been living it for a decade.

But by the end of the book I had left my hero out of a job and out on a limb. And I knew I didn't want to write a second book about a second police shooting. So I needed a new way in, a new world for Leonard Mitchell to explore.

I didn't have to look far. Out of my own back window I can see the troubled Ebbets Field Houses, and on my way to the subway I walk past two shiny new condos. Having first moved to Brooklyn in 1996, I have seen huge change in my adopted hometown—change that affected neighborhoods, communities, and, yes, crime.

I brought back Leonard Mitchell and Ralph Mulino for A FALLING KNIFE, but as teammates, rather than adversaries, as they work together to investigate a construction mishap on a new development that turns out to be so much more. Just as THE BIG FEAR delved into the darker side of the NYPD, A FALLING KNIFE is haunted by the old Brooklyn fighting the new, leaving a string of bodies in its wake.

***
Links and other stuff get pushed off a bit, alas. Next time!

Thanks,
Alex