Stuff & Nonsense 047: Shake It Off
Hello!

I know, I know...I've been away for a spell. It's been busy - book launch, tour, comics, short stories, work, life, etc.

I'll save the "granular" updates until the end of this missive and dive right into the good stuff - namely, an interview with Adam Sternbergh, who has written one of my favorite books of the year with The Blinds and an essay from up-and-coming novelist Jennifer Kitses. Her new book Small Hours is out next week.

Both are worth your time. Hope you enjoy.

***

Q&A WITH ADAM STERNBERGH

About Adam:

Adam Sternbergh's third novel, THE BLINDS, will be published in August, 2017, by Ecco. His novel SHOVEL READY was nominated for a 2015 Edgar Award for Best First Novel; was a Newsweek Favorite Book of 2014; and was long listed for the John Creasey (New Blood) Dagger by the Crime Writer's Association. He is New York magazine's culture editor and ​​lives in Brooklyn.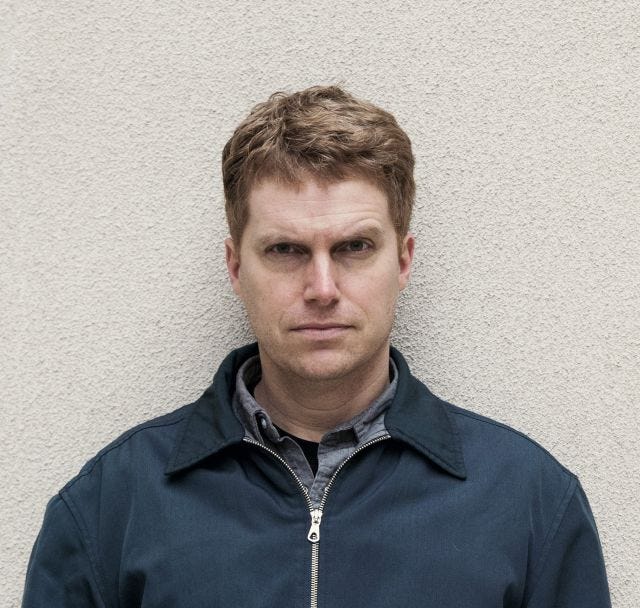 Here's the description for The Blinds:
Imagine a place populated by criminals—people plucked from their lives, with their memories altered, who've been granted new identities and a second chance. Welcome to The Blinds, a dusty town in rural Texas populated by misfits who don't know if they've perpetrated a crime or just witnessed one. What's clear to them is that if they leave, they will end up dead.

For eight years, Sheriff Calvin Cooper has kept an uneasy peace—but after a suicide and a murder in quick succession, the town's residents revolt. Cooper has his own secrets to protect, so when his new deputy starts digging, he needs to keep one step ahead of her—and the mysterious outsiders who threaten to tear the whole place down. The more he learns, the more the hard truth is revealed: The Blinds is no sleepy hideaway. It's simmering with violence and deception, aching heartbreak and dark betrayals.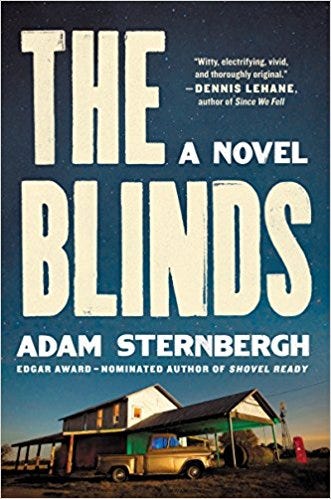 Adam, can you talk a bit about the idea for The Blinds? Having read it, it felt like a great, pulpy Jim Thompson book with a dollop of dark sci-fi.
There were lots of threads, influences, and sparks of inspiration that went into this novel, but The Blinds was initially born out of my longtime obsession with the idea of the frontier town. I've always been fascinated by isolated communities where people work together to forge a new life and write their own rules, for better or worse — whether in the literal Old West, like Deadwood, or isolationist communities like the Amish, or pop-culture frontier towns like Mos Eisley spaceport in Star Wars. ("You'll never find a more wretched hive of scum and villainy…") So the idea of an isolated community of ex-criminals who don't even know their own crimes was something that really grabbed me. Speaking of villainy, Jim Thompson's shadow definitely stretches over The Blinds — I remember reading Pop. 1280, about a corrupt sheriff, many years ago and thinking, Wait, are you allowed to do this? It's so entrancing to spend time in the mind of this laidback, likable lawman who turns out to be so spiritually rancid.
I'm personally exhausted by the "likability" debate that seems to be du jour of late, but because it came up on a panel we were both on not long ago - does a character's appeal register for you at all when writing, or is it the kind of thing where you strive for honesty and engaging people?
What I've always loved about noir is that everyone gets to be a little bad. There is really no room in a noir novel for someone who's completely uncorrupted or forthright — that person would be swallowed alive in the first ten pages. Even so-called heroes are reliably damaged and struggling in some way. So what noir lets you explore is: What are the uses of darkness? How do people act when they think no one is watching them? It's easy to fixate on the parts of yourself you like the most — but what about the parts you like the least? Or fear the most? Noir lets you plumb those depths in a really interesting, outsized, affecting way.
This book breaks away from your first two Spademan books, Shovel Ready and Near Enemy. Did you have to shake off that world a bit before you could immerse yourself in the new book? How was your process different?
The Blinds is definitely a stylistic break from the Spademan books, which were written with very specific aesthetic parameters in mind; namely, to be as spare and stripped-down and propulsive as possible, in a kind of homage to my favorite pulp stylists. With The Blinds, I let myself be more expansive — engaging in third-person narrative and multiple POVs (Spademan novels are first-person) and just allowing myself room to indulge other writerly, and readerly, pleasures. Whereas the Spademan books are intentionally very bang-bang-bang, and even claustrophobic in their dystopian New York City setting, The Blinds is much more wide-open, both in setting and otherwise. The story is still thrilling (hopefully) but you get more backstory, more characterization, and a lot more consideration on the page of who these people are and how they ended up in this predicament.
The story is definitely thrilling. I'm always curious about what media writers are consuming. What are you reading/watching/enjoying these days?
Crime-wise: I really love the new Richard Lange novel, The Smack. Lange writes great novels about hardscrabble people which also happen to include a lot of crime. I love the novelist James Salter and happen to be reading his novel Light Years right now, about a failing marriage, and it is fantastic — every sentence is a poem. The recent movie Hell or Highwater was a favorite of mine, largely because it captures both the landscape (West Texas) and the overall sensations (bleak desperados) I'm dealing with in The Blinds. (I really liked Sicario for the same reason, which is by the same screenwriter.) I also recently rewatched Outland, a mostly neglected 1981 Sean Connery sci-fi movie that is, fairly literally, High Noon in space. "A western, but set in [blank]" is pretty much my favorite genre right now.
I get this question a lot, as a writer with a fairly demanding full-time job and a young child. You fall into the same category, so I'm going to turn the tables on you - how do you find time to write fiction? For me, it's all about maximizing those little pockets of time you get each day - before dinner, before bed, in the morning - but nothing close to a set routine. What about you?
How do I? That's a good question. It all feels like a fever dream in hindsight. Mostly I get up very early (5:45ish) and go to a writing space near my home to work from 6:30 to about 9:30 every morning, then head off to my office job. My wife (who is also a writer, but more of a night person) very kindly takes the morning shift with our child to give me this time to write. And I'm definitely a morning writer — I get very little done that's useful at night, other than putting my kid to bed. I like the wee hours of the morning because it's quiet, the emails haven't started arriving yet, and there's no one on Twitter to distract me.
A time where no emails come in and you can write? Sign me up. Before we finish up, is there anything I missed you want to share about The Blinds?
I have a quote from Alan Moore that I really like tacked up on the corkboard over my writing desk: "My experience of life is that it is not divided up into genres; it's a horrifying, romantic, tragic, comical, science-fiction cowboy detective novel." I feel like, with every book I write, I'm trying to check as many of those boxes as possible. I think The Blinds comes closest to checking them all: It's romantic, tragic, intermittently comical, occasionally horrifying, with elements of sci-fi and detection. And cowboys. There are definitely cowboys.

***

JENNIFER KITSES ON HOW CRIME FICTION INFLUENCED HER NEW NOVEL, SMALL HOURS

About Jennifer:

Jennifer Kitses is the author of the novel Small Hours, out June 13 from Grand Central. She grew up in Philadelphia and received an MLitt in creative writing from the University of St. Andrews in Scotland. Her writing has appeared in Akashic Books' online series, Mondays Are Murder. She lives in New York and has read her fiction at Noir at the Bar: Queens.


Here's the description for Small Hours:

In the vein of Richard Russo and Tom Perrotta, a gripping, suspenseful, and gorgeous debut novel--told hour-by-hour over the course of a single day--in which a husband and wife try to outrun long-buried secrets, sending their lives spiraling into chaos.


I once tried to write a crime novel. I was hoping it would be fast, pulpy, and fun, but I had trouble making all the pieces—and there were many—come together. (There were also about a dozen main characters. At least.) After five years and too many drafts to remember, I finally decided to give up and move on.
I'm glad I did, because I then started writing what would become my first published novel, Small Hours. And though it's not a mystery, I was able to draw on my love of crime novels—what I'd learned from reading them and from my attempts to write one.
One of my favorite crime novels is Raymond Chandler's The Long Goodbye, and not because of anything that happens in the plot. It's hard to stop turning the pages when a chapter ends with a line like: "There is no trap so deadly as the trap you set for yourself." Or: "A dead man is the best fall guy in the world. He never talks back." Reading Chandler taught me about tension and momentum, and when I started writing my (non-crime) novel, I wanted to capture that feeling of always moving forward.

But what I love most of all about crime novels are what might seem at first like throwaway lines or images included simply because they capture something hilarious and awful and sad. The noir and urban writers are masters at this, and it's why I keep returning to William McIlvanney and to anything written by Richard Price. If you saw "The Night Of," I'm thinking of a moment involving the assistant DA and a pair of tennis shoes, which just about summed up the entire show. For me, it's exactly that kind of moment—more than the crime itself—that makes me unable to forget a story.

***

As promised - some updates:




The Dangerous Ends book tour is just about done, which featured stops around New York (including The Strand, The Mysterious Bookshop and The Astoria Bookshop), New Jersey (Watchung Booksellers), Washington DC (East City Bookshop), Miami (Books & Books), Delray Beach (Murder on the Beach) and a final sprint in Queens at the Queens Book Festival. Thanks to all for coming out, thanks to the great indie bookstores for hosting me and an amazing lineup of fellow authors (including Steph Post, Neely Tucker, Julia Dahl, Reed Farrel Coleman, Lori Rader-Day, Dave White, Hilary Davidson, that Sternbergh guy, Lyndsay Faye, Radha Vatsal, Rob Hart, Thomas Pluck and more).

Well, maybe not fully done - I'll be reading from Dangerous Ends at KGB Bar in NYC as part of MWA-NY's Crime Fiction Reading Series next weekend. Swing by if you're around.

There's been a lot of lovely attention given to the book, though I won't rattle it all off here. Glad the book seems to be resonating.

Speaking of: You can enter to win all three Pete Fernandez Mystery novels - Silent City, Down the Darkest Street and the just-released Dangerous Ends - at Goodreads, if that's what you're into.

If you have a spare dollar, the ebook version of my first novel, Silent City, is still on sale for 99 cents.

Very chuffed to hear that Dangerous Ends made the Top 10/Bestseller list at Murder on the Beach Mystery Bookstore in Delray Beach for May. Always love reading there, and I hope to be back next year. Neat to share space with names like Dennis Lehane, Paula Hawkins, David Baldacci and fellow Polis Books author, Steph Post.



ICYMI: The Archies one-shot I co-wrote with Matt Rosenberg, featuring the art of Joe Eisma, is out in the world. If you like fun comics about teenagers playing music with tons of Easter eggs, this is the book for you. Vulture had a sneak peek, too.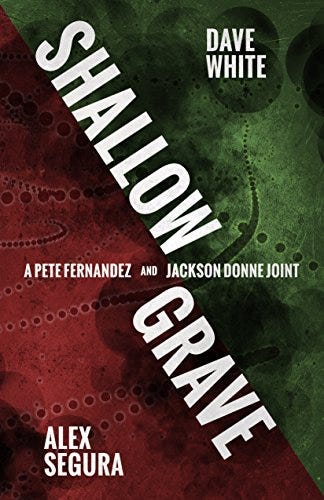 And, lastly, I wanted to alert you to something that I had a blast working on: Shallow Grave, an e-short story co-written with fellow Polis Books crime writer Dave White, featuring our two PI characters - Pete Fernandez and Jackson Donne - teaming up to solve a case together. If you like Dave's books or mine, you'll get a kick out of this, which follows in the grand tradition of Bad Beat, last year's Pete Fernandez/Ash McKenna crossover, co-written by Ash creator Rob Hart. Best of all? The story's free.

I'll save links of note and thoughts on what I've been reading/watching (spoiler - lots of Stephen King, Bloodline S3 and The Sopranos plus the new Lehane and more), for next week.

Until then - thanks for reading!