Discover more from Alex Segura
News and updates about my novel and comic book-writing work, plus reading recommendations!
Over 3,000 subscribers
Stuff & Nonsense 046: Wildest Dreams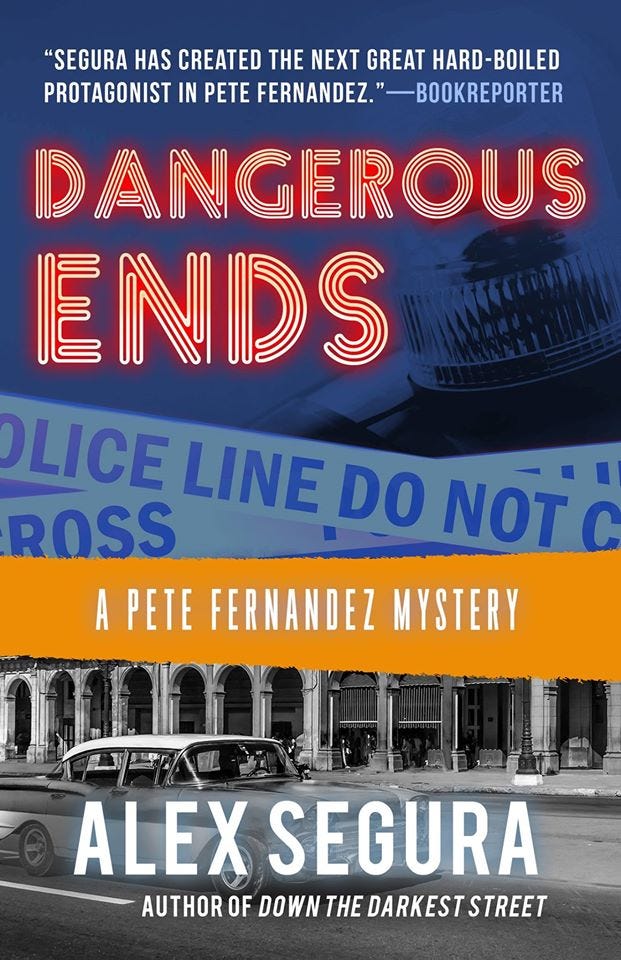 Thank you.

For what, you ask?

Well, Dangerous Ends launched earlier this month and I couldn't have asked for a better, more exciting response to the book.

The fact that it seems like people are connecting to the aspects of the book that are both personal and important to me is incredibly gratifying. While, at its core, Dangerous Ends is a fast-paced and character-driven hardboiled tale, it's also given me the chance to explore things that have been front and center for me since, well, birth. Namely, the relationship between Miami and Communist Cuba, and the perspective American-born Cubans have on where their parents and family were born. That said, there are plenty of guns, some murder and (hopefully) earned surprises, so, don't fret.

I appreciate all the support from readers and friends that helped amplify that and the book's release. Thank you.

Here's "Party Bear" holding his copy. Don't ask.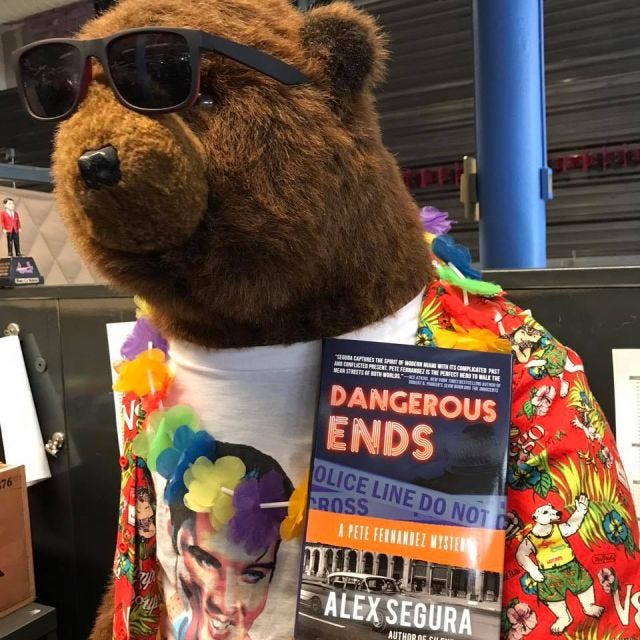 Suffice to say, it's been a busy few weeks. I found myself in conversation with great fellow mystery writers like Steph Post (talking Florida crime), Thomas Pluck and Erica Wright. I did a Reddit Books AMA. I turned people onto the soundtrack for Dangerous Ends at music/lit blog largeheartedboy. I talked about how my own Cuban-American heritage inspired part of the book and how certain moments in our lives as writers help push us through the inevitable hard times. For those interested in more nuts-and-bolts publishing talk, I discussed my road to getting my debut novel, Silent City, out in the world. I also revisited the creation of Pete Fernandez. There were also very nice profiles in Publishers Weekly, The Huffington Post, MTV News and The Chicago Tribune. The book also seems to have resonated with reviewers, with positive nods at Bookreporter ("a book you'll want to read immediately."), Criminal Element ("Dangerous Ends does not disappoint."), Sons of Spade ("another winner"), and PW ("a case with dark, unexpected twists"). Oh, did I mention I got turned into a LEGO figure? Whew.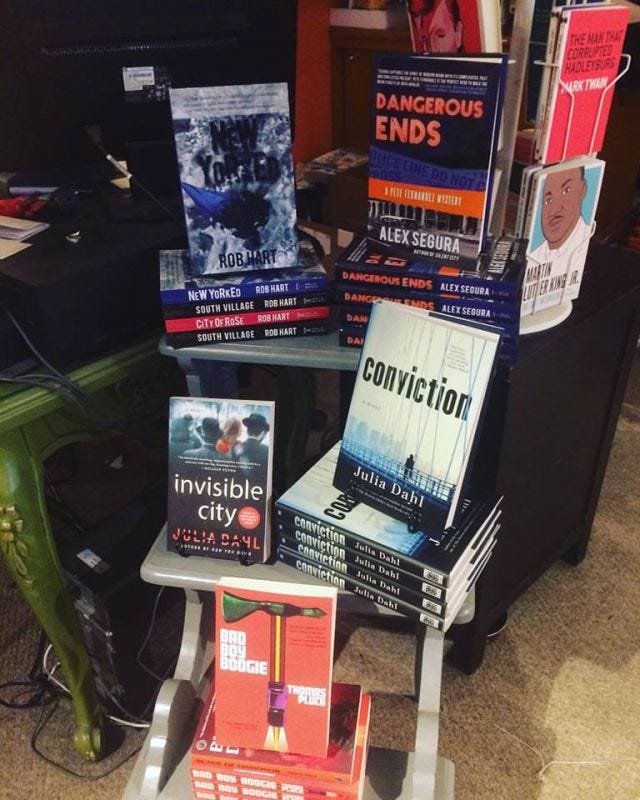 Many thanks to those that picked up copies of Dangerous Ends and came out to fun events at The Mysterious Bookshop and The Astoria Bookshop, or took the time to leave a review on Amazon or Goodreads (I'm told it's important, so if you have a few minutes to spare, it's VERY appreciated).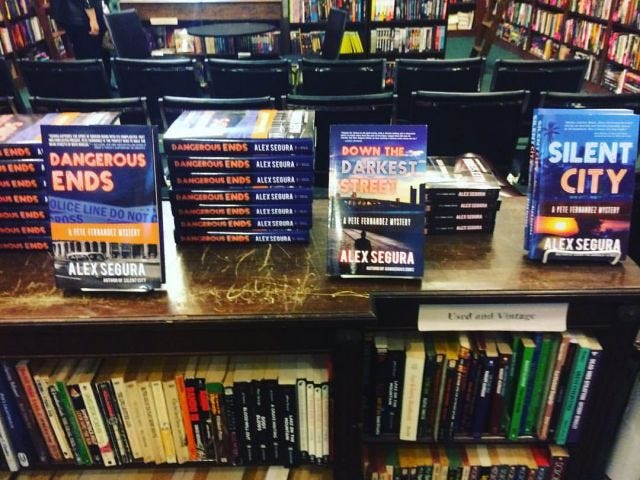 And, because the hustle is real - the next month or so is packed with events. You can find a complete rundown of where to find me here, including stops in Miami, Delray Beach (both with Steph Post) and our nation's capitol (with Neely Tucker). Tomorrow, if you're in the NY area, I'll be at The Strand with Julia Dahl, Lori Rader-Day and Reed Farrel Coleman, just in time for Edgars week. We'll be discussing our new books, our favorite Sarah McLachlan album tracks and the craft of writing crime fiction. Two of those three are true. I'll also be at Watchung Booksellers Thursday with Pluck and Dave White, and then I'll close out the week with a reading at Queens Lit Fest on Saturday. Hope to see you at some point!

***

No interview/essay this week, but that feature will return soon. In the meantime - links!

You've read You Will Know Me, right? I loved the book, not surprisingly. It was one of my favorites of 2016. If you haven't picked it up, Megan Abbott's latest is out in paperback today. Get it.

In praise of Agatha Christie's accidental sleuths.

Comic book writer and novelist Warren Ellis is profiled in The Guardian.

Mary Timony talks about Helium and making music in the 90s.

An excerpt from Rob Sheffield's new Beatles book.

The Wall Street Journal profiles former Vertigo executive editor (and founder of new Dark Horse imprint, Berger Books) Karen Berger. She's great.

"To be useful is something incredible."

Matt Bai on why the current crop of campaign trail books miss the point.

Planet Money's Kenny Malone on the "holiday industrial complex."

I just finished Jeff Guinn's The Road to Jonestown and found it to be a well-researched and propulsive read. This GQ review hits most of what I was thinking about it. It feels like a slower boil than Guinn's Manson book, but he manages to keep the decades of Jim Jones's career that lead up to the horrible finale interesting, even if it becomes hard to keep track of the myriad members of the church as they come and go. A strong piece of reporting and very readable.

Maybe I'll weave in some feral chickens into the fourth Pete book.

I always thought the details surrounding the Cazale/Streep romance - and its tragic end - were more well-known, but I guess not. This story gives more background on it than any others I've read.

James Gray and the struggle of the middle-class filmmaker.

It doesn't get more Miami than El Dorado Furniture. Here's why.

That's all for now. Thanks again.