Stuff & Nonsense 044: The Obvious Child
Glitches happen.

For whatever reason, the newsletter I thought was out in the wild a few weeks back was waiting for me in my Drafts folder when I logged in to prep the new one. It was flagged for some bizarre reason, but after a quick exchange with TinyLetter, it was all resolved—thanks, TinyLetter!

The plus side? You get a double dose of Stuff & Nonsense. Not bad, right?

We've got two great essays from crime writers you should be reading. Happy both could make the time to visit.

***

One of my favorite releases this year was Lightwood, by fellow Polis Books author Steph Post. She was kind enough to write a piece about setting/location in Lightwood for this newsletter. Not surprisingly, I'm a sucker for good Florida crime fiction, and Lightwood delivers on that front.

Steph's a friend and very supportive of new and established authors, posting frequent interviews on her blog. She's also an excellent writer. (I'm not the only one who thinks so, too!) If you haven't ordered Lightwood, make sure you remedy that.

Also, if you're in the Miami/Delray Beach area in May, keep your eyes peeled. Steph and I will be doing some events to promote Lightwood and my new Pete Fernandez Miami Mystery, Dangerous Ends.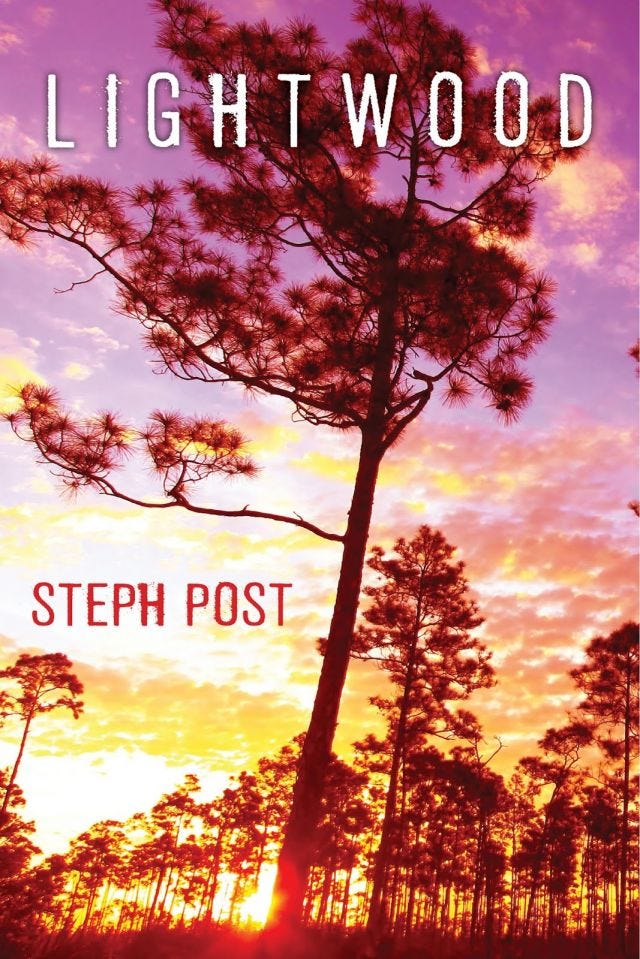 Here's the book description:

Judah Cannon is the middle son of the notorious Cannon clan led by Sherwood, its unflinching and uncompromising patriarch. When Judah returns to his rural hometown of Silas, Florida after a stint in prison, he is determined to move forward and live it clean with his childhood best friend and newly discovered love, Ramey Barrow. Everything soon spirals out of control, though, when a phone call from Sherwood ensnares Judah and Ramey in a complicated web of thievery, brutality and betrayal.

Pressured by the unrelenting bonds of blood ties, Judah takes part in robbing the Scorpions, a group of small-time, meth-cooking bikers who are flying down the highway with the score of their lives. Unbeknownst to the Cannons, however, half of the stolen cash in the Harley saddlebags belongs to Sister Tulah, a megalomaniacal Pentecostal preacher who encourages her followers to drink poison and relinquish their bank accounts. When Sister Tulah learns of the robbery, she swears to make both the Cannons and the Scorpions pay, thus bringing all parties into mortal conflict rife with deception and unpredictable power shifts.

When Judah's younger brother Benji becomes the unwitting victim in the melee, Judah takes it upon himself to exact revenge, no matter the damage inflicted upon himself and those around him. Judah becomes a driven man, blinded by his need for vengeance and questioning everything he thought he believed in. With Ramey at his side, Judah is forced to take on both the Scorpions and Sister Tulah as he struggles to do the right thing in a world full of wrongs.

With that, I'll pass the mic to Steph...

***

Steph Post is the author of the novels Lightwood and A Tree Born Crooked. She is a recipient of the Patricia Cornwell Scholarship for creative writing from Davidson College and the Vereen Bell writing award. Her fiction has appeared in the anthology Stephen King's Contemporary Classics and many other literary outlets. She has been nominated for a Pushcart Prize and was a finalist for The Big Moose Prize. She lives in St. Petersburg, Florida.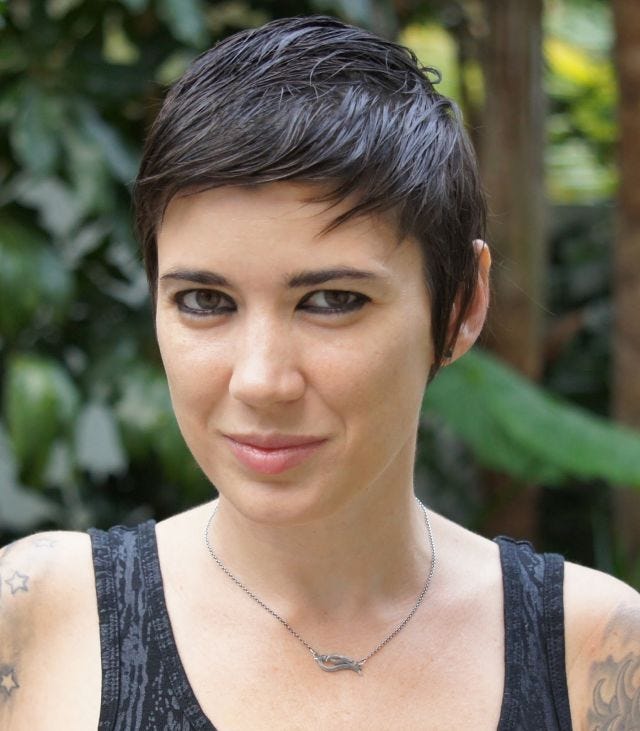 I never had any intentions of writing about Florida. Of course, I never had any intentions of coming back here, either, after I left fifteen years ago. But eight years in North Carolina taught me that Florida was home, whether I liked it or not, and somehow or another that discovery crept its way into my writing.

Lightwood is the second of three books I've now written that take place in north-central Florida. After I finished my first novel, A Tree Born Crooked, I still didn't feel like I'd written the area out of my system. The backroad of 301 running down the spine of the state. The trailer parks and slash pines. The dive bars and primitive churches. The saw of insects buzzing and the rev of engines. The one neon beer sign, winking in the night. The people who are my people. When I decided to begin writing the saga of the Cannon crime family, there was simply no other place to dig down their roots and set their battles than the fictional backwoods town of Silas, in the heart of the very real Bradford County, Florida.

If you've ever driven down 301, one eye on the speedometer, of course, because the speed traps are murder, then you've driven past the state prison in Starke, where Judah Cannon emerges into the light of freedom in Lightwood's opening pages. You'll not find the actual towns of Silas and Kentsville, home to the Cannons and their soon-to-be nemesis, Sister Tulah, on the map, but if you roll down your windows, you'll feel them on the air, sweeping past you like ghosts.

I grew up about an hour north and east of my imaginary haunts, but I'm sure that the rambling landscape of my own stomping grounds- the dirt roads, the endless swampy woods, the mosquitoes and alligators, the pickup trucks and motorcycles- can't help but to shine through between the covers of Lightwood. It is a place you may never want to visit, never even pass through, but I guarantee you, it is a place worth reading about.

***

Jackson Donne is one of the most compelling private eyes around, full stop.

The series - which also features PI Matt Herrick in recent installments - is a must-read for fans of Matt Scudder, Moe Prager, Tess Monaghan and, hell, if you like my books, too. Dave White knows his Jersey terrain and really pushes Donne forward with each book, which is the recipe for the kind of book series that keeps me coming back. I know I'm not alone in that.

White's latest, Blind to Sin, is out tomorrow. Like Steph, Dave's a pal and we share the same publisher—so, if you need to take all this with a grain of salt, feel free. But I genuinely dig these books and it's just a testament to the killer lineup of crime writers Polis Books has put together.

I asked Dave to put a few quick thoughts together about keeping a PI series fresh, a subject I think about a lot.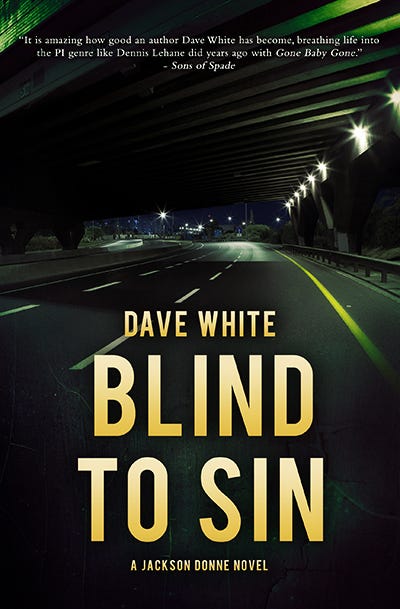 Here's the book info:

When Matt Herrick was 17, his father was arrested for robbery—a bank heist gone wrong. Herrick joined the Army and was sent off to Afghanistan—a trip that would change his life.

Jackson Donne has spent the last year in prison, where his mentor, Kenneth Herrick, has kept him safe. One night, Kenneth tells Donne a "friend" has bought them out of their sentence. Confused, Donne goes along. And finds himself in the clutches of a partner from Kenneth's past.

Learning of the release, Matt Herrick decides to pursue his father. But when he finds that his terminally ill mother is now married to Kenneth's old partner, Herrick turns his investigation into overdrive. And that could cost him everything.

Kenneth's old partner gives him an ultimatum: steal millions of dollars from the Federal Reserve in New Jersey, or let the disease kill his ex-wife. Donne has no choice but to help his new mentor.

And here's Dave...

***

Dave White is a Derringer Award-winning mystery author and educator. White, a Literacy Coach for the Clifton, NJ Public School district, attended Rutgers University and received his MAT from Montclair State University. His 2002 short story "Closure," won the Derringer Award for Best Short Mystery Story the following year. Publishers Weekly gave the first two novels in his Jackson Donne series, When One Man Dies and The Evil That Men Do, starred reviews, calling When One Man Dies an "engrossing, evocative debut novel" and writing that his second novel "fulfills the promise of his debut." He received praise from crime fiction luminaries such as bestselling, Edgar Award-winning Laura Lippman and the legendary James Crumley.

Both When One Man Dies and The Evil That Men Do were nominated for the prestigious Shamus Award, and When One Man Dies was nominated for the Strand Critics Award for "Best First Novel". His standalone thriller,Witness To Death, was an ebook bestseller upon release and named one of the Best Books of the Year by the Milwaukee Journal-Sentinel. All three books have been reissued by Polis Books and are available wherever ebooks are sold.

The third book in his acclaimed Jackson Donne series, Not Even Past, was published in 2015 by Polis Books and received a rave review in the Milwaukee Journal-Sentinel as well. The fourth Donne novel, An Empty Hell, was released in 2016. The latest Donne novel, Blind to Sin, is out tomorrow.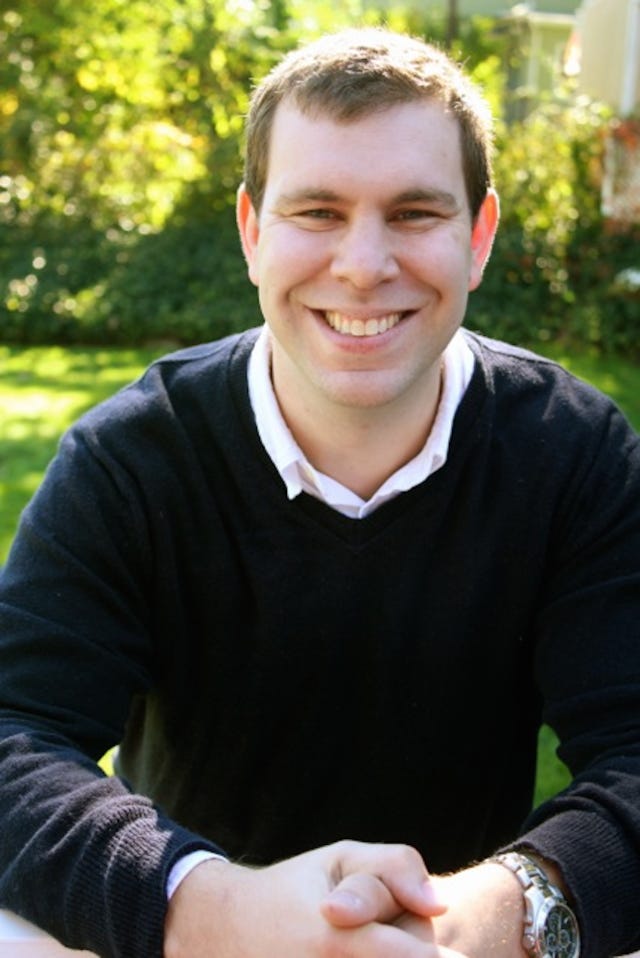 A little inside baseball:

From the inception of the series, Jackson Donne was always going to end up where he finds himself at the beginning of Blind to Sin. He was going to be the Private Investigator that went to prison.

The rest of the series, however?

That's when things went a little haywire. You see, to me, each book needs to be an event. The stakes needs to be so high for Jackson Donne that anything can happen. And because of that strategy, when I sat down to write, some of the plans I had for the rest of the series had to go down the tubes.

Some characters died. Some survived. Heck, some even came back from the dead (I promise you, these aren't sci-fi novels).

And that's where Matt Herrick came along.

Because, to keep Jackson Donne fresh, I had to take him off the page for a while. He couldn't be the focus.

Meanwhile, Herrick wouldn't stop talking to me. I'd written about him in a short story back in 2011: a PI who's a high school basketball coach. He doesn't use a gun, not anymore, not after his time in the Middle East where he shot and killed a child suicide bomber.

Herrick's aversion to violence was the perfect distorted mirror for Donne. While Donne grew increasingly angry and more violent, Herrick did what he could to make sure death and murder weren't the solution.

And that motivation, I felt, perfectly shines on Donne. It keeps Donne fresh and forces him to make even more difficult choices.

It keeps the stakes high.

And, it put him exactly where he was supposed to go a the beginning of Blind to Sin: Prison.

***

ME, ME, ME, ME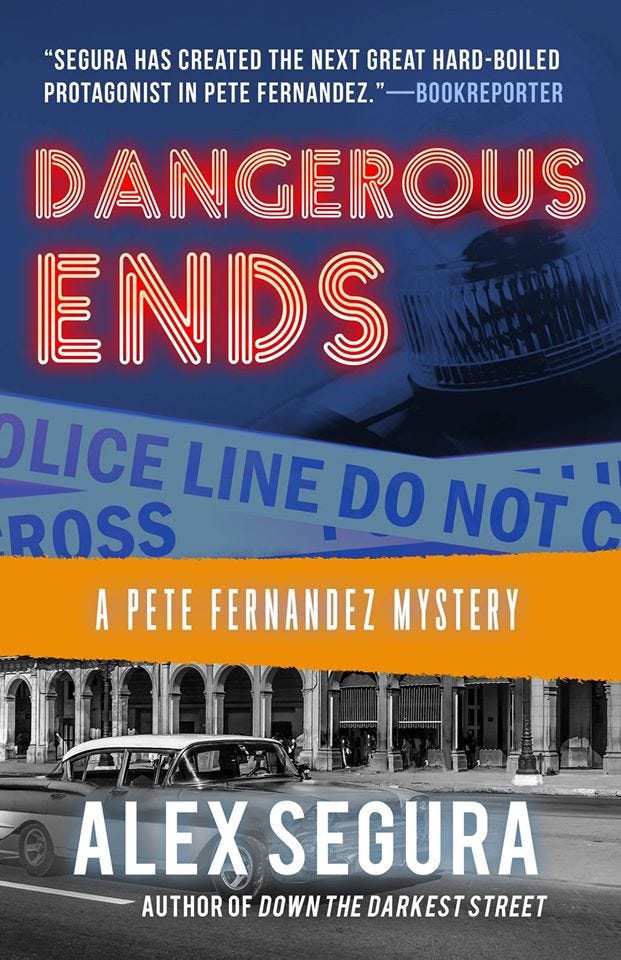 Did I mention you can preorder my next Pete Fernandez Miami Mystery, Dangerous Ends? You can. It hits on April 11 from Polis Books. If you're a reviewer/blogger, the book is available on Edelweiss, too.

I'll be doing a mystery panel at THE STRAND in April with some big names - mark your calendars!

I swung by Writer's Bone to talk about Dangerous Ends and my writing process.

I chatted with Jeff Somers at the Barnes & Noble READS blog about the Pete books and more.

I talked to CJ Lyons about her latest novel, Open Grave, at ITW's The Big Thrill.

A nice Archie Meets Ramones feature at REBEAT Magazine.

That guy Dave White talks PI fiction with me at Crimespree Magazine.

***

BUY THESE BOOKS

Speaking of things to order, here's a rough list of the crime books I've enjoyed recently that you should put on your radar. Some are out, some are coming soon (FWIW, you can add Lightwood and Blind to Sin to this list):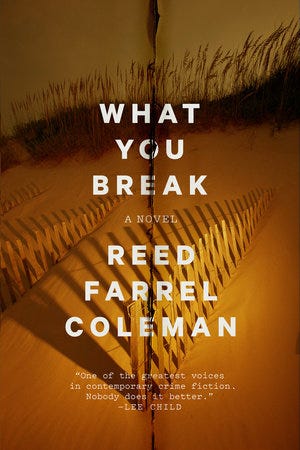 What You Break, Reed Farrel Coleman: Arguably better than the first Gus Murphy book, Where It Hurts, which has gotten a ton of accolades and award noms. I'm loving this series so far. Coleman's written a truckload of great books and this is no exception.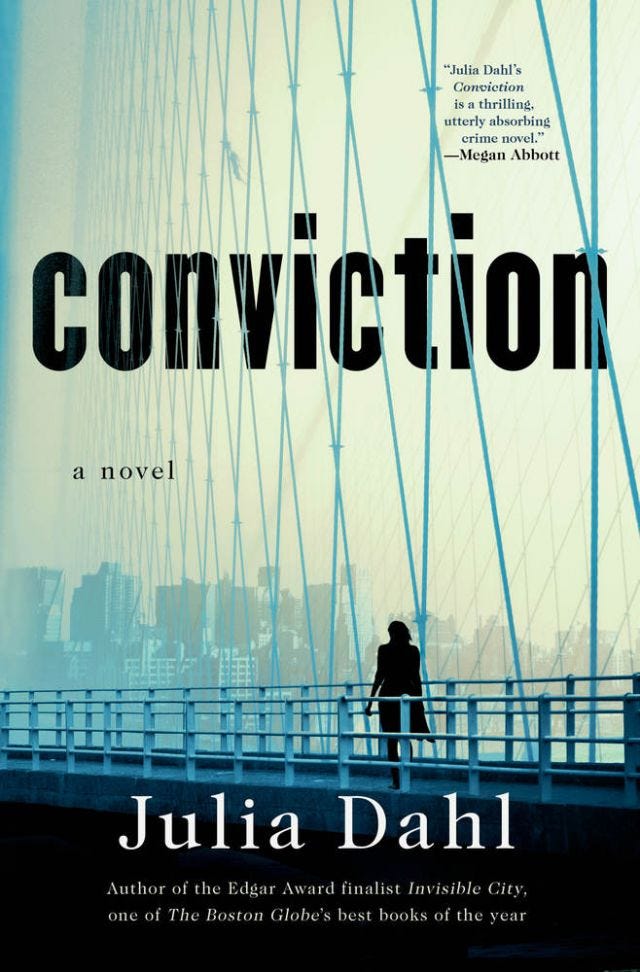 Conviction, Julia Dahl: The third book in Dahl's Rebekah Roberts series pushes the character forward in interesting and intriguing ways. One of my favorite new crime series.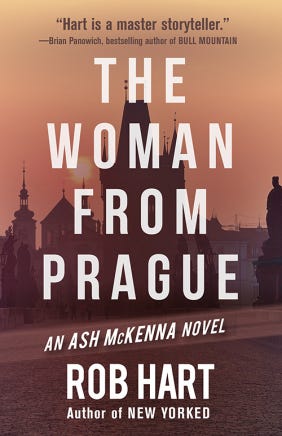 The Woman from Prague, Rob Hart: I love this series so much I had my own series character, Pete Fernandez, crossover with Hart's Ash McKenna. Each book feels different and indelible, but also keeps the over-arching Ash momentum going. That, paired with a really captivating lead makes for a killer series.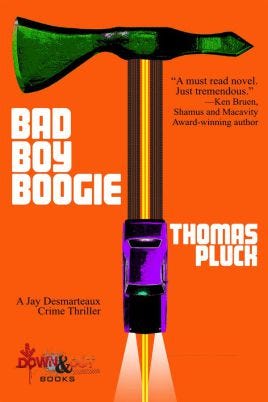 Bad Boy Boogie, Thomas Pluck: I was lucky to get an early peek at this book and it's really stuck with me. Pluck is one of my favorite short story writers and it was great to see him cut loose in a longer format. A stirring debut novel.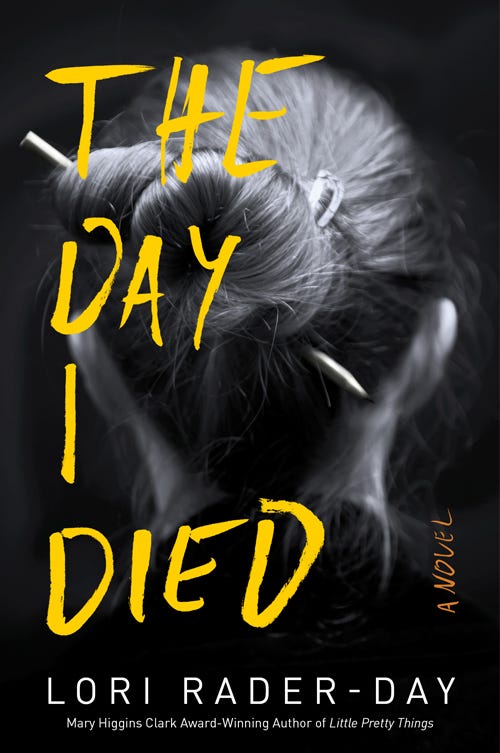 The Day I Died, Lori Rader-Day: The kind of book you want to re-read the second you finish. Rader-Day's latest is gripping and intense, as you'd expect. If you liked her first two, this one does not disappoint.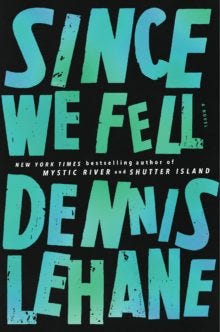 Since We Fell, Dennis Lehane: New Lehane, new purchase by me.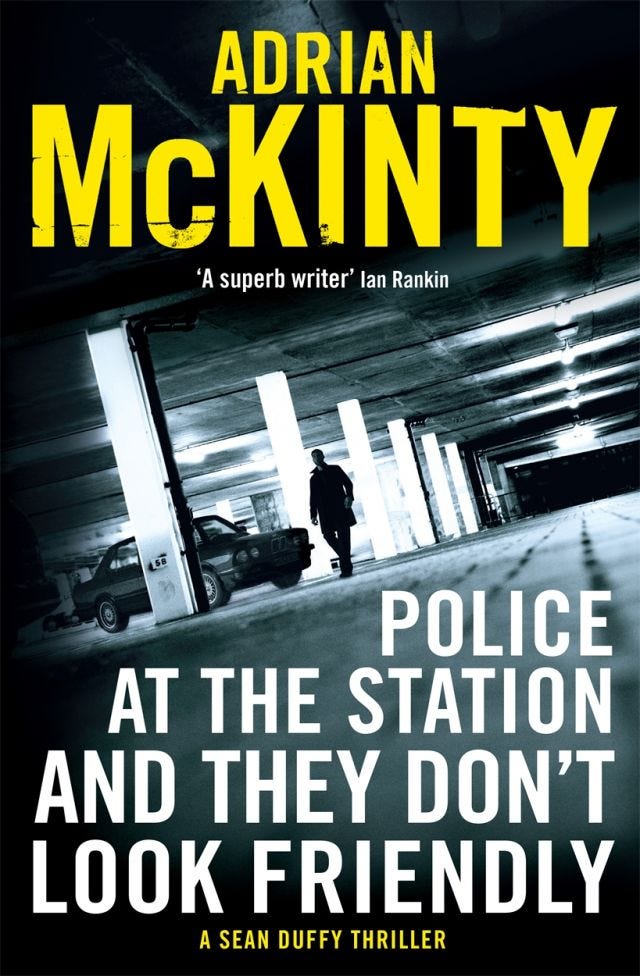 Police At The Station And They Don't Look Friendly, Adrian McKinty: The Duffy books are an annual event for me. Another series worth investing in.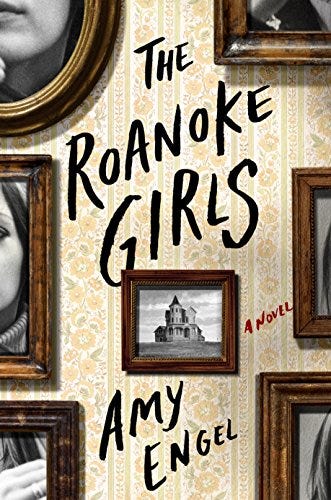 The Roanoke Girls, Amy Engel: Unlike the others on this list, I have *not* read this yet. But I am intrigued and on the lookout.

***

LINKS

ICYMI - this lengthy Archie Comics profile at New York Magazine connects the dots between the publisher's resurgence over the last eight years and The CW's Riverdale.

Staying on comics - I very much enjoyed this Image Comics retrospective.

Scott Adlerberg on the pilot episode of Homicide: Life on the Street.

I wish I could link to this twice: Gabino Iglesias on some major Facebook no-nos for authors.

Sarah linked to this already, but here's another must-read Bob Kolker piece.

A fun Carl Hiaasen interview by Colette Bancroft.

Another ICYMI - this one a profile of The Mysterious Bookshop.

That's all for now. Try to stay sane.