Stuff & Nonsense 042: Ride My Llama
Oh boy. What a week. How're you doing?

While I've been spilling out my thoughts almost daily on social media, I'm feeling pretty spent as of this writing. Complete shock is an understatement and I think we're all still processing. I hope we can come together and do some good despite the result. Make art. Be kind. Love over hate. Self-care. I know this has motivated me to be more vocal and more engaged in not only politics, but in my own creative output.

If you're having trouble figuring out where to start, this is a good spot.

This list by Lisa Levy at Literary Hub is also helpful, if you're looking for some great crime fiction to get you through the darkness.

With that said, I hope the below will serve as a welcome distraction. If not, file it away for later. Crafting it certainly helped me get my mind of The World, if for just a few minutes.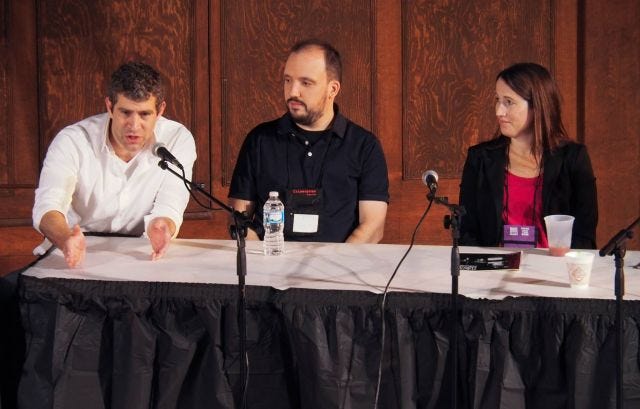 Murder and Mayhem in Milwaukee was last week, and, surprising absolutely no one, it was a blast. The event managed to be intense but also low key in the best ways possible. The crowd was fun, it was wonderful to spend some time with so many author and book friends and the programming was consistently excellent. Really honored to share the stage with Jess Lourey, Marcus Sakey, Blake Crouch and Cara Black on a panel moderated by the always-great Katrina Niidas Holm. Thanks to Jon, Ruth, Erica and the entire MMM team for putting on a spectacular and warm event that served as the perfect distraction from the looming election. Oh, if we'd only known.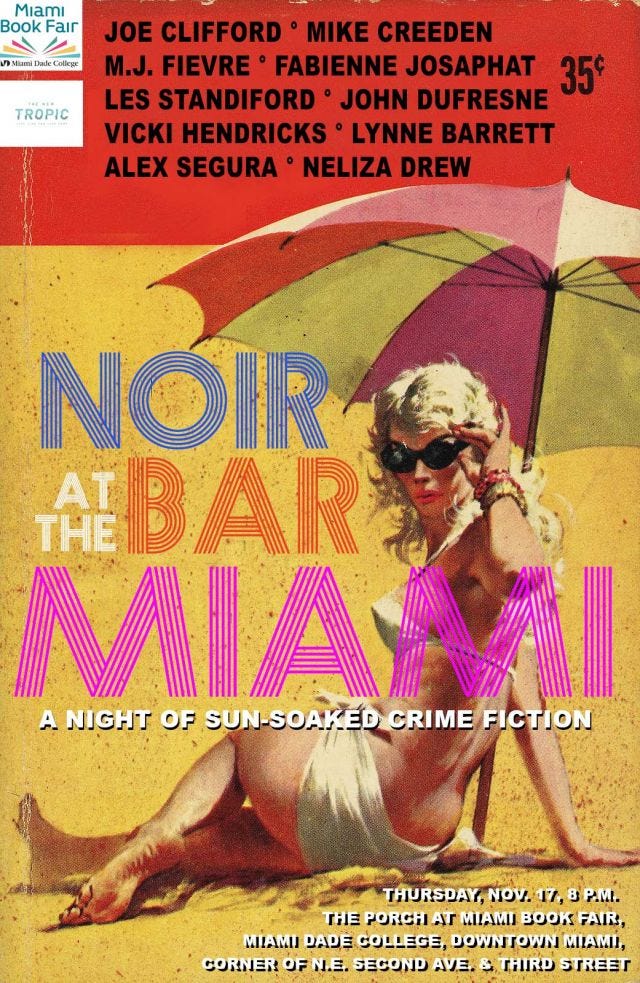 On the literal bright side, I'll be in my hometown of Miami next week for another favorite event, Miami Book Fair. I'll be hosting and reading at the first-ever NOIR AT THE BAR MIAMI (poster and lineup above) and doing a few panels. Here's my schedule:

Thursday, November 17
Location: The Porch
8 p.m.
Noir at the Bar Miami
It's after dark in Downtown Miami on a cool Fall night and you casually walk down the sidewalk as you suddenly hear another set of footsteps behind you. Then another. They get louder and louder until they stop short and you realize – you've reached the bar. The Noir practically writes itself! Alex Segura emcee's a night with some of the best mystery and crime writers as you sit back with a drink under the moonlight. Joe Clifford, Mike Creeden, M.J. Fievre, Fabienne Josaphat, Les Standiford, John Dufresne, Vicki Hendricks, Lynne Barrett, and Neliza Drew.

Saturday, November 18
Location: MAGIC Screening Room (Building 8, 1st floor)
1:30 p.m.
Teenage Riot: YA Reality with a Comics Kick
Margaret Stohl (Black Widow: Forever Red), Maggie Thrash (We Know It Was You) and Jessica Abel (Trish Trash: Rollergirl of Mars) talk about their new YA thrillers and how their travels between comics and prose challenge and inspire them. Moderated by author Alex Segura.

Mystery Author Panel and Q&A
Saturday, November 19 at 3:30 p.m.
Room 8203, Bldg. 8
Miami Dade College/Wolfson Campus
300 NE Second Ave., Miami
With Joe Clifford, Alex Segura and Mike Creeden

If you're around, say hi! The Miami Herald had a nice write-up on NOIR AT THE BAR and a few other "off the beaten path" events earlier this week.




I've got a story in the Jay Stringer-edited 'Mats anthology, Waiting to be Forgotten. The Replacements are one of my favorite bands, so this is a huge honor. My story, "Within Your Reach," is probably the raunchiest thing I've ever written - which makes it a good fit for a book of tales inspired by Paul Westerberg and co. Some of you might remember Todd Robinson reading it aloud at a special Noir at the Bar that featured authors reading each others' work. It went over...well? You decide. I'm in some great company here, so take a minute and pick it up - it's a shambling, messy, drunken ride. Just like a great 'Mats song.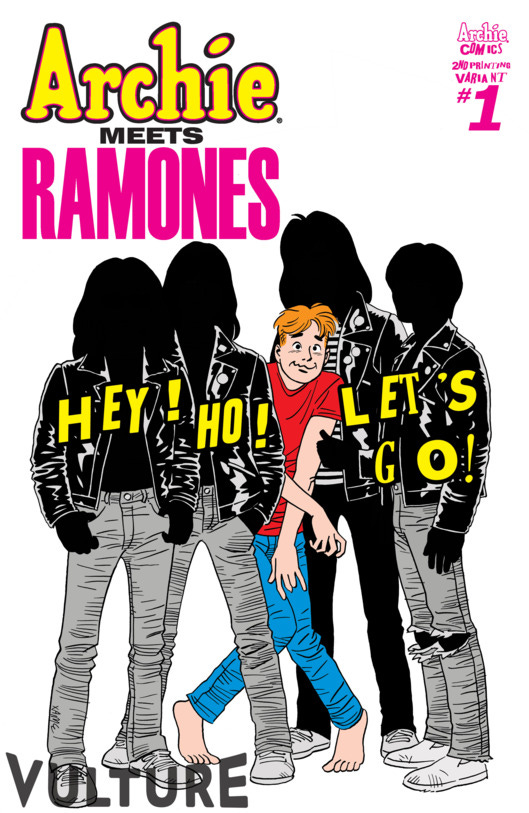 Did I mention Archie Meets Ramones sold out at comic shops? Or that legendary Love and Rockets co-creator Jaime Hernandez did the second printing cover? Well, that happened.

***

Five Questions with Angel Luis Colón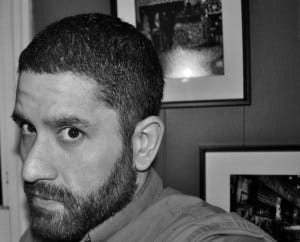 Angel Luis Colón is everywhere. The author of The Fury of Blacky Jaguar and the soon-to-be-released No Happy Endings, Colón is also the editor for the flash fiction site Shotgun Honey. He's also been nominated for the Derringer Award, and published in spots like Thuglit, Literary Orphans, All Due Respect, The Life Sentence, RT Book Reviews, and The LA Review of Books. I asked Angel to answer a few burning questions I had after reading No Happy Endings and he politely obliged.
Talk to me about No Happy Endings, your latest from Down & Out Books. How did this become the next book for you?

This one was a bit of an odd bird (beyond the basic concept of a sperm bank heist that goes off the rails).

I've wanted to play around with the heist genre for a bit and actually started this as a short story. Once I found my footing with the concept, I shifted to a novel, then to a novella. From there, it was a matter of hammering the point home that this was not only a heist novel without a formulated heist but a proper comedy with elements pulled from different sources.

Frankly, though, this was the project among many I was juggling that managed to keep its hooks in me. I'm glad it did.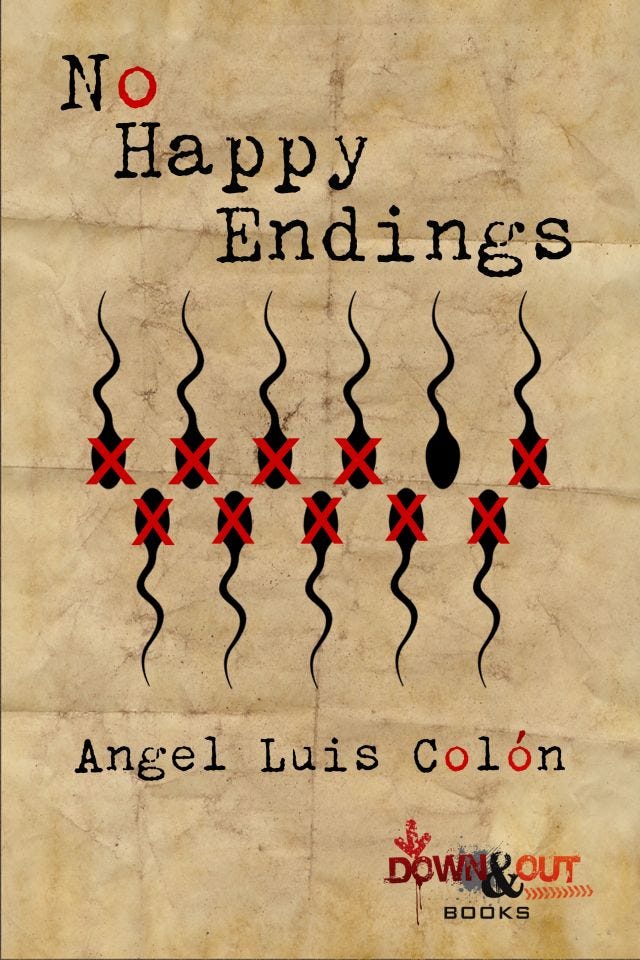 Fantine is a really compelling protagonist. How did you come up with her?

Fan took some time to really nail down. I wanted to frame the story around a woman that doesn't just mark off items on a checklist and as I wrote her, I really keyed in to things I don't normally see with characters like her in the genre (if we really see anyone like Fantine that often).

And like any character, Fan is certainly an extension of me in ways; she's got a mouth on her that would shame a sailor and she's got some parental hang ups too.

What kind of story were you trying to tell? Were there books and movies that you drew inspiration from?

Initially, I was looking to do something more gonzo - in line with Takashi Miike's body of work - but I also wanted this story to have heart and humor that the buckets of gore approach wasn't going to entirely support. From there, I pulled from flicks like The Pope of Greenwich Village, Snatch, and Bottle Rocket. I like the idea of criminals being criminals because they tend to lack common sense, impulse control, and the general ability to think things through.

I've always believed there's more storytelling potential when you're presented with a character deluded into the belief they are awesome at being the bad guy, be it their rationale or general skill level. To subvert that and mess with the character and the reader is a ton of fun. Heists aren't generally successful endeavors. History shows that, so why defy that convention? Let's have fun seeing how it all blows up in these peoples' faces.
And that's not to say I skimped on the crazy in this one. You WILL need brain bleach after one or two scenes in this one.

I'm all out of brain bleach, but what you say is true. What have you been reading these days?

Less than I'd like to be, unfortunately. I feel lazy.

What I have read, though, has been fantastic - Chris Holm's Red Right Hand was a blast, Rob Hart's South Village is another great one, and Nick Kolakowski's upcoming A Brutal Bunch of Heartbroken Saps is downright insane. I'm currently reading Jeff Johnson's superbly offbeat Knottspeed: A Love Story - which is scarily up my alley so far.

Outside of my usual wheelhouse, I really enjoyed Silvia Moreno-Garcia's Certain Dark Things. Narco vampires in Mexico City (what!) and Jess Lourey's Salem's Cipher. Both were fast-paced and a ton of fun.

Really dug Holm, Hart and Lourey as well - great picks. What's next for you?

Well, let's see...

We've got my short story collection, Meaty City On Fire (and Other Assorted Debacles) dropping from Down & Out Books next year.

We should be seeing the next Blacky Jaguar novella, Blacky Jaguar Against The Cool Clux Cult!!! next year as well.

I've got two books out to the agent, finishing another book's first draft now, and have a metric crap ton of short stories coming out or being written. You can read one of them, 'Kiss Me on The Bus' in Waiting to Be Forgotten: Stories of Crime and Heartbreak, Inspired by the Replacements - it's a corker as well as the entire set of stories in there.

That's not all either. There are other, more secret things potentially down the road (along with the seed of an idea for a No Happy Endings follow-up). Needless to say, it's been busy and it will continue to be busy.

***

S.W. Lauden on Mixing Crime and Music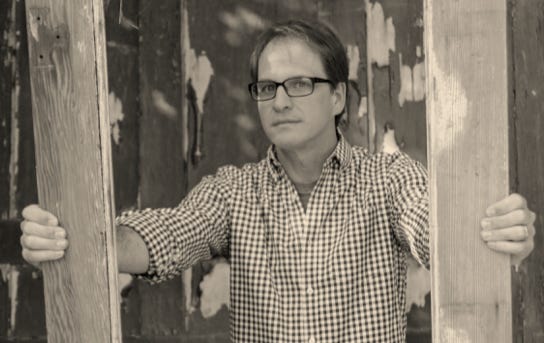 I wanted to start including more essay-like pieces from fellow writers in the newsletter, and we saw the first of that last week. This week, we have S.W. Lauden on deck. I first spoke to Lauden on Pam Stack's great radio show a few months back and we immediately hit it off thanks to our shared love of crime fiction and music. Glad he picked this topi. You can pick up his latest, Grizzly Season, now.

One of the many things I really appreciate about Alex Segura's writing is all of the musical references he makes. Not only is Alex a great writer, he seems to possess a passion for Indie rock on par with my own.
To say that my fiction revolves around music would be an understatement. The Greg Salem mystery series, including Bad Citizen Corporation and Grizzly Season, features a former punk musician who becomes a disgraced cop later in life.

Those novels are set along the SoCal coast where I grew up and draw on some of my favorite hardcore influences including Black Flag, Descendents, Social Distortion and Pennywise. I discovered the local punk scene in junior high, laying the groundwork for a life-long obsession with Indie music.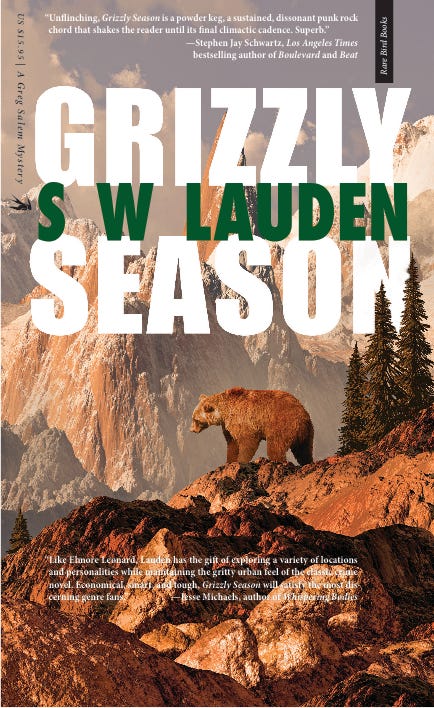 By the time I reached college, my musical horizons had broadened a little to include post-punk bands like Husker Du, Fugazi and The Pixies. I'd also started time traveling back to the 60s and 70s to mine music by the Velvet Underground, Big Star, The New York Dolls, The Kinks and Harry Nilsson. Through it all, I always loved David Bowie and The Rolling Stones.

In addition to the first two Greg Salem novels, I've recently published music-themed short stories in two anthologies. The first is FAST WOMEN AND NEON LIGHTS: EIGHTIES-INSPIRED NEON NOIR from Short Stack Books. My story for that one is called "Big Shots" and follows a day in the life of strung out band manager in 80s Hollywood.

The second short story is based on the song "Customer" by the legendary Minneapolis band, The Replacements. That one is included in WAITING TO BE FORGOTTEN: STORIES OF CRIME AND HEARTBREAK INSPIRED BY THE REPLACEMENTS from Gutter Books. That collection also features a short story by Alex based on the song "Within Your Reach."

If you like mixing music and crime fiction as much as Alex and I do, consider giving one of those books a try. And if you do, be sure to let me know what you think at my website.

***

Finally, a few links.

A brutal, heart-wrenching profile of sportswriter Jennifer Frey, who died as a result of a decades-long battle with alcoholism.

I should've put together a more uplifting collection of links, all things considered. But here's an equally devastating profile of comedian Patton Oswalt, discussing the death of his wife, Michelle McNamara. According to the piece, McNamara's long-in-the-works true crime book on The Golden State Killer will be completed and released.

This Mike Dawson cartoon pretty much sums up why I'm vegan.

At least we have Noel Gallagher.

Sarah Weinman on the life and death Leonard Cohen.

Until next time - hang in there. Listen to great music. Read good books. Hug your family and friends tightly. Be loud.

Bye!