Discover more from Alex Segura
News and updates about my novel and comic book-writing work, plus reading recommendations!
Over 3,000 subscribers
Stuff & Nonsense 038: Home
Hello! It's late. I know.

I write this to you as I prep for a quick mini-tour back to South Florida for two Down the Darkest Street events: A Miami launch party at the Coral Gables Books & Books on Tuesday and my first-ever visit to Delray Beach's excellent mystery bookstore, Murder on the Beach, on Thursday. My friend (and bestselling, superstar author) Brad Meltzer will be introducing me on Tuesday.

If you're around, it'd be great to see you at either event.

Some book highlights since last we spoke:

The Sun Sentinel and The Miami Herald both ran Oline Cogdill's strong Down the Darkest Street review: "Pete and his journey through the streets of Miami are appealing."

Library Journal on Down the Darkest Street: "A brooding, melancholy tale with a somber ending, Pete's sadness echoes the darkest corners of Miami's roughest streets."

LJ also included Down the Darkest Street in their Spring mystery roundup.

The Strand Magazine featured the book as one of their top April/Spring reads. In really great company here, including our interview guest for this week, Melissa Ginsburg: "Segura expertly mixes the darkest of noir tales in the grittiest of settings with one man's search for personal and professional redemption."

Speaking of The Strand, I list my top PI novel protagonists at their blog - many of whom influenced my own work with Pete.

Chuck Wendig gave me the keys to his terribleminds blog and let me riff on finding balance and prioritizing when you're an author and a parent.

I talk about why Miami is great place to set a series of crime novels at The Daily Beast.

Seems I've been talking about setting a lot: Had a great time discussing the topic with an all-star cast of authors at the Edgars Symposium this week. Wonderful to hear Megan Abbott, Lou Berney, moderator Alison Gaylin, Lori Rader-Day and Gordon McAlpine talk about place and how it fits into their amazing work. I talked about Miami, too.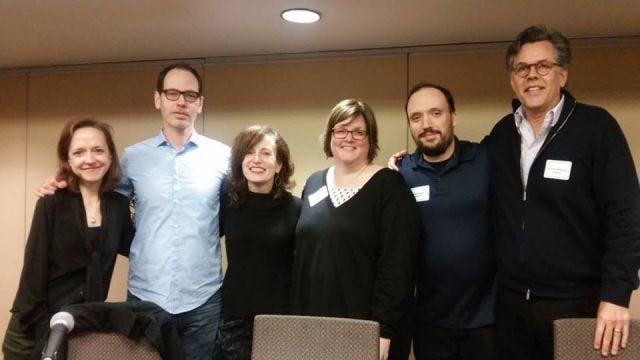 I roundup some of my favorite Florida crime fiction characters at mental_floss.

The Washington Post spoke to me about writing the Pete mysteries, comics and my day job.

I put together a playlist/soundtrack for the book at one of my favorite culture/book/music blogs, largeheartedboy. You can listen to the full playlist here.

I'm one of the many authors giving away signed books to help bring another indie bookstore to Queens, NY. Check out their Kickstarter, yeah?

Okay!

I'll augment this newsletter with some non-DTDS links next time - as I've collected what feels like a truckload of stories I want to share. But for now, an interview will have to suffice! Onward...

***

This is Sarah Weinman's fault.

She interviewed author Melissa Ginsburg not long ago via her great newsletter, The Crime Lady, and I noticed that Melissa's books had been featured in an earlier roundup of Sarah's that collected upcoming book recommendations (including Down the Darkest Street). So, I didn't think it'd be a big risk to pick up Melissa's book. It wasn't. Sarah was right - Sunset City is the strongest debut I've read this year, and a powerful piece of noir fiction. You should check it out. After you read this interview where we discuss it, of course. (Interview was edited for space, clarity, etc.)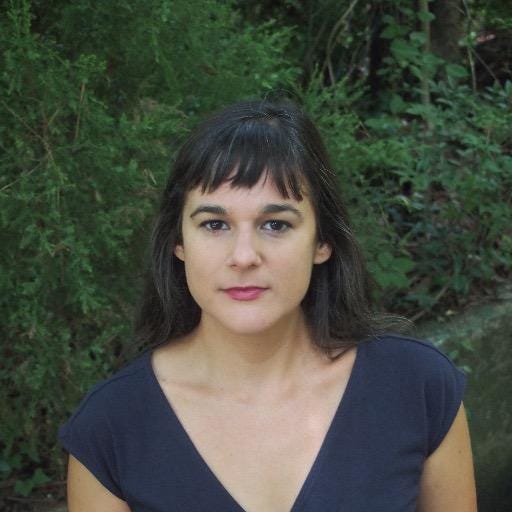 Melissa, for those that might not be familiar with you or your work - what's your story?
I started out as a poet. Sunset City is my first novel, but I have been publishing poetry for over a decade. I grew up in Houston, Texas, and got an MFA in poetry at the Iowa Writers' Workshop. For the last 5 years I have been teaching creative writing and literature at the University of Mississippi in Oxford.
How did Sunset City come about?
I have always loved crime novels, and I wanted to see if I could write one. Or, more accurately, I wanted to use some of the tropes of noir to structure a book about these particular characters, and about Houston. I was living in Iowa City when I started the book, and feeling homesick for Houston and the people there. I wanted to write about place, about friendship and loss. A novel can allow you to explore relationship dynamics in a way that is really different than what poems can do. I was drawn to that. I quickly found out I had no idea how to write a novel, so I kept working at it until it started to make sense. It took a long time—8 years!—and I threw away hundreds of pages.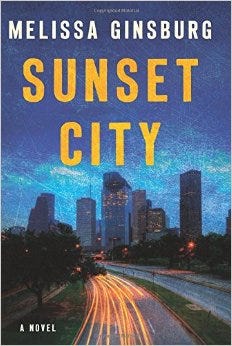 Silent City took me about the same amount of time - first novels are supremely challenging, which isn't news, I guess. Were there any authors that particularly inspired you to write the book, or your desire to write a noir/hardboiled novel?
There are so many. Denise Mina is a hero of mine. I love Gillian Flynn, Megan Abbott, Laura Lippman, Sara Gran, Tana French. Donna Tartt's The Secret History and Graham Greene's The Quiet American are two really important books for me. Michael Chabon's The Yiddish Policeman's Union. I also love Chandler.
We have a lot of overlap here - love all the authors you list, and Sara Gran is a name I think should be mentioned more often.

Do you envision Charlotte as a series character, or was this a standalone? Is that a decision that evolved over time while writing, or did you know it going in?
I don't have any plans right now to revisit this world or these characters. Charlotte is not a detective. In this novel she has some bad luck, getting involved in a tragic murder that affects her personally, but I hate to keep doing that to her! It would stretch believability. If I wrote about Charlotte again, it would probably not be a crime novel. Early on I had thought I might create a series, but by the time I finished the book I felt ready to move on to someone else. I still love her, though. Maybe someday.
You clearly know Houston well and the city's an important part of the novel. Why set the book there? Did you want to showcase it in a way people might not know?
Landscape and a sense of place are important to me—those subjects have always been a focus of my poems, and how I understand the world. I also wanted to write crime, and I needed a big city where the characters could stay pretty anonymous.
People outside of Houston don't think about Houston much. That gave me a lot of freedom to write my version of it. I think Houstonians will recognize it easily, though it might be different than other people's experiences of the city. Place is inseparable from people, from culture. Charlotte and the other characters in the book could not exist anywhere else. I understand the culture of Houston that makes them who they are. I do not have a real understanding of how that works in any other place, at least not with the same kind of intimacy.
Charlotte isn't your typical protagonist in that she doesn't charge into things - but she does find her way into the most interesting situations. Can you talk about her a bit and what went into her creation?
Charlotte is easily bored, a little impulsive, and she is drawn to people who have chaotic lives. She naturally gravitates toward people who create drama. That's partly because she can't afford to be too reckless herself—she doesn't have any kind of saftey net. She's generous, she feels things deeply, she's strong and loyal, but also prone to self-destructive behavior.
I wanted to write from the perspective of someone who is dynamic and does interesting things, but who can also hold still long enough to observe what is happening around her. I wanted to take the genre trope of a murder and examine how it would affect someone realistically, while still adhering to some of the expectations of noir. In my first idea of the book, Charlotte was working at a detective agency. But I quickly became more interested in her interpersonal relationships and how those might grant her access to information about the crime, even when she might not be looking for it.
The book flows naturally from scene to scene and none of the characters struck me as forced or plot devices - can you talk about your process? What went into creating the book and what did you want to say with it?
Thank you! I'm very glad to hear that. I wanted the book to be as realistic as possible. I kept asking myself, what would these people really do in this situation? What would I do, if I were them? I wrote hundreds of pages to just get to know the characters and be able to understand who they were, what drives their behavior. I didn't like to feel like I was directing the action too much. So whenever it felt that way—like I was a puppeteer, like I was making my characters do things—I wrote scenes that helped me get to know them. Most of those pages did not make it into the final version.
I knew I needed to keep the plot moving forward, so the characters had to act in ways that would have important consequences. I am interested in people who make bad decisions, and I wanted to portray that with empathy and honesty. The book is made up of a series of actions and consequences. Cause and effect relationships that create movement and momentum. That was how I thought my way through the plot.
What are you reading these days that's got you hooked?
Kelly Braffett. I love all her books, especially the latest one, Save Yourself. Also Garth Greenwell's What Belongs to You. Kaitlyn Greenidge's We Love You, Charlie Freeman is a smart, funny, great novel.
Agreed - big fan of Kelly's! What are you working on next?
I'm working on another literary thriller that will be set mostly in New Orleans. And I'm writing new poems.
Our books were release day twins. That's not a question.
Yes! Sunset City is in great company!

***

See you next time!