Stuff & Nonsense 037: No One's More Happy Than You (**DOWN THE DARKEST STREET is out today!**)
This week's newsletter will be a short one, sans interview - mainly because I have a book out today!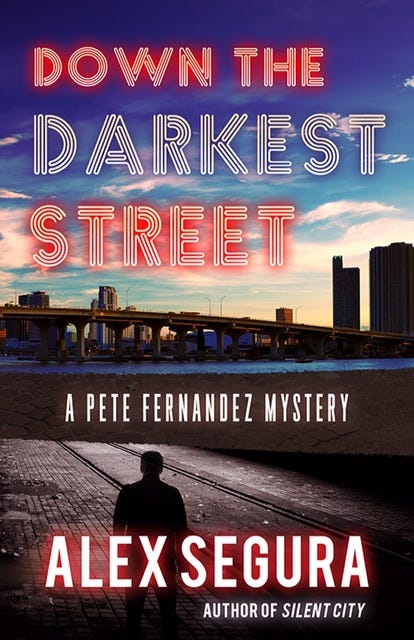 Down the Darkest Street, the second Pete Fernandez Miami mystery, hits today from Polis Books, wherever books are sold!

Here's the book description:

Pete Fernandez should be dead.

His life — professional and personal — is in ruins. His best friend is dead. His newspaper career is past tense. His ex is staying with him as her own marriage crumbles. On top of that, the former journalist finds himself in the eye of a dangerous storm; investigating a missing girl with an unexpected partner and inching closer and closer to a vicious, calculating killer cutting a swath of blood across Miami — while at the same time battling his own personal demons that refuse to be silenced.

Down the Darkest Street, the hard-boiled sequel to Alex Segura's acclaimed debut, Silent City, tells a tale of redemption, survival and the sordid backstreets of Miami — while asking the question that many are too scared to answer: When faced with pure darkness, would you fold or fight?

Want to read before you buy? Criminal Element has an excerpt.

And here's a snazzy graphic recapping what some nice people have said about Pete's second adventure: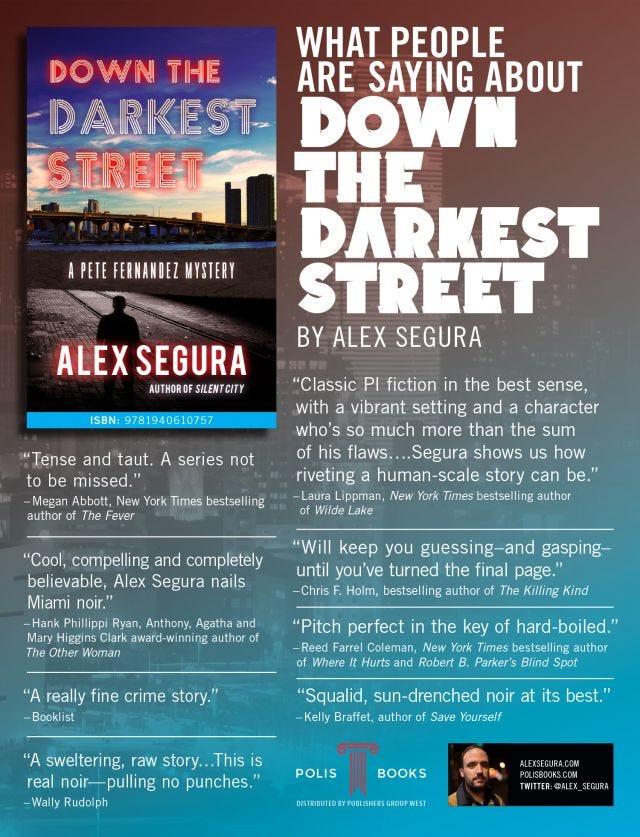 It's been an amazing, whirlwind publicity cycle — including really great coverage in The Guardian, amNY, The Huffington Post and more to come. Can't really put into words how surreal and great it feels to finally get to publication day.

If you happen to be in the New York area and want to celebrate the book's launch with me tonight, stop by The Mysterious Bookshop. I'll be chatting with Polis Books Founder/Publisher Jason Pinter and signing books. If you can't make it, fear not - I'm doing plenty of events this year.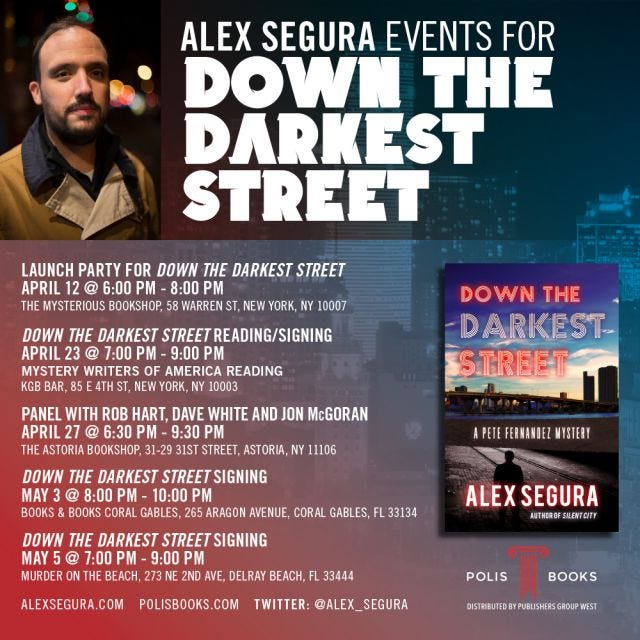 I'd like to take a minute to thank Jason and the entire team at Polis Books for all their hard work making this possible and spreading the word. I couldn't have asked for a better home for these books. I'd also like to thank my agent Dara Hyde at Hill Nadel and my amazing family, friends and colleagues. Writing is a super-solitary endeavor, but it'd be impossible without a strong support system.

Most importantly, I'd like to thank the readers for giving this book and Silent City a shot. I know there are tons of books to choose from, so I appreciate you riding along with Pete for these stories and hopefully many more.

***

In terms of reading, I'm well into Bryan Stevenson's excellent and heart wrenching Just Mercy. Truly eye-opening and a very tough read.

We're still powering through the second season of "Daredevil." I have THOUGHTS, but I'll reserve them until I'm done with the whole thing. I've been enjoying it, for the most part.

***

OK, links!

I'll be doing a Reddit Books AMA tomorrow at 2pm ET - swing by!

I'll also be Pam Stack's guest (along with SW Lauden) on the latest episode of Authors on the Air. Show starts around 9pm ET tomorrow night.

Some Down the Darkest Street interviews you may have missed: Elizabeth A. White, PRWeek, Ain't It Cool News, 13th Dimension

Also: I talk music, my books and more with the great Lisa Levy at Criminal Element. That was a fun one.

Crimespree Magazine's Kate Malmon reviewed Down the Darkest Street today: "Alex Segura has created a character you want to cheer for."

Out of the Gutters had some nice things to say about the book as well: "Anyone who enjoys solid PI novels will find a lot to love here and will be happy they grabbed this book."

I suggest helping another writer out if you're feeling stressed about your own work.

Publishers Weekly spotlights a few indie publishers - including mine, Polis Books - and how they market/sell ebooks.

A look back at Miami's Dadeland Mall massacre, 30 years later.

David Ulin on Mildred Pierce.

Huge congrats to Megan Abbott and Lisa Lutz! This show is going to be amazing.

Jess Lourey on making book sausage.

Nice Marcia Clark profile timed to the launch of her new book/series.

The economics of a celebrity club appearance. More complicated - and annoying - than you'd think.

The mystery surrounding Ira Yarmolenko's death lingers.

Travis McGee's home/ride has finally been evicted.

Why won't Texas exonerate Fran and Dan Keller?

Very excited for a new Azzarello/Risso title and the latest Brubaker/Phillips/Breitweiser jam.

Sarah Weinman was on fire this week, with a great piece on Kitty Genovese and the bystander effect at The Guardian and an equally wonderful essay at LARB - "The Hollywood Ladies of Serie Noire."

That's all for this week. THANK YOU for all your support - and for reading! Talk soon.