Stuff & Nonsense 036: Let's Save Tony Orlando's House
Welcome back!

We've got a fun interview this week, but before we can get to that, let me share a few quick book promo things (Down the Darkest Street hits THIS MONTH from Polis Books!):

I talked a bit about Down the Darkest Street and the Pete mysteries at International Thriller Writers The Big Thrill (I interviewed Chris Pavone about his new novel, The Travelers, for the same issue). Also had a nice time discussing DTDS with fellow crime writer Angel Colon at My Bookish Ways. You can also experience "a day in the life" of Pete Fernandez by reading my guest blog at Dru's Book Musings.

You can also enter to win signed copies of both Down the Darkest Street and Silent City at Goodreads.

If you're in the NYC area, the launch party will be at The Mysterious Bookshop on the book's release day, 4/12. In terms of other events, here's a look at the first wave: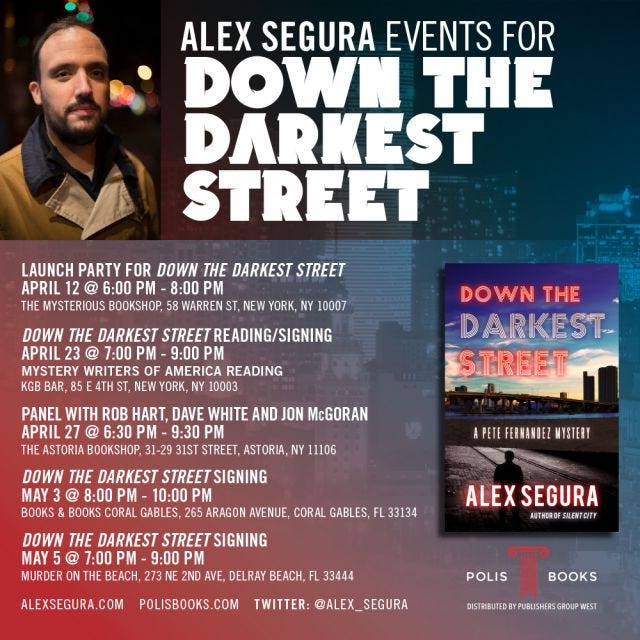 And, if you haven't found the time to pre-order Down the Darkest Street, you still can. Here's all the info. Some books are already in the wild. (And, psst, the reissued Silent City is out, too!)

OK, let's get to the main attraction!

***

I am lucky that I get to read a lot of good books. On any given day, I'm reading something that I find entertaining or informative or enraging. Every once in a while, you get to read a great book. A book you can't put down that also makes you want to go back and compulsively read everything the author's written. That was Lisa Lutz's The Passenger for me. (I enjoyed the book so much I dove right into her Spellman series, which has been a lot of fun so far. I know, I know - I'm late to the party.)

Lutz's latest novel is a thrilling story, but it's also a thoughtful exploration of identity and modern society, told from the perspective of one of the more memorable protagonists in recent memory. It's full of well-earned twists, cross-country action and some suspenseful and genuinely funny moments. I can't recommend it enough. If you're not convinced, stick around, as Lisa was kind enough to swing by to chat about the book, series vs. standalones, her (non) inspirations and more.

(This interview was edited for space and clarity, etc.)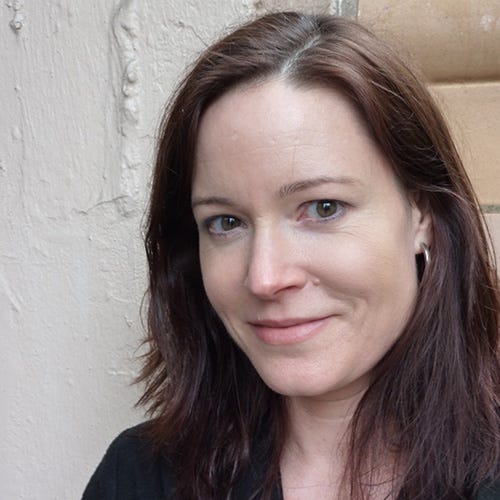 Lisa, thanks for doing this interview. For someone who might not be familiar with your work, what's the Lisa Lutz origin story?
For ten years, including most of my twenties, I was trying to make it as a screenwriter. The result was an almost unwatchable film called "Plan B" that promptly ended my screenwriting career. I wrote extensively on the subject for Salon a while back in a piece called "Confessions of a Hollywood Sellout." Then someone suggested that I try turning one of my other screenplays, The Spellman Files, into a novel. Nine books later, here I am.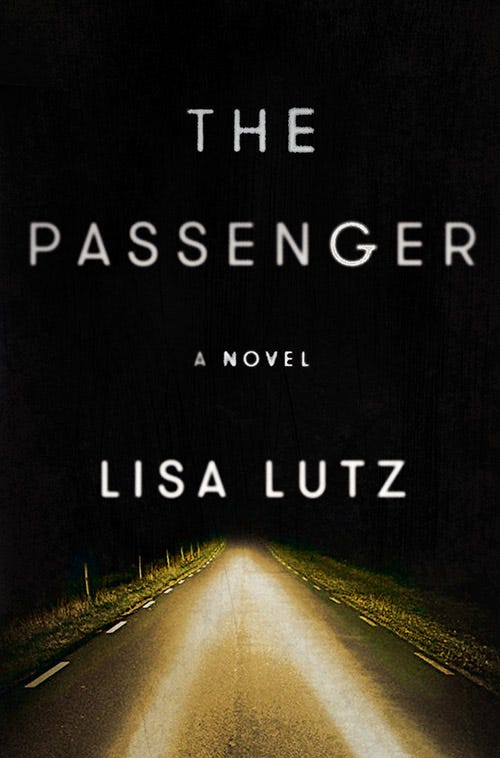 That's quote the story - and succinct, too. I loved your latest, The Passenger. It's one of my favorite novels of the year. What was the inspiration behind the book?
I never have real-world inspirations. I tend to go with vague ideas that I've been knocking around for a while. I was interested in writing about identity and how flexible it is in some ways. When someone presents herself in a way that's very much at odds with her interior life, I'm interested. I was also drawn to the idea of an event that fundamentally changes one's relationship with the world

On top of all that, I wanted to write—because I wanted to read—a story about changing identity in which the protagonist doesn't have any special gifts or technical prowess. My character is often forced to live off the grid and under precarious pseudonyms.

I may be alone in this, but I got a strong Patricia Highsmith and Jim Thompson vibe from The Passenger, and loved the uncertainty that emanates from the narrator. What's it like writing in an unreliable voice like that?
Well, first, thank you. Thompson and Highsmith were two of my favorites growing up, and the first crime novelists whose books I devoured. I'm sure something about their respective styles took anchor in my subconscious. But I don't consider my narrator unreliable. She withholds some information until later in the book, but she always speaks the truth. We've had so many unreliable narrators lately that I think we're creating more suspicious readers!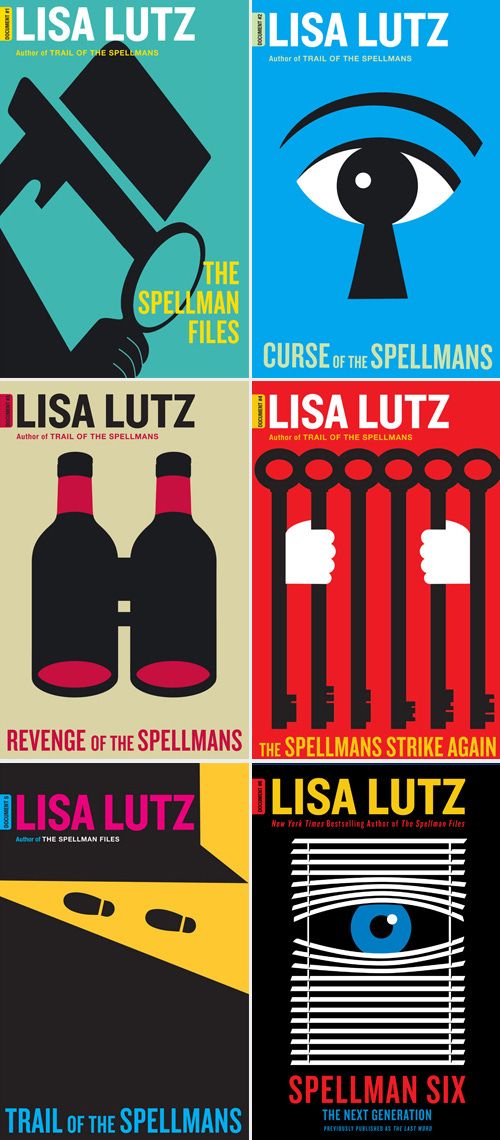 Fair enough. Maybe it was just how she parceled out details that made her seem unreliable to me. Zooming out a bit, you've written a long-running and acclaimed series and a few well-regarded standalone novels. What are the pros and cons of each? What's next for you?
It's hard for me to weigh the different experiences against each other. The Spellmans will always be connected to a certain time in my life, and I'm hugely grateful that I had that opportunity. Those books were challenging and also genuinely fun to spend time on. But getting to explore new terrain has been intoxicating. So I can't imagine going back.

Next up: I'm working on some things, but not quite ready to talk about them.

I look forward to hearing more when you can talk about it! Were there any particular films or books or shows that inspired The Passenger?
No. I wish I had a more interesting answer. I tend to write the stories that are the most vivid in my mind.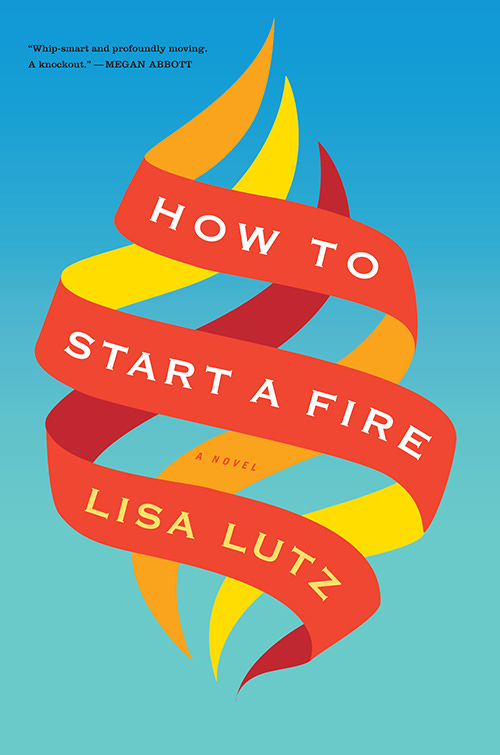 That's interesting enough, I think. There's a lot of travel in the book - which you describe in a fluid, engaging way. Not easy to do. How much research did you have to put into this book, and was that normal compared to your past work?
There's definitely some research, but I'm not sure how many details in the book about each specific place are research-related. I asked a friend for some help with Austin; he gave me a sense of neighborhoods and a list of interesting bars. But I did see those spectacular bats firsthand. Some places I fully made up. There is a real town called Recluse in Wyoming, but it's extremely unlikely that it bears any resemblance to the town in my book. Much of the novel is about the experience of getting from one place to the next—following maps or staring out the window, watching the world pass you by, having brief encounters with people you'll never see again.

As for how this stacks up against previous projects, nothing will ever compare to the research for How to Start a Fire. There was a fair amount of medical detail, which I thought I had nailed. Fortunately, my copyeditor moonlighted as an ER doctor (I am not kidding!) and she set me straight. One day I hope to have a source in every field to set me straight.

How does one moonlight as an ER doctor? I guess that's a story for another time. What have you been reading lately?
While I was traveling recently, I read Alison Gaylin's What Remains of Me, Chris Pavone's The Travelers, and Linda Lovelace's memoir, Ordeal—don't ask. I highly recommend the Gaylin and Pavone books. I'd skip the third. And the lovely Sarah Weinman just hooked me up with Megan Abbott's You Will Know Me. I'm only a few chapters in, but I'm fairly certain you will love this book.

I second your vote on the new Gaylin and Pavone - both books are great. And I can't wait to get my hands on a copy of the new Megan Abbott. Lucky you. Thanks again for visiting, Lisa!

***

Links!

Sarah Weinman examines a forgotten 1903 killing spree and how it could seen as the archetype for today's rash of mass shootings.

The Washington Post's Presidential podcast has become a favorite at Stuff & Nonsense HQ.

Samuel Sattin interview Victor LaValle.

A little more Lutz: The author on hate mail.

Celebrating the work of Uncle Scrooge comic book artist Carl Barks.

This story reminds me that we're near the end of FX's great The People vs. O.J. Simpson mini-series. Oh, and this is happening, apparently.

The romance novel industry - from the perspective of the male cover model.

Fellow Polis Books authors Steph Post and Rob Hart in conversation.

Hooray for a new Jaime Hernandez New Yorker cover.

Bosch season 3 is on the way, as is an adaptation of Gillian Flynn's Sharp Objects as an HBO series starring Amy Adams (with Flynn writing some episodes).

A comprehensive Ed Brubaker/Sean Phillips retrospective and a look back at 1995's DC vs. Marvel crossover for the ages.

That's all! Thanks to my pal Austin for the GIF. See you next time!