Discover more from Alex Segura
News and updates about my novel and comic book-writing work, plus reading recommendations!
Over 3,000 subscribers
Stuff & Nonsense 034: Weather with You (or, SILENT CITY is out today!)
I know, I know. It's been a while since I did one of these. But quality over quantity, right? Oh, and we just had a kid.

But here we are! If you're new, welcome! If you're not sure why you're getting this newsletter, unsubscribe info is at the bottom - sorry to see you go!

Okay, onward...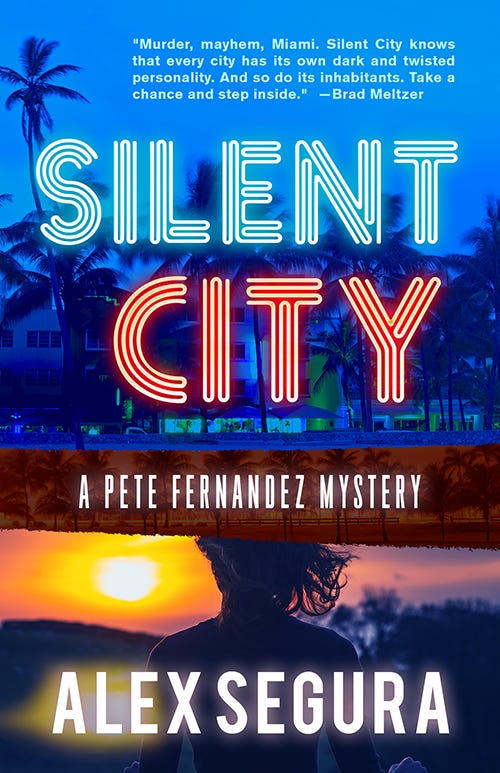 This newsletter will be a bit more promo-heavy because, today, SILENT CITY, the first Pete Fernandez mystery, is being reissued in paperback, ebook and audiobook! The second Pete novel, DOWN THE DARKEST STREET, will be hitting on April 12 in hardcover, ebook and audiobook. Both books come via the fine crew at Polis Books!

SILENT CITY introduces the world to Pete Fernandez - a washed-up Miami journalist who's hit bottom following the death of his father. Reeling from a series of terrible events, Pete stumbles onto a missing person's case that drags him into a bigger series of murders plaguing the city. The book has gained nice mentions from places like THE HUFFINGTON POST, THE MIAMI HERALD, and CRIMESPREE MAGAZINE, and great plugs from bestselling authors like Brad Meltzer, Sara Gran and Jeff Abbott.

***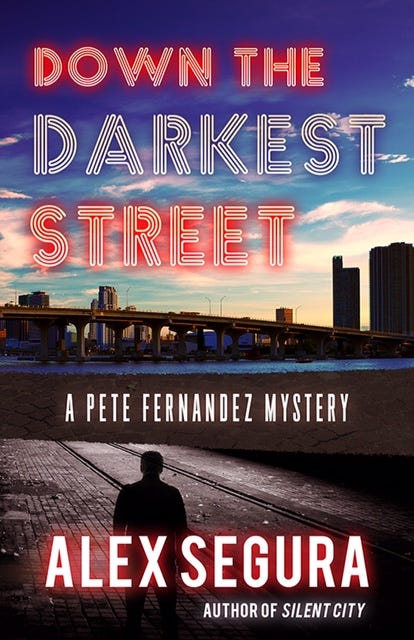 In DOWN THE DARKEST STREET, the sequel to SILENT CITY, Pete is pushed past his breaking point and left to face his personal demons and a killer cutting a bloody swath across Miami. The novel has already earned great advance praise from amazing authors like Laura Lippman, Megan Abbott, Reed Farrel Coleman, Hank Phillippi Ryan, Chris Holm and more. We've also seen positive reviews at BOOKLIST, SUSPENSE MAGAZINE and MY BOOKISH WAYS, to name a few, plus a great profile in THE GUARDIAN that ran a few weeks ago.

Want to know how you can get your copy or how to spread the word? Here's what you can do:

BUY SILENT CITY AND DOWN THE DARKEST STREET. I realize this is obvious - but hey, it never hurts to be direct.

REVIEW SILENT CITY AND DOWN THE DARKEST STREET on Goodreads and/or at the online vendor of your choice. Reviews - Amazon in particular - are extremely important/helpful to authors. If you read the books and enjoyed them, please let people know.

GET A SIGNED BOOK! I'll be doing events in New York City, Miami, Milwaukee, San Diego and other cities! It all kicks off with the DOWN THE DARKEST STREET launch party on April12 at the historic Mysterious Bookshop in Manhattan. I'll also be hitting The Astoria Bookshop on April 27 - and then the tour begins!

SPREAD THE WORD via Facebook, Twitter, Tumblr, Instagram, etc. This is the best link to use to promote both books, or the images below.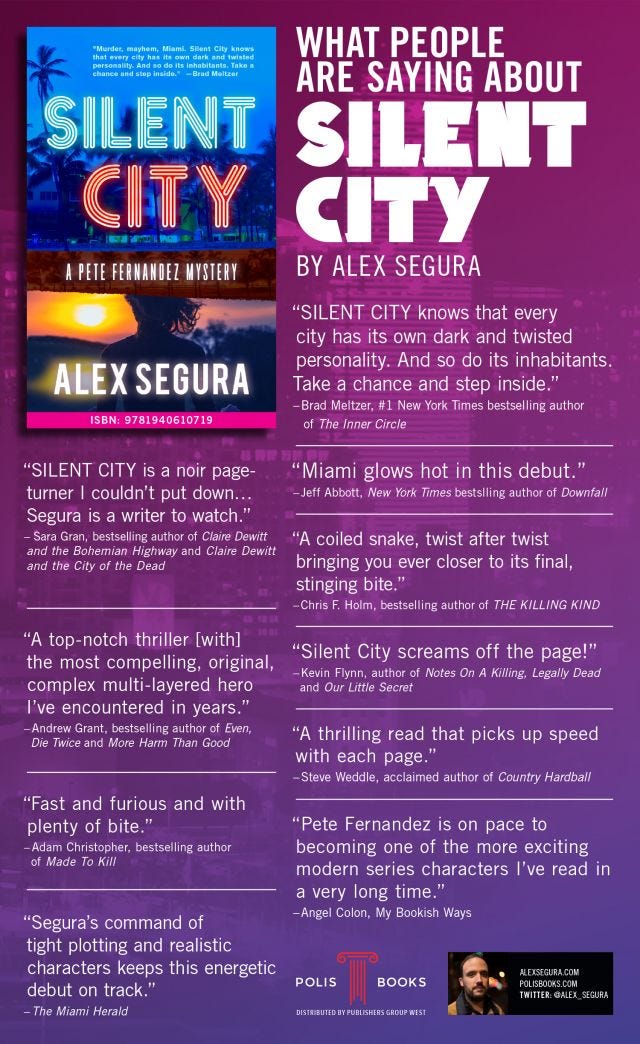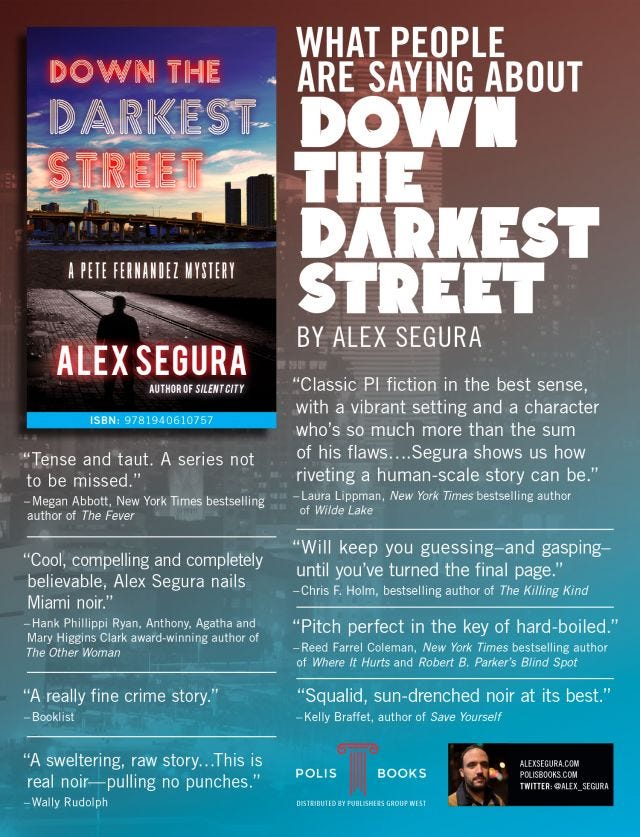 Okay, now that we've got all the self-promotional stuff out of the way, in lieu of an interview, here are a few great books that may have slipped past you.

I hope to interview the authors (if I haven't already) in future newsletters. But the best I can do for now is tell you that these books were each compulsively readable and hard to put down. Enjoy!

THE PASSENGER by Lisa Lutz

THE KILLING KIND by Chris Holm

RAIN DOGS by Adrian McKinty

PIMP by Ken Bruen and Jason Starr

WHERE IT HURTS by Reed Farrel Coleman

DARK HEART by Kevin Flynn and Rebecca Lavoie

GRAVEYARD LOVE by Scott Adlerberg

FLOODGATE by Johnny Shaw

AN EMPTY HELL by Dave White

WHAT REMAINS OF ME by Alison Gaylin

DARK HORSE by Rory Flynn

LET THE DEVIL OUT by Bill Loehfelm

RUN YOU DOWN by Julia Dahl

LITTLE PRETTY THINGS by Lori Rader-Day

CITY OF ROSE by Rob Hart

EVEN DOGS IN THE WILD by Ian Rankin

***

Links!

Some of these are old, but I won't bore you with the same excuses as to why.

The wonderful Lauren Beukes on writers and their cats. Be warned: tears will flow when you read this.

Alison Gaylin lists her Top Ten Hollywood Mysteries.

You caught Sarah Weinman and Megan Abbott on Morning Edition, right? Okay, good.

How a slice of pizza may have caught California's longest-active serial killer.

Speaking of Sarah, she lists her best true crime books.

Before O.J. and his Bronco, Miami had its own "trial of the century" - in 1966.

While we're on the topic of O.J.: I don't think Marcia Clark needs to be redeemed, but I am glad she is finally getting her due. Also, the Simpson trial series on FX is surprisingly entertaining, in no small part due to Sarah Paulson's excellent turn as Clark. This Paulson profile was also particularly good.

Six Neo-Noir gems from the early 1990s.

What it's like growing up with a dad who wrote nearly 400 erotic novels.

Who killed the Sheridans?

Read Bob Kolker's excellent LOST GIRLS. Then read this story about the case.

Alright! Until next time.