Stuff & Nonsense 033: Waiting for the Great Leap Forward
Oh, hi.

Just last week I was going on about how this newsletter would go out every other week. Best laid plans, etc.

That said, this'll be a quick one: fun interview, a few book links you may have missed, and the usual closer.

I may be off the grid for a bit in the coming weeks, but know it's not because I don't want to spend time with you. :)

Away we go.

-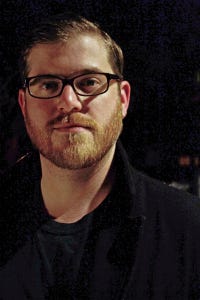 Rob Hart is no stranger to this newsletter. I mention his work often--because he's a hell of a writer. Before I really knew Rob, I read and was bowled over by his debut novel, New Yorked. It's a kinetic, fast-paced PI novel that features a believable, compelling lead, Ash McKenna, and gives off a true sense of place. It hit my sweet spot in terms of crime fiction.

We're coming up on the release of the sequel, City of Rose, which finds McKenna on the other side of the country, in Portland, Oregon, once again getting dragged into problems he'd rather avoid. It's hard to believe, but Rose is even better than Hart's first—more confident, effective, and packed with grit, dangerous characters, and a few surprises. Make sure you pre-order it (And, if you don't have New Yorked yet, it's on sale for less than two bucks, so get that, too). It was a pleasure to chat with Rob. As usual, this interview has been edited for clarity.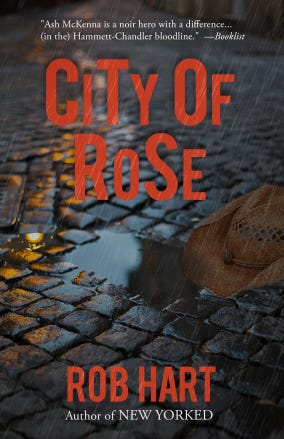 New Yorked was one of my favorite books last year and it introduced us to a great protagonist in Ash McKenna. How did you feel about the response? Was there any trepidation diving into the sequel, City of Rose?

I was thrilled at the response! People seemed to like it. The second book was done and delivered by the time the first one came out, but it made me feel a lot more confident about continuing the series. Like people would actually want to follow the character on a new adventure.

A lot of PI series anchor their stars to a place -- Scudder's NY, Marlowe's LA, etc. Did you always envision the Ash books moving around?

It didn't click for me as a series until I thought of moving it around to different places. Ash has that classic New Yorker quality of thinking the place where he lives makes him smarter and better than everyone else. The only way to dissuade him of that notion and get him to grow up a little was to take him off his home turf. I love writing about New York, and I'm sure I'll do it a lot more in the future, but it was a fun challenge to go someplace I don't know as well.

Do you have a personal connection to Portland, the setting for City of Rose? If so, how did that help in the writing of the book?

I've been out there five or six times. A good friend of mine was living out there, and then I also took a weekend workshop with Tom Spanbauer, who is my favorite living writer. Ash is in town for a couple of months at the start of the book—he knows a little about it, but not a lot. Which is pretty much where I am, too. So it was kind of perfect. It's a fun town. A little weird, but fun, and a blast to revisit through this lens.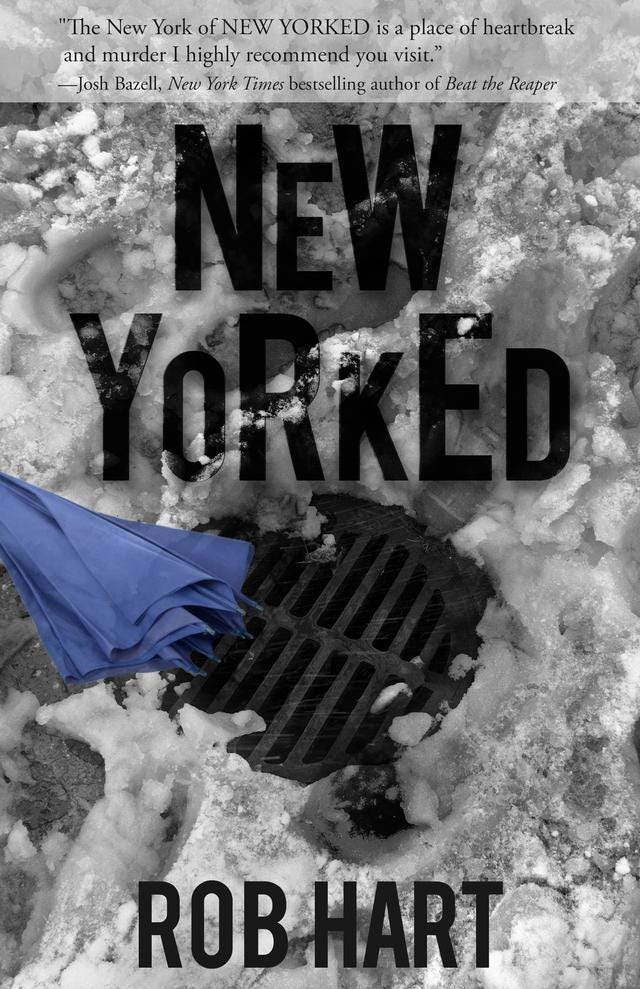 City of Rose starts off simply enough -- Ash is working odd-jobs at a vegan strip club in Portland, trying to escape the life he left behind in NY, when he gets pulled into a case involving one of his coworkers. It gets more complex and dangerous from there. Can you talk a bit about how you get things rolling with a novel? Are you a big outline guy?

I didn't outline the first novel and I think it shows—looking back I think the plot is a little disjointed. For this one, I outlined, and it made the whole process a lot easier. It took me six months to write, versus five years on the first. I had a general sense of what I wanted to do (strip club, kidnapping) and just poked at it until it sort of fell into place.

I've read a few "think pieces" about the sophomore novel slump. With my own writing, I found the second novel was more fulfilling to write, having learned plenty from writing my first. What was your experience like?

I think I had a crisis in the beginning—how the hell am I going to write another book?—and then I found the same thing you did: I learned so much from the first. I found my voice and my process. I love New Yorked but I feel like City of Rose is a better book. The third, South Village, is still in the design phase, but I feel a progression on that one, too.

You wear lots of hats -- LitReactor, Mysterious Press, author -- how do you find time to balance all of these things while maintaining a home life and being a parent?

I stopped watching baseball, and I married a woman who is immensely cool and supportive and understanding.

Ditto for me -- with football replacing baseball. What are you reading these days that gets you excited about writing? Any shows or movies that have grabbed you?

I'm woefully behind on my reading, though I just finished Ice Chest by JD Rhoades and Orchard Grove by Vincent Zandri, and I'm currently reading An Empty Hell by Dave White. You're up next, so it's all Polis, all the time. Of course, it's all fantastic.

I just finished watching Master of None on Netflix, which was pretty brilliant. Funny and thoughtful, and I've been trying to get out of my own head, so it was nice to watch something that was more about a minority experience. And so damn smart. Inside Out is really fantastic too. Pixar did something great there. It's a kid's movie about empathy and the importance of sadness. I loved it.

But my major infatuation right now is the Hamilton soundtrack. It's not just great. It's special. I'm not a big Broadway guy and I can't stop listening to it. Another week or so and I'm probably going to know the whole show by heart.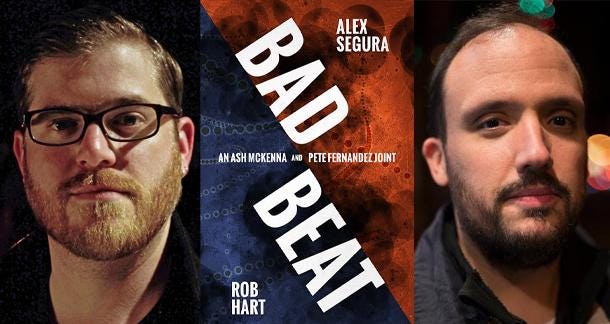 Y'know, Master of None didn't really work for me as much as I thought it would. Definitely funny, though.

We got to take part in a pretty unique collaboration with the e-short story, Bad Beat. Ash and my character, Pete, had a bit of a prequel crossover. Can you talk a bit about the experience and how the story fits in the "canon" for both characters?

It was a lot of fun! I think we both have different styles and yet they meshed very well. It's a prequel, so we meet each character before his series starts. It was liberating, in a way, to play with the characters in a place where their big arcs didn't really matter, since they hadn't started them yet.

Yeah, it was definitely fun to write a pre-Silent City Pete. It made me want to revisit that era more, down the line. Now, we both have similar views on the writing profession. It's about doing the work and letting luck appear if it can, but otherwise relying on putting in the time. Can you expand on that a bit?

A lot of publishing is luck, and timing, and all this different shit you can't control—but at the end of the day, none of it means anything if you don't do the work. I've always been a big believer of working as hard as you can, and just when you think you've worked hard enough, that's when you have to put in a little extra. Sometimes it sucks. An author I respect a great deal told me he liked my first novel and I needed to do a ground-up rewrite. That was tough to hear and I wanted to blow him off and just keep on submitting it—but he was right. It took some time and I did it, but the book was better for it.

You can't cut corners. I've fallen victim to this, and I've seen other people struggle with it too: Wanting to be published more than wanting to write well.

Thanks, Rob!

***

So, this happened on Monday.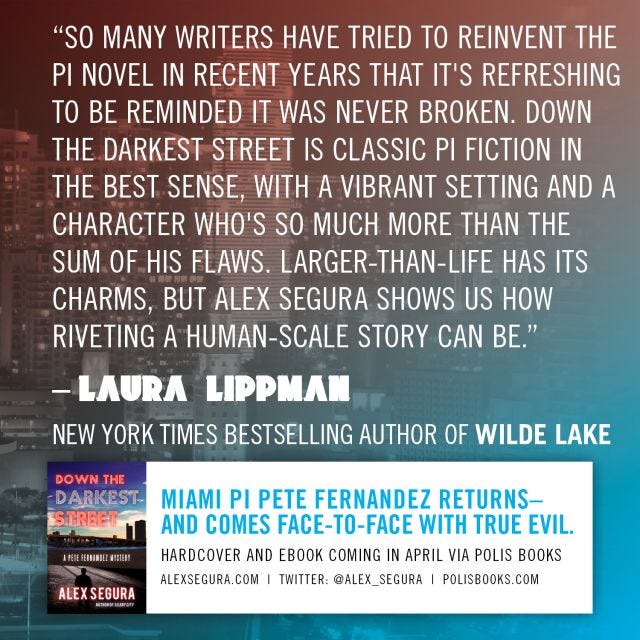 The Tess Monaghan books (along with Laura's many excellent standalones) were a huge influence on me, even before I decided to write my own books. I'm completely honored by this and all the advance praise Down the Darkest Street is getting. The book is available for pre-order, as is the first Pete Fernandez novel, Silent City, which is being reissued in March (both via the fine team at Polis Books).

The books will also be available as audiobooks, narrated by the talented Kevin T. Collins, who's taken point on a few of my favorite Jim Thompson audiobooks. You can listen to samples from his Down the Darkest Street and Silent City recordings.

This week also saw a flurry of Pete-related interviews, including conversations with the good folks at Crimespree Magazine and the comic book sites Newsarama and Comic Vine.

I got to interview Reed Farrel Coleman about his new novel, Where It Hurts, at The Big Thrill.

When do you know it's time to bail on a book you're reading? I share my thoughts.

A few links:

Congrats to the Agatha nominees!

Attica Locke will be writing a few more crime novels.

Vice looks at the Long Island serial killer case explored in Bob Kolker's essential true crime book, Lost Girls.

Henning Mankell's final farewell.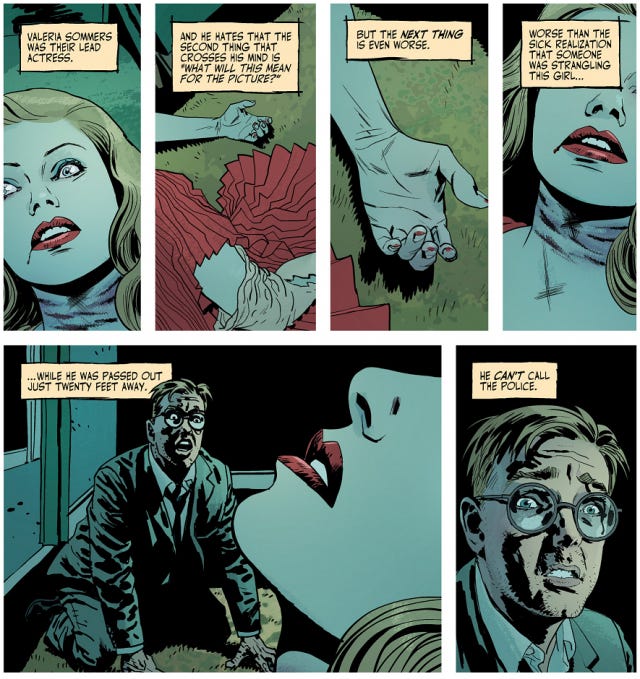 I caught up on some comics this week, including the final issue of Ed Brubaker and Sean Phillips's noir masterpiece The Fade Out, Greg Rucka and Michael Lark's futuristic (but extremely relevant) Lazarus, most of Dan Slott's run on The Amazing Spider-Man, and the last few installments of the latest Stray Bullets mini-series -- truly one of the best crime comics ever. So glad it's back.

I'm halfway done with The Magician's Land, the final book in Lev Grossman's Magicians trilogy. It's a fun read -- really memorable characters and setting. The story rises above the meta, Narnia-meets-Potter mashup it's presented as, though that's certainly part of the appeal. Other books I've read recently and enjoyed: the aforementioned City of Rose, Dave White's An Empty Hell, Ian Rankin's Even Dogs in the Wild and Strip Jack, Scott Adlerberg's Graveyard Love and Erica Wright's The Granite Moth.

See you soon!