Stuff & Nonsense 030: One Beat
Well, this was a great way to close the day yesterday. A stellar blurb for Down the Darkest Street from one of my favorite writers, Chris Holm:

"Alex Segura's riveting debut, SILENT CITY, introduced the world to Pete Fernandez, a washed-up newsman who haunts the mean streets of Miami like the ghost of the better man he longs to be. In his white-knuckled follow-up, DOWN THE DARKEST STREET, Pete hits bottom hard enough to leave a crater, only to discover he has further yet to fall. At once a harrowing crime novel and a deeply human tale of struggle and redemption, Segura's latest will keep you guessing—and gasping—until you've turned the final page."

- Chris Holm, bestselling author of THE KILLING KIND

His latest, The Killing Kind, was one of my top books of 2015, so to get this kind of praise from him means the world to me.

Down the Darkest Street, the sequel to Silent City (being reissued in March!) hits in April via Polis Books. You can pre-order it now.

Ok, onward!

This week's guest is a friend and the co-writer of The Shield (with some dude named Wendig), from Dark Circle Comics - the superhero imprint of Archie Comics that I edit. I first met Adam Christopher via Twitter. He struck me as a friendly, humble guy and as I dove into his work, I discovered he was also extremely talented, well-read and had impeccable taste in music. Soon, we got to talking about comics and here we are, a few years later, with a stellar first issue of a new comic series in comic shops (#2 is coming soon, folks!) and more to come.

In terms of 2015, Adam had a very busy year - capped off by Made to Kill, his robot noir novel that's seen resounding praise from all corners. I loved the book, and it melded together some of my favorite things from sci-fi and crime fiction - especially robots! - and created something new. I'm happy Adam took the time to chat with me. I hope it has not affected his work on The Shield. ;)

(This interview was edited for space and clarity, yadda yadda yadda...)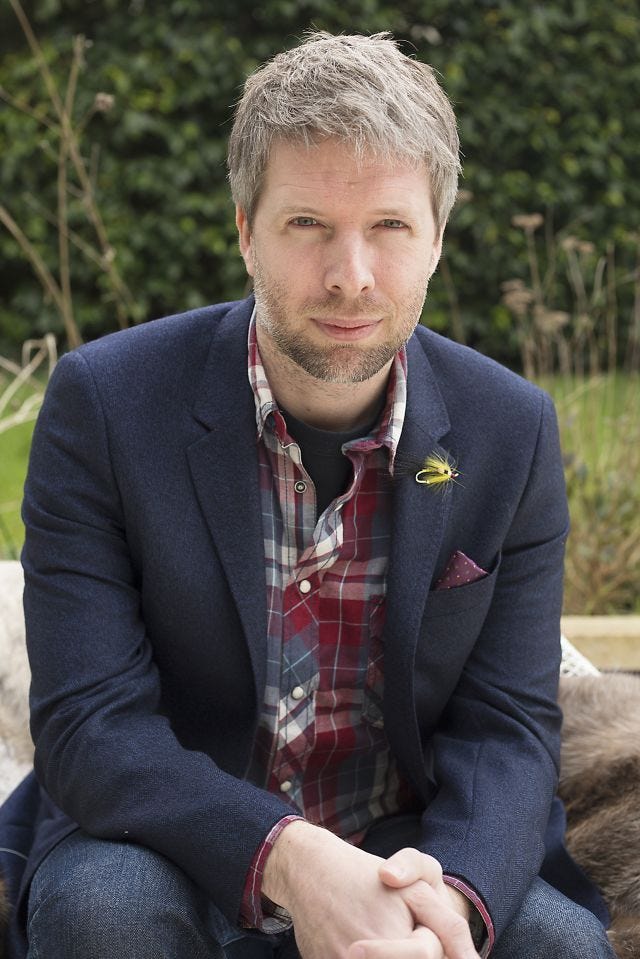 Adam, for those that don't know you or your work, what's your quick and dirty bio?

Hello! My name is Adam and I'm a writer. I'm the author of several science-fiction and urban/contemporary fantasy novels, including Empire State, Hang Wire, The Burning Dark, and now Made to Kill, the first book in a new trilogy. I also write the tie-in novels for the CBS's modern-day reimagining of Sherlock Holmes, Elementary, and I'm co-writer (with Chuck Wendig) on a certain comic called The Shield, out from Dark Circle Comics!

I'm from New Zealand, but I live in the UK. I have one cat. I collect LEGO and I play guitar. My favourite word is "magenta".

Magenta is a great word. NIcely done. Now, tell me about Made to Kill - what was the inspiration behind it? Was it a tough book to write?

Made to Kill is about Raymond Electromatic, the last robot in the world. Originally a PI working in 1960s Hollywood, he woke up from his electric sleep one day to find he was now, thanks to a little reprogramming from his supercomputer boss Ada, a hit man. Or… hit robot. Because Ada was programmed to make a profit, and she soon figured out you can make more money knocking people off than finding them.

The book opens when a mysterious woman walks into the detective agency, which Ray still uses as a front, wanting him to take out one of the biggest movie stars in town. Ray and Ada are both suspicious, but money is money—in this case, a big bag full of gold bars—and they take the job. But when Ray goes on the hunt, he discovers something far larger and far darker going on at the heart of Hollywood.

Made to Kill is a hardboiled science fiction mystery—I'm calling it robot noir!—written in the style of Raymond Chandler. It follows on from a novelette called Brisk Money, which was published for free on tor.com and is basically Ray's origin story, showing how he went from robot PI to robot assassin.

Having said that, readers can jump straight into Made to Kill, no problem. Brisk Money is just a nice extra—enjoy one, chances are you'll enjoy the other!

I got the idea after seeing a letter Raymond Chandler had written to his agent in 1953, complaining about, of all things, science fiction. In the letter he asks, perhaps rhetorically, that "they pay brisk money for this crap?" before launching into a 153-word pastiche about pink pretzels and the fourth moon rising over Aldebaran. It's pure nonsense… but it's Raymond Chandler nonsense.

But it got me thinking. I'm a huge Chandler fan, and I love the golden age of mystery and science fiction, which he came up in. So, what would "Raymond Chandler with robots" be like?

The only way to find out, it seemed, was to write it myself! First came Brisk Money, and while I was writing that, I realized I had a larger story here to explore.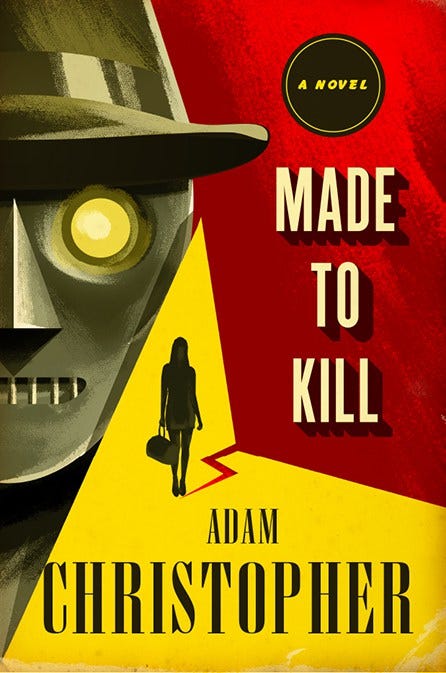 "Robot noir in 60 LA" is the kind of hook that will reel me in any time, and the book manages to play with the best elements of mystery and science fiction. How difficult was it to research? Were there any previous "robot" or sci-fi books that inspired/influenced you?

I really tried to keep away from robot and other SF influences. I thought of Made to Kill as a mystery/detective novel more than a science fiction one—it just happened to feature a robot and a computer. So the inspiration was primarily the work of Raymond Chandler, which I re-read and studied closely. I also poured over his published letters and correspondence, and my reading also branched out into other pulp, crime and mystery novels of the 1940s and 1950s.

What research I needed was mostly geographical. I already had Chandler's LA from his own books, and I deliberately used a lot of the same locations he did, so it was a matter of crosschecking making sure I had things more or less right.

I say more or less, because sometimes research can be a real burden—I'm sure we've all read novels that are more like Wikipedia articles than stories. Also, you have to let readers do their own thing too—everyone has their own idea of the glitz and glamour of old world Hollywood, so really, they can fill in the blanks.

Luckily, there is loads of info available on Hollywood in the 1960s—precisely because it's Hollywood! There are several good websites dedicated to vintage LA, and there's plenty of movie footage of everyday life and street scenes, home movies, newsreels, etc. This kind of thing was a real help in setting the scene.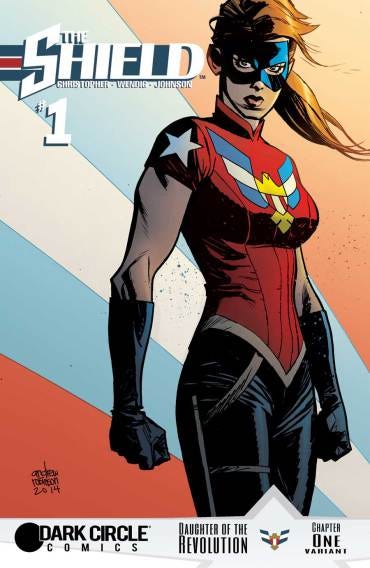 Tell me about the terrible working experience you've had on The Shield. :)

I'm afraid my therapist has told me the best way forward is to repress my memories of this experience, and…

Oh, hi Alex!

Writing The Shield has been great fun, and also a great honour—honestly, the chance to reinvent a classic character from the Golden Age of comics doesn't come along very often, and I love the new iteration that Chuck Wendig and I have created. Chuck and I have known each other for a long time and we're good friends—and, importantly, we are very different writers, so the stuff that the two of us come up with together is something that neither of us could do on our own. Which, creatively, is very satisfying. And because we're friends we have no qualms in telling each other when something is sucking.

It's the first proper comic that either of us have written, so we're learning a lot, but I also think we're both enjoying it—comic writing is so different to prose writing. For me, it seems to engage a different part of the brain. It's a great form and one that is a lot of fun to work in.

Excellent answer. You may return to scripting! Oh, wait.

Made to Kill is listed as a trilogy - was that something that came through after you wrote the first, or did you just have so much to say that breaking it up into three made sense from the get-go?

It was always a trilogy, but more as three standalone novels that had an overarching story arc, not one novel chopped into three.

I realized I wanted to stick in this world for a while after I'd written Brisk Money—I had two great characters I loved in Ray and Ada, and a terrific setting.

And I've got ideas for more books after the first three…

I see you just announced a new Ray novella, too, so that's good! In terms of process, are you a big outliner, or do you write as you go? Have you tried both benefits?

For my own stuff, it's a mix of outlining and pantsing – my outlines are just a spreadsheet, listing out the chapters and what has to happen in each. I start off by populating the chapter list with all the big stuff I have figured out in my head, all the events and important story beats that I know need to be in there. Then I go back and fill in the blanks, connecting stuff together.

As I write the first draft, I'll keep this outline at hand, and often I'll stop and adjust it, if I find the draft is starting to drift.

But the drift is a good thing – that means the characters have come to life, have started doing their own things, and are taking the story in directions and tangents I couldn't foresee. So long as I end up where I should end up, it's all good.

For tie-in stuff like Elementary (and comics, actually), it's a totally different process, because there are a lot of approvals that have to happen before you write a word. So the outlines are long and detailed, covering just about everything that happens in the book. I think the outline for the second Elementary novel (out in April 2016) came to about 20,000 words, for a book that is 80,000 words.

There are pluses and minuses to each method. With my pseudo-outlines, the first draft is much rougher, and the first edit is really where the recognizable book comes together. But I enjoy that process—I get a lot of satisfaction from carving the real novel out of that initial mountain of words. While this makes the edit more complex, it also means I can start writing quickly, once I have a general idea of where I am going.

With Elementary, it takes a long time to get the outline right—I probably spend 2-3 weeks on it, and then there are rounds of revisions with my editor and the overlords at CBS. But once the outline is locked in, the first draft is a breeze, because I have a very full and complete roadmap of the story. And after a fast draft, the edit is also fast. So that's great… but that initial outline is a boatload of work! But here, I have the story fixed and the characters are all supplied. For my own work, I need to discover the characters, figure out how they work and interact with each other and deal with the situation I've dropped them into, so I prefer the skeleton outline.

I feel like you've been all over the map this year. Any fun or not-fun travel stories?

Yeah, 2015 has been a year of travel, that's for sure—overall, I've spent an entire month in the US. Book tours are exhausting and featuring an exciting array of hotel rooms and early flights, but it's so great to meet readers, fans and booksellers. I also know that book tours these days are a real rarity, so I'm forever grateful I've had the opportunity to do two tours this year, one West Coast and one East Coast.

I have so many great memories… but I think San Diego Comic Con was my favourite experience. It was my first one this year, I had a couple of panels, I did a signing which had a line that had a line, and I met a tonne of great people and made a lot of new friends. I was braced for chaos and insanity, and while it certainly was busy, it was also wonderful—the whole city throws this massive party. And, fun aside, it was also super businessy. My meeting schedule was packed from dawn to dusk, and beyond—I even had a meeting at midnight, one night!

I think I'm hooked for life now.

Welcome to the club, my friend. What else are you working on?

There are a few things on the go—I've got one more Elementary novel to write, two more Ray Electromatic mysteries to write, and then final part of my space opera trilogy, The Dead Stars (out in summer 2017) needs some attention. Aside from that, I've got another trilogy underway, which hasn't been announced yet.

On the comics side, as well as the continuing adventures of The Shield, I've got two solo comics and two collaborations on the cards for 2016, which is super exciting! I can't wait to spill the beans.

You're always talking about things you're enjoying - movies, books, music and so one. What have you been obsessing over lately?

This year has been really great for books—favourites have included Chuck Wendig's Zer0es and Star Wars: Aftermath, Emma Newman's Planetfall, and Carrie Brownstein's memoir, Hunger Makes Me A Modern Girl.

And for music, too, 2015 has been a classic. Sleater-Kinney is my favourite band, so their surprise return with No Cities To Love is obviously a highlight, but I also simply cannot stop listening to Foil Deer by Speedy Ortiz and Courtney Barnett's debut album, Sometimes I Sit and Think, and Sometimes I Just Sit.

I watch an awful lot of TV, but man, Netflix has really pulled it out of the bag this year. Daredevil, Jessica Jones, Narcos, Unbreakable Kimmy Schmidt. Holy smokes.

Speedy Ortiz is excellent! I've also enjoyed some of that Wendig guy's work, too. This was a lot of fun. Thanks so much for stopping by, Adam.

***

This Joe Hill interview, tearing down the myth of the "crazy artist," was my favorite piece of the week.

Karina Longworth, creator of the excellent You Must Remember This Hollywood podcast, is sharing some additional material tied to each episode on Slate. This Gloria Grahame profile was the first I noticed.

I'm on a Patricia Highsmith kick, having just finished Deep Water after mainlining The Price of Salt and Strangers on a Train - so Kim Morgan's spot-on story came at the right time for me.

Why would an 82-year-old man kill his wife and children, then himself? This chilling true crime tale tries to answer the question.

Hands down, the best longread of the week. Brutal and compelling.

An interesting peek inside the files of NYC's head coroner...from the early 1900s.

A look at the recent "docuseries" trend that includes Serial, The Jinx and Netflix's Making of a Murderer.

If you enjoyed Don Winslow's The Cartel, you should learn about the real version, too.

Fellow Polis Books author Dave White interviewed Rob Hart and me about our Ash/Pete crossover story, Bad Beat.

That's it for this week!

Until next season, Fargo - thanks for being awesome.