Stuff & Nonsense 029: Blue in Green
This is going to be a quick one. I'm knee-deep in my LitReactor comic book pitching class plus a million other things in addition to work. All #luxuryproblems, I know. Fear not, though - this week's interview is a treat.

I've known Reed Farrel Coleman a long time. He's a gentleman, friend, great author and no nonsense in his approach to life and business. You could learn a lot from Reed. I know I have. His Moe Prager novels are a master class in P.I. fiction, and I'm excited he's parlayed that into writing the continued adventures of Robert B. Parker's Jesse Stone. I'm even more excited he's launching a new series - starring ex-cop Gus Murphy - next month with Where It Hurts. I had the chance to read Hurts (very quickly - it's one of my most-anticipated 2016 releases) and I can say it delivers. Dark, noir but also full of heart and a glimmer of hope, it's a great book that will continue Reed's long streak of home runs. Thanks to Reed for visiting. This interview was edited for space and clarity.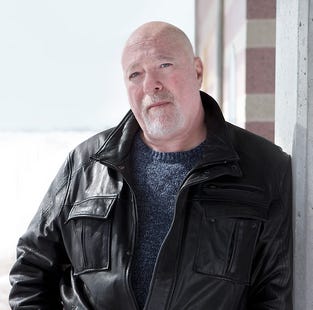 Reed, thanks so much for doing this interview. I have to be upfront - the Moe books have been a huge inspiration to me as a writer. I'm sure I'm not alone in this. How tough was it to end the series with The Hollow Girl? I'm assuming you knew going in this was going to be the finale - did that help, or make it harder to say goodbye?
Thanks, Alex. To say my work inspired you is perhaps the greatest compliment a writer can receive. As far as ending the series … yes, I knew the end was at hand around the time I was finishing Hurt Machine, the seventh novel in the series. Moe was getting older and was now recovering from a serious illness. He was getting to a point where the only thing he could flash with any authority was his AARP card. So in conceiving the end of the series, I wanted to do one book that showed fans of the series who Moe was before he was a cop, before he was world weary and tainted—Onion Street—and one to show him completing the circle of his adventure—The Hollow Girl. It made goodbye easier because I could prepare for it to be over and I could end things on my own terms.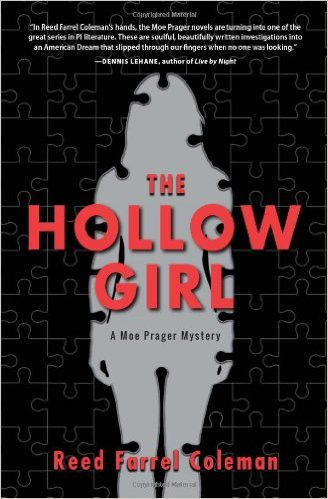 You really did - it struck me as a fitting end to Moe. Now, one of the things I liked most about the Moe series was how fearless you were in terms of his timeline - some books jump ahead years, so part of the fun is figuring out what Moe's status quo is in the early chapters. So many series seem evergreen in how they portray their protagonists. What went into the decision to propel Moe forward?
One of the things I was determined to do if I ever got the chance to write a long series was to age my protagonist because what interests me about people is their journey. How do they change? How do they grow? How do they devolve? Oddly enough, as I've aged I have discovered that aging in itself becomes an interesting element in the status quo of a character. I think the time jumps helped make Moe real to readers. It certainly made him more real to me.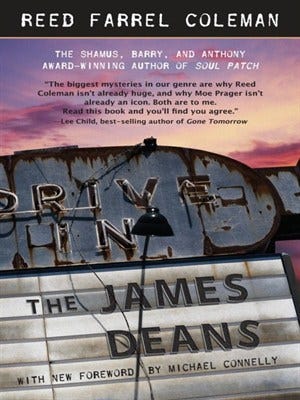 Speaking of "feeling real" - one of the things that stood out to me about Moe is that he's not a full-time PI. And he isn't a raging alcoholic or ex-detective. In fact, he has a viable and stable day job. As the series progresses, we learn with Moe, almost. Can you talk a bit about the birth of Moe as a character in your head? Did he appear fully formed or was he a byproduct of wanting to create something that cut a new path?
With the first novel I ever attempted was published, Life Goes Sleeping (Permanent Press 1991), I had no real idea of what the hell I was doing. But that didn't stop me from writing other novels while I continued to write the other two Dylan Klein novels, Little Easter and They Don't Play Stickball In Milwaukee. I wrote two unpublished novels during this time featuring a NYPD detective name Moe Einstein. Those novels were exercises in learning to write, but something about Moe stayed with me. He evolved in my head into Moe Prager and when I hit on the idea for a new series, he was a perfect fit. I liked the idea of turning the old PI clichés on their head. I changed the stereotypical white, Christian, hard drinking, loner, quick with his fists and his gun into a married, middle class Jewish guy with a kid, a mortgage, and a chip on his shoulder.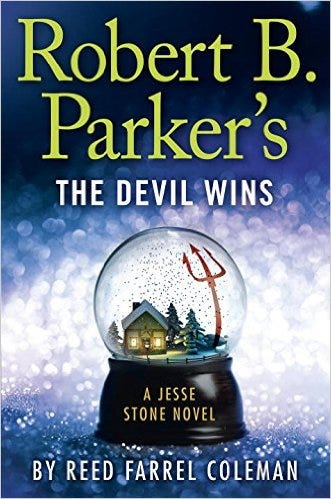 You've got a few Jesse Stone novels under your belt now, and to say they've been well-received would be an understatement. Like many of us, you're a fan of the great Robert B. Parker's work, so I imagine the gig was a little daunting. Going into it, what were you hoping to add to the mythos? What were some of the challenges?
To be frank, I wasn't daunted by it. If I was younger or less far along in my own career, I might have been paralyzed by the task. I believe that writing is hard enough without throwing obstacles in your own path. If I focused on the legacy of Bob Parker and the popularity of Jesse Stone, I think I would have made my life and my job much harder. Instead I tried to do what I always try to do, which is to write the best book I can. I knew I wouldn't try to do a direct imitation of Parker because it would come off as just that, an imitation. So my approach is to leave his characters intact, but to shift the focus to a much tighter lens. I wanted to give the sense of what the characters were thinking and feeling, which wasn't what Bob Parker focused on in these books. I also wanted to open up Paradise, Mass as a setting.

Jesse's interesting when compared to Parker's Spenser, who's much more together and aware of himself. How would you compare writing Jesse to Moe? How are they alike or different?
Moe was flawed, but very thoughtful and philosophical. He was a man who wore his heart on his sleeve. I like to say that the only thing Jesse Stone wears on his sleeve is his sleeve. They are both dedicated to their work, but they are very different men.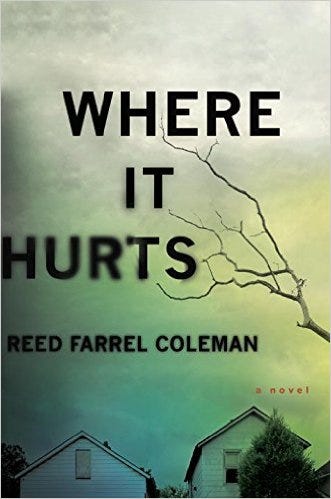 Your new novel, Where It Hurts, is the first in a new series featuring ex-cop Gus Murphy. The book is dark and features a protagonist who's hit his absolute bottom. How did the book come about and what can readers expect?
The series was one of those perfect storms for a writer. I had the idea for the character, setting, and plot all at once. Gus is a retired Suffolk County cop who one day is sure he understands the world and the next day discovers he knows nothing about it. His world blows apart and now he has to relearn how to live. The setting is Long Island, but not Gatsby's Long Island. It isn't the Gold Coast or the Hamptons. It's the Long Island I live on, the blue collar, middle class Long Island. The Long Island I learned about when I drove a home heating oil truck for seven years. The one where people sometimes have to choose between heat and food in the winter.
The book also feels very noir, in the best possible way. Did you set out to write a darker book, featuring a more down-on-his-luck protagonist? Can you talk a bit about why?
I don't preset what I'm going to do. That's one of the reasons I don't outline. I let the book be what it wants to be. But given the subject matter of the plot and the seriousness of the crimes, it was destined to be a dark book. I do believe, however, there is a strong sense of hope in it as well. In the end, the critics and readers will make up their own minds about that.

What's next after the first Gus book?
The last of my Gulliver Dowd novellas Love and Fear will be released in 2016 as well. I just finished the next Gus book, What You Break. It should be released in January of 2017.

Thanks for answering these, Reed! Any time.
***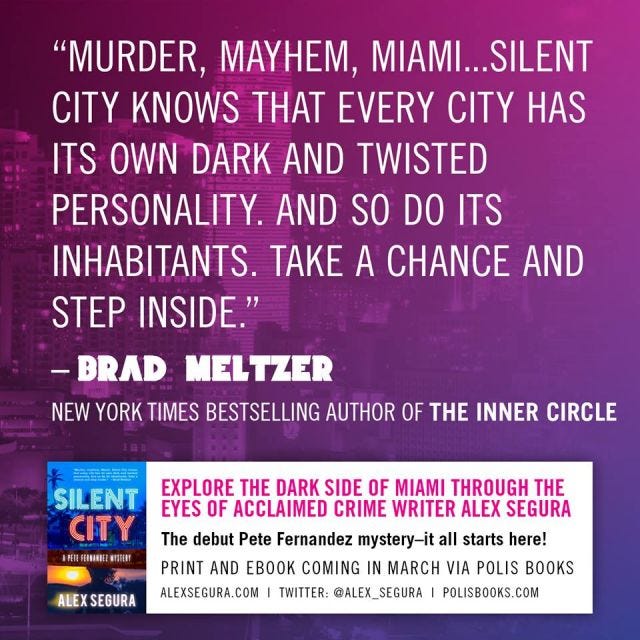 Just a gentle reminder that you can pre-order Silent City and its sequel, Down the Darkest Street, hitting in March and April, respectively, from Polis Books.

If you're a reviewer/reporter/blogger and interested in a review copy of either, let me know and I'll connect you to Polis.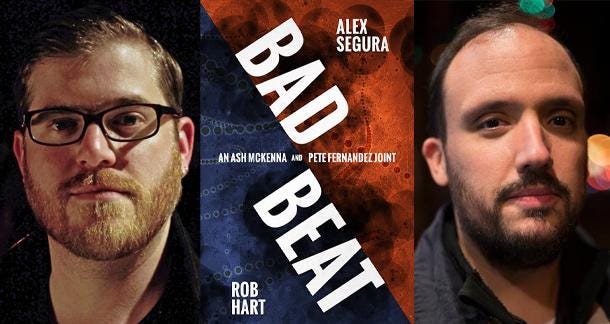 And speaking of Pete, you can see him crossover with Rob Hart's own Ash McKenna in Bad Beat, an e-short that is hitting in January that serves as a prequel to Silent City and Rob's New Yorked. You can pre-order it now. (Also, big congrats to Rob - New Yorked just got a nice best-of nod from the Milwaukee Journal-Sentinel! One of my favorite books of the year, too.)

If there's one story you read this week, make it Sarah Weinman's excellent piece on the lost mystery novelist Hughes Allison.

I'll be at Film Forum tonight to catch a screening of Laura (with an introduction by Megan Abbott!). It's part of Film Forum's excellent Women Crime Writers mini-festival. If you have time, see some stellar films based on novels written by the supremely-talented women included in Weinman's novel anthology.

See you next week!