Stuff & Nonsense 025: Future Crimes
Happy Friday!

Okay, so I try to keep this space light on the promo - or balanced, in terms of promo vs. other stuff. But I'm going to veer off that path for a hot second to remind you, dear reader, that my first two novels are coming out early next year. Let's look at the lovely covers my publisher has created before I dive into the "please buy my books" part of this intro.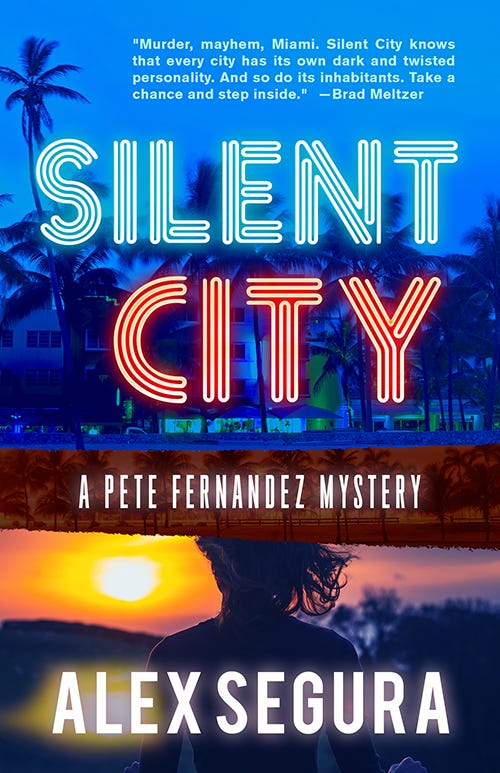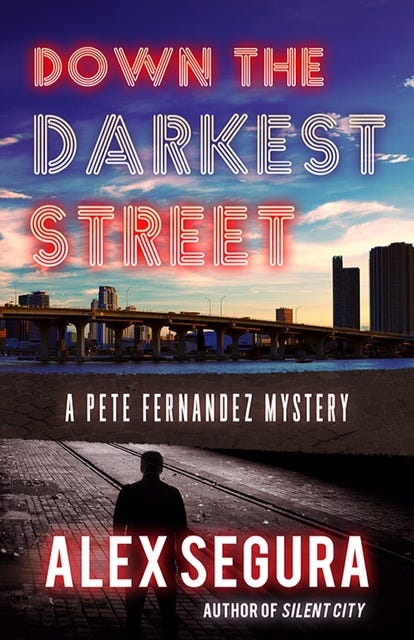 Nice, right? I don't get tired of looking at them.

Alright, on to the promo stuff:

SILENT CITY and DOWN THE DARKEST STREET - the first two novels in my Pete Fernandez detective series - are hitting in March and April, respectively, from Polis Books. Both are available for print pre-order now. Digital info TK. If you're interested in getting a copy, a pre-order would be greatly appreciated.
I realize this may *seem* early, but it's not. Pre-orders are really important for authors. It helps a ton for booksellers to see that the interest is high in a particular book or series.
I'm really proud of both of these crime novels. I hope those of you that enjoyed SILENT CITY will follow Pete's adventures in DOWN THE DARKEST STREET. If you haven't read SILENT CITY, then this is a perfect time to start from the beginning.

If you're a reviewer or a reporter interested in an interview, let me know and I'll do my best to make it happen. Either reply to this email me or find me via Twitter.
Feel free to share these links via social media, etc. - and I hope you enjoy the books!

Onward...

In other news, maybe I'll see you next week to celebrate the launch of Adam Christopher's great new novel, Made to Kill, and the recent launch of The Shield, a new comic book series I'm editing for Dark Circle Comics.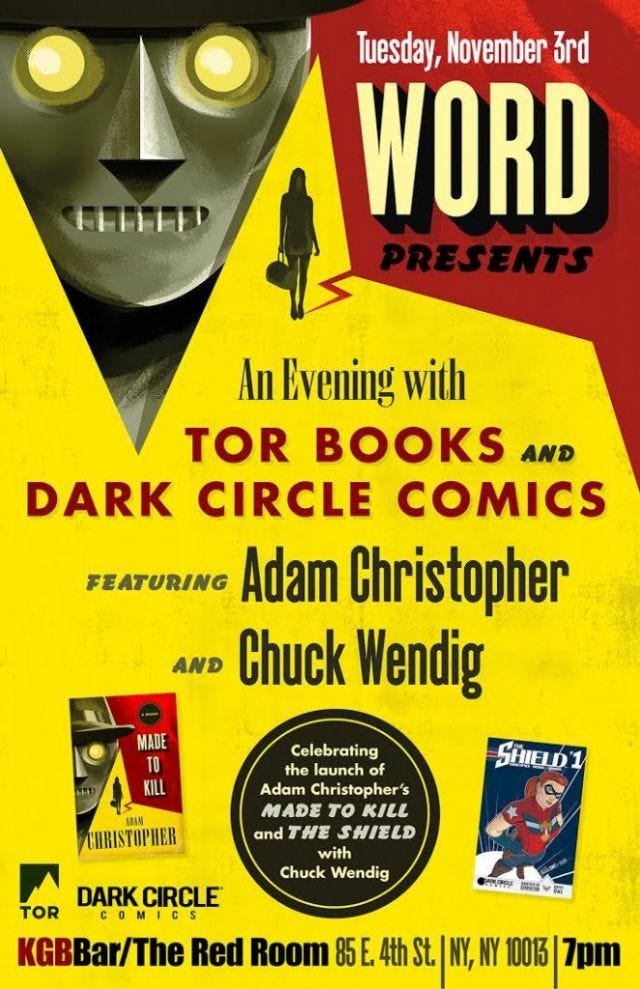 ***

Thomas Pluck does it all. Editor, author, wrangler, social media guru and freelance writer. He's also a great guy, loyal friend and always quick to lend a hand. Recently, he let loose with a killer collection of short stories by some of the biggest names in fiction in the form of Protectors 2: Heroes. All proceeds from the sale of the book went to help the PROTECT organization, a very worthy cause.

I was lucky enough to have a story in the anthology, a Queens crime tale featuring spot illustrations from comic book artist and friend Dennis Calero. The book also includes stories from luminaries like Joyce Carol Oates, Hilary Davidson, Reed Farrell Coleman and more. But I'll let Tom talk about that. I appreciate him taking the time to swing by Stuff & Nonsense. (Interview was edited for space and clarity, etc.)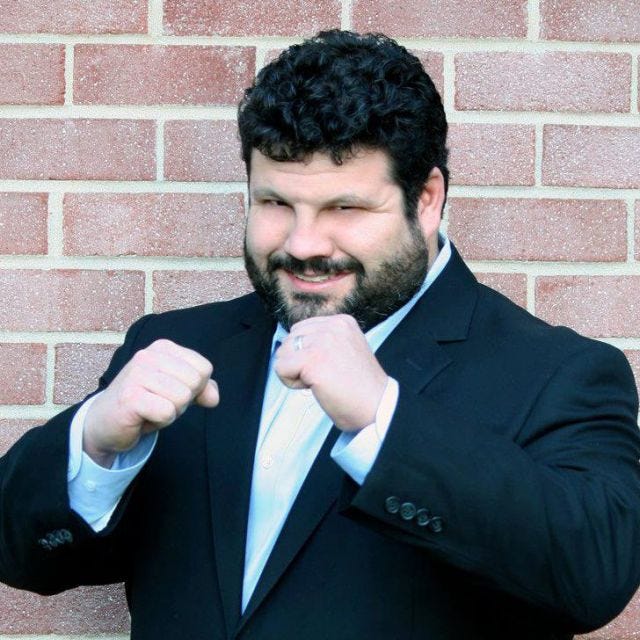 Tell us a little bit about yourself, Tom.

First of all Alex, thank you for this opportunity to reach your readers, all exemplary humans of fine taste, if their admiration for your work is any measure.

As for me, I'm just a big old nerd who powerlifts and trains in MMA when he's not reading books and playing D&D. I'm often called a "noir" author, but I've written weird tales, thrillers, suspense, horror, crime, drama, capers, humor, and what have you. My novel Blade of Dishonor was called "the Raiders of the Lost Ark of pulp paperbacks" by MysteryPeople, and having loved Indiana Jones since I was a kid, that's my favorite review.

A worthy choice - and they were totally right about Blade. So, tell me - how did Protectors come about? What was the response like from the author community?

Protectors began as a way to support my favorite political lobby, PROTECT, which lobbies for more effective legislation for protecting children. Their victories include the Circle of Trust Act, because most predators invade or exist within a child's Circle of Trust, and the HERO Corps, which trains wounded veterans in digital forensics, so they can assist law enforcement Internet Crimes Against Children task forces in hunting online predators and rescuing their victims.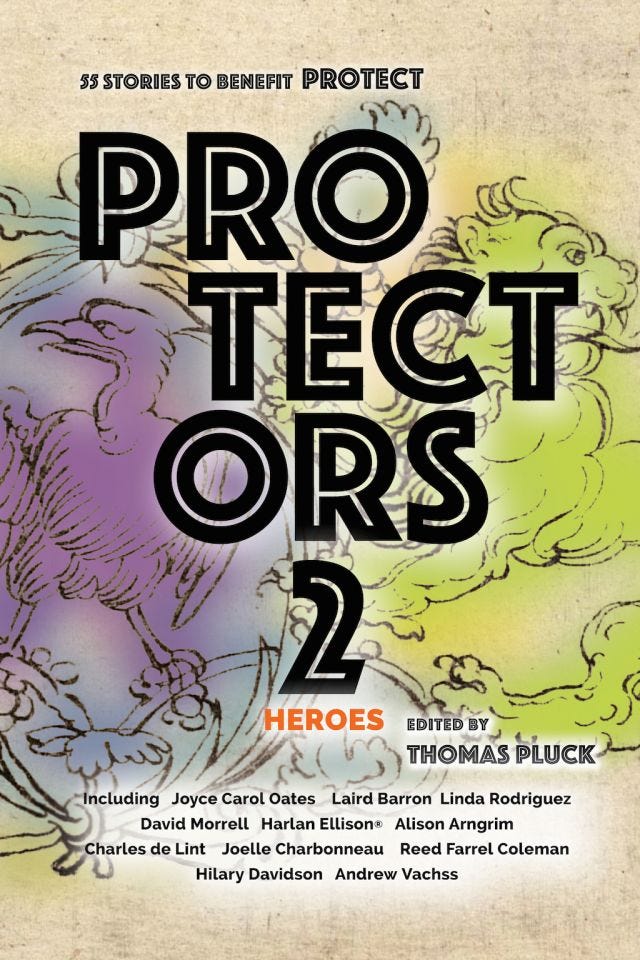 The first volume was very well-received. What made you want to do a sequel? Any lessons learned from the first one that applied while working on 2?

Honestly, Protectors was a great success, with great stories by authors such as Johnny Shaw, Ken Bruen, Andrew Vachss, Joe Lansdale, Roxane Gay, and many more, that a sequel was inevitable. It was just so much work that my own writing interfered with it. So I did what I usually do to fight procrastination and doubt, I jumped in with both feet. I asked a few big-name writers I've gotten chummy with on social media, and when they said "yes," I had no choice. Those writers are Joyce Carol Oates, Laird Barron, and David Morrell, to give readers an idea of the variety.

It's an amazing lineup, no doubt. Kudos for getting all of them together. Wondering if you could talk a bit about PROTECT the organization a bit? How have these books helped?

The first book raised several thousand dollars in donations, and the second is fast on track in exceeding that in half the time, if my predictive and mathematical powers are correct. 100% of the proceeds go to PROTECT, the costs of creating the books are borne by me, and the writers all graciously donated their work, most of which is only available in the books. Designer Suzanne Dell'Orto donated the cover and print design, and e-book designer Jaye W. Manus made a beautiful electronic version.

I was honored to be included in the book and enjoyed collaborating with you - do you have the desire to do a third? It's a huge book!

It was originally going to be 2 and 3, but after editing 55 stories, I decided to make a giant book instead, because it wasn't fair to the authors to have to wait. And why not make it a bargain? 3 may be in the future, but I don't have any plans. I said that about Protectors 2, though.

I won't mark by calendar, then, but I also won't be surprised when I see you announce the third. What other stuff are you working on?

My short story "Letters to Santa," a horror tale with a deceptively innocuous title, will appear in ThugLit's first holiday anthology, Cruel Yule. I have a crime novel starring Jay Desmarteaux, a character who's headed my most popular action stories, the day he gets out of prison after serving 25 years for murdering a vicious high school bully, that's seeking representation; currently I'm working on something lighter, about two guys who inherit a crusty old pub and try to turn it into their nerdy dream bar, only to have it become infested with hipsters... one of whom ends up ironically dead. I'm having a lot of fun with it, we've got craft beer snobs, gentrification shock troops vs. blue collar neighbors, Nazis, AC/DC singer Bon Scott's lost lyric notebooks, and a flatulent cat. I write what I want to read.

Were there any "Wow, we're getting a story from So-and-so!" moments with Protectors?

Harlan Ellison, my literary hero since teen-hood. He has a reputation as a thorny curmudgeon, which I'm a part of--his response to a letter I wrote to him in high school wound up going viral--but in actuality, a very nice man who was incredibly generous and professional in my dealings with him. He doesn't use email, and our contracts and discussions went more quickly and bloodlessly than most. He let me use my favorite story of his, and one most fitting for the collection, "Croatoan."

What authors do you look to as guides or inspirations, either through their work or how they conduct themselves?

Well, as much as I respect Harlan and his work I'm not sure he's a role model. Lawrence Block is funny and gracious to his fans, which I greatly respect; as is Joyce Carol Oates. They taught me you always have time to be polite. Hilary Davidson writes with her claws out, she's an inspiration. Laird Barron is one of the few writers who makes me feel like a kid reading in the dark again, I was thrilled when he wrote a story for the book. Joe Lansdale, too. What they have in common is that they're all prolific professionals; they do the work, they honor it, and yet they have time to be polite; they don't see writing as some great burden. They persevered, writing what they wanted to write. That's what a writer must do.

Agreed. Is there anything I missed that you'd like to talk about?

You don't miss much. Thank you again for the interview, and for your story in Protectors 2! Our donation record is up at www.protectorsbooks.org and of course, readers can buy the books there as well.

My pleasure! It was awesome to be a part of it. And thanks for chatting with me, Tom.

***

Here's a quick recap of stuff I'm enjoying...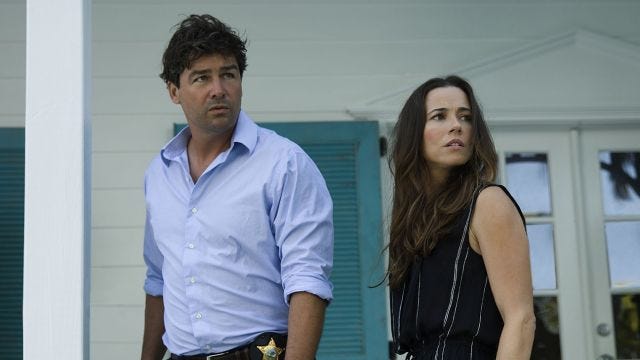 Watching: Just finished up the excellent first season of Bloodline, though I'm weirdly unsure about a second. Getting ready to start Fargo season 2.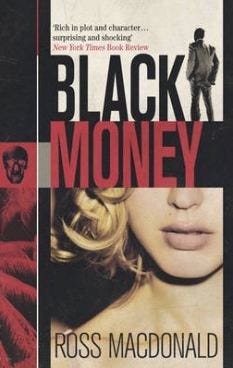 Reading: Revisiting Ross Macdonald's Lew Archer books. As time permits, I'll have a longer bit about the books once I'm done. Starting Black Money today. Atop TBR pile are A Head Full of Ghosts by Paul Tremblay, Carrie Brownstein's memoir and Adam Christopher's Made to Kill. Comics-wise: Loving The Fade Out, Sex Criminals, Lazarus, the new Stray Bullets mini, the debut issues of Paper Girls, Survivors' Club and Black Magick and re-reading Sandman Mystery Theater, which holds up very well.

Listening: In terms of podcasts, Criminal continues to be great, You Must Remember This has become a weekly ritual and I still very much like Death, Sex & Money. Crime Writers On is also a favorite. I've given up on Detective, which just seemed to ramble on too long and I couldn't get into The Season or Missing Maura Murray. The latter seemed more interested in pointing listeners to an eventual documentary than making an engaging podcast, and I just couldn't get over the rant that ate up half of the first episode. I could have just been in a grumpy mood, though, so try it if it sounds interesting. I'm waiting patiently for a new Mystery Show episode and I'm trying to like StartUp more, though I wasn't as blown away by the latest episode as the Internet seemed to be.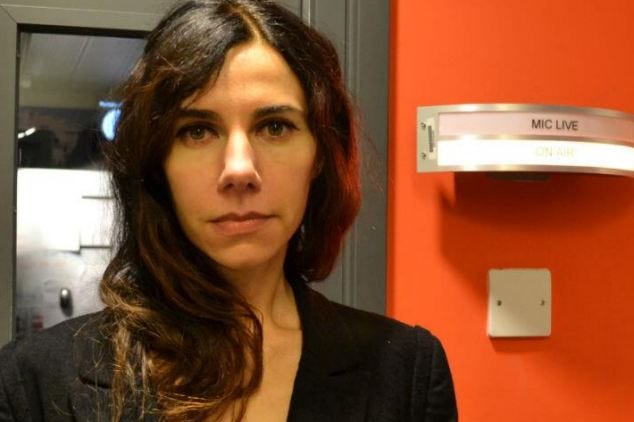 Music: Nothing really new-new, but lots of Old 97s, Calexico, Lucero, The Handsome Family, Miles Davis, PJ Harvey, solo Beatles, Replacements and Waxahatchee.

***

"Every day I want to quit social media."

Interesting take by author and journalist Sebastian Rotella on the cartel movie Sicario, and how it's not exactly reality just yet. I had the pleasure of speaking to Sebastian earlier this year as part of the #PENTen series, where I'm a guest editor for the Pen American Center.

Really loved this Ross Macdonald piece by crime writer Scott Adlerberg.

The politics of John le Carré.

Here's a look at half a dozen serial killers who were never caught, in case you're looking for a bit of insomnia.

The New York Times profiles a few true crime and noir tours that take fans around some of L.A.'s legendary dark corners. h/t Megan Abbott.

InkShares has revamped it's crowd-funding publishing platform.

Sarah Hepola's excellent drinking memoir, Blackout was one of my favorite books of the year, and this piece for Texas Monthly analyzing the absence of drinking in the ongoing campus assault conversation is worth a read.

This Mickey Rooney story - chronicling his final, abuse-filled years - was a tough read. This link came via Sarah Weinman's always-excellent Tiny Letter, The Crime Lady. Do yourself a favor and subscribe if you haven't yet.

That's all for this episode. Have a good week, okay?