Stuff & Nonsense 024: Like the Weather
What a difference the flu makes...

WARNING: This newsletter is a bit more rushed and harried than usual, so thanks in advance for your patience in terms of formatting and typos. Onward...

So, NYCC happened - at least partially. I was felled by a nasty case of con crud midway and ended up spending four days recovering. Aside from that, it struck me as a good show, if a bit more intense than the last few. I can't believe there's been 10 of them already. But I survived, so that's good.



THE SHIELD #1 hit this week from the Dark Circle imprint I oversee at Archie. If you like shos like The Americans, homeland and so on, this book is in your wheelhouse. Plus, it's written by the great Adam Christopher and Chuck Wendig, with amazing art by Drew Johnson. I get that the comics market is overloaded, so I truly appreciate you giving this book a chance. It will not disappoint.
Had the pleasure of interviewing the wonderful and talented author Kelly Braffet as part of my guest editor duties at The Pen American Center. This is the latest installment in their great #PENTen series.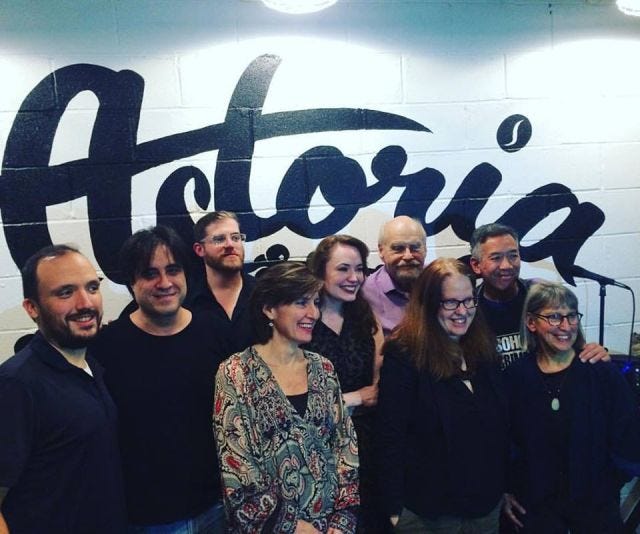 We had a fairly successful Noir at the Bar Queens last week at Astoria Coffee (NYT mention probably helped!), which also featured bookseller The Astoria Bookshop. Too many highlights to list - but the venue, crowd and readings were great. I hope we can do more there in the coming months. While I was sad to miss Bouchercon this year, it was nice to hang out with my crime friends soon after.

I also wrote up a quick "Noir at the Bar 101" at Do Some Damage - basic tips I've learned by doing with some quotes from fellow hosts around the world.

I'll be at Miami Book Fair next month - among other comic book folk like Cory Doctorow and more. To paraphrase Henry Chang - fast company indeed! It should be fun. I'll be able to say more as we get a little bit closer.

I had a handful of links from The Life Sentence to share this week, but as some of you know, the site ceases publication today. It's a huge loss for not only the crime fiction community but the web. I'm not being hyperbolic when I say TLS's mix of interviews, culture pieces and analysis combined to create one of my favorite websites out there. But alas, it's not easy to make a living that way, and the market was not there to support it. It'll be missed dearly, and I want to thank Lisa Levy, Jordan Foster and Katrina Niidas Holm (plus their many contributors and board) for a great run. The Life Sentence was one of a kind.

***

I wish I had a great "How I met Wally Rudolph" story - but I don't. We share an agent (the awesome Dara Hyde). Dara very smartly suggested I might enjoy Wally's latest novel, Mighty, Mighty. She was right. I was impressed by Rudolph's clear voice and knack for weaving in research to form a compelling story, paired with vibrant characters and a killer setting. It fed not only my hunger for great crime fiction, but the modern history junkie in me as well. Please do check it out. I'll let Wally take it from here. (This interview was edited for clarity, etc.)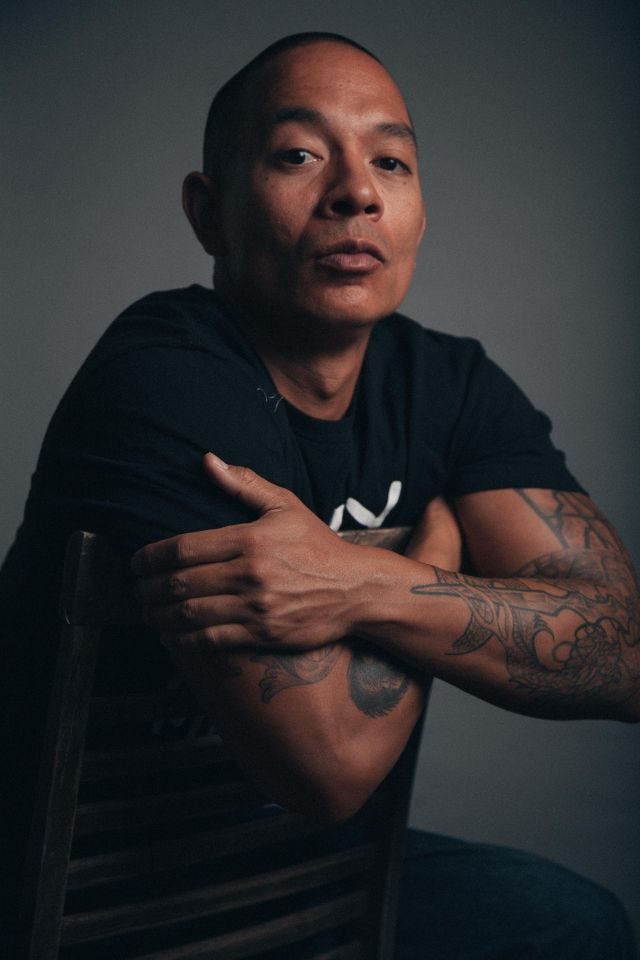 Wally - who are you?
Hello, all. My name's Wally Rudolph. I'm a writer and actor living out here on the best coast, the west coast in the best city on earth, Los Angeles. As an actor, you may have seen me killing or getting killed in movies and TV shows like Street Kings, Sons of Anarchy, and Hawaii 5-0 (and NCIS in a few weeks :)
When I'm not getting shot or blown up, I tell stories about folks struggling to get by like my debut novel, Four Corners, and my newest book, MIGHTY, MIGHTY, both published by Counterpoint/Soft Skull Press.
Tell me about Mighty, Mighty. What was the inspiration behind it and how has it been received so far?
The folks at Book Riot say it better than me:
A gritty urban tale of poverty, violence, and the desperate need to overcome both, Mighty, Mighty centres on two women — tattoo artist Stefy and her younger sister Amanda — who, in trying to separate Amanda from her addictive, abusive ex-lover, Georgie, find themselves in the crosshairs of Georgie's crooked ex-cop father.
The characters are rendered powerless by poverty and a corrupt system, and Wally Rudolph's depictions of Chicago are stark and unsettling, but his characters are authentic and impossible to forget. This is a finely crafted novel, rhythmic and flowing, from a writer to watch.
As far as inspiration, I don't know if MIGHTY, MIGHTY was inspired as much as it was cultivated or grown. Like any living thing, the beginnings of the story began on an infinitesimal scale. A tiny single image of a girl coupled with my want to tell an unvarnished, contemporary American story and five and half years later, MIGHTY, MIGHTY, made it out to the world.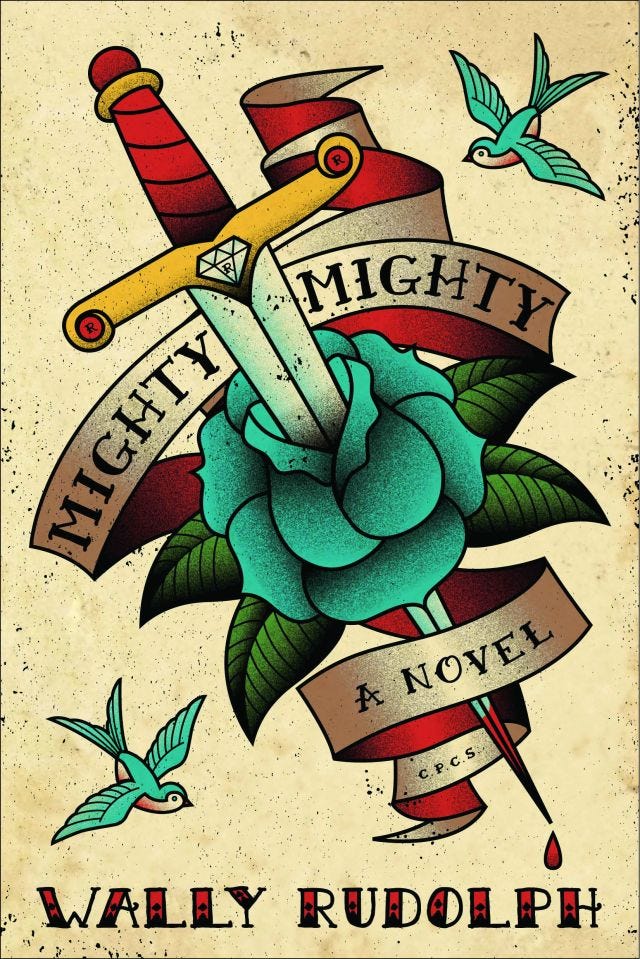 Can you talk a bit about the research you did for the book? Specifically, police in Chicago, the 68 Democratic convention and how that echoes today?
My time was equally split between studying the metrics of modern poverty and the long storied history of the Chicago Police Department. Thankfully, there was an abundance of research on both.
I spent months reading articles from The Chicago Reporter – an incredible magazine and news organization focused specifically on race and poverty. Coupled with my own familiarity with the city, those articles helped me bring the level of detail and realism into the portrait I was trying to create. The day-to-day realities for the contemporary working poor and homeless are not often portrayed realistically in media and especially in literature – so the goal was to paint something that rang true, that made it visceral for the reader. As I wrote, I asked myself over and over, How do people cope with nothing?
As far as the police, it was much of the same. Early on, I realized the history of the Chicago Police – both good and bad – directly parallels the cultural history of Chicago. And while it would have been easy to write Norman Quinn – a sixty-five-year-old retired Chicago homicide detective and one of the main characters of MIGHTY, MIGHTY – as a stock "dirty" cop with gristly stubble sipping silver flasks of Jack Daniels. Like most things, the truth proved to be much more nuanced and compelling. This realization would ultimately take me to a fantastic book by Frank Kusch called, Battleground Chicago, which was comprised of first hand recounts of the riots of 1968 Democratic National Convention but told from the Chicago Police Officers themselves.
1968 was one of the most turbulent times in American history. Martin Luther King Jr. was assassinated along with Robert F. Kennedy. The cultural landscape of the country was literally shifting under the populace's feet, and after reading interview after interview, I think what struck me the most was the facts that many of the officers couldn't understand why the attitude towards law enforcement had such drastically changed within a generation. Many of these officers were 2nd generation – and some were even 3rd generation – police, and over and over, in interview after interview, the common theme was,
"My dad was a cop, and he was respected, revered, and now, I'm a called 'pig' wherever I go."
In a lot of ways, that time in our country's history mirrors our own right now. The demographics, ethnic makeup, and culture of the United States is currently changing as we speak, and as you get to know Norman, a cop from the 60's, in MIGHTY, MIGHTY, I think you're going to recognize a lot of his language is nearly the same as today's police use when they discuss their frustration in working in today's racial climate that rightfully demands complete accountability and also in his grievances, "…that cops aren't appreciated…," "…that they're being hamstringed…," and "…that the general public doesn't understand what it takes to do the job…"

You caught me by surprise a bit, which is good - in that your protagonist, or at least the person I thought was going to be the protagonist, becomes the antagonist. Without spoiling anything - can you talk about that a bit?
I think if you've been alive on this earth long enough, you've realized that nothing is black and white. Life transpires in the gray area. No decision we make is in a vacuum, and many of the repercussions for said decisions have long-lasting effects in ways that we couldn't possible imagine. Over my life, I've known, broken bread, and shared bottles and pipes with many people that have done things that I find morally reprehensible now that I'm a fully-formed sober adult with a child. I, myself, have made transgressions that sometimes keep me up at night – things I'll never tell anyone about.
After knowing these folks – intimately knowing the context of their behavior and my own – who have committed violent or horrible acts, how do I create them in a way that at once holds them completely responsible for their behavior but doesn't reduce them to one-dimensional literary "monsters"? One word:
Compassion.
Got it. Zooming out a bit - who are some of your writing influences? Were there certain books you used as reference or inspiration while writing the book?
All my usual suspects: Anne Sexton, Jack Butler, Greg Glazner, Jon Davis, Barry Hannah, Jorie Graham, Nas, Ghostface Killah, UGK, Rilke, Milosz, Richard Hugo, I can go on and on…
More specifically, I'd be remiss not to mention that Atmosphere's seminal album, When Life Gives You Lemons, You Paint That Shit Gold, was on heavy rotation in early drafts. The risks Sean Daley (Slug) was taking in trying to paint lasting portraits of everyday Americans was the bar I was holding my work to.
As a new author, is there any advice you'd like to share to others looking to break in?
Not a word. Figure it out yourself.
Fair enough. What's it like working with Soft Skull?
Let's be frank. As it stands, every year the major houses continue to homogenize the literary landscape by what they choose to publish. As a writer of color, I hope that trend will change due to the diversity initiatives like #weneeddiversebooks, but I think we're all aware that's it's going to take longer than most would like.
That being said, to be at an author driven house where the work is front and center and nothing else – where it's acquired and edited on its own merit – is increasingly hard to find. I got no beef. Counterpoint and Soft Skull do right by me.
Any books, shows or music really stuck in your head lately?
Currently reading, Half World, and if you're not aware, Scott O' Connor is quietly raising the bar for all of us.
Tell me one thing I wouldn't be able to learn about you online or from your official bio.

N/A.
I'm an open book.

Thanks for opening up to us, Wally!

***
A few quick links:

Reed Farrell Coleman and Ace Atkins talk about playing in Robert B. Parker's world.

Another great Sarah Weinman interview about Women Crime Writers - this time at The Paris Review. If you want to keep up with the great things happening in Sarah's world, please sign up for The Crime Lady newsletter. It's a must-read.

Andrew Nette has a new series on lost film noir titled "The Big Nowhere."

Chuck Wendig on the grief that comes with editing and rewriting.

That's all for now. Until next time - be good to yourself, okay?