Stuff & Nonsense 023: I Wish I Was The Moon
Hello. I am very tired.

I try not to get political in this newsletter, but these are the three links that sum up how I feel about yesterday's tragic events. Something needs to change, quickly.

I am also exhausted in a sleep-deprived way.

It's the week before New York Comic Con. Lots of stuff going on. Jughead #1 is coming out next week, too.

Alas, I will not be at Bouchercon this year because it conflicts with NYCC. I'm bummed, as I love BCon each year. I also love NYCC. So, while I'll be missing the friends I could be seeing in Raleigh, I'll probably be having a blast with my comic book people all weekend. So, it evens out. That said, if you're going to be at Bouchercon, please do take some point-y pictures and give people an extra hug on my behalf.

And, if you're at NYCC next weekend, swing by the Archie Comics booth! I'll be moderating the Archie and Dark Circle panels, too, where we'll be announcing cool things and showing off some fine artwork.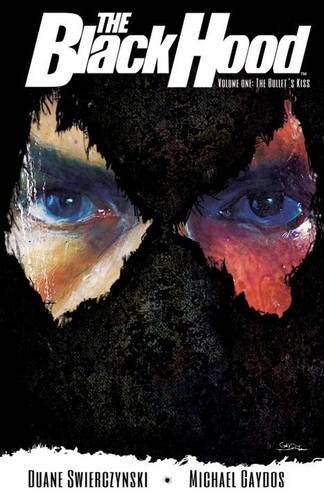 Speaking of Dark Circle Comics - here's some cool news: Lawrence Block, the legendary crime writer behind the Matt Scudder series and so much more, is writing the introduction to The Black Hood v1: The Bullet's Kiss, the first collection of the ongoing The Black Hood comic book series, written by the great Duane Swierczynski and artist Michael Gaydos (of Alias fame, which is the basis for Netflix's upcoming Jessica Jones series). This is cool for a million reasons, all worthy of a newsletter unto themselves. Suffice to say, there was much rejoicing in the Dark Circle offices when the intro arrived, and I continue to pinch myself when I remember it's happening. What an amazing endorsement for a really great, underrated noir comic book series.

If you're not completely fried from BCon or NYCC, I hope you'll come to Astoria on Friday evening, 10/16 for some serious Noir at the Bar Queens action. Here's the poster, which boasts arguably the best lineup I've ever put together. I'll be MC'ing, Astoria Coffee will be serving the beverages and The Astoria Bookshop will be selling copies of the participating author's books. Hope to see you there!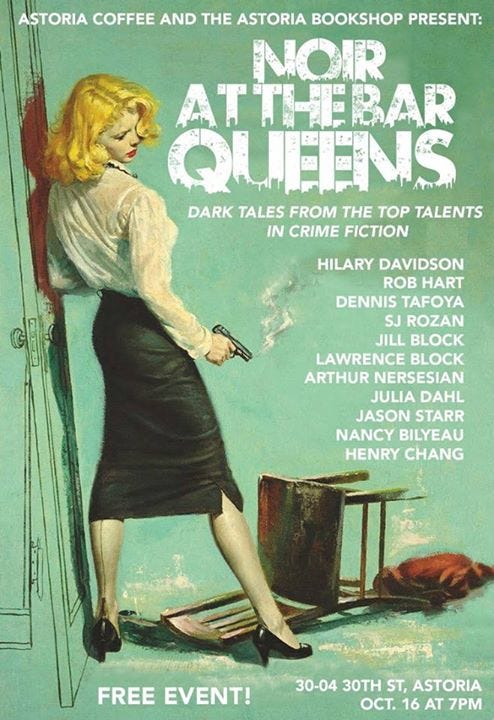 Also, as mentioned last week, I'm teaching a two-week course at LitReactor on how to pitch a comic book series. So, if you have an idea and you want to know how to hammer it into something you can send around, sign up. Excited to get this rolling.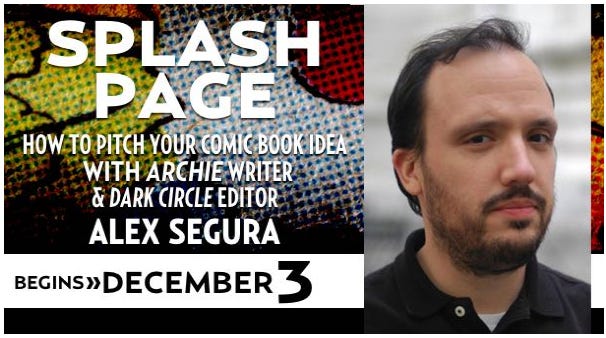 As you've probably noticed, each newsletter subject line features a song title. I created a playlist with all of them so far, which I'll try to update as we go.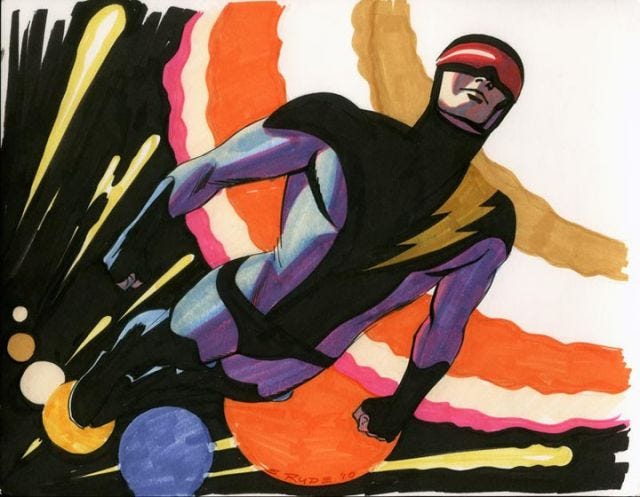 Reading-wise, I'm still on a Ross Macdonald spree, re-reading The Ivory Grin and Find a Victim. Really looking forward to getting to his later stuff. Comics-wise, I'm enjoying the first Nexus omnibus, which is just a marvel of world-building by writer Mike Baron and beautiful artwork by Steve Rude. Also cracked open the first Invisibles Deluxe Edition by Grant Morrison and co., which has been a fun trip.

***

I've never met Iain Ryan. He emailed me out of the blue. I'm glad he did. Iain's debut novel, Four Days, hits this month from Broken River Books - an indie publisher that has been on my radar thanks to the great lineup of authors and titles they've put together. It's my kind of book - dark, hard-boiled, featuring flawed characters and oozing with setting and atmosphere. I read it quickly and wanted more. The best books leave you looking for the next one, and this one did. I'm glad he found the time to chat with me, and I suggest you grab a copy of this book. He also likes Ellroy as much as I do, so he's a winner in my eyes. (Interview edited for content and clarity, etc.)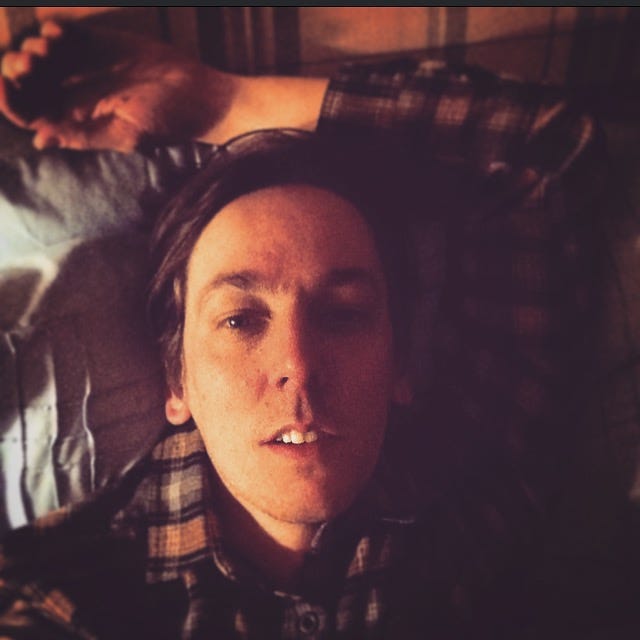 Iain, so glad you could chat - appreciate you taking a minute to talk about your work. For the readers of this newsletter, could you tell us a bit about yourself?
I'm in my 30s. I'm a Cancer. I live in Melbourne, Australia. And I vote. Voting is compulsory in Australia.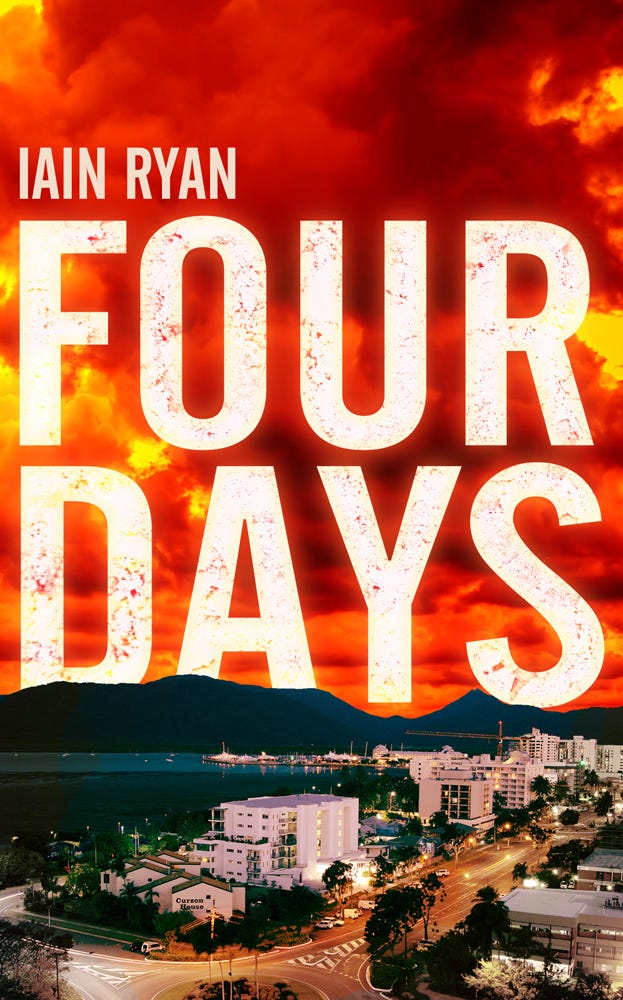 Iain, what can you tell us about your novel, Four Days?
Four Days is hardboiled police procedural set in my hometown of Brisbane during the mid-1980s. At the time, Brisbane had the illustrious distinction of being one of the most corrupt places in the first world. The Brisbane police were running the corruption, with various shady politicians and organized crime figures doing their bidding. Prostitution, gambling, extortion, murder, you name it. And none of this is conjecture. It's a matter of historical record where I'm from. The story itself is about a burnt out cop called Jim Harris, who lands the wrong case, something that very quickly pushes him into the centre of all this. He also has a few personal demons of his own to work through.
Four Days is not a nice book. Nearly every one of the authors I asked to blurb the novel came back with something along the lines of, "This is a good story. But it's also a bit fucked up." I don't know if it's a good story – maybe they're just being polite -- but I do agree with the second bit. I think I went a bit far at times. But that's personally what I want from a crime novel. I want things to get out hand.

Yes, totally. No one wants boring and predictable! Now, I'm always curious about the "breaking in" process for new writers. When did you know you wanted to write a crime novel? Do you have a background in writing? What steps did you take to get your manuscript in the hands of editors or agents?
I've been reading crime novels since I was a kid. That's the great thing about books: when you're a kid you can't drink or smoke or drive a car but you can check transgressive crime novels out of the public library and no one even notices. In terms of getting a start in writing…like just about everyone else, there's a lot of unpublished work sitting in a drawer somewhere. My unpublished stuff is incredibly complicated and experimental. And it's all garbage. I wrote Four Days in an attempt to shake some of that baggage off and to go with the grain of crime writing and its conventions. As I learned, the tone of my stuff seems to naturally escalate and skew weird no matter what I do. So Four Days doesn't feel like a compromise after the fact. That's the great thing about genre. It's just scaffolding.
In terms of breaking in, I write fiction for leisure. After finishing Four Days, I felt like the book was good enough, but only to self-publish. I'd run into Jedidiah Ayres (author of Peckerwood and Fierce Bitches) online and I asked him who edited his stuff. He put me onto J David Osborne, who freelances in editing alongside his gig as the head of Broken River. After I hired David, he offered to publish the book but – god this is embarrassing – I turned him down. I just wanted to do my own thing and not build up any expectations around it. Anyway, a couple of months later, I went to the pub with another writer (Andrew Nette of Pulp Curry) and he somehow got this story out of me, and then proceeded to berate me for about five pints in a row. So I had to go back to David with, "Hey, so ah, are you still interested in…" And he's such a good dude -- who's obviously all heart when it comes to books – that he took the thing anyway.

I'm glad Andrew knocked some sense into you. In terms of writers, who are some of your influences?
James Ellroy is my main influence There's been periods of my life where I've studied him at the sentence level, and in a weird way he encourages that. When you dive down deep into Ellroy, you quickly realize how devoted he was to Raymond Chandler and how he found his own thing in Chandler. That's what I want too. Past Ellroy, there's a bunch of individual books by authors I admire, rather than whole catalogues: Lonesome Dove by Larry McMurtry, The Secret History by Donna Tartt, Red Dragon by Thomas Harris, Presumed Innocent by Scott Turow, Northline by Willy Vlautin, Kiss Me, Judas by Will Christopher Baer, Crime by Ferdinand von Schirach. I think about those books all the time. I don't give a fuck about the classics.

Ellroy is a master, agreed. What authors do you follow today?
I'm on a David Peace bender this year. The Red Riding Quartet are difficult books but I'm in the third one 1980 at the moment it's paying off. I'm also pretty invested in Megan Abbott, Sara Gran and James Sallis. Last year, I thought Wolf In White Van by John Darnielle was an amazing book. I don't know if he's going to continue with fiction -- or if he was just scratching an itch -- but I'd read a second novel in a heartbeat.

I hope Darnielle continues with some fiction - but I may have to settle for a great Mountain Goats album here and there instead. Okay, another question: plot vs. character - where do you fall?
Plot. Character is a jerk around. Every single person on planet earth is interesting and has a motivating backstory and is capable of terrible crimes and/or great nobility. Almost none of these people do anything interesting, including myself. I hate how everyone with even the remotest pretension to craft and literature bangs on about character as this great rosetta stone of fiction, but damn, would any of us give a single fuck about Clarice Starling and her dad issues, if she worked in a carwash? I don't think we would.

Interesting, interesting! Tell me something that I wouldn't be able to learn about you via your bio or online.
Iain Ryan is a pseudonym and I'm actually a whole other person. The other guy plays in a sludge metal band. And no, I'm not joking. The last record we released came out on an American label with a back catalogue that includes The Melvins, Unsane and Helmet. No one really cares about this record or my band but, within an incredibly small niche, I am moderately successful. I'm like a really commercially unviable Jo Nesbø. I'm also not as handsome as Jo Nesbø, which seems unfair.

We can't all be Jo, I suppose. What's on tap after your current book hits? Any chance you'll be visiting the states?
I've written two more novels that feature Jim Harris, both set about 20 years after Four Days. I'm editing one of those at the moment while I work on the first draft of something entirely different, a grisly campus novel / crime noir thing set in one of Australia's regional university towns. I totally want to visit the states. I travel fairly often for work but not very often to America, so I'm currently trying to figure out how to line things up so I can come over and meet some of the authors I speak to online, and, of course my editor and the Broken River people. Parts of the states seem so vibrant in terms of independent publishing (and its attendant festivals and events) and I'm really curious to see how it all works. I also want to fire a handgun. They're really hard to get in Australia.

Do you have any advice you'd give to a new writer looking to break in?
Not really. My book comes out on October 31st and it might sell 5 copies for all I know. Getting published seems a bit beside the point anyhow. To me, publishing is just a means of shortcutting around the biggest problems of self-publishing (building an audience, building a reputation for quality, getting around traditional gatekeepers). But if your heart's in it, there will always be a home for your work, even if its just Amazon for the time being.

Fair enough. Had any "pinch me" moments involving the new book yet?
To date, no one has accused me of being a pervert.

Iain, thanks for coming by. Anything else you'd like to share?
The book is currently available to Broken River subscribers, something that will set you back a grand total of $4 per month. Go here for more details. I would also like to plug my own newsletter The Big Nowhere (sign up here) because this is part of the hustle of writing, but also because it's a wonderful.

***

Let there be links!

Longreads: The radical pessimism of Dashiell Hammett. Speaking of Hammett, here's an excerpt from Nathan Ward's The Lost Detective, a new book about DH's early life.

Mystery still surrounds the death of crime novelist Josephine Tey, 60 years later.

This guy was kidnapped at gunpoint in Philly. Years later, he confronted his abductors.

Six authors look back on their first novels.

The "impossible murder" that fascinated Raymond Chandler.

The Lineup spotlights the 1961 disappearance of the Beaumont children.

Crime writer Gary Phillips on Iceberg Slim.

A comprehensive profile of Spanish literary agent Carmen Balcells, who died last week.

I'm looking forward to Todd Haynes' Carol.

At The Life Sentence, fellow Polis Books author Rob Hart interviews Angel Luis Colon about his novella, The Fury of Blacky Jaguar. Two great writers talking. What's not to love?

Do blurbs matter? Do they make a difference, sales-wise? NPR Books takes a deeper look at the idea and value of the author endorsements.

"All My Cruddy Jobs" by Lauren Groff.

A few things you might have missed while looking at Edward Hopper's "Nighthawks."

While I didn't mind True Detective season 2 as much as the rest of the Internet, this would have made it more interesting.

A new film strives to discover the "truth" about Kitty Genovese's death.

Congrats, Jeff Boison.

***

For the most part, the interview section of this newsletter has featured crime writers. I'd like to change things up a bit and feature comic book writers, artists and beyond. So, if you want to be featured, lemme know, okay?

Not going to promise a newsletter next week, as things will be nutty with NYCC - but see you next time, whenever that may be!