Stuff & Nonsense 020: Emotional Rescue
I'm kicking this week off with a correction: I screwed up the title of Lori Rader-Day's second novel, Little Pretty Things on first mention last week. Thankfully, I got it right the rest of the way. If you missed last week's newsletter, let this serve as an excuse to read my interview with Lori.

Okay, onward...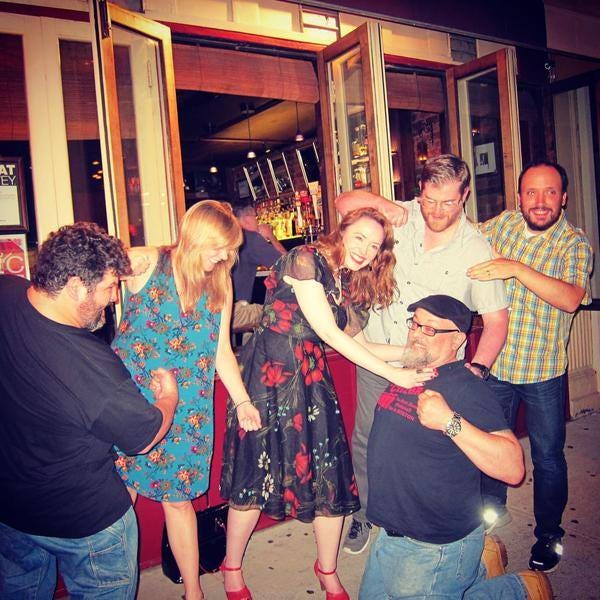 Well, Noir at the Bar "Partners in Crime" was a wonderful mess of a Sunday night - with authors trading stories and reading each other's work. The model worked out very well, thanks to the great lineup of readers, including Thomas Pluck (who was showing off a lovely print copy of his Protectors 2: Heroes anthology - which features my story, "Lone" along with tons more great stuff), Jen Conley, Hilary Davidson, Rob Hart, Todd Robinson and myself. There were a lot of laughs, uncomfortable and genuine. Most importantly, the stories were good and the crowd responded. I was happy to be a part of the festivities. Highlights: having the honor of reading a Hilary Davidson story and watching N@B MC Todd Robinson read my...not-for-the-faint-of-heart story, "Within Your Reach." A night to remember, for sure.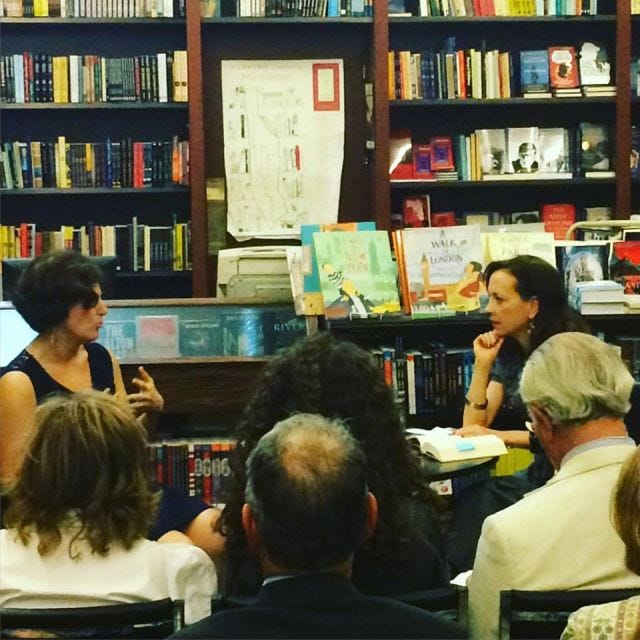 Speaking of memorable evenings: Wednesday saw the formal launch party for Women Crime Writers of the 1940s and 50s - an essential two-volume set that collects eight must-read novels by some of the most influential female authors in crime fiction. This book is important on various levels. From a macro POV, the historical value of something like this cannot be overstated. These "lost" books are of paramount importance to crime fiction and literature in general, so having them not only reprinted but curated by editor Sarah Weinman is huge. On a more personal level, it was wonderful to see Sarah celebrated for her years of work and dedication to the crime fiction community. It was SRO at The Mysterious Bookshop, and completely well-deserved. Sarah and Megan Abbott had a freewheeling, informative and engaging discussion about the books, the authors and their place among the likes of Chandler, Cain and more.

Suffice to say, I'm very glad these two volumes exist. By shedding some light on these classic novels the collection will go a long way toward giving these authors their rightful place in the canon of crime fiction. Congrats again, Sarah.

If you're not in NY, here's a rundown of other WCW tour dates.

***

Sometimes, through the weird world of social media, you run into someone who seems to share your same taste in books, movies and pop culture. It's pretty cool, and gives you that "Did we just become best friends?!" Step Brothers vibe. I call it having a "brain twin."

Clearly, William Boyle is my brain twin, which became readily apparent to me while editing this interview. We both cite Pelecanos as a top influence, have a soft spot for 70s crime movies, David LYnch and listen to a lot of the same music. *cough* Neko Case *cough*

Anyway, this was a lot of fun and I suggest you go get all of his books. Bill's a helluva nice guy, a talented writer and, not surprisingly, has impeccable taste. (Interview edited for clarity, etc.)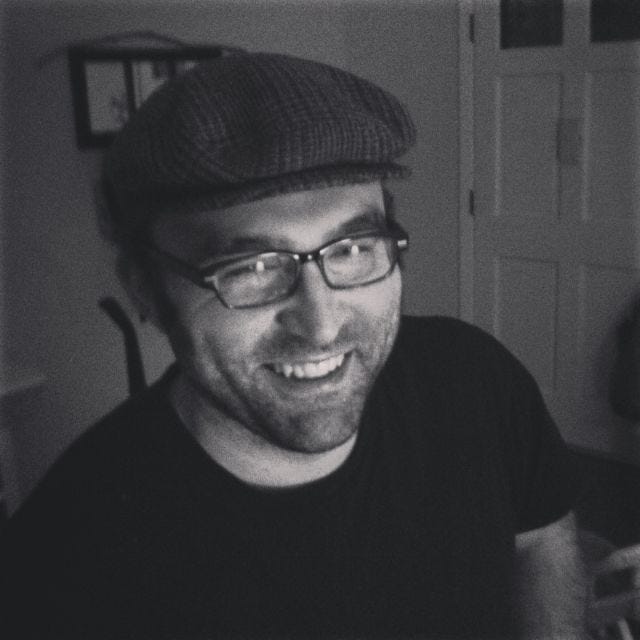 Bill - thanks for visiting this little corner of the world. Can you introduce yourself to the readers? What's your story?
Thanks so much for having me, Alex. I write, I read, I watch movies, I listen to records. I have a great wife and two great kids. I like coffee. I'm jacked up on a double espresso right now. I teach too—six classes this semester because I'm an adjunct and I need to pay bills—and I work part-time at a record store called The End of All Music. I'm from Brooklyn, NY, and I currently live in Oxford, MS, though I get back to Brooklyn a few times a year. My family is still there. I've also lived in Austin, TX, New York's Hudson Valley (in and around New Paltz, where I went to college), and The Bronx (my wife's family is from Throggs Neck and her dad owned a bar there for 20+ years). I drink Bulleit Rye. Songs: Ohia's Magnolia Electric Co. is my favorite record. I love John Cassavetes and Brian De Palma and Robert Altman and Robert Bresson and David Lynch. I'm in love with Susan Sarandon from Atlantic City. I keep lists. The number four is holy to me; it all started with Lenny Dykstra, my favorite ballplayer as a kid. I love the color blue. I make lists compulsively. Jay Robert Nash's Bloodletters and Badmen was my bible as a kid. Library luck. I got into Quentin Tarantino at 13 and that led me to Elmore Leonard and then the floodgates opened.

What can you tell us about Gravesend, your novel? Was it a story you had percolating in your head for a while? What was it like working with Broken River?
It came together pretty quickly. When I started working on it, my plan was to move back and forth between 2010 (when the present action takes place) and 1994 (when Duncan was murdered). The 1994 part went out the window fast. I knew I wanted to start in the heat of things, and I'd already established what happened in '94. I worked on the first chapter for a while, a few months, straining to get it right. Once I did, things took off from there. A different version of Alessandra existed in my notes. When I started writing her, she became the center of everything. I didn't even know about Eugene. He just popped up one day. I wrote the novel over a ten month period right after my wife and I had our first kid. It was my MFA thesis.

It's been great working with Broken River. I'd been revising and submitting the book places for a couple of years when I heard about this new indie crime press from Jed Ayres. I kept getting Gravesend back from agents and presses with the same encouraging notes. They liked the writing a lot but it was too dark. I'd heard that before from readers in workshop. No one to root for, I was told. Well, I'm a guy who grew up watching '70s crime movies, who loves David Goodis and Charles Willeford and Jim Thompson and Chester Himes, and that was how I wanted it to stay. I didn't want to sacrifice the darkness. I didn't want to make one of the characters more sympathetic. Part of why I wrote it was because all of these characters had bad hearts. I didn't want to dress one up as a hero. Broken River came along, and it was a perfect match. David was after that very thing. I didn't have to deal with any bullshit. Matthew Revert designed an incredible cover. People have found the book. It's coming out in France in March 2016. I'm really proud of it. I'm really proud to be a part of Broken River.

Megan Abbott - one of my favorite writers - likened the book to Pelecanos and Lehane, two other big favorites of mine. I tend to agree. Were they big influences on your work? Who are some of the other writers you see in your work? Any surprises?
Pelecanos is a big hero of mine. I've read everything of his. I started with The Big Blowdown and was hooked. He was definitely a big influence on Gravesend. He's also—through interviews and blurbs and other things he's written—responsible for introducing me to so many of my other favorite writers. I first read Megan Abbott, Vicki Hendricks, and Daniel Woodrell because Pelecanos talked them up early. Willy Vlautin is probably the writer whose books I most look forward to these days—I picked up Northline and The Motel Life because of Pelecanos.

Lehane was less of an influence, I'd say. I read the Kenzie and Gennaro books and then strayed from him. People always say Mystic River must have had a big impact on me, but I've actually never read it. Prayers for Rain was the last book of his I'd read until recently when I picked up The Drop after seeing and loving the movie. I loved the book even more. It's made me want to go back and read everything of his I haven't gotten to.

Richard Price was and is a huge influence. When I started Gravesend, I'd just read Samaritan and the first half of my first draft was pure knockoff Price. I had to work hard (with help from my friend, poet and translator Alex Shakespeare) to strip away the Pricey prose and find what was mine. Megan's work was a big influence. I read The End of Everything while working on Gravesend. Mary Miller's great story collection Big World was a constant presence—I was teaching it while working on Gravesend and probably reread those wonderful stories two or three times. Larry Brown is an all-time favorite writer. I thought of Father and Son a lot. Joe too. Perfect books. William Kennedy is one of those writers that changed my life. Maybe no book has mattered to me as much as Ironweed. His influence is stamped on my heart, and I'm damn happy for that.

Beyond that, many of my biggest influences are filmmakers and songwriters. Cassavetes, Altman, Lynch, and De Palma have shaped the way I see the world. I thought about Elaine May's Mikey and Nicky a bunch. I love Kelly Reichardt's films. It's probably not obvious, but a film like Wendy and Lucy really mattered a lot during the writing of Gravesend. I wasn't surprised to see Reichardt go on to make a tight little noir like Night Moves (which isn't perfect, but I haven't stopped thinking about it since I saw it). As for songwriters, probably no artists have meant more to me than Tom Waits, Nick Cave, Shane MacGowan, Bob Dylan, Bruce Springsteen, Jason Molina, Paul Westerberg, Vic Chesnutt, Neko Case, Neil Young, Van Morrison, Warren Zevon, and Lou Reed. I flipped through Lou Reed's collected lyrics, Pass Thru Fire, compulsively as I wrote Gravesend. I was listening to The Blue Mask, New York, and Magic and Loss. I wanted the book to feel, in part at least, like a Lou Reed record. I wanted some of that Robert Quine guitar sound. I remember hearing The Velvet Underground for the first time at 14. That's the sound of the city to me. Plus The Ramones and Sonic Youth. Aesop Rock's Labor Days was the other album I listened to on a loop as I wrote. All the music that's really meant something to me probably worked itself in there somehow.

Dude, seriously - did you raid my bookshelf and record collection?

Broken River also put out a short story collection - Death Don't Have No Mercy - this year. What can you tell us about that? What kind of variety of story will readers see in the book?
Eight stories about broken men making bad decisions. They're dark and fucked-up and weird. They're crime stories, but I'm not particularly interested in the crimes. I'm more interested in the desperation that comes with the act of committing a crime, any crime, even the pettiest one. These are stories about failure, about being failed, about continuing to fail, about finding new ways to fail. I consider them comedies. I wrote them over about an eight year stretch. I wrote the early ones when we were living in The Bronx and the later ones here in Oxford. Three of the stories are set in The Bronx, three in Brooklyn, and two in upstate New York (one of those moves up to Montreal for a bit).

I love your '70s crime movie blog, Goodbye Like a Bullet. What spurred you to do that? What are some of your favorite movies from the genre?
Thanks so much. I need to get back to it. My friend Anthony and I—we go way back—started it as a way of writing about our favorite movies. It was a conversation we'd been having for years, since we were sophomores in high school riding the B1 to Bay Ridge, and we wanted to do something like what Barry Gifford did for old noirs in Out of the Past. Originally, we thought about calling it The Long '70s because the '70s, tonally and atmospherically, stretch from about '67-'83 as far as film is concerned, I think. It's a totally unique period. Character first. Grime. Grit. Complexity. Studies in meanness. Things you could never get away with now without someone complaining there's no one to root for; not in a studio picture anyway. Some favorites: Rolling Thunder, The French Connection, Prime Cut, The Long Goodbye, The Yakuza, Taxi Driver, Mean Streets, Scarecrow, Chinatown, The Getaway, Sisters, The Killing of a Chinese Bookie, Straight Time, The Friends of Eddie Coyle, Charley Varrick, Dog Day Afternoon. I could keep going and going.

Eddie Coyle is top-notch. Hell, that whole list is great. Speaking of stuff you dig - what books have you been reading lately? Any really blow you away?
Hanya Yanagihara's A Little Life wrecked me. One of the best books I've ever read. My friend Clay Jones compared it to Lars von Trier; I think that's spot on. I'm always behind on comics, but I finally got around to Brian K. Vaughan's Saga. Wow. I've been drunk on Maggie Nelson's books; I just read Bluets and Jane: A Murder. I'm starting The Red Parts as soon as it comes in. I've been reading T.J. English's The Savage City and am blown away by it—it really puts so much of what's going on now in perspective. Ace Atkins is a pal and hero; his new Quinn Colson book, The Redeemers, is goddamn terrific. Ace loves '70s movies so much too and that works its way into everything he does. I read my friend Lori Jakiela's beautiful new memoir Belief is Its Own Kind of Truth, Maybe a couple of times over the summer. Some books I can't wait to read: William Gay's Little Sister Death; Jack Pendarvis's new short story collection and his Object Lessons book Cigarette Lighter; Dave Newman's The Poem Factory.

Is there a little known fact that you can share with us, that has maybe played a big part in your writing but isn't something people would know?
The influence of early Christian Slater films on me can't be underestimated. I watched Pump Up the Volume every day for years. That's not an exaggeration. That gave way to True Romance, copied for me off Pay-Per-View by a lunchroom friend named Mike; I still have every line memorized.

Another influence that can't be underestimated: living at 143 Main Street in New Paltz, NY from 1999-2001. I lived with my best college friends; they were amazing artists and musicians. We tried to be a band. We'd get drunk and make albums. Just fill up ninety minute tapes with made-up-on-the-spot songs. I sang badly, ripping off Tom Waits. We drank the worst shit, Carlo Rossi Sangria and MD 20/20 and Wild Irish Rose. We must've made two hundred tapes. It was fun. It shaped how I feel about making. This punk aesthetic. Your voice could be growly and you could be dumb as hell and broke but what matters is that you're alive and you're singing, you're writing, whatever. That's the way to keep the demons down. It's an aesthetic threaded through a lot of my favorite crime fiction, too. Pelecanos has it. The old guys, for sure—Goodis, Willeford, Thompson.

Totally agree - and you can really sense that punk vibe with Pelecanos in his early books, especially the Stefanos trilogy. It just feels like a raw, pure and defiant set of novels. I get what you're saying.

Oxford strikes me as a vibrant, engaging literary community. Can you talk about that a bit? Do you get to interact with a lot of fellow writers? How does that help your own work?
Man, it is. I got my MFA here at the University of Mississippi, like I said. I got to take classes with Barry Hannah, Richard Ford, Tom Franklin, Beth Ann Fennelly, Jack Pendarvis, Gary Short, John Brandon, and Jesmyn Ward. Tom, Beth Ann, and Jack are around, and they're all really good friends. Ace Atkins is a good friend. Jack, Ace, and I hang out a lot, watch movies, drink at City Grocery. I just watched Norma Rae with Ace the other night. What a movie! I hadn't seen it since I was 15, and I think a lot of its power was lost on me back then. Megan Abbott was the Grisham Writer-in-Residence a couple of years ago. It was beyond great having her in town. We had a lot of good movie nights that year. We'd meet at City Grocery at 4 p.m.—right when they opened—and talk books and movies. Mary Miller is here now. She was the Grisham Writer-in-Residence last year. I love her books so much. Chris Offutt's here. He started teaching at Ole Miss the year after I graduated, but he's been one of my favorite writers since I found his two story collections at a used bookstore in Kingston, NY over a decade ago. I feel lucky every time I get to talk to him about books. He loves noir. His wife, Melissa Ginsburg, is a great writer. She's a poet first, but she's got a novel coming out next year called Sunset City. Lee Durkee's here. He wrote a great novel called Rides of the Midway, and we always talk books. Last year, he introduced me to Elliott Chaze's Black Wings Has My Angel, which NYRB is reissuing in December with a Barry Gifford intro. Amazing book. We've been trading emails about T.J. English lately. I read The Westies as a kid and loved it, and Lee's been telling me to read English's Cuba book. I meet up with Gary Short and David Shirley and talk books over drinks every few weeks; I love talking to them because I get turned on to poets like Paul Celan and Norman Dubie. I've got all these friends from the MFA program. That's really the only thing that sucks about Oxford: Your pals leave. Every year. My good friend Jimmy Cajoleas moved away last year, and I miss the hell out of him. Jimmy's a great writer. Remember his name. All the other people I was in the program with are scattered around the country now. I feel lucky to have met them and to have these good friendships. There's Square Books, of course. Richard and Lisa Howorth. Lisa's novel Flying Shoes is terrific. There's always a reading. This month alone, there's Adam Johnson, Ron Rash, Jonathan Franzen, and Padgett Powell. Joy Williams, Bonnie Jo Campbell, Brian Panowich, and Paul Theroux will be here next month. And it's not like New York. You get to hang out over beers at City Grocery after the reading. There's not as much distance. David Simon and John Waters were here last spring. Theresa Starkey, Jack's wife, brought them in for the Sarah Isom Center Gender Studies Conference. Amazing. This fall, she's organized a music festival. Neko Case, Kelly Hogan, Jon Langford (of The Mekons), Amy Ray (of the Indigo Girls), and Tenement Halls (Chris Lopez of The Rock*A*Teens, one of my all-time favorite bands) are playing. That's Oxford. And there are all these other great bands that started here or are based out of here: Tyler Keith and the Apostles, Water Liars, Teardrop City, Dead Gaze, Bass Drum of Death, Dent May, so many more. I'm always inspired as hell after hanging out with these folks, or after going to a reading or a show, or after talking to someone at the record store. It's just a great place.

I really enjoyed English's Havana Nocturne - it really put the pre-Castro Cuba into perspective, and helped me (the kid of Cuban refugees) understand why the revolution happened when it did. You'll enjoy it.

What are you working on next?
I finished two short novels over the last eighteen months. One of them will be coming out from Broken River in 2016. The other, not a crime novel, I'm sending out right now. I've also finished two long stories pretty recently, about ten thousand words each. One's sci-fi and one's, well, I don't know what exactly; I have no idea what to do with either. I have an idea for a podcast. My friend Tyler Keith and I are talking about working on a film. I had an idea for a book of poems and a memoir yesterday; I get big fucking ideas when I'm out walking. I have three new novels sketched out; I have no idea what will stick. I pitched a 33 1/3 book on Tori Amos's Little Earthquakes (speaking of surprising influences), and I've been thinking about toothpicks a lot lately. I have about six short stories that are in various states of disrepair. Right now it's just about time. I guess it's always about time, though. When I'm hopped up on coffee, it all seems so goddamn doable. When I'm coming down, I feel like I'll never get anything done.

That was a lot of fun, Bill! Thanks for chatting.

***




Interview ran long again - which is good, I say! - so, I'll spare you an extended book/movie/podcast segment for a week. Though, I did catch The Killers and Out of the Past over the holiday weekend, which was a treat. Can anything top the first few scenes from The Killers in terms of building tension? Nothing comes to mind. And - no shock here - Ava Gardner is a riveting femme fatale, with Jane Greer a close second. But yeah, more on film noir and the movies I've been watching and re-watching at a later date. In terms of podcasts, I discovered the Behind the Black Mask mystery author podcast by Clute and Edwards. Great stuff, if a smidge out of date. But that's my fault for taking so long to find these.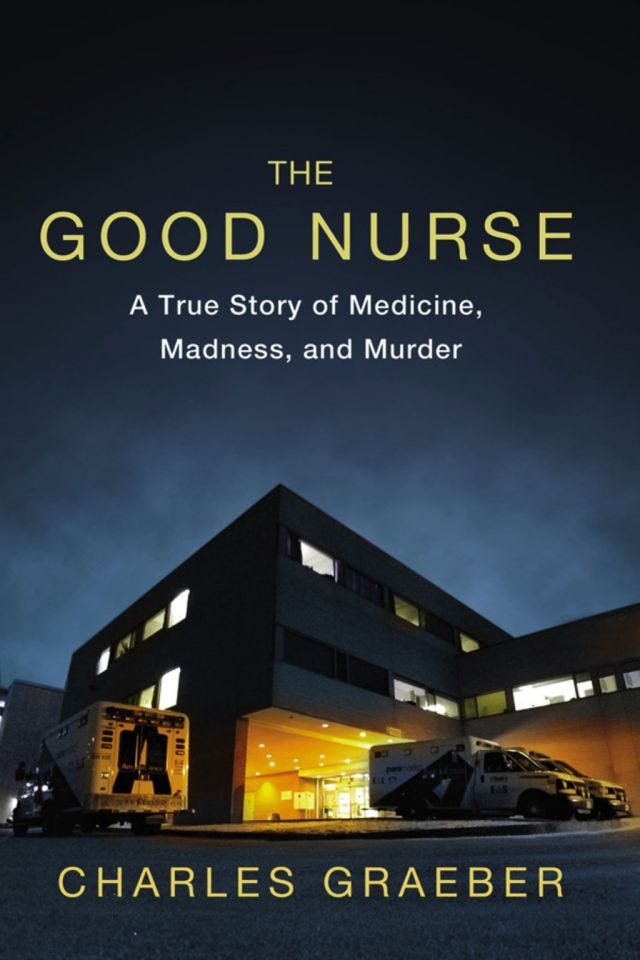 On the book front: been creeped out by Charles Graeber's excellent true crime tale, The Good Nurse. The best nonfiction feels like enthralling fiction, and this book falls into that category. Also re-reading the third Ian Rankin Rebus novel and Ross MacDonald's first Lew Archer book, The Moving Target. Also, this book is next on my to-read pile.

Alright, links await!

***

Can novelists miss their shot at success?

Chuck Wendig offers up some social media suggestions for writers - worth a read.

New Yorked author (and Polis Books compadre) Rob Hart on the 10 really obnoxious things writers do. I'm guilty of at least one - but hey, live and learn, right?

Speaking of my Polis buds: Dave White interviewed Sympathy for the Devil author Terrence McCauley.

Just in time for the release of his latest Jesse Stone novel, The Devil Wins, Reed Farrel Coleman offers up a Stone 101 at The Life Sentence.

Looks like the Amanda Knox saga is over.

Outside Magazine on a grisly, decades-old Appalachian Trail double homicide.

Friend and author Chris Holm on why he writes crime. (The Killing Kind hits next week! Get it! It's gooooood.)

Good times. See you next week! Keep your eyes peeled, yeah?