Stuff & Nonsense 019: Buckets of Rain
Hello! It's nice to be back, somewhat rested from vacation and ready for a very busy Sept-Oct...oh, who am I kidding? It's gonna be busy for a while now. Forever, maybe?

Convention bits: Sad to say I will not be at Bouchercon this year. It's happening the same weekend as New York Comic Con, so that's no good. That said, I will be at NYCC, moderating the Archie and Dark Circle panels. See you there, or at the Archie Comics booth! If you're headed to Bouchercon, take lots of pictures and hug everyone for me.

Writing-wise, I put the finishing touches on a short story that'll be in an upcoming anthology, more news on that as it's official. Also revised the latest early draft of Pete Book 3, Dangerous Ends. Which means I can start thinking about Pete Book 4...

Over at Do Some Damage, I talk about the crime/mystery books that inspired me to write my own - including great novels by Pelecanos, Lehane, Lippman, Hendricks, Connelly and Ellroy. What are the books that inspired you most?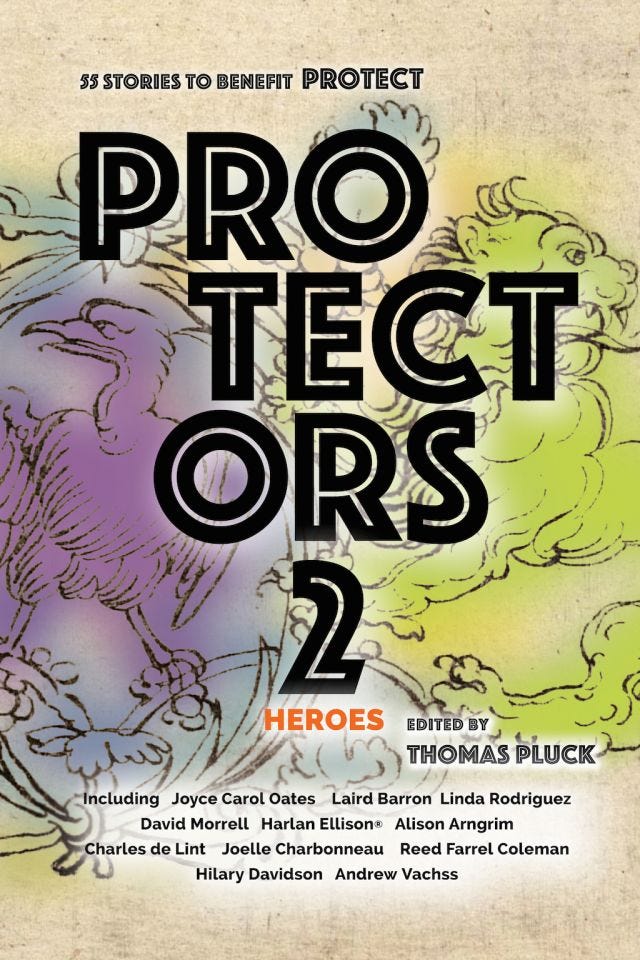 My short story "Lone," featuring illustrations by fellow Miamian and talented artist Dennis Calero will be part of the impressive lineup of authors editor Thomas Pluck has collected for PROTECTORS 2: HEROES. The anthology benefits PROTECT, the National Association to Protect Children. Honored to be in this book and to help such an important cause. Check out that snazzy cover, huh?

More day job stuff: Novelists and friends (of mine and, I think, each other!) Adam Christopher and Chuck Wendig are co-writing the Dark Circle Comics relaunch of The Shield, which I'm editing. It's an ambitious reimagining of the character, re-casting the lead as a patriotic, tough, female hero. I think people will really like their take and I particularly enjoyed this interview about the series. It hits 10/7.

Finally, if you're free Sunday and in the mood for a hot mess of noir, come on down to Shade Bar, assuming we don't all cancel.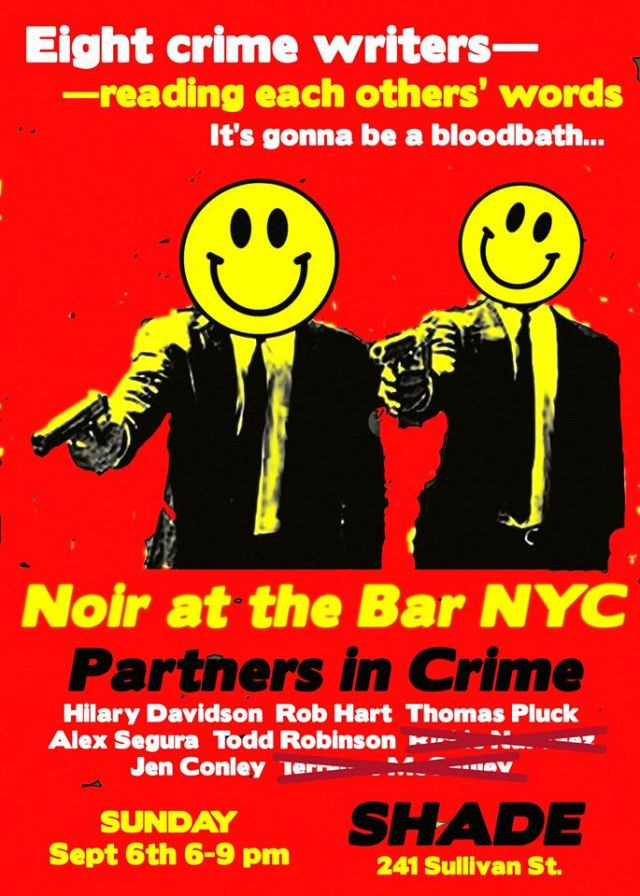 ***

I hit it off with Lori Rader-Day at Bouchercon Long Beach last year - she's a killer writer, an active MWA member and we share a similar, sarcastic sense of humor. Her latest novel, Pretty Little Things, is a compulsive read that explores what happens when someone doesn't get the brakes they were expecting and discovers their life has hit a dead end. When a character from the protagonist's past arrives and reveals a stark contrast in terms of How Things Turned Out, bad things happen. You should read it. I very much enjoyed it. It was a pleasure talking to Lori, and I'm thankful she took the time to visit. (This interview was edited slightly for clarity, etc.)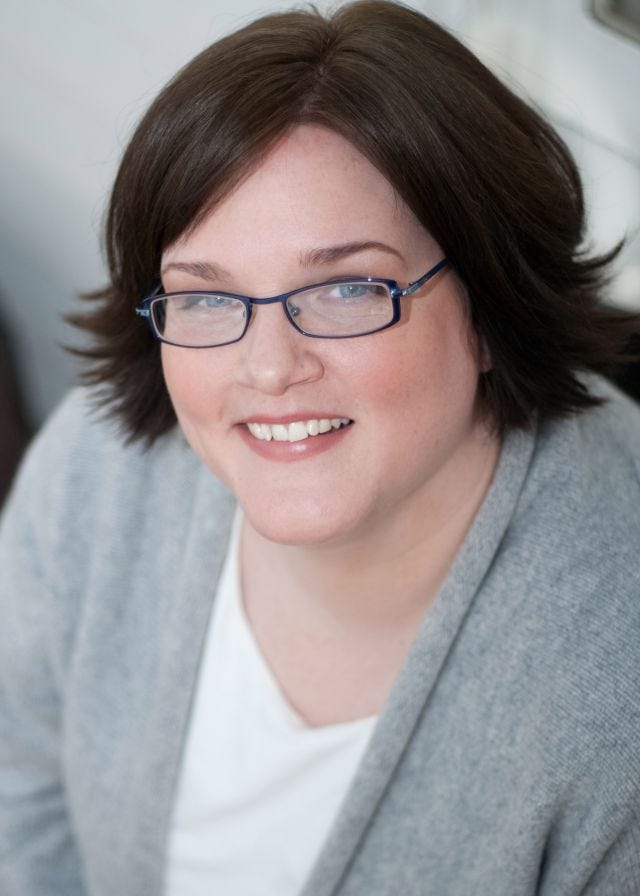 Lori, for those who might not be familiar with your work—what's your origin story?
I was a scientist working on gamma ray technology when an accident in my lab...

Wait. Strike that. I'm from Indiana, the middle of absolute nowhere. I've written my entire life except for five years after I met my now-husband and moved to Chicago to start a new job—in other words, when my life was just too busy and exciting to do any writing. I finally got serious about it and went back to school to focus on writing fiction, started publishing short stories, and have been writing steadily ever since. Somewhere in there, I discovered what I really loved was mystery. My first novel, The Black Hour, was published in 2014.

You have two books out—the latest, LITTLE PRETTY THINGS, just hit recently. How did you break in? Was writing something you always wanted to do?
I wrote the equivalent of more than three books before I had something worth publishing and then queried agents. One of the queries was a referral by a new mystery author friend, Clare O'Donohue, to her agent, who became my agent. I had always wanted to be published, which is what I think you really want to know. Holding the finished copy of The Black Hour in my hands was a dream come true. Publishing a second book was in some ways even more amazing, because it felt like the beginning of the writing career I want. The things I did to help make my path easier: I read Janet Reid's Query Shark archives before I wrote a query letter. I used querytracker.com to research agents. And I spent an extra year revising my novel so that I knew I had done everything I could before I sent it out into the world.

Is there one bit of advice you'd share with people looking to get published? Any major lessons learned?
The best thing I did was to start hanging out with criminally talented writers. I went to my first Bouchercon before I had a book, and I joined Mystery Writers of America right away. I just started meeting people and listening in on these amazing conversations. By the time I had a book, I also had an offer to share my work with an agent and friends who could help point me in the right direction. So: find your tribe or even just one honest person to trade pages with. And bonus advice by way of Stephen King: read a lot and write a lot. There is no substitute.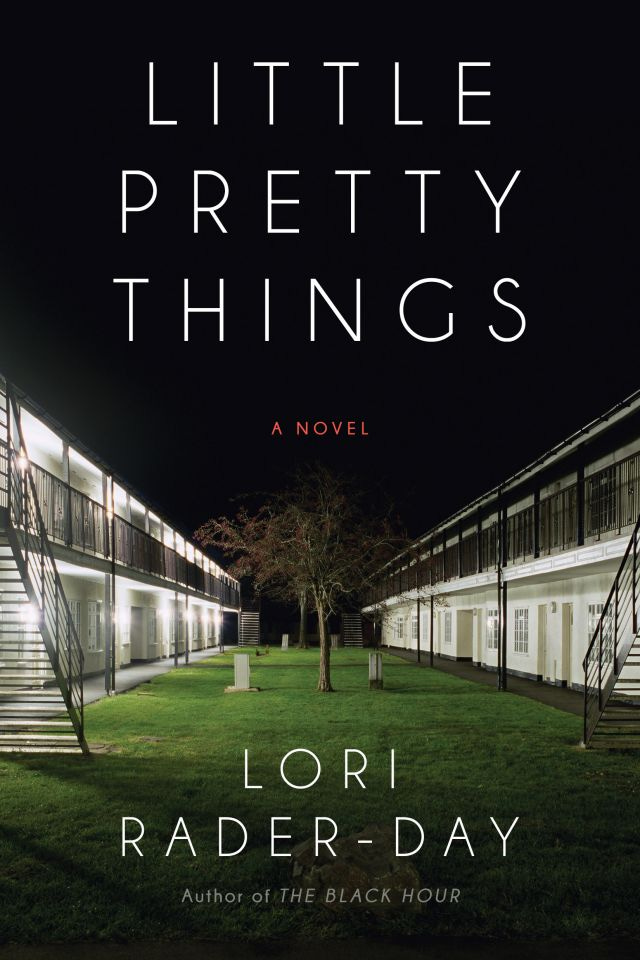 I really enjoyed THE BLACK HOUR and LITTLE PRETTY THINGS. I especially liked the sense of dread you seem to manifest so easily in your characters. Can you talk a bit about the inspiration for both?
The Black Hour was the book that came from the fact that I had just taken a new job on a lush, verdant, elite college campus on the north shore of Lake Michigan. So I put a dead body on it. Arriving on campus every day became a kind of research trip. In the case of The Black Hour, that beautiful spot was the inspiration for layering in dread and darkness. When I arrived at the idea that became Little Pretty Things, it was much more planned (as planned as I ever get). I started from the idea that I wanted to write about a certain kind of character instead of a certain kind of place.

LITTLE PRETTY THINGS features a protagonist who, to be kind, isn't in a good spot in her life. She then crosses paths with someone from her past that IS in a good spot. The contrast is interesting and makes for great drama. How did Juliet come to be?
I was reading a book that was supposed to be about a character who was forced to work in terrible jobs, except that the first book in the series featured a job that I didn't think was that bad. Not up against jobs I'd held as a young person or that friends or family members of mine have had. One of my favorite books is Barbara Eherenreich's Nickel and Dimed—what I decided to write was a murder mystery Nickel and Dimed, and Juliet sprung up from there. I also wanted to write about women's friendships and the competition sometimes under the surface of friendship, so then there's Maddy and her giant diamond ring. They needed a relationship built upon rivalry, so that's how they became former high school track stars. I love this part of the process, when characteristics and desires among the characters start to bloom around the bare idea I started with.

Wow, the noir Nickel and Dimed. I love that. Makes me want to re-read with that in mind. What writers do you point to as influences?
You're the guy who points.

This is true! But seriously...
Lois Duncan, Mary Higgins Clark, and Agatha Christie are my capital-I influences, the ones who brought me to the genre early in my reading life. Terence Faherty and Clare O'Donohue brought me into the mystery community. Gillian Flynn's Dark Places and Sarah Waters' The Little Stranger were two books I read in one summer that turned me in the right direction. Then Tana French, Denise Mina, and Megan Abbott, with a little of Dashiell Hammet thrown in. Nick and Nora is the dream. If I could write a character pair half as good as Nick and Nora, I'd be happy.

Are you reading/watching/experiencing anything cool these days?
I'm obsessed with the British TV show Vera, based on Ann Cleeves' series, and also with anything Catriona McPherson writes, including her most recent Come to Harm and her soon-to-be-released The Child Garden (which I've already read, neener neener). Oh, and I just read Terence Faherty's book The Quiet Woman and I just loved it so much. You know how you sometimes read the exact right book for the frame of mind you're in? That.

What I'm experiencing most vividly right now is the opportunity to write alllllll day if I want to, which you're about to ask me about.

You can see the future! OK, here's a very "inside baseball" question, but one I find interesting— you recently decided to write full-time, leaving your day job. Can you talk about that a bit? Was it a difficult choice? What were some of the factors that went into making it?
It was a difficult decision because I liked my coworkers and I had lots of reasons to believe I was good at the work. But it was a stressful job and there were certain (to harken back to your superhero reference above) evil forces at work to make me feel bad about the fact that I wrote novels in my spare time, which I refuse to do. I wrote two novels during my lunch hours, during weekends, over vacations, but what I really wanted out of my life right now was a break and a chance to write with concentration. I'll probably look for another job. I do well with a little structure, frankly. Too much free time and I might start to freak out.

What are you working on next?
I'm currently finishing up the draft of my third mystery with Seventh Street Books, tentatively titled An Elegant Hand. It's about a handwriting expert whose carefully revised life starts to unravel when she gets asked to help out with a small-town kidnapping case. I have many nefarious plans for the future, though. So maybe I'm the super villain instead of the super hero?

Did I miss anything?
Seems to me you didn't see that pointing joke coming. When I see you next, make sure we get a pointing-at-each-other photo.

Let it be written! Or pointed? Thanks so much, Lori. That was fun.

***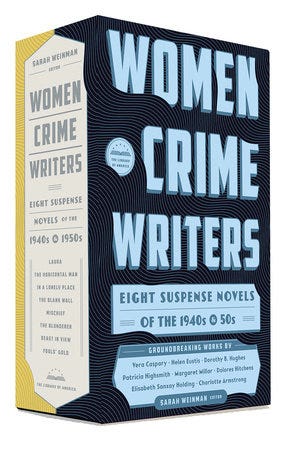 You picked up Women Crime Writers of the 1940s and 1950s, right?
From Editor Sarah Weinman's introduction to the eight-novel collection: "The story of crime fiction in America has been largely understood as a male one. That story, of course, is far from the truth."

As you can imagine, crime fiction is full of blind spots and works that merit more attention than they get. One of the most egregiously ignored aspects of crime fiction is the role many supremely gifted female authors played in the genre's formative years and beyond.
Thankfully, the The Library of America and editor Sarah Weinman have created an essential, indispensable collection to help bring attention to important works by some of the most influential but least-recognized women writers in crime fiction. Eight masterful novels from women crime writers finally getting their due, carefully curated by some of the most acclaimed and best-selling crime writers of today - a beautiful package.
I can't recommend this enough. If you're in NY, swing by The Mysterious Bookshop next week to hear Sarah and Megan Abbott in conversation about these two volumes.

The Life Sentence is dedicating a week's worth of coverage to the release of Women Crime Writers, which has been a treat. Highlights include a spotlight on the women who edited crime fiction, a lengthy interview with Sarah about the book and author Jake Hinkson (who we interviewed last time!) on Charlotte Armstrong's Mischief.

***

Happy 10th anniversary, Thuglit!

As the press rollout for the "new" Lisbeth Salander book hits peak media, I'm reminded of this great The Nation piece by Sarah Weinman discussing the posthumous extension of certain author's legacies via other writers - The Brand is My Business.

Nice Dennis Lehane profile in the new Writers Digest - full version in the print edition. I was intrigued by Lehane's breaking in story, which I hadn't heard before.

Fellow Polis Book author (pick up New Yorked, will you?) Rob Hart drops some serious science in regards to balancing being a new parent and maintaining a writing career - with comments from other pros, like Delilah S. Dawson.

Reed Farrell Coleman discusses his new Jesse Stone novel, The Devil Wins, at The Big Thrill.

Alfred is worried about Rosanne Cash.

The Night Stalker, Richard Ramirez, was captured by an angry mob 30 years ago.

#ProTip: confessing a crime to a reporter "off the record" can still land you in jail.

"Why are female readers drawn to tales of their own destruction?" Casey Johnston asks the question in relation to true crime at Hazlitt.

I feel like I linked to this already, but it may have fallen into the vacation black hole. Anyway, this interview by Lisa Levy with authors Steph Cha and Julia Dahl was entertaining- really dig the multiple author interview format.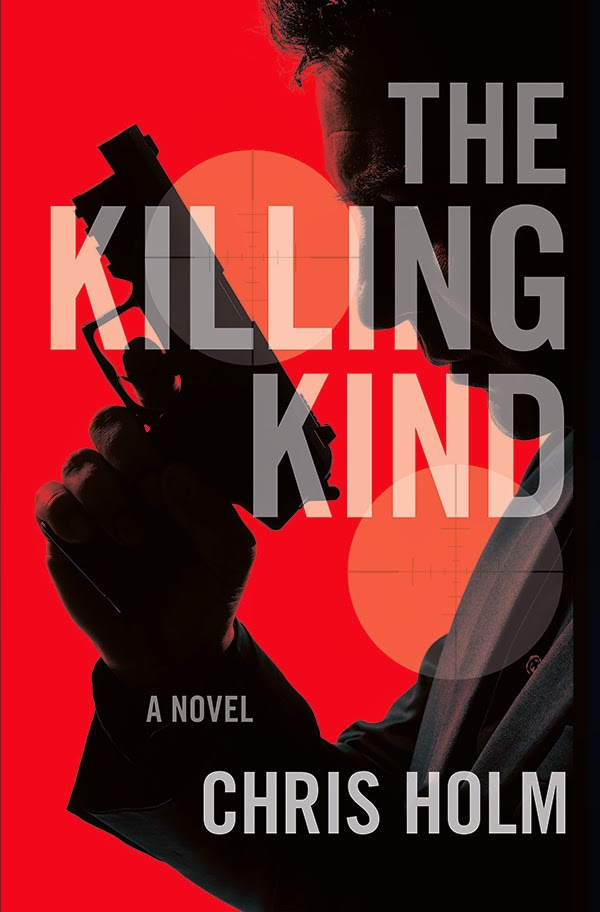 I don't think I need to remind you to pick up Chris F. Holm's The Killing Kind when it hits on 9/15 (or pre-order it now), but I will anyway. You should also read his piece at Maine Crime Writers about the "release day yips," which I could relate to a bunch.

In case you needed something to do this weekend, NYers.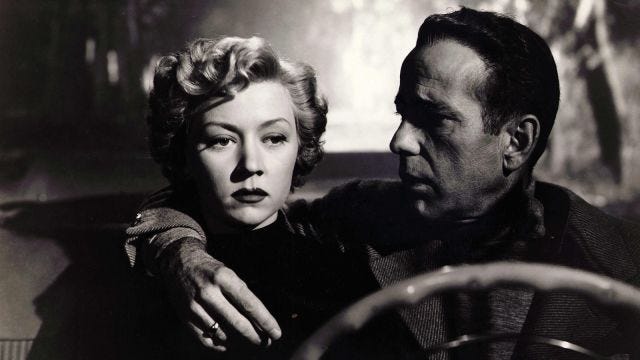 I know I promised some Rebus chatter this week, but the interview and linkage took over again. Next time! I'm also enjoying some Criminal: Last of the Innocents by Ed Brubaker and Sean Phillips, via the new Image collections.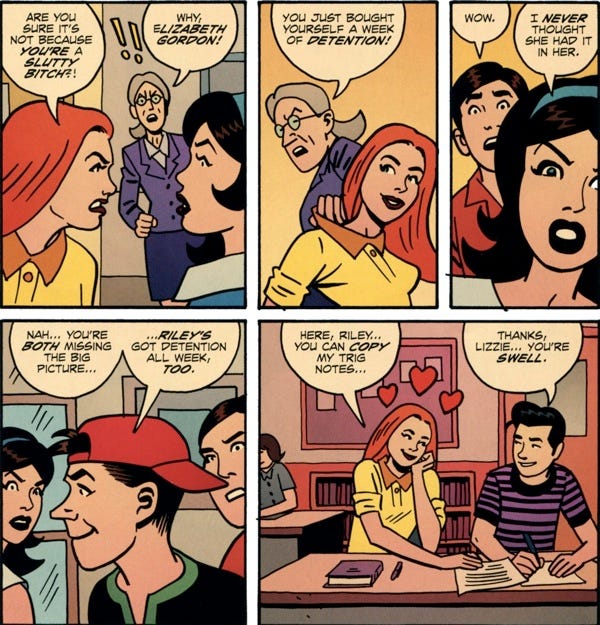 On the podcast front, and coincidentally in terms of titles, I hope you're listening to Criminal. The last two episodes have been exceptional. Don't let the subdued delivery fool you. Gripping stuff.

That's all for now. Have a wonderful long weekend, mmm'kay?