Stuff & Nonsense 016: The Ghost of You Lingers
What a week. Not only did finally get licensed to drive in the wilds of New York State, but this little beauty was unveiled for all to see: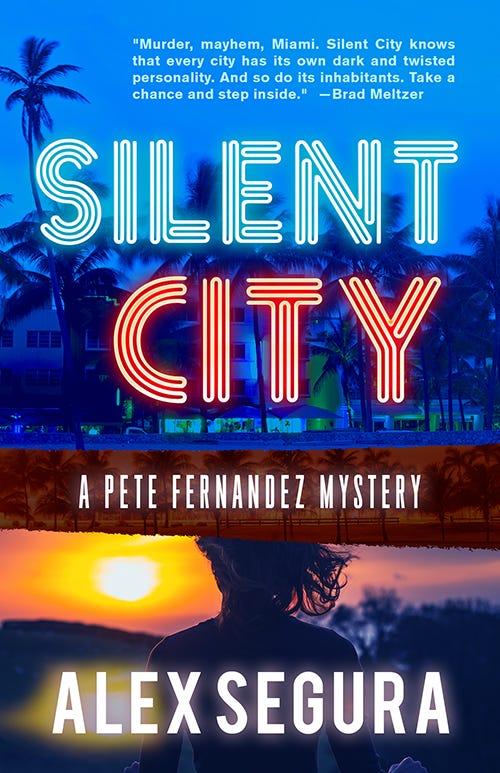 Yup - that's the cover to my Miami crime novel, Silent City, hitting in March from Polis Books. It's the first installment in the Pete Fernandez series, with book 2, Down the Darkest Street, hitting the following month. It's gonna be a busy year. I don't imagine I'll get much work done if I spend most of the day staring at this cover - but I can't help myself.

***

I've known my next guest since college - so, a little over 15 years. I have a vague memory of stumbling into the school newspaper and asking for an assignment, a few hours after registering for classes. Alfred Soto - then the editor of the paper - took pity on me enough to keep me busy, and I stuck around. Since then, we've remained friends and I can say Alfred is like family - and it's been great to continue to read his daily thoughts and analysis on his site, Humanizing the Vaccuum, since we don't see each other in person as often.

He's a contrarian in the best way possible - eager to question what many take at face value and equally willing to embrace the looked-down-upon or ignored to give it a fair shake. He's as comfortable talking about Taylor Swift as he is rolling up his sleeves and analyzing the Iran nuclear deal. I learned a lot from Alfred as an eager college punk - whether he was handing off a worn out CD copy of The Smiths Singles or the collected short stories of Nabokov, he was - and continues to be - a trove of knowledge, insight and suggestions. He's a great writer, a sharp critic and does not suffer fools - in fact, he's probably groaning at the use of that cliche as you read this.

I'm happy he took the time to visit my little corner of newsletter-land.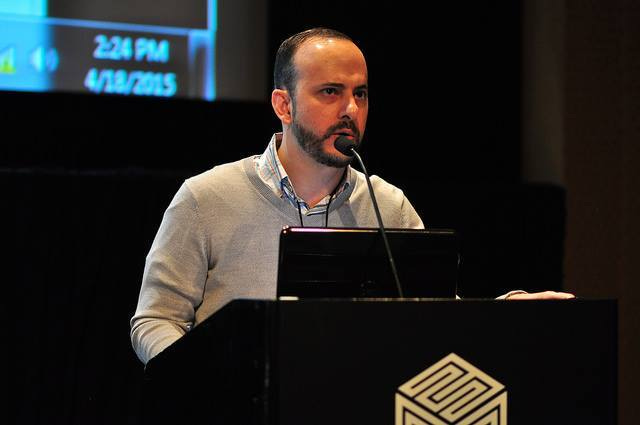 I've known you for more than 15 years - but my readers might not know you at all. How would you describe yourself, what you do and what you like to talk about?
Hi! Fifteen years, eh? I'm a media adviser for Student Media, overseeing Florida International University's student newspaper, radio station, and website. I'm also an adjunct instructor of journalism, global learning, and occasionally English. In the last fifteen years, I was features editor of Stylus Magazine. I've contributed music and book reviews to The Village Voice, SPIN, eMusic, The Miami Herald, and Billboard, among others. I'm an editor at The Singles Jukebox.
Music, politics, literature and more - that's what I find when I visit your site, Humanizing the Vacuum. The site's been around for along time. What's the high concept? Do you see it as an all-purpose spot for your thoughts and more? How has the site evolved?
Since its creation in 2007, HTV has turned into an necessary adjunct of my life. Existing for years as a laboratory for ideas that I'd develop into published record reviews, the site is now a free-standing entity. I don't treat posts as tossed-off things – the longer pieces get as much revision and care as anything I publish professionally. Thanks to HTV, I've learned how to defend theories and take stances concisely; it's helped the professional published work. In the case of my film reviews and essays, it's the only place I can publish them. In the last year editors have solicited contributions from me based on what they read on HTV. I keep a close eye on stats. Every day I have a goal. Because I like order and deadlines, I'm able to churn stuff out at a good clip, often scheduling posts before bed and adjusting social media notifications the following morning or afternoon.
What's your take on the 2016 race so far? I'm particularly interested in presidential politics, especially the nominating stage. It feels like people forget that there are always flash-in-the-pan stories like Trump and candidates that aren't frontrunners but push their respective leaders to the right or left. Still, it's a pretty interesting circus so far, no?
Only political reporters, most of whom are hacks who gloat about breaking the latest non-story, care about the race in the summer before an election season. I don't pay attention to Donald Trump. He's not getting the nomination, but the only difference between him and Rubio, Walker, Bush, et. al. is that he says mean things while wearing a hairpiece. What makes his contempt for brown skinners different from legislators who opposed 2013's immigration bill? On the other hand, the climate is more liberal than any in my lifetime, and I'm a Watergate baby. Bernie Sanders and HRC understand money. Send money to your favorite causes and they'll push the candidates where they need to go.
We've heard the adage that by 35, people stop listening to new music and instead sit back and enjoy comfort food albums. But as a critic (and I think, by nature), you don't rest on those laurels. What are some of the albums that you've found the most compelling of late, that are from new artists?
So far my favorite album of 2015 is by Jazmine Sullivan, an R&B singer-songwriter who took five years off and returned with "Reality Show," a tight, immaculately sung and written album about the costs of dealing with fuckers and fakers. I'm taken with Courtney Barnett's "Sometimes I Sit and Think, and Sometimes I Just Sit," a debut album that sounds like a cross between Luna and Sheryl Crow; she's also a first-rate guitarist. Ashley Monroe of Pistol Annies adds another in a series of fine albums by her, Miranda Lambert, and Angaleena Presley. At the moment Miguel is my favorite performer, period: a full-throated singer who has an unusual affinity for passivity and pleasure. And so many excellent singles! Check out this song by Japan's Gesu no Kiwami Otome.

The I Love Music message board has been revelatory. Every day I read about a new artist or an old one I've over looked. You'll find me on that board idling many an afternoon.

I love the Courtney Barnett record a ton, too. I don't feel so out of touch now! In terms of music criticism, what are some of the good and bad things you see happen often in how reviews are written? Who are some of the writers you admire most?

In 2015 the click is all. Often we rush to judgment because we want to be first. Editors are under tremendous pressure. Writing doesn't matter. The internet was an advertiser's dream: it ended that post-war ethos of subsidizing creativity, covertly through the CIA or otherwise. But I know not a single writer who doesn't pine for the time when you can think about an album for a month or week. Luckily I still read terrific criticism: Tim Finney and Meaghan Harvey at Pitchfork, Brad Nelson at Maura Magazine and Deadspin, David Drake at Complex and other places, Brad Shoup at The Singles Jukebox. I always look forward to Keith Harris bylines. There's a few others I'd mention had I the space.

What are you currently working on, and what can you tease that's coming down the line?

A. Look for the longest piece I've ever written to get published in a couple months. More book reviews. Expect ceaseless HTV posts.

Thanks, Alfred!

***

I'm still very much enjoying the Crime Writers On podcast - even if I disagree with a few things from the last episode: namely, their POV on True Detective (especially when the shows they point to as "good" are Ballers and Scrotal Recall - but it's all relative, I guess) and the Breakdown podcast (agree it is a bit Mr. Rogers-y, but decent) - still, the hosts are polished, engaging, smart and informed, so I'm hooked. I wish I could say the same for the extremely slow and often tedious Undisclosed (perhaps me giving up is a byproduct of Adnan burnout) and the too-charming-for-its-own-good Mystery Show. But I may revisit both later, if time permits. Or not.

Also, if you're not listening to You Must Remember This, you're missing out.

***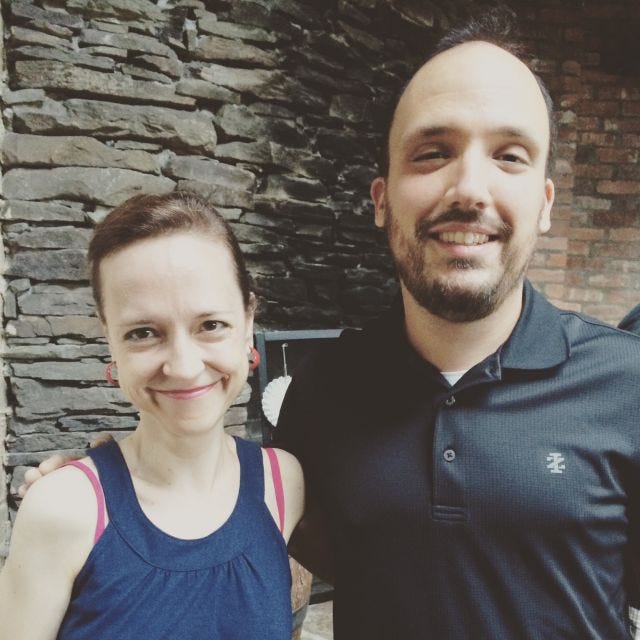 Had a wonderful time at the first-ever Queens LitFest reading with Megan Abbott and Nancy Bilyeau (who also organized the mystery/crime portion of the event). Excited to see this event continue next year.

As noted last week - I'll be co-hosting the PEN/Mystery Writers of America Mingle, which should be a lot of fun. The event is free (just RSVP!), you'll get to meet a lot of great people and it's at LPR, one of my favorite venues.

I got to talk about the seventh episode of True Detective with Jordan Foster and Lisa Levy at The Life Sentence. We had a fun time - hope you enjoy. And, as we head into the season finale, I found this Slate breakdown of the plot to be very helpful.

Here's a peek at the first few chapters of Rob Hart's excellent debut, New Yorked.

This chilling piece tells the story of the Jennifer Pan murder case - first seen by me via the Sunday Long Read newsletter. Here's another one from the same edition - an engrossing profile on writer Jim Dent.

At Maclean's, Sarah Weinman reviews the new Shirley Jackson collection.

This has been an interesting publishing story to follow.

Congrats to my dear friend Rebekah Monson, who I'll be talking to here soon-ish.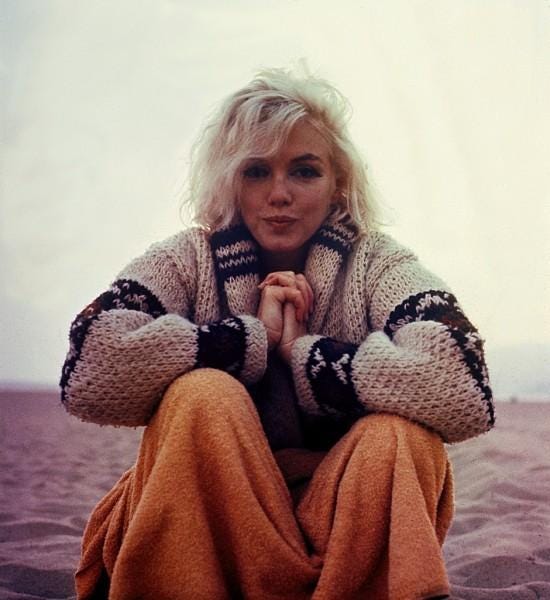 RIP, Marilyn. 53 years ago this week.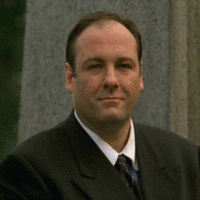 Until next time!