Stuff & Nonsense 015: Secondary Modern
We're back into a groove! Almost.

The dust seems to have settled, post-San Diego, and we've gotten as close to "normal" as one can expect. I'm hoping to have a bit of Pete Fernandez news to share in the coming weeks, so stay tuned for that.

Two quick things before we get to this week's interview:

I'll be reading a bit from Silent City (coming next March from Polis Books!) at the first-ever Queens Lit Fest in Long Island City on Sunday. Amazed and honored to be sharing the stage with luminaries like Megan Abbott and Nancy Bilyeau. Swing by if you can make it!

I'll also be co-hosting the PEN Mingle with Mystery Writers of America later in August at LPR. It's a free event as long as you RSVP.

Alright, onward!

***

As much as I love writing prose, there's a special place in my heart for creating comics. It's pure collaboration - you need your artistic partners to get you on a certain level to make it work. I've had the pleasure to have worked with this week's interview, artist Gisele Lagace, on a few issues of Archie - specifically, "Occupy Riverdale" - which garnered a nice chunk of attention - and "The Naughty Clause," a holiday issue I'm very fond of. Gisele is a master of expression and the well-executed gag. Not only is she a great Archie artist, she also runs her own webcomics empire, lead by the hilarious and heartfelt sex comedy Ménage à 3. It was a treat to chat with her and I hope you take a minute to check out her work - you'll be hooked.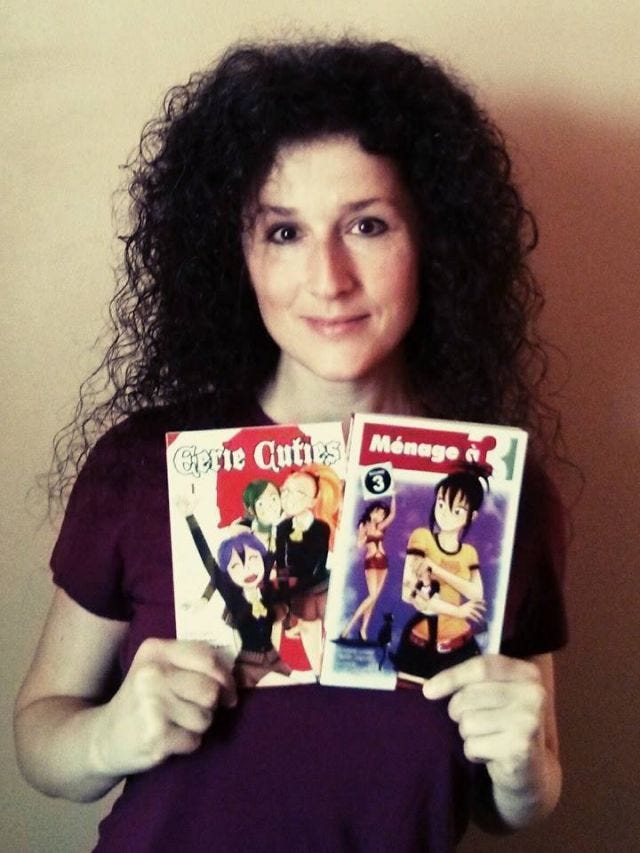 Gisele, we've collaborated on a number of comics together, and I'm always amazed at your ability to express action and nuance in just a panel or expression. Can you tell me your artistic background and how you decided this would be your career?

Growing up, I had two passions: music and comics. I loved both so much that I tried to do both later on in life. I'm self-taught in both fields but I do have a college degree in graphic design, and did study a bit of visual arts in University. My main gig for about a decade was as a graphic designer. I liked the work, but I still continued to hone my cartooning skills in the evenings. Over time, cartooning became my full time gig.

What got you into webcomics? Did you expect it to become what it has?

I got into webcomics after discovering them in 2000 with such strips as PVP Online and Penny-Arcade. The idea of creating an ongoing comic series, and getting instant reader feedback was really appealing to me. Updating many times a week ensured that I was always working on comics, and improving my craft. Wasn't sure where it was all headed at the time, but it turned out for the best. I'm pleased with the readership I've amassed over the years. They're like my employer now!

Who are some of your artistic and storytelling influences?

Most of my influences are early influences I had as a child growing up, like Dan DeCarlo & Frank Doyle at Archie Comics, Jim Davis on Garfield, Uderzo & Goscinny on Asterix, and Yumiko Igarashi on Candy Candy. In my twenties, the works of Rumiko Takahashi made its way to North America, and it was pure love on both the artistic and storytelling front. She's written some of my favorite comics of all time. DeCarlo's artistic influence on my work is still very strong to this day. I'm also a fan of many other Archie artists, past & present.




What can you say about Ma3 - can you tease what's coming up?

Ma3 (Ménage à 3) is the most popular webcomic I've ever created. I handle the art, and share writing duties with David Lumsdon. I think the fanbase for it grew quickly 'cause people really like the cast of characters. Gary, our resident 29 year old geek, is probably who people identify with the most. The series starts with him losing his roommates to then find two new ones: punk rock chick, Zii, and sexy bombshell, DiDi (emphasis on the double D's.) Things get interesting when they find out that Gary has never been with a girl. He eventually enlists the help of Zii as his wing-girl, but since she's bi-sexual... things sometimes work out more in her favor. ;) We don't stick to the status quo, so there is character growth throughout the series. For instance, year 7 ends with Gary getting some tips in the bedroom from Matt, who's very experienced at this. Now in year 8, I can say that DiDi will play a big part this year. Early on in the series, we showed that she was a physically strong girl but we never really used that talent of hers in storylines all that much. We plan to fix that this year. Zii & Gary will also have arcs of their own. In both cases dealing with their respective careers.




You're one of the busiest people in comics - you have a strong fanbase, as shown by your successful Kickstarter campaign. How do you explain that? Is it something where you've cultivated such a strong base, that you can exist in that space without worrying about "mainstream" attention?

I started webcomics in 2000. I stopped in 2002 for personal reasons but have been updating regularly since early 2004. The fanbase was built over time, mostly via word-of-mouth. Combined, the webcomics I work on bring in roughly half a million unique visitors a month. Those readers generate pageviews, which in turn generate revenue via ads on the sites. More revenue is added to that amount by doing print collections each year. Even though I wasn't into social media last year, Ma3's dedicated fanbase made 2014's Kickstarter campaign to fund its 6th printed collection a huge success. The next Kickstarter is just around the corner, and now having finally joined in on social media, we'll see if it makes a difference or not. Either way, we're doing it for our fans.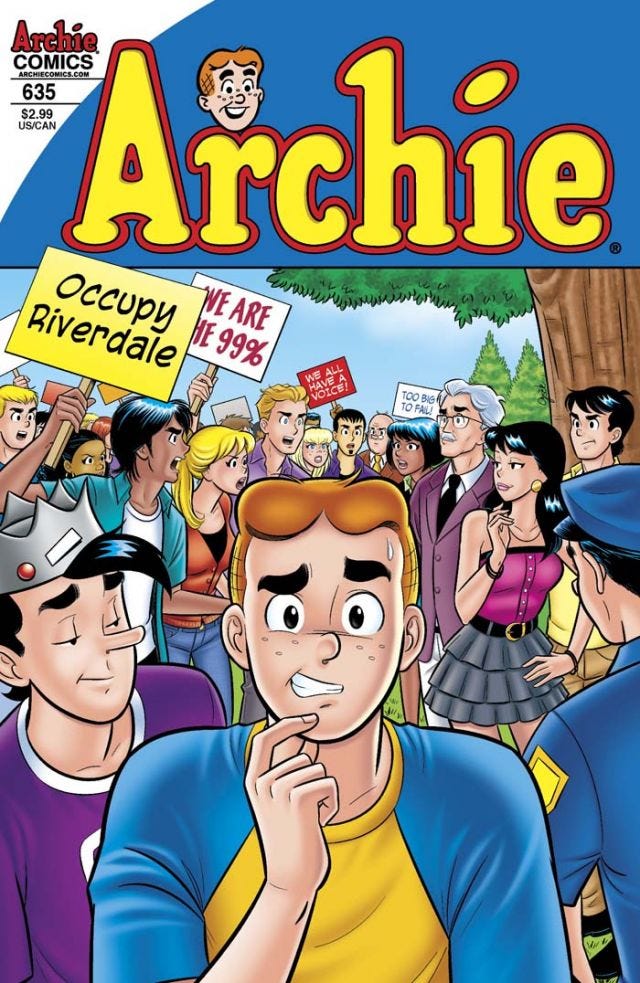 What are your favorite things, characters and types of scenes to draw?

I like to laugh, so any funny scene will do. To get there, body language, expressive faces & hands are what's really important to me. I also like to draw expressive cats.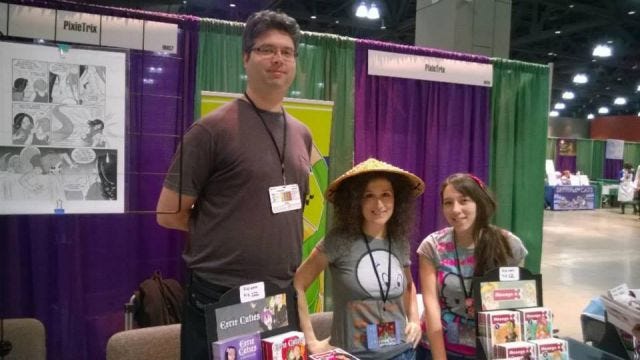 You've got a great team of creative people that work with you on your creator-owned work. Want to give them a shout-out?

Yes! I work with many talented folks! As mentioned earlier, I share writing duties on Ma3 (& Eerie Cuties) with David Lumsdon, who's a very funny guy. He also writes for Magick Chicks, Dangerously Chloe, and Sandra On The Rocks. I also work with the very talented, Shouri, who inks my pencils (and sometimes assists) on Eerie Cuties and Sticky Dilly Buns. She's also the current artist on Magick Chicks, and does most of the coloring work needed on our projects. Other talented artists on our team are Eisu Mokhtar who handles art on Sandra On The Rocks, Jason Waltrip on Dangerously Chloe, and Cassandra Wedeking who had a nice run on Magick Chicks and Dangerously Chloe. Last but not least, our editor, T Campbell. T looks over every script, tweaks when needed, and makes sure we don't forget things in our continuity. Indispensable.


You were in a band, right? Tell me about that - and how it's influenced your art. Also - we should jam together one day. :)

Haha! Yeah, I was in a band. Many bands actually. The one I'm the most associated with is the early '90s French Montreal all-girl rock band, Barbarella. I was in my late teens/early twenties at the time. I played bass guitar, electric guitar, and sang here & there. These days, I'm too busy with cartooning to get a chance to play music all that much but I still listen to plenty of it. I like musical instruments a lot, so I take great pleasure in rendering them faithfully in my cartoon art. And yes, maybe we'll jam together one day. Maybe some Ramones? ;)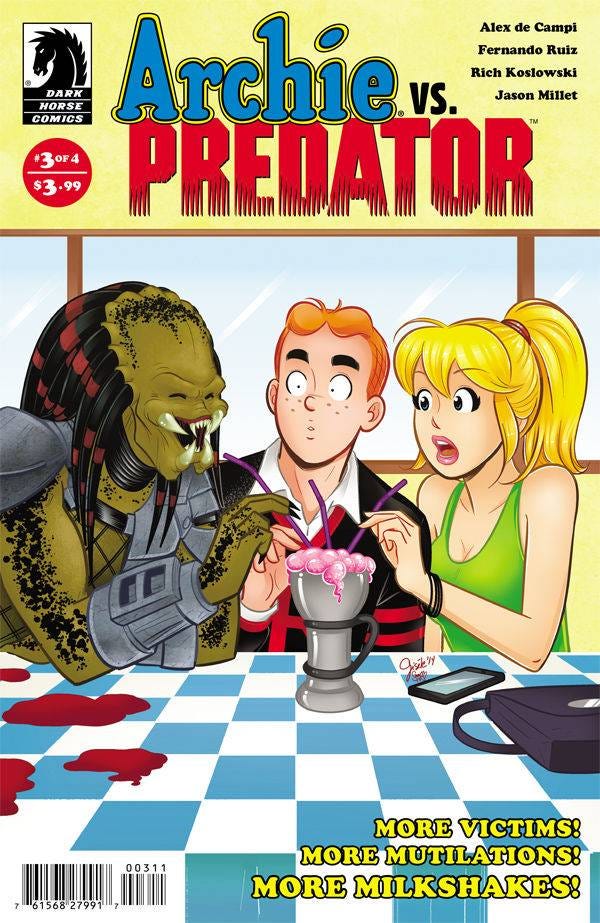 Did you grow up reading Archie? What is it like drawing him and his friends now?

Yeah, I definitely grew up on Archie comics. Josie & The Pussycats (for obvious reasons) were tops in my book. I also loved Betty & Veronica, and Sabrina too. Today, I love them all, especially Jughead, who makes me laugh. It brings me great joy when I get the chance to draw their adventures.

Outside of other comics, what other stuff influences you? What are some of your artistic goals that you'd like to achieve in the coming years?

I watch a lot of anime. I also enjoy a lot of old time radio shows from the '40s and '50s. Our Miss Brooks, Archie Andrews, and My Friend Irma are some of my favorite radio shows. I love them so much, I even bought some old My Friend Irma comics drawn by none other than Dan DeCarlo himself! I try to be on the lookout for great new bands. Royal Blood is a recent favorite. I watch a little TV. The Flash is probably my favorite current TV show (Daredevil a close second on Netflix.) Other than that, engaging movies. Influences/inspiration comes from various places, I guess. As for artistic goals, well, I have Archie Meets Ramones coming up, and that is something I plan on giving my all. I hope it leads to more fun projects in the coming years.

What comics do you read?

I still read Archie comics. I love the classic stuff the most. I keep up with the works of Rumiko Takahashi. Her current series is called Rin-ne. I'm also enjoying Ms Marvel & Captain Marvel. Enjoyed His Favorite, and Hide and Seek from SuBlime, a yaoi publisher. Looking forward to Kodansha's release of Princess Jellyfish, an excellent josei manga that got an excellent anime made. And in the same vein, I keep up with Genshiken as well, an excellent manga for comic book geeks. :)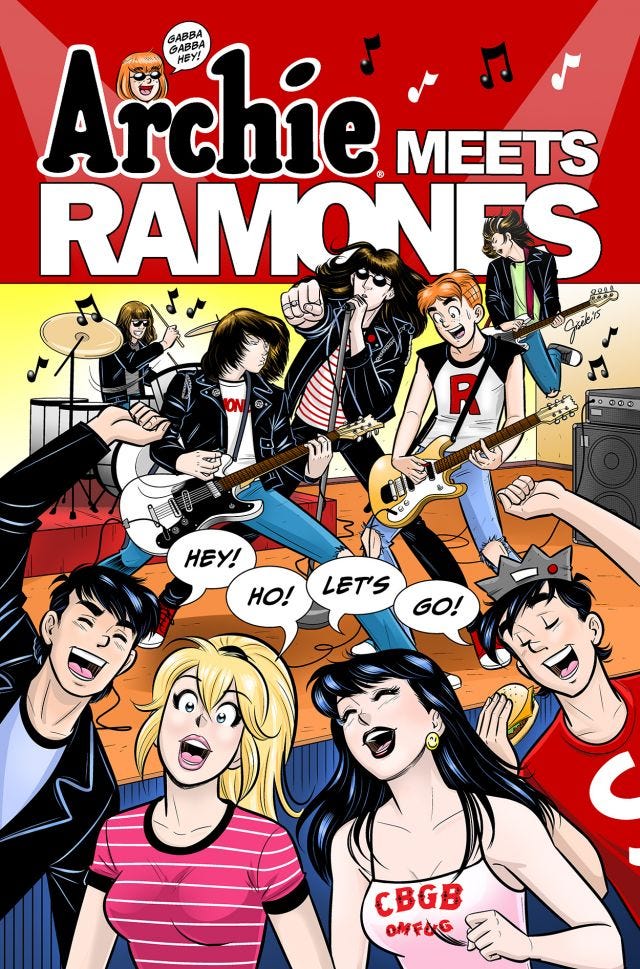 We've collaborated on a few Archie issues and also will be working together on the upcoming ARCHIE MEETS RAMONES. From my POV, you're a great person to work with because you're creative, involved, an amazing artist and passionate about your craft. What are your thoughts on not only working with others (like me!), but how comics are a collaborative medium?

Having been in bands, collaboration has always come easy for me. Working with clients in graphic design has also really taught me to sometimes make compromises to get to the end of a project. Basically, it made me learn to listen to others and what they have to say. Even on projects, where I'm flying more solo, I still like to get feedback from my partners. I guess I'm just wired that way at this point. To anyone getting into the comics field, your life will be much easier if you learn the art of collaboration.

Did I miss anything?

Check out PixieTrixComix.com to find some of the webcomics I'm involved with, like Ma3comic.com, StickyDillyBuns.com, and EerieCuties.com. You can also find me at my personal site, giselelagace.com, where you'll find links to follow me on Facebook and Twitter. And, lastly, read Archie Comics! You can find my work in the digests and the upcoming Archie Meets Ramones! :)

Thanks for swinging by, Gisele!

***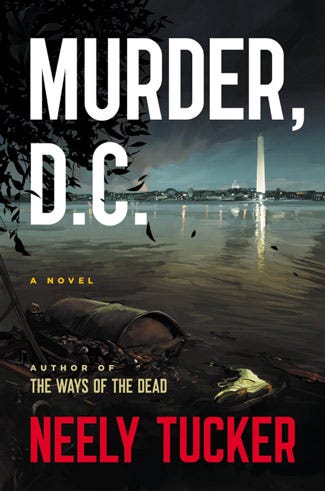 I'm about halfway through Neely Tucker's second Sully Carter novel, Murder, D.C. and I'm hooked. I'm also wondering why more people aren't talking about this book. Maybe I'm wrong?

Tucker manages to balance the challenges of writing a series with keeping books reader-friendly very well. Even if you haven't read Tucker's great first book, The Ways of the Dead, you won't feel lost, which is a feat. Carter's a fully-formed, flawed and engaging character that, while not warm and fuzzy by any means, feels immediately comfortable and real. A burnt out reporter with a dark past, struggling with demons that are slowly revealed, Carter is a complex protagonist in a realistic and dangerous setting - our nation's capital. When the son of a famous family ends up dead in what appears to be a drug deal gone bad, Carter finds himself digging into a story no one really wants told. Tucker's work reminds me of Right as Rain-era Pelecanos - crisp, clear, gritty and menacing with a social conscience. If you know me at all, you know this is pretty high praise.

I hate to classify anything a "beach read," because I feel like that somehow implies that it's lesser than another, more literary book. So, suffice to say, this book is good and you will devour it quickly.

***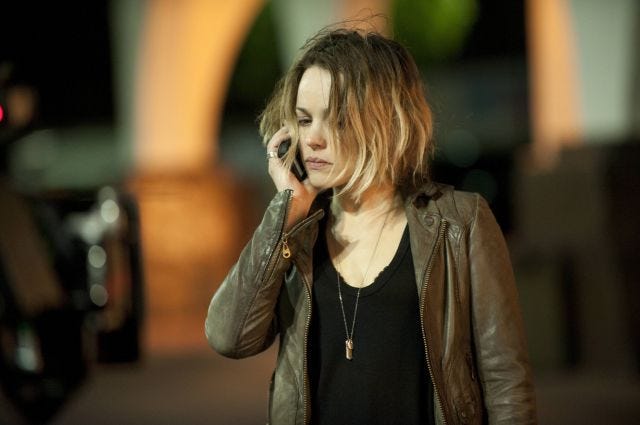 I caught up on True Detective on Sunday and I have a few rambling thoughts as we head into the last two episodes:

The last batch of episodes felt stronger - reminiscent of the first season around the same point. I still understand some of people's problems with the show, but I also think it's worth noting that the first season took a while to get its bearings, too. It wasn't until "the shot" episode (4?) that it seemed the show became universally loved, until the inevitable backlash started with the finale.

I think the (spoiler alert!) time jump really helped, not only as a plot device but as a way to reset viewers' perceptions of the characters and the show. It could be too little, too late, though. Still, just as I was about to give up on the show, it redeemed itself enough to remain watchable, despite its many flaws.

Something a friend posted when I shared my thoughts on FB earlier this week, and that I've come to agree with: no one seems to be talking about the plot. There's a lot of griping about the dressing - Colin's mustache, the long and boring overhead shots, the Lynch-isms, the comparisons to season 1 - which is fine, and maybe I've missed the genuine plot discussions, but I think there's something to be said for how Pizzolatto is breaking down the beats of the season. The few plot-centric criticisms seem to be general, dismissive bits that say the show's story is too convoluted. But are there any strong theories or breakdowns of what it could mean? I'm curious - I may have missed them. The plot unraveling/debating was a big part of the discussion during season 1 - Yellow King, etc. This makes me wonder if the eventual reveal of who's behind the death of Ben Casper will either come off as a really smart move, or it'll be lost in the cloud of backlash the show's already mired in. I think the clues are there, too, which should make for some interesting re-watching.

McAdams (the best actor of the bunch, IMHO) was severely under-utilized in the early episodes, and I feel like they've remedied that a bit. All four leads started in very familiar (to fans of crime/noir/mystery) territory, and it seems to me like McAdams is the only one that's gotten close to breaking out of that mold. It's a shame that we're so close to the end, just as I'm starting to enjoy her character. On the other end of the spectrum, Vaughn's dialogue continues to be laughable, which is a shame, because I had figured he'd be the sleeper on the show, in the same way McConaughey's character was in the first season. The revelation that directly affected Velcoro seemed to be resolved too quickly, minimizing its potential.

I'll have more to say on the series as it progresses, fear not. ;)

***

Two podcast episodes that were particularly great, as I catch up with my feed:

Death Sex and Money's Ana Sale talks to ex-Civil Wars singer Joy Williams about the band's breakup, her father's death and the birth of her child. I think Williams was still a little evasive about the end of her band (which is absolutely her right, especially if the rumors are even partially true), but still manages to give a frank and interesting interview. Kudos to Sale for asking smart and thoughtful questions.

Vince Gilligan was on Marc Maron's WTF podcast earlier this month and it was, not surprisingly, lots of fun to listen to - bits about process, the comics he read as a kid, how he breaks down a series/story and, of course, lots of Breaking Bad behind the scenes stuff.

***

Some links to cap things off:

The Guardian on male writers changing their names/hiding their gender to appeal to female readers.

RIP, Anne Rule.

How to lose someone tailing you.

Huge congrats to Sarah Weinman on Women Crime Writers of the 40s and 50s. Can't wait to get my copy of this impressive and thoughtfully curated collection.

Speaking of Sarah, she reviewed the collected Welty/Macdonald letters.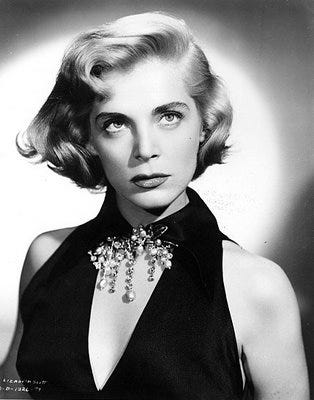 Jake Hinkson has an excellent retrospective on noir film legend Lizabeth Scott in the latest issue of Mystery Scene Magazine. You can order it here.

Interesting piece on the insanity defense by lawyer and crime writer Lynne Raimondo at The Life Sentence.

If you have an hour to kill, I was a guest on the great SKTCHD podcast, where I chat about Archie, Dark Circle Comics and publicity stuff.

Writers, what do you read while writing? What do you avoid? I pose that question at Do Some Damage.

A few interesting true crime pieces - including the murder that inspired Peyton Place and Grantland takes a look at the Garrett Phillips case.

See you next week!