Stuff & Nonsense 011: Glass Spiders
Another week, another newsletter. It seems like we're getting into a nice little groove here, huh? There I went - jinxing it.

A quick "welcome to the party" to the new subscribers that have signed up since the last episode - please let me know what you think.

I spent the last week in my hometown of Miami - marveling at how much it continues to change while reading Spenser novels on the beach. I did some passive "research" for the next Pete novel that included wandering through parks, kayaking and eating lots of Cuban food while spending time with my dearest friends and family. Feeling recharged and content - all good things. I even got to visit the offices of my dear friend Rebekah's new start-up, The New Tropic! If you're a Miami resident, or just interested in what happens there, you should join up. They even have a "Segura drink" in the office!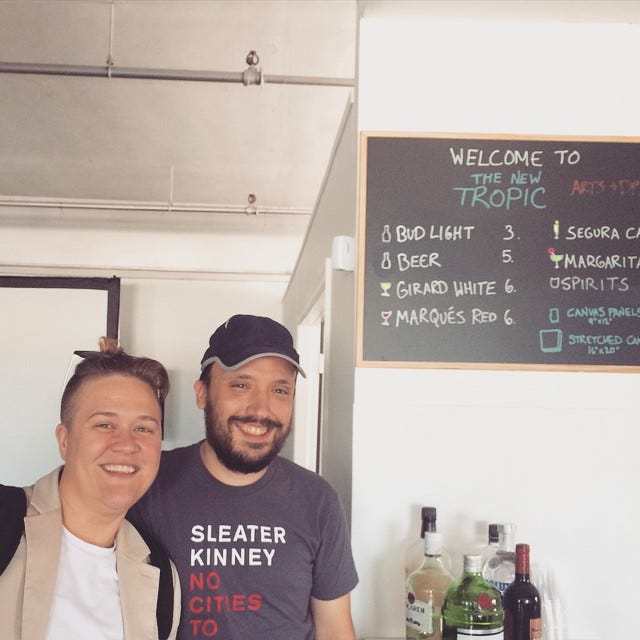 Speaking of friends, I'm happy that Sarah Weinman took the time to chat with me this week. Sarah is a great writer, critic, advocate and person. She has impeccable taste in books and is a must-follow on Twitter for publishing news and views. Honestly, I was expecting her to decline my interview request because I imagine she's insanely busy. Thankfully, she didn't. I should note that questions and answers were edited slightly for clarity. Here we go.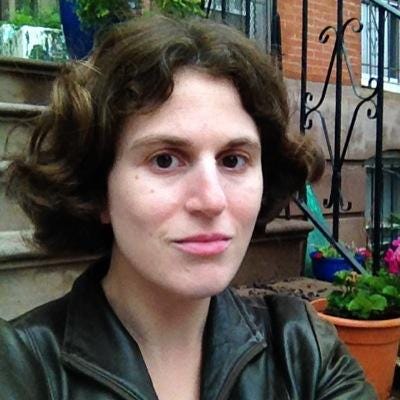 Sarah, we've known each other for years and I feel like *I* know your professional story well enough - but how would you describe yourself and what you do to those that don't?

The phrase that seems to pop up the most is "woman of many hats." (Ironic, because I don't really like wearing hats because it flattens my hair.) I'm a writer of fiction and nonfiction, a journalist, an editor, a publishing reporter, a mystery scholar (EQMM used that phrase so I am stealing it forever) a crime obsessive, and so on and so forth. Really, it starts with books, most notably crime fiction, and everything goes from there.

I feel like I see your byline at least once a week (like this great Mary Higgins Clark profile in The Guardian), and it usually involves a heavily-researched piece that, because you're such a great writer, also reads smoothly, weaving in the legwork smoothly into the narrative. Can you give me a sense of what a "normal" (haha) day is like for you?

I'm in the midst of a typical day as we speak! I'm an early-ish riser, in that my alarm goes off sometime between 6:30 and 7 and I look at my phone (sigh, yes, I am one of those people) to see if there's any publishing news from the UK or from the previous evening that I have to note and write up for Publishers Lunch. Make a pot of coffee, eat breakfast (usually Greek nonfat yogurt, granola, fruit) then am at my desk by 8 AM. The morning is for Publishers Lunch, which employs me full-time, and there are two daily newsletters to prepare. Once those go out -- anytime between 10:30 and 11:30, ideally -- then the day becomes a mix of day job stuff, freelance stuff, taking a walk (I try to get a minimum of 2 miles every day, which equates to the round-trip distance to my mail drop, which handles all of my books mail) meetings, wasting time on Twitter, and evening plans. Sometimes I'll work straight through, sometimes I'll take hours off and work late, it really depends. But it does make writing fiction on a regular basis challenging. I'm still figuring out the right mix.

Women Crime Writers seems like such an important - and, I can imagine, daunting - project. We saw the cover in one of your recent newsletters. What can you tell us about it and how it came to be?

Women Crime Writers: Eight Suspense Novels of the 1940s & 50s (to use the full title of the two-volume set) could not have come about without the publication of Troubled Daughters, Twisted Wives, the anthology of 20th century domestic suspense fiction that I edited and Penguin published in the fall of 2013. Not long before publication a mutual contact put me in touch with Max Rudin, publisher at the Library of America, and we had a meeting that went well. Then there was another meeting along with the editor-in-chief, Geoffrey O'Brien, where we discussed what books could be included, and it was clear there was a lot of common ground. I signed the contract at the end of 2013 or thereabouts and things really got going a few months later once all eight books were chosen and finalized. Needless to say I am thrilled to be part of this project, helping to cement the reputations of some amazing, needlessly neglected writers and works as part of the LoA's overall mission of preservation and cultural context.

Is there anything else you'd like to add about WCW?

It is a two-volume set: 4 novels from the 1940s by Vera Caspary (LAURA) Dorothy B. Hughes (IN A LONELY PLACE) Helen Eustis (THE HORIZONTAL MAN) and Elisabeth Sanxay Holding (THE BLANK WALL) and 4 novels from the 1940s by Patricia Highsmith (THE BLUNDERER) Margaret Millar (BEAST IN VIEW) Charlotte Armstrong (MISCHIEF) and Dolores Hitchens (FOOL'S GOLD.) Some books are steadily in print already; some were more recently put back in circulation through ebooks. Some, like the Eustis and Hitchens novels, haven't been reprinted in decades. WCW is also a launching point for the LoA to do other things -- they are getting into audiobooks for the first time, reissuing other works digitally by some of the aforementioned authors, etc. And there will be a companion website to the 2-volume set that will launch later this summer. Stay tuned for more information on that.

I don't want to steal any thunder from your excellent TinyLetter, The Crime Lady, where you share great book suggestions and note publishing trends (plus lots more), but what are you reading these days that's stuck with you? What books are you looking forward to most?

Well I am always happy to talk about what books I am reading! In crime fiction, Don Winslow's THE CARTEL is such a knockout; it will be a real honor to chat with him about that book at his BookCourt appearance on July 15. Chris Holm's THE KILLING KIND is a thriller to look out for a grab when it's out in September. I haven't talked about it yet but I really enjoyed Jennifer McMahon's THE NIGHT SISTER (out in August) which is another one of her signature blends of psychological suspense and the paranormal. I admire the way she does it. And the new Patti Smith book, M TRAIN, is as good as hoped. I'm looking forward to reading the new Elena Ferrante, THE STORY OF A LOST CHILD; and in crime fiction, Patti Abbott's CONCRETE ANGEL and Rob Hart's NEW YORKED.

You're extremely active on Twitter - and I find the links you share to be informative, interesting and extremely relevant. What's your barometer for what's "worth" sharing to your audience?

It still boils down to "I find this interesting and I'm sure others will too." Except when it's some weird Shel Silverstein link, that's purely for my own amusement. Or bad puns. Sorry I love 'em.

Bad puns are welcome here always! How do you feel about Twitter as a medium? Do you feel it's become more or less entertaining? Has the outrage level drowned out some of the positives?

The outrage level is pretty exhausting to contend with. I pay attention to Twitter not only as a medium but as a business, and as they are in the midst of a CEO shuffle with a declining stock price, it seems clear the winds are not blowing in the best direction. I remain skeptical of its value to writers, though it is a fun medium -- or can be -- for people, and of course journalists are all over the place. Still I really blanch at "here's what influencers are saying on Twitter about some trending topic" because it is the laziest kind of "journalism", and really, who cares?

You've read at two Noir at the Bar: Queens events that I've had the pleasure of MC'ing and read short stories at other, similar things over the years. What can you tell us about your fiction writing? What's coming up that you can share?

I've written another story I quite like that is making the rounds. It wasn't so long ago I had a story in Ellery Queen and I still love that publication best. I feel like they and Alfred Hitchcock's Mystery Magazine don't get the critical due because they are, somehow, easy to overlook. But they have a great range. As for novels...early days, still.

Last question: If you could offer a new writer one piece of advice, what would it be?

I'll answer this by paraphrasing an exchange I had with a friend of mine, when we were talking about a mutual acquaintance (both she and the acquaintance are multi-published.) "I love her work so much, I can't write a book like that," she said. To which I replied, "But she couldn't write your book." That seems like the crux of everything. Find your voice, what works, and cherish it to the fullest and make it the absolute best it can be, because no one else is going to do what you do, and there is always a way to make it better.

Also: stop worrying about publishing before you're 30.

***

A few links that might be of interest:

This great excerpt from Sarah Hepola's upcoming memoir, Blackout, has me impatient for the full release.

I enjoyed this Sean Chercover/Jon Jordan "interview."

Congrats, Maris Kreizman!

Alfred reviews the Brian Wilson biopic, Love and Mercy.

It was a tweet from Karolina Waclawiak that turned me on to the amazing You Must Remember This podcast, which is focusing on Charles Manson and his followers this season. So it makes sense she'd write this great piece about cults in LA for Refinery29. Also: I am very excited for The Invaders.

I got to interview author and journalist Sebastian Rotella as part of my #PenTen Guest Editor duties at The Pen American Center.

Speaking of The Crime Lady: The Atlantic takes a look at the "new" true crime in the wake of The Jinx and Serial.

Don Winslow is one of my favorite modern crime writers and I can't wait to read his latest, The Cartel. If you haven't read any Winslow, this primer by Keith Rawson should help fix that.

Loved this piece on Noir at the Bar by Jen Conley.

In terms of media consumption, not a lot has changed - reading Spenser, watching Bloodline, listening to a lot of podcasts. We did start the new season of Orange is the New Black while on vacation, which I've liked well enough so far, though I do feel it's really missing a strong villain, which was such a big part of season two. We're only a handful of episodes in, so that might change.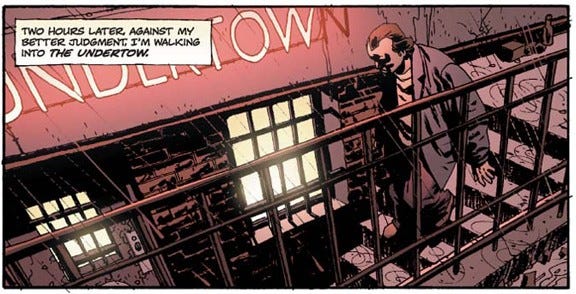 Comic book-wise, I've been catching up on the new Criminal collections, plus recent issues of Stray Bullets, Saga, Lazarus, Midnighter #1, Black Canary, Sex Criminals, Revival, The Amazing Spider-Man: Renew Your Vows, Revival, Southern Bastards, Stumptown, the Brubaker/Fraction and Swierczynski runs on Immortal Iron Fist and a re-read of Fatale.

I finished a close-to-final draft of a cool collaboration I hope we can announce soon and started red pen revisions of the first draft of Pete #3, Dangerous Ends. Hoping to have that knocked into shape in the coming months.

It looks like I can share release info on the first two Pete Fernandez books: Silent City hits next March and Down the Darkest Street in April 2016, both via the great Polis Books. Exciting times!

I'll leave you with this lovely Veronica Fish Mulholland Drive image. Isn't she amazing?