Stuff & Nonsense 001: Put Me on Top
Before we get down to it, I'd like to zoom out for a second: I've been intrigued by the recent rise of the email newsletter as a means to not only spread "the word," but connect with people. I don't say fans because I don't think that's the intent of the better, more organic ones. That rise dovetailed with me searching for a way to touch base with people interested in not only what I'm doing, but what I'm thinking about in terms of media. For whatever reason, my own site/blog wasn't working and my other avenues - Facebook, Tumblr, Twitter, etc. - were plagued by their own limitations or expectations. Anyway, here we are.

Stuff & Nonsense isn't a call-to-action newsletter, nor will I try to get you to pick up my latest thing. I will, however, let you know about what I'm up to in the best "native advertising" way. If you're here, it's because you know me on some level and want to keep up with my novel/comic book writing, my editing or you're curious to hear more about what I'm reading/watching/listening to in more detail than a tweet or FB post.

I envision this going out weekly. I will craft it on Fridays and shoot to have it arrive the next morning. The tone will be casual and quick - initial thoughts, in-progress thoughts, passing ideas. I also won't be limiting the subject matter, which I think is a good thing. Sometimes I'll have a lot to say about books or comics or podcasts or music or veganism or politics. It just depends on the week I've had.

I know I spoke generally of newsletters, but I have to give a specific shout-out to Sarah Weinman's The Crime Lady and The New Tropic, two very different newsletters that accomplish the same thing: they make you feel like you're in a room talking to a friend about something you're very interested in. It sounds much easier than it is. I think your inbox will be much better off if you subscribe to both - even if you don't read crime fiction or live in Miami. Ok, let's zoom in.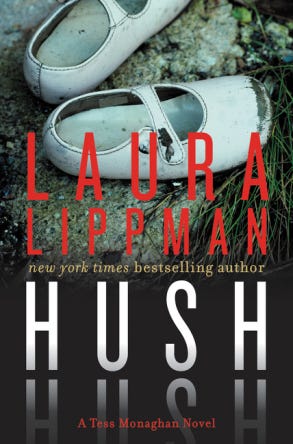 I tend to live-tweet the books I'm reading and really passionate about, but for whatever reason I wasn't able to do that despite very much enjoying Laura Lippman's latest Tess Monaghan book, HUSH HUSH. I blame the post-winter break rush to seem busy. HUSH HUSH works on many levels, and doesn't fall apart in the way some "reunion" novels - where an author revisits a series character they'd put on hold for a few years - often do. (See Dennis Lehane's MOONLIGHT MILE, which I wanted to like more.) You feel like you're catching up with Tess, not rewinding to pick up where you left off. Tess is flawed, funny, charming and human - now with a three-year-old, to boot. I won't delve too much into the plot, because that's the fun of reading the book, but HUSH HUSH manages to touch on some pretty heavy stuff, like the challenges of parenthood and dealing with our own, imperfect lives - in a smooth and real way that I found refreshing. Lippman's on her game and aside from a quibble with the third act, this was a very satisfying read. I should note that the Tess books were a huge influence on my own writing - Pete owes Tess a lot.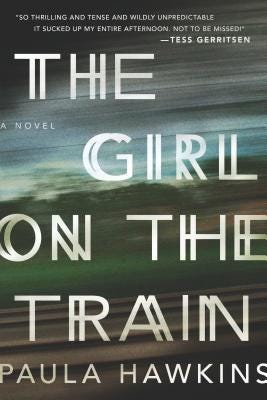 Not as satisfying - though, I'm only a quarter into it - is Paula Hawkins' THE GIRL ON THE TRAIN. As some of you read in WSJ, it's being tabbed by many as the "next" GONE GIRL, which I get from a marketing perspective. I'm more inclined to agree with the "echo" theory Sarah mentioned on Twitter, though. This feels like GONE GIRL, I guess. The main character is a mess and she does bad things and bad things happen to her. I'm going to reserve any more commentary until I'm done - which will be very soon at the rate I'm going. The book is, no matter what, a page-turner and crisply written. I had trouble putting it down before bed the last two nights and I don't think I've gotten to the crux of it yet. Some other POVs on the book that I enjoyed reading: Erin Mitchell and BOLO Books. If you want to know more about Hawkins, this NYT profile is an interesting read.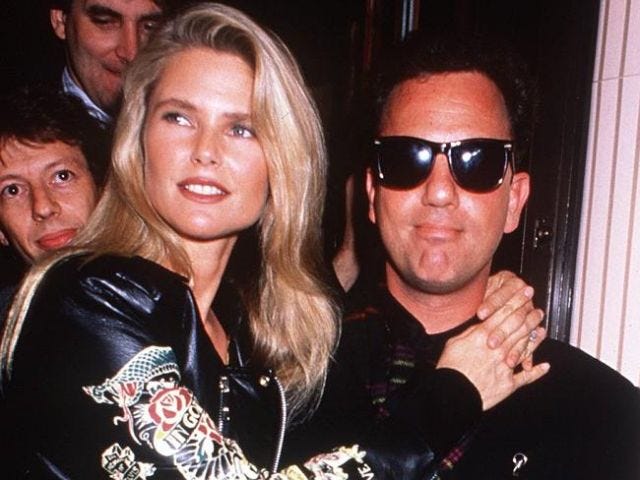 Over the break I read a middling Billy Joel biography, too. Why, you ask? Well, I like his music. He has a McCartney-esque way with melody and at his best, he builds on his style exercises (a la "For the Longest Time" or "It's Still Rock and Roll to Me") to create something different and a little weird. If you're not a Joel fan, listen to "Goodnight Saigon." It's one of the least "Billy Joel" songs in his catalog. Anyway, the book wasn't bad exactly. I imagine it must be very hard to write about a living artist who has chosen to not create new art for over two decades of time you need to cover in your book. This biography was originally meant to be an autobiography, but Joel pulled out at the last minute, giving his co-writer Fred Schruers the thumbs up to continue the work on his own. Schruers does his best to keep things interesting, but after a while you get tired of reading about car crashes and divorces. The biggest problem, though, is that despite unparalleled access to the artist you don't get any closer to knowing why Joel's abandoned pop songwriting beyond a flip aside that's almost buried. I can't speak for anyone else, but finding that out was really the only reason I could imagine powering through the last seven or eight chapters. You're better off reading this analysis of Joel's output by my friend Sean T. Collins instead. Or, this great Chuck Klosterman profile of the Piano Man.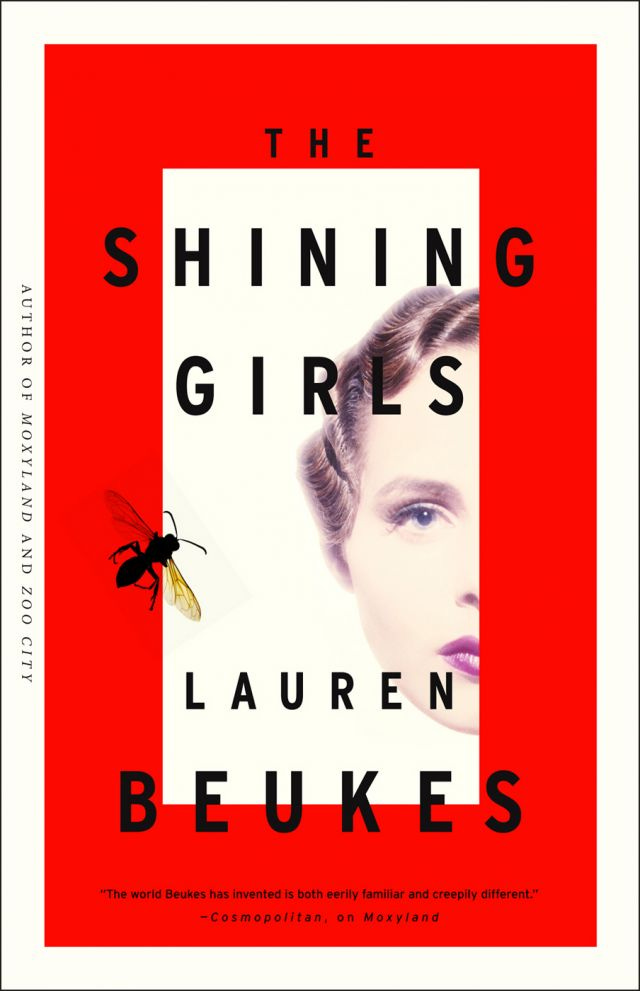 Lauren Beukes' BROKEN MONSTERS was one of my favorite books of 2014 - and I was kicking myself for not yet reading THE SHINING GIRLS, the novel that preceded it (though, I should clarify they're not in a series). I finished that shortly after the new year and was happy to discover it was as well-written, surprising and menacing as BROKEN MONSTERS. The high concept - time traveling serial killer hunted by the one surviving victim - doesn't do the book itself justice, as there's more to it than that. But I leave that to you to check out. Lauren's work feels new (though, she's not a newcomer in terms of output) and honest and I'll read whatever she writes. Can't recommend these two books more. Bonus: it looks like BROKEN MONSTERS will be a TV series soon.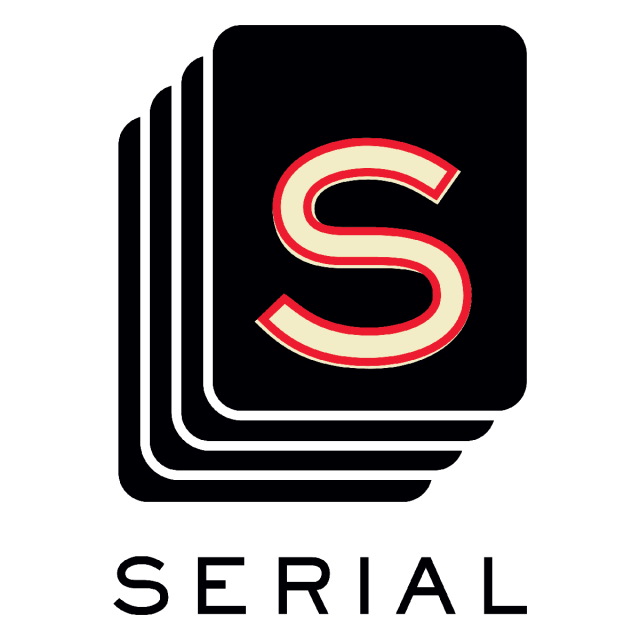 I've talked about Serial a lot over the last few months - mostly about the case, the quality of the podcast and the recent coverage at The Intercept. But one thing I haven't really covered directly is how getting into Serial got me hooked on podcasts in general. I was a late-comer to the medium, so it's been a lot of fun to explore. In terms of "SERIAL IS OVER WHAT CRIME PODCAST DO I LISTEN TO NOW!?", I'd suggest subscribing to Criminal - the closest thing you'll get to a monthly dose of the same kind of NPR-ish true crime gravitas that Serial provided. If you still want updates on the Adnan case, I've found that the best series in the "podcasts about the Serial podcast" genre is Crime Writers On Serial, hosted by true crime writers Rebecca Lavoie and Kevin Flynn. They do a nice job of recapping what's happened with the case and manage to inject some levity and a much-needed and grounded perspective. It's worth a listen even if you're not a regular Serial fan.

After that, there's a bit of a drop-off: True Murder is a long-running interview podcast run by journalist and author Dan Zupansky. He interviews a true crime writer with each installment. The episodes run long, over an hour, and while the content is often good and interesting, it can be tough to get past some of the technical issues. But it works more often than not. I do wonder, though, if the authors expect to give away so much of their books during the interviews. Maybe it's just me.

On the other end of the spectrum we have Sword and Scale, which does a great job, production-wise. The content is solid and fleshes out cases I'd never heard of, deftly using archival audio and new reporting to make for some good listening. Though, warning to listeners who favor the tone and delivery of the "somewhat impartial narrator" a la This American Life - this host has a perspective, and he's not afraid to make a snarky remark here and there. Again, YMMV. At its best, it's an audio version of true crime TV shows like Forensic Files or Cold Case, which is like popcorn to true crime fans. Another crime podcast with potential is Generation Why. The episodes tend to drag a bit after the hosts recap the crime/case and you're left wondering what the resolution's going to be, but overall the production is good, the hosts are capable and the cases interesting.

Quickly, some non-crime podcasts I've been enjoying: StartUp, Futility Closet, Invisibilia, Here Be Monsters and KCRW's The Treatment (dig up the Ed Brubaker interview).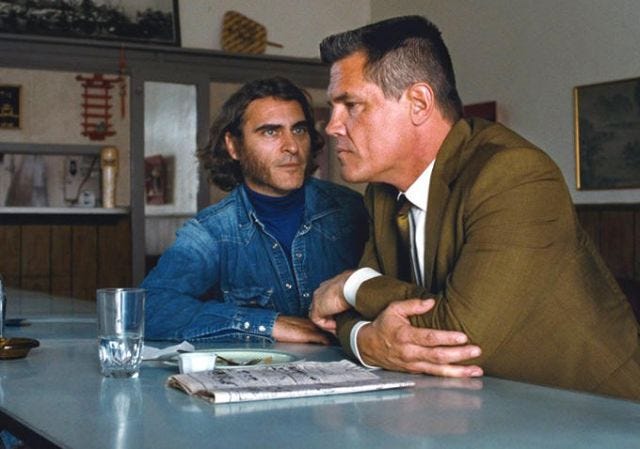 We saw Inherent Vice and I really liked it. It captured the drug-addled, shambling vibe of Pynchon's novel nicely. The film does become a bit of "spot the star" early on, with name actors popping up for relatively minor roles. If you haven't read the book, my only bit of advice is to sit back and enjoy the ride. If you don't overthink the plot, you'll be able to get a kick out of the execution. For more straight-ahead noir, check out the excellent Blue Ruin.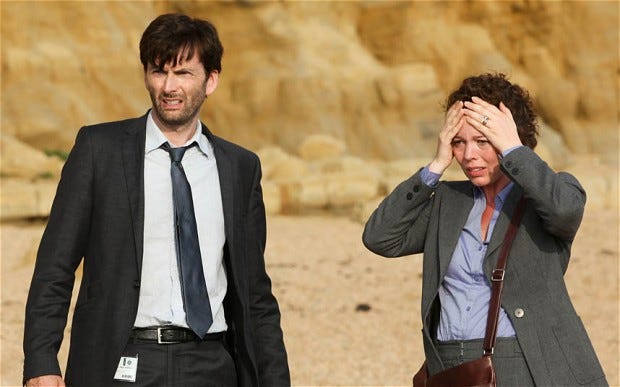 I went into Broadchurch already kind of burnt out on the "murder tears apart quirky, small town/rainy city" crime sub-genre. The first few episodes of the series, while not amazing, were solid detective television. By the penultimate chapter, I had started to warm up to the two leads and some of the supporting cast. All this despite the cops' inability to do proper detective work and the myriad red herrings the writers expected us to fall for. Without giving anything away, the last episode left me flat, which is almost worse than angry - because it means I didn't feel anything. It just happened. I had visions of TV execs slamming their fists down on a boardroom table demanding the "big reveal" be a surprise - and it is, though not in an earned way. The stage is set for another year, and I'm fond enough of the characters to give it another episode or two, but it really botched it with the finale. Still, it was better than AMC/NetFlix's The Killing. And I guess there will be a season 2 - debuting in March.

Side note - I didn't realize until last night that the television drama Gracepoint - featuring Breaking Bad's Anna Gunn! - was a US remake of Broadchurch, also starring David Tennant. Though, it seems the original is superior, for what it's worth.

A few things:

I'll be a guest editor for the PEN American Center website's PEN Ten author interview series. There should be a formal announcement coming. It's a great honor and I'm excited to share the six authors I've chosen to spotlight.

I've put the finishing touches on the second Pete Fernandez book (for now) and I'm a little past the halfway point on a first draft for book three, tentatively titled DANGEROUS ENDS. A short story I'd originally envisioned as a break from Pete, starring another character and featuring Pete, has morphed into the fourth Pete book. Characters, am I right? We'll see how it goes.

I've got some other comic book stuff cooking, but nothing to announce/talk about yet.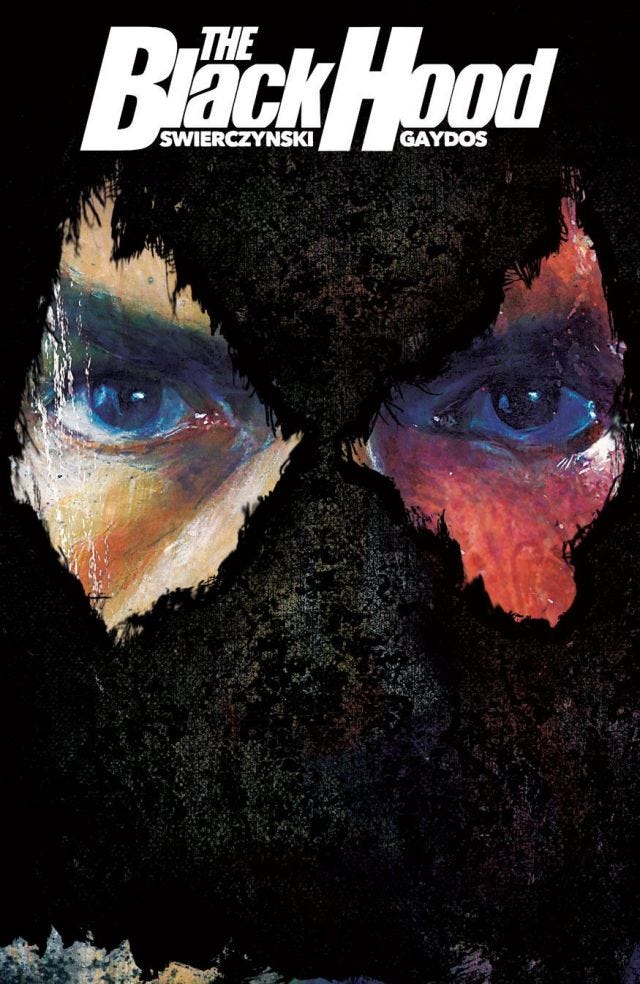 THE BLACK HOOD, the first book in the super hero line of comics I'm editing, hits on 2/25. Monday is the last chance comic store owners have to up their orders. More info and preview artwork at Comic Book Resources.

I missed doing interviews and ran out of advice to give, so I decided to start talking to fellow writers during my twice-monthly bit of air time at Do Some Damage. The first person I had the pleasure of speaking with was Jess Lourey, who discussed her new self-published book THE CATALAIN BOOK OF SECRETS and the next Murder-of-the-Month mystery, FEBRUARY FEVER. She's great, easy to talk to and a good writer, so I was happy to launch the new format with her. Before that, I ran down my favorite books from 2014 and most anticipated books for 2015 list - let me know what you think.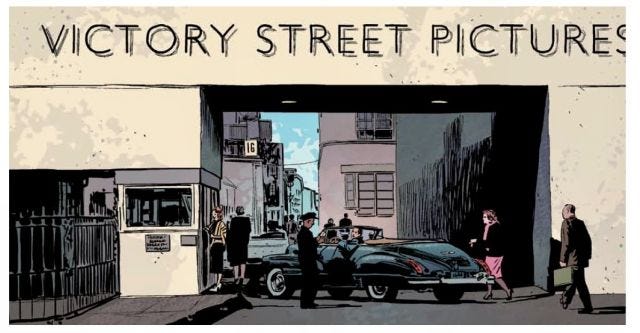 This gushing PopMatter piece came through while I was sitting at my cousin's wedding, so I couldn't really respond in my usual way - but wow! That was nice. I find effusive praise almost as difficult to react to as a bad review, so I'll just leave that there and mention everyone should be reading THE FADE OUT from Ed Brubaker and Sean Phillips, via Image Comics. It is, hands down my favorite current comic series.

Speaking of comics, I've been reading the entirety of Jaime Hernandez's Love and Rockets run. I've re-read and continued past where I left off a few years ago and I have to say I finally "get" it. Which may just prove I'm way behind everyone else, but so what? It's the kind of work I can relate to on many levels - the love of music, the art style, having gone through similar experiences as a Cuban kid in Miami. It's emotional and beautiful and heartfelt while still being silly, funny and indebted to classic super hero comics and more. The characters - from leads Maggie and Hopey to other, secondary players like Izzy and Penny Century, feel like old friends. Not linear in the way mainstream comic readers expect, but much more fulfilling because of that. Jaime's influences - ranging from Harry Lucey's Archie work to 80s punk rock, are visible on every page and it's a great mash-up to behold. I think it's my favorite comic book run ever. Maybe I'm still basking in the glow. I'm almost done with GOD AND SCIENCE, Jaime's super hero romp serialized in LOVE AND ROCKETS: NEW STORIES - which I enjoyed but I think suffered a bit for me because I know the much-loved and acclaimed THE LOVE BUNGLERS is next. If you're not sure where to start, Sean has a great roadmap for navigating the somewhat complicated Los Bros Hernandez publishing history.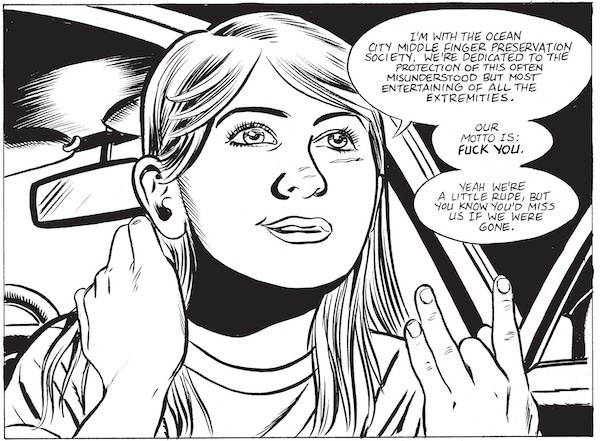 I went through a similar series discover/re-discovery last year with David Lapham's beloved but also underrated indie crime comic book opus STRAY BULLETS, which is enjoying a bit of a rebirth thanks to reprints and a new series from Image. It's a long read, and like LOVE AND ROCKETS takes some detours - but they're valuable journeys and add to the overall story, so it's worth it in the end. The crimes and stories spotlighted every issue start to inch toward each other to create a bigger story. You won't be able to leave the book once you discover the overall tale writer/artist Lapham is trying to tell. Really glad Amy Racecar's back.

There will be another Lisbeth Salander book, much to the dismay, I'd imagine, of Larsson's life partner Eva Gabrielsson (the deceased author's brother and father control the estate, it appears). Though I won't be reading the book, I have enjoyed some "continued adventure" novels featuring the characters of deceased authors. Most recently, Reed Farrel Coleman's tightly-written BLIND SPOT, starring Robert B. Parker's Jesse Stone. The news also gave me an excuse to re-read Sarah Weinman's excellent overview of the publishing industry's habit of reviving characters with new writers, from The Nation.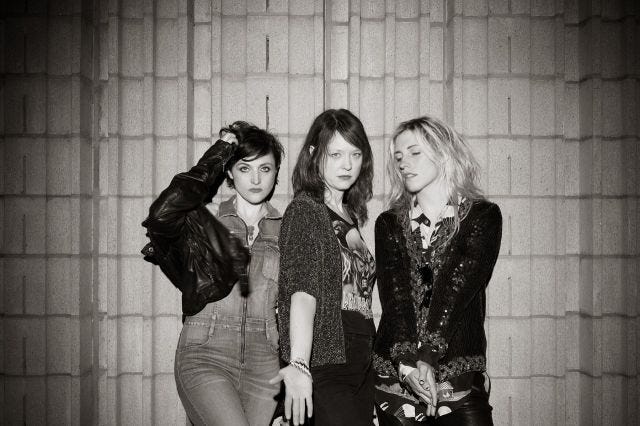 Before I go, a few albums that have been in heavy rotation:

Sleater-Kinney, No Cities to Love
Ex Hex, Rips
Jenny Lewis, The Voyager
Speedy Ortiz, Major Arcana

I don't imagine these will all be this long, but who knows. Thanks for coming along!