Stuff & Nonsense 075: Cheerleader
On Anthony Awards, what I'm reading, and our writing community
Hey friends - how are you?
I ask that with the understanding that things are generally "not great" to "fraught." But I hope you're making the best of this insane time. Oh yeah, don't forget to vote.
So, amidst all the election stress and general anxiety in the world, I did get some pretty great news last weekend: I won the Anthony Award for Best Short Story, for "Red Zone," which was part of the Pa Que Tu Lo Sepas anthology released by Down & Out Books and edited by Angel Luis Colon. In addition to that win, my last Pete Fernandez novel, Miami Midnight, was nominated for Best Novel - an award that went to the wonderful Hank Phillippi Ryan for The Murder List. Huge congrats to all the winners and nominees. Big thanks to Eric Campbell at D&O and Angel for believing in my story - a nasty little dose of football noir with a Latinx lead. It was a piece I'd been thinking about a lot, and I'm so glad it earned this honor.
The Anthony Awards are, basically, like the People's Choice Awards for crime fiction - chosen by attendees of the annual Bouchercon conference (which was virtual this year - kudos to the organizers for pulling off an amazing event!). So, in short, by readers and authors. It's a huge honor - and one that really put this whole journey (so far) into perspective for me.
I've been going to Bouchercon for a long time. Long before I was a writer, I was attending as a fan. I waited in line to get Laura Lippman to sign a copy of the first Tess Monaghan book. I raised my hand and asked Michael Connelly a question about his writing process. I watched panels featuring writing heroes like Megan Abbott, Sara Gran, Duane Swierczynski, Greg Rucka, and more. Most importantly, I was welcomed into the crime fiction community - a network of authors, readers, reviewers, and fans that is as nice as you can imagine. Since then, it's really been a bedrock for me in terms of support, advice, friendship, and networking. The irony is not lost on me, but it's true - the nicest people in publishing work on the darkest stories. It all hit me at once, as I sat in a "Zoom Room," chatting with fellow Best Novel nominees Hank, Laura Lippman, Steph Cha, and Rachel Howzell Hall. It's been a wild, amazing trip, and I'm so thankful for it.
At the end of my acceptance speech I gave the crime fiction community a big thank you, and I'd like to reiterate that here. It's important for creative people - in books, comics, podcasts, or whatever - to not only figure out how to promote and sell their work, but how to help others and be good citizens, basically. Be mindful of the books you love. Talk about them. Promote the authors that create them. It's such a bonkers time for everyone, but books really do bring us together in a way most other things cannot.
Don't take my word for it, though. Good pal, superstar author, and all-around awesome person, Amina Akhtar (buy #FashionVictim now!) had some thoughts to share, too:
"Community is key in writing. Yes it's a solo, lonely thing to write. But we all need help to become better. Finding a group of writers—even just as friends!—who can push and challenge you while also being incredibly supportive is a game changer. Find those people! Your writing—and your life—will be better off for it!"
OKAY, MOVING ON
Don't have any formal news I can talk about, but I was on a panel about writing private eyes during Bouchercon, which got me thinking about my own PI, Miami favorite mess of a detective, Pete Fernandez. A lot of people ask me if I'd ever consider doing a Pete graphic novel. Well, the answer is yes. This is probably what it'd look like. Art by good pal, awesome artist, and Pete Fernandez fan, Greg Scott.
Also, is that Erica Wright's PI, Kat Stone in there, too? Hmm. Maybe?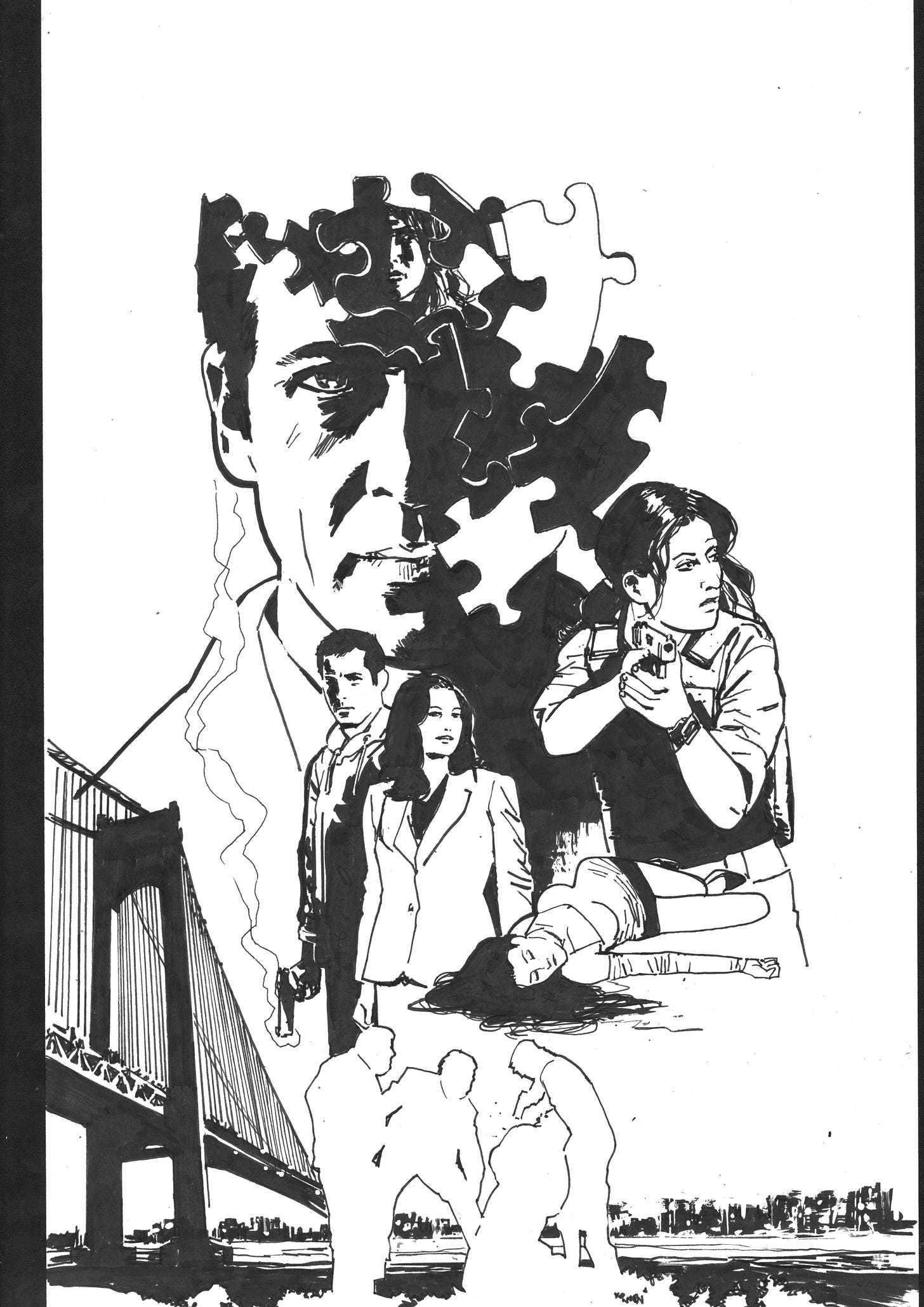 Would be cool, huh? Yeah…
A FEW LINKS OF NOTE
Happy birthday to a movie I love but will never watch again.
This Nate Chinen profile on legendary jazz/classical pianist Keith Jarrett is heartbreaking, but also a reminder of his titanic talent and skill.
Rachel Howzell Hall is not only one of the best crime writers working today, she's a great person. I'm lucky to call her a friend. Check out this fantastic L.A. Times profile of her and her latest, greatest novel.
I will click and read any and all Edward Hopper process pieces forever and ever.
WHAT I'M READING
Two books are hitting me really hard lately - in the best way possible.
I've made no secret of my love for David Carr's memoir, The Night of the Gun. It's a raw, unapologetic look at addiction and recovery, and the debris we leave behind. His daughter, Erin Lee Carr, has also written a memoir - All That You Leave Behind - that I can't put down. I'm kicking myself for taking this long to get to it. I'm only a few chapters in, but those few have been riveting and painfully human.
Not surprisingly I'm also a sucker for Miami true crime and historical books, so Nicholas Griffin's The Year of Dangerous Days feels right up my alley - chronicling Miami's tumultuous 1980 - which included a number of seismic changes in terms of race, crime, and more. I'm jumping between both books and finding it hard to decide when to pivot. Highly recommend both.
That's all I've got this week! Stay safe and vote!