Stuf & Nonsense 049: Dry
Hi!

There's lots of good stuff to share this week, so I'll keep my pre-game show to a minimum.

This edition features an interview with the wonderful Alissa Nutting about her must-read new novel, Made for Love, comics writer and newly-minted crime writer Fred Van Lente talking about bringing the laughs into his myteries and Stuff & Nonsense veteran Angel Luis Colón discussing his love of comics and how they played a part in the writing of his Blacky Jaguar novella series.

These newsletters with multiple authors on the bill rarely fit into a theme, but we have three great writers talking about humor to varying degrees, which is nice. I wish I could say I planned it this way, but you know the drill.

The topic of humor reminds me of a Twitter missive I sent out last week, that basically said even the darkest crime fiction can benefit from a dash of well-placed humor, even if just for levity's sake. (Few things turn me off more than a book with absolutely no sense of humor.) Anyway, I think this merits repeating, and it's something I try to remember in my own writing. It's okay to laugh while you cry.

Before we dive into the chat with Alissa, a few quick notes/links:

I joined Sarah Weinman and Crime By the Book to talk about newsletters and how to build a successful one. I don't claim to know the answer, but it was fun to share advice and ideas at The Thrill Begins.

I spoke to Dennis Lehane about his latest novel, Since We Fell, at Los Angeles Review of Books.

I spotlighted thriller writer Peter James at ITW's The Big Thrill, timed to the release of his new book, Need You Dead.

Elizabeth A. White had some nice things to say about Dangerous Ends at her site.

***
About Alissa:

Alissa Nutting is an assistant professor of English at Grinnell College. She is the author of the story collection Unclean Jobs for Women and Girls, as well as the novels Tampa and Made for Love.



About Made for Love:
Hazel has just moved into a trailer park of senior citizens, with her father and Diane—his extremely lifelike sex doll—as her roommates. Life with Hazel's father is strained at best, but her only alternative seems even bleaker. She's just run out on her marriage to Byron Gogol, CEO and founder of Gogol Industries, a monolithic corporation hell-bent on making its products and technologies indispensable in daily life. For over a decade, Hazel put up with being veritably quarantined by Byron in the family compound, her every movement and vital sign tracked. But when he demands to wirelessly connect the two of them via brain chips in a first-ever human "mind-meld," Hazel decides what was once merely irritating has become unbearable. The world she escapes into is a far cry from the dry and clinical bubble she's been living in, a world populated with a whole host of deviant oddballs.

As Hazel tries to carve out a new life for herself in this uncharted territory, Byron is using the most sophisticated tools at his disposal to find her and bring her home. His threats become more and more sinister, and Hazel is forced to take drastic measures in order to find a home of her own and free herself from Byron's virtual clutches once and for all. Perceptive and compulsively readable, Made for Love is at once an absurd, raunchy comedy and a dazzling, profound meditation marriage, monogamy, and family.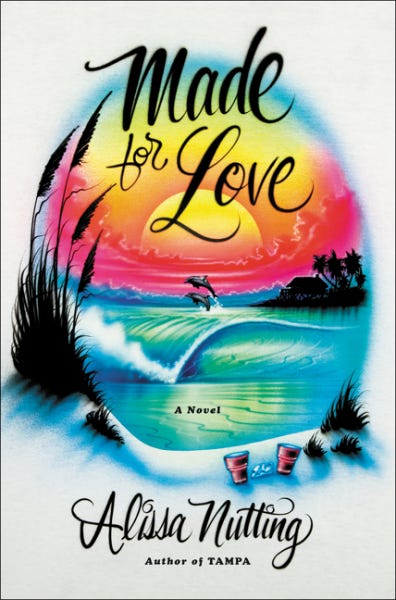 Can you talk a little bit about how Made for Love came to be? Your last novel, Tampa, was so well-crafted—and not lacking in controversy and bravery, too, which I really appreciated as a reader. What made your new novel the next step for you?
After writing a book like Tampa—one that's engineered to make the reader angry, uncomfortable, etc.,--I wanted to do something more vulnerable. Made For Love is a comedy, which to me means it's a book about pain. It's a fictional, balls-out bizarre novel, but the loneliness that's at the core of Hazel's mistakes is quite real to me.
Made for Love strikes me as a story of escape and rebirth—from a broken marriage, from technology and from society. How closely does Hazel's journey hit home for you, and why was it an important story to tell now?
I started writing the book in earnest in 2014, about a year before I got divorced, with this personal question of how to escape someone. The hasty marriage of my youth wasn't to a billionaire tech entrepreneur, but I mean, I doubt I would've been opposed to that. I married very young because I was afraid to be alone. The feelings I get when I'm alone terrify me. I'm still working on those. I tended to want a parent's unconditional love and attention from relationships, which isn't possible. Divorce shattered me because I felt like it meant I was unlovable. It truly felt like death.
I stopped working on the book for several months during the worst of it. I did an Olympic amount of therapy. I actually didn't start writing again until I met another novelist and fell in love. Not to be crass, but it was the perfect vantage point to write a novel that's thinking through intimacy. Like standing on the border between two states. I was observing the aftermath of my first marriage and the development of my second, noting the differences. As the plot took shape, the book's themes of control and surveillance began to resonate with the current political climate as well.
Your books always have a strong element of mystery or thriller in them, but they're packaged in very—and wonderfully—unconventional and provocative ways. What books do you cite as inspirations for Made for Love? Any authors that you felt like you were channeling in particular?
I was appreciating stories with a political sci-fi bent, like Junot Díaz's "Monstro" and Leslie Nneka Arimah's "What It Means When a Man Falls From the Sky," and satirical novels that get at pain like The Ask by Sam Lipsyte and The Sellout by Paul Beatty and Super Sad True Love Story by Gary Shteyngart. But also gadgetry magazines from companies like Hammacher Schlemmer. I mean, look at this selfie drone. I am so proud of myself for not using my daughter's preschool tuition to buy this. The logical part of me is glad I am choosing to send her to school instead. Inner me is all: LET HER STAY HOME AND WATCH TV SO YOU CAN BUY THE SELFIE DRONE.
I'm going to go out on a limb and say you made the right call. Now, I know you're busy with the book about to hit, so I have one more question: what's your writing process like? Are you a big plotter, or do you just chase the idea as it happens?
I can only describe my attention span as "highly corruptible." For novels, I have to have an outline. It always changes—Made For Love went through about seven major revisions—but if I'm doing anything longer than a short story, I need at least a placeholder map. 100k words is too long for me to wander around in the dark. I will lose my way in every sense.
***

About Fred:

Fred Van Lente is the #1 New York Times bestselling, award-winning writer of comics like Archer & Armstrong (Harvey Award nominee, Best Series), Action Philosophers! (American Library Association Best Graphic Novel for Teens), and Cowboys & Aliens (with Andrew Foley), the basis for the feature film. Ten Dead Comedians, his first novel, comes out from Quirk Books July 11, 2017.


About Ten Dead Comedians:

As the story opens, nine comedians of various acclaim are summoned to the island retreat of legendary Hollywood funnyman Dustin Walker. The group includes a former late-night TV host, a washed-up improv instructor, a ridiculously wealthy "blue collar" comic, and a past-her-prime Vegas icon. All nine arrive via boat to find that every building on the island is completely deserted. Marooned without cell phone service or wifi signals, they soon find themselves being murdered one by one. But who is doing the killing, and why?

A darkly clever take on Agatha Christie's And Then There Were None and other classics of the genre, Ten Dead Comedians is a marvel of literary ventriloquism, with hilarious comic monologues in the voice of every suspect. It's also an ingeniously plotted puzzler with a twist you'll never see coming!


Agatha Christie's novel And Then There Were None was published in the United States in December 1939. I have read that Christie had the idea for the basic premise for And Then There Were None long before she sat down to write it. That idea, if you don't know, revolves around ten people being lured to a deserted island where they're killed off, one-by-one, in methods that seem to be predicted by an English nursery rhyme, "Ten Little Soldiers" (not what the book was first called when it first came out in England, but the Americans made her change the title -- you know when something is too racist for 1939 USA, it's really racist).
Apparently, Christie had had this idea rattling around in her head for a while, and she knew it was a great one, but she took a while to commit it to paper because it was such a great idea she found it hard to believe no one else had thought of it before her and beaten her to the punch. She did some research and once she determined that, no, she had stumbled across black gold first and no one had staked their claim in it and started drilling, she wrote the book and I'm sure she's happy she did, because in her long career it's widely considered her masterpiece and is apparently not just the best-selling mystery of all time it is in the upper rankings of bestselling books of all time.

But I had the same feeling as Christie when Quirk Books and I were first talking about my novel Ten Dead Comedians (on shelves July 11), which is the same basic idea as And Then There Were None except instead of stiff-upper-lipped British types you have a wide variety of stand-up comedians as potential suspects and victims. Like Christie, I was surprised no one had tried to marry comedy and the murder mystery before, beyond, like mysteries that were also comedies, like Murder by Death or the movie version of Clue.

After all, so much of the language around stand-up comedy is metaphors for violence. If you do really well in a stand-up set you "killed," you "slaughtered" the audience; if you did poorly you "bombed" or "died." It's a real kill or be kill vibe in the comedy club, or maybe predator and prey. If you are as terrified by public speaking as most people are, this life-or-death language isn't so surprising. The audience is fickle and unpredictable. Its dangerous. It can turn on you any moment and you've got to be able to read the room and adjust your act accordingly, or your show biz lifespan is not going to be very long. Maybe lion-taming is the better comparison.

So to this lonely island in the Caribbean come ten comedians, all of whom are familiar types, perhaps, but unique in their own ways -- there's a retired late night talk show host, there's the prop comic with the sledge hammer everyone looks down on and a "blue-collar" comedian multi-millionaire who hasn't seen the inside of a trailer park since the first Bush administration despite his Good Ole Boy schtick -- and so on.

Suffice to say, yes, they start getting knocked off one by one, and yes, one of them did it, and no, you're not going to be able to figure out who. No, I mean, seriously. You won't. I can say that because, you know, I'm the writer, I hold all the cards. Trying to figure out a mystery is like trying to win at Three-Card Monte, the whole thing is rigged against you from the start.

If you prevail at Three-Card Monte it's not because you won, it's because the dealer screwed up.

Something else mysteries and comedy have in common:

The solution to the murder, like the punchline to a joke, should feel both inevitable and surprising at the same time...
***
About Angel:

Angel Luis Colón is the Anthony and Derringer Award-nominated author of NO HAPPY ENDINGS, the BLACKY JAGUAR series of novellas, and the upcoming short story anthology; MEAT CITY ON FIRE (AND OTHER ASSORTED DEBACLES). His fiction has appeared in multiple web and print publications including Thuglit, Literary Orphans, and Great Jones Street. He's repped by Peter Steinberg at Foundry Literary.



About Blacky Jaguar Against the Cool Clux Cult (A Song of Piss & Vinegar Book 2):

Ex-IRA hard-ass, wanted international criminal, and all-around hooligan Blacky Jaguar is back and on the run.

After painting the Cross Bronx Expressway red—literally—and losing his beloved car Polly to his ex, Linda Chen (who isn't returning his calls because she's not a complete idiot), Blacky decides his time is running short and has tasked himself with one last stop before tossing hands up and surrendering: Graceland.

Of course, nothing Blacky Jaguar sets his mind to ends up being simple. Contacted by an old frenemy, Broderick Kimbo, Blacky finds himself strong-armed into protecting the budding leader of a growing social justice movement against escalating attacks from an online cabal known as The Cool Clux Cult and their shadowy internet tough-guy leader, neilDATASStyson.

What happens when Blacky Jaguar meets a problem he can't punch? What happens when our Irish hero discovers a pair of Doc Martens is utterly inappropriate for walking the wilderness? What happens when Blacky discovers the glory of the Chicken Biscuit?

What happens when Blacky Jaguar goes up against The Cool Clux Cult?



My very first book was a yellowed copy of Web of Spider-Man Vol. 3 Issue 8. Spidey was in a black suit on the cover and it was a terrible, terrible issue with a terrible, terrible villain (Ludlow Grimes, I believe, so yeah, JAM-PACKED EXCITEMENT in that issue).

I fell in love.

Spidey became the mainstay but would soon be joined by the X-Men, Thor, The New Warriors, Superman, and Batman. The stories and art were bombastic, the costumes were the originals (90's pouch-a-palooza wasn't a thing yet) but the dialogue was king for me.

Wait, what?

We take it for granted; dialogue. Instead, we like to place narrative as the center-piece of most fiction. I've always found this strange because once stilted dialogue comes into play? Once we get a paragraph's worth of talking between multiple characters at a time? You've lost me.

And comics, especially as they evolved, have learned to handle that problem better than most fiction I read these days. Conversation is a dance. There's a rhythm to this and when one person makes all the steps while the other stands there, guess what happens: not dancing, the literal opposite of dancing. It is stumbling, the absence of grace. Like a rant from a writer that's going on too long. The parrot is indeed perished.

I take the lessons I learned from comics to heart. I frame my action precisely, I try to keep certain things tight, but I especially bear conversation rhythm in mind. I take notes from writers like Peter David and Brian Michael Bendis (two masters, in my mind) in how my characters interact. It's essential to have living, breathing characters that do more than "feel" real. They need to breathe and speak like real people do.

I took that very much to heart with my latest, BLACKY JAGUAR AGAINST THE COOL CLUX CULT. It's a story with multiple characters from varying walks of life that dictate how they interact with one another.

Though, I'll hard stop with dialect or regional accents. I'll leave that to Chris Claremont.

***
That's all for this go 'round! Thanks again.