News: MIAMI MIDNIGHT cover reveal/excerpt + Lethal Lit arrives
Hi everyone!

Taking a quick break from our regularly scheduled interviews and GIFs to alert you to some major news on the book and podcast front.

In case you missed it, Entertainment Weekly debuted the cover to the fifth Pete Fernandez Miami Mystery, Miami Midnight, on Friday. The story includes a short interview with me and an excerpt from the book.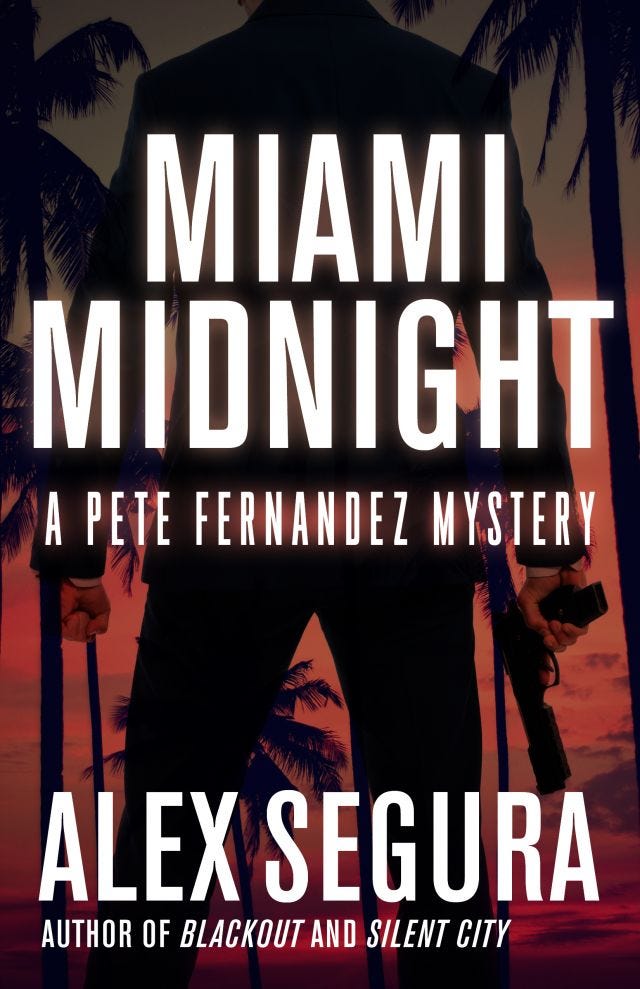 Isn't that a beauty? I've loved all of the covers Polis Books have put together for the Pete novels, but I think this one is my favorite. You can pre-order Miami Midnight on Amazon and Indiebound, with more links to come.

Here's the description for the novel, which hits July 16:

A year has passed since Pete Fernandez's latest, closest brush with death and he's managed to rebuild his life, running a small bookstore by day and working cases in Miami by night. Sober and finally embracing life, Pete still finds himself watching as events whizz by -- including the engagement of an old flame. When an aging Cuban mobster asks Pete to find out who killed his drug-addicted, jazz pianist son and to locate his missing daughter-in-law, Pete balks - until another dead body suggests that the death of the mafioso's son might tie into the people that almost ended Pete's life, and reveal an unexpected, dangerous truth about the Miami private eye's own blurred past.

As I note in the EW piece (in conversation with the great Anthony Breznican), this is a much more personal and intimate story for our reluctant PI, Pete Fernandez - which is saying a lot, considering what I've put him through. It's also the one Pete story I've always wanted to tell, but only felt ready to write now. Like the previous books in the series, Miami Midnight weaves events from the past and shows how they echo in Pete's present. I don't want to give too much away this early on, but this novel felt much more menacing and private in the writing, with the challenge Pete was facing cutting right to the core of who he is in an unexpected way. It also leaves Pete - for better or worse - exactly where I'd hoped he'd be when I realized I was writing a series. I hope you'll check it out next summer.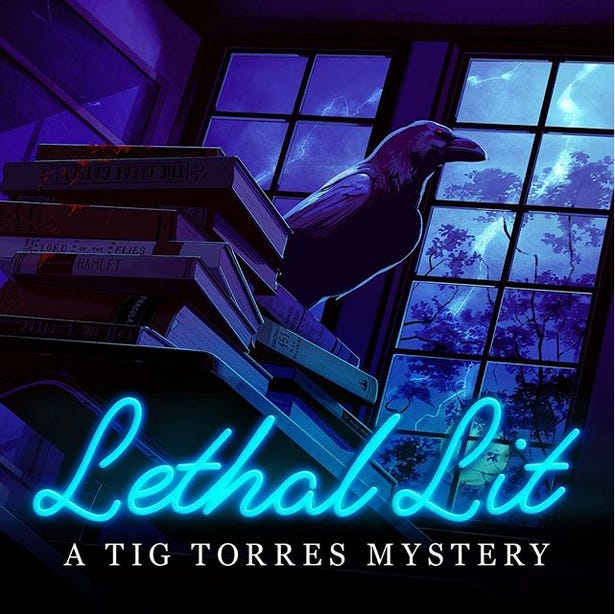 In other big news, Lethal Lit has launched! The scripted crime fiction/YA podcast was co-written/co-created by me and the amazing Monica Gallagher (check out her webcomics, Assassin Roommate and Boo! It's Sex, if you haven't!) and co-created/co-produced by Einhorn's Epic Productions via the fine folks at iHeart Radio Originals. It's iHeart's first-ever scripted podcast and, so far, the reaction seems to be resoundingly positive.

Here's the podcast description:

The Lit Killer is back! Einhorn's Epic Productions and iHeartRadio present "Lethal Lit: A Tig Torres Mystery" - a new six-part scripted podcast series. Join teen detective Tig Torres as she investigates the twisted mystery of the infamous Lit Killer murders. But as she gets closer to the truth, the killings, each based on murder scenes from classic literature, begin all over again...with her as the final target.

Lethal Lit was included in Vulture's weekly roundup of true crime podcasts by the great Rebecca Lavoie, who said "Lethal Lit boasts high production values, solid performances, and the kind of snap-crackle writing that can turn a show for made teens into the best kind of adult guilty pleasure." High praise indeed! The third episode of the podcast dropped this morning, and you can subscribe via your favorite podcast app or by visiting the Tig Torres website. I look forward to hearing your theories on who the Lit Killer is!

That's the big stuff for now. Thanks for reading and make sure you vote tomorrow! Visit Vote.org if you're unsure of your polling place, registration status or what's on the ballot. Exercise your civic duty!

Talk soon,
Alex