More on MIAMI MIDNIGHT - plus...THE BLACK GHOST!
Hey everyone,

Hope you're all enjoying the waning days of summer that, strangely, feel like peak humidity and heat? At least here in Queens, NY.

It's been a busy, buzzy few weeks with the release of the fifth and final Pete Fernandez Mystery, Miami Midnight, and I honestly don't think it could have gone better. Here's what people have been saying: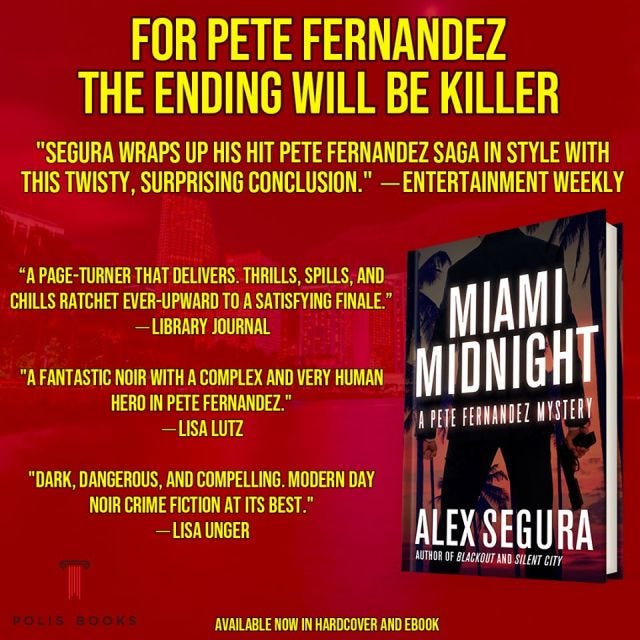 I launched the novel last Friday at my local Queens indie, Kew & Willow Books, to a packed crowd and wonderful, thoughtful questions from fellow writer/pal Kellye Garrett. On Tuesday, I joined good friend/superstar Rob Hart at The Mysterious Bookshop to bask in a bit of the massive spotlight hovering over his latest: the thrilling and timely The Warehouse. Really amazing, standing-room-only crowd, thoughtful questions, and just a fun atmosphere. Feeling very grateful to see so many readers, friends, and supporters showing up to launch this book.

Here are some pics from both events: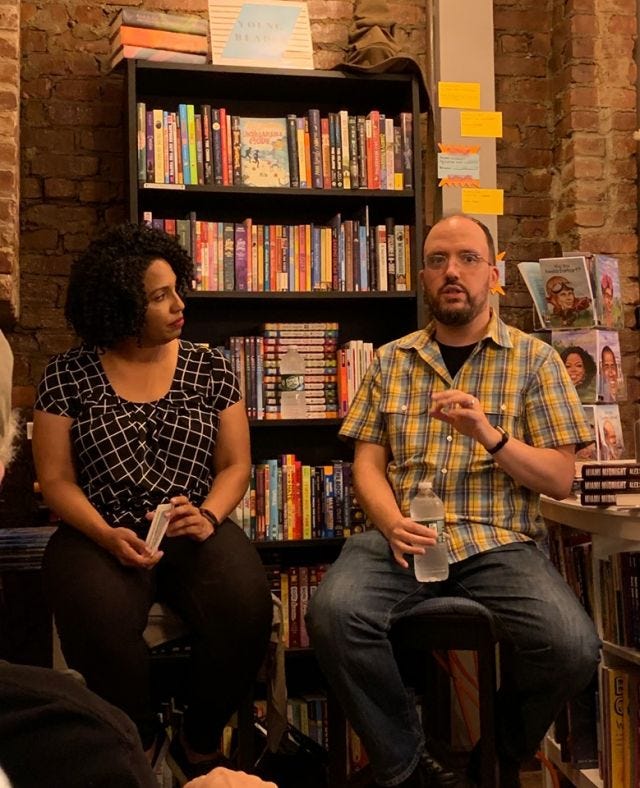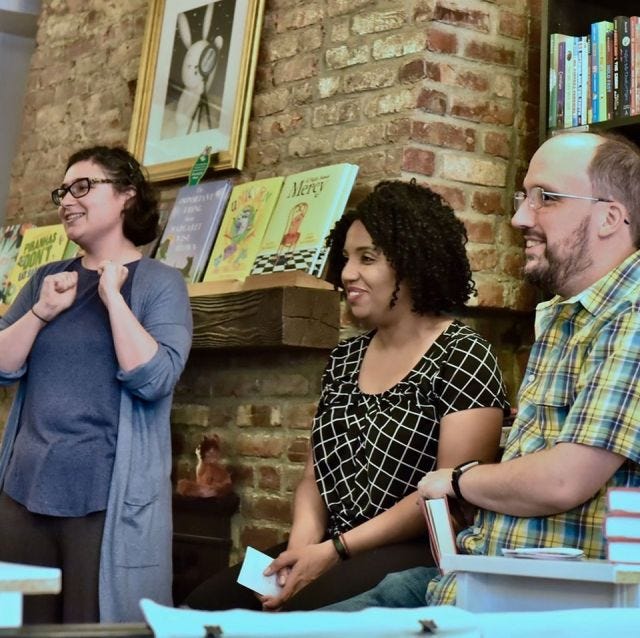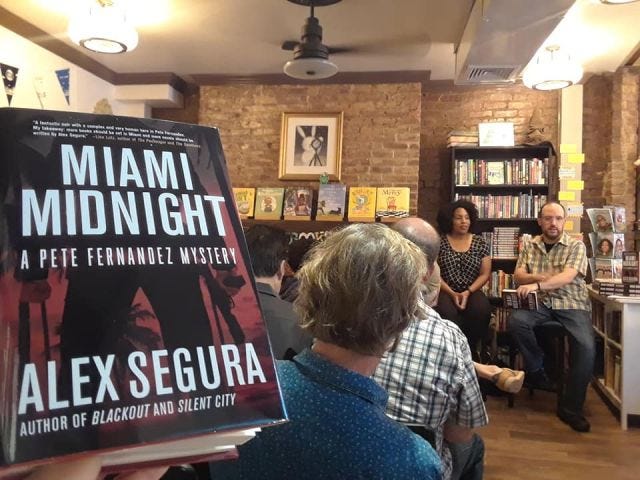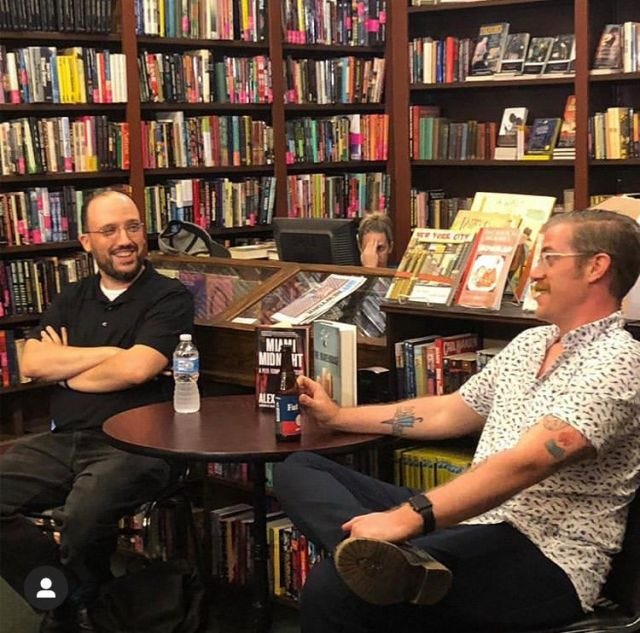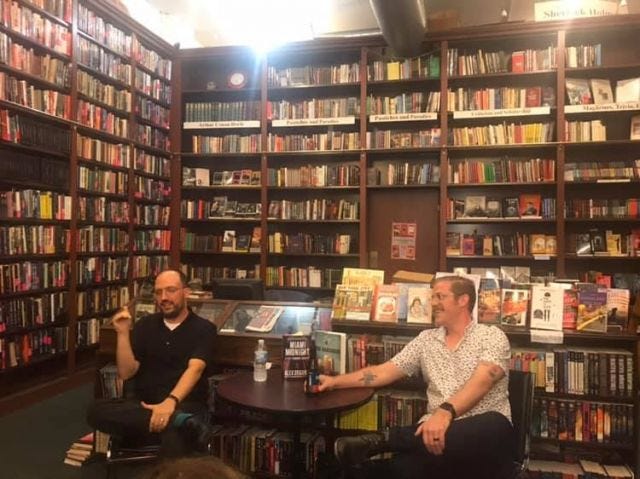 On the press side, launch week was pretty nutty - here's a quick-ish recap:

Rob and I were featured in amNEWYORK, where we interviewed each other about our respective new launches. It was even in the print edition, which is all kinds of bizarre and fun. (📸 by Kellye Garrett)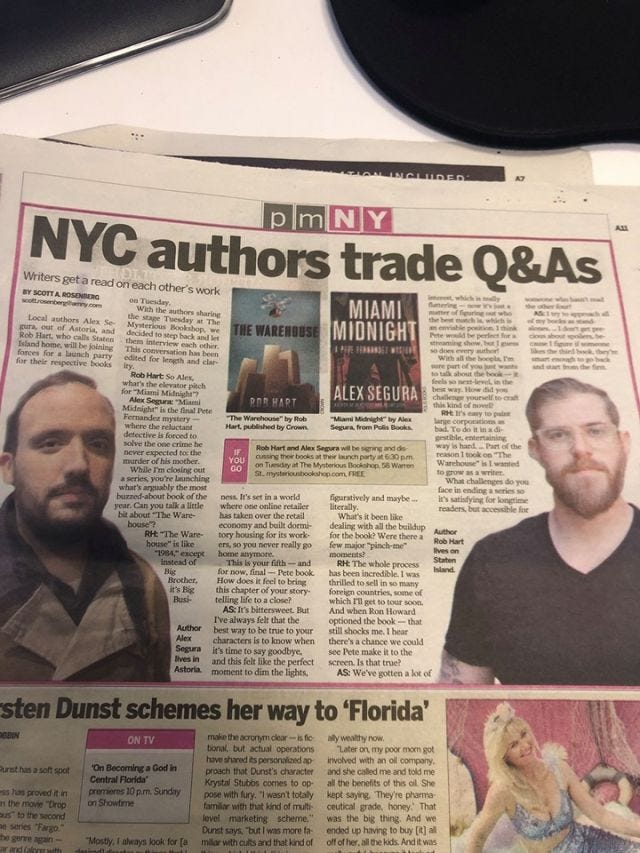 I talked to The Hollywood Reporter about closing out the Pete series, and what's next.

I spoke to Nick Kolakowski at Mystery Tribune and Steph Post at CrimeReads about the book, and both interviews were thoughtful and engaging. Lucky to be in conversation with so many great writers while pounding the pavement for the final Pete novel.

Bookreporter.com had nice things to say about the novel: "My gold standard for novels these days is awarded only to those that consistently surprise in the sense that they leave me unable to predict what will happen next. Segura and MIAMI MIDNIGHT do this from beginning to end."

So did The Real Book Spy: "Simply put, Miami Midnight is superb."

CrimeReads and Writer's Bone both included Miami Midnight in their August "must-read" roundups, which is wonderful.

I was able to take part in a lively Reddit AMA on the Books subreddit.

I shared my playlist for Miami Midnight at David Gutowski's must-read website, largeheartedboy.

Chuck Wendig let me take over his site to discuss some of the ingredients that helped me create my novel.

Related - my second novel, the serial killer caper Down the Darkest Street, was a Kindle Daily Deal this week. You can still snag it for 99 cents, but I imagine the reduced price won't last long.

If you love true crime, you should subscribe to Sarah Bunting's The Blotter Presents - which updates weekly. I was a guest last week, singing the praises of Leah Carroll's fantastic true crime memoir, Down City, and discussing a less-than-fantastic episode of FBI Files that spotlighted Miami cult leader Yahweh Ben Yahweh, who served as an inspiration for my fourth book, Blackout.

So, all in all, a really exciting launch week. Thanks to all the friends, fellow authors, readers, and colleagues that helped spread the word. It means a lot and makes a big difference.

If you missed it, we created this handy social media graphic, which you can share on your channels.

Just send people to this link: http://www.alexsegura.com/books/miami-midnight/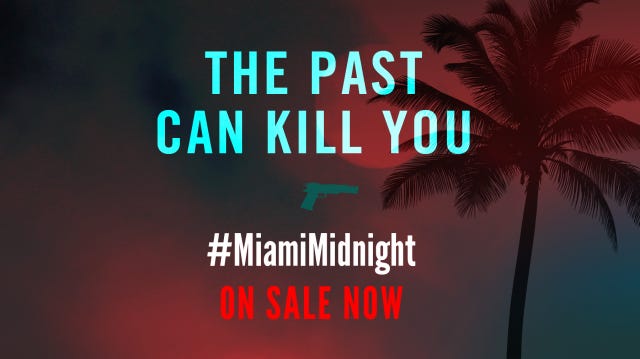 ***


So, here's something exciting that I've been waiting to talk about for a long time: I'm launching my first-ever creator-owned comic book series with an amazing team of co-creators and collaborators.

THE BLACK GHOST drops September 18 from Comixology Originals. It's co-written by me and my Lethal Lit partner, Monica Gallagher, with art by George Kambadais, letters by Taylor Esposito, colors from Ellie Wright, and edits by the wonderful Greg Lockard. It's a superhero/noir tale, and we're really excited for you all to read it. Here's the official description:

Meet Lara Dominguez—a troubled Creighton cops reporter obsessed with the city's debonair vigilante—The Black Ghost. With the help of a mysterious cyber-informant named LONE, Lara's inched closer to uncovering the Ghost's identity. But as she searches for the breakthrough story she desperately needs, Lara will have to navigate the corruption of her city, the uncertainties of virtue, and her own personal demons. Will she have the strength to be part of the solution—or will she become the problem?

This story has been percolating in our collective minds for a long time, and is part love letter to superhero stories like The Question, Sandman Mystery Theater, and the Fraction/Thompson Hawkeye runs, but also lets us put our own spin on the genre, with a flawed, obsessive, Latinx protagonist who might be in over her head.

I can't wait to showcase some of George's fantastic art and talk more, but for now, Greg Smallwood's jaw-dropping-ly beautiful cover to #1 will have to do! You can subscribe to the series now via Comixology, or pre-order #1. Hope you'll give it a shot.

The news was broken at io9, along with titles from A-list talents like Justin Jordan, Vita Ayala, James Asmus, and more. The icing on the cake, though, was seeing THE BLACK GHOST in this New York Times roundup of eight comic series you need to read launching at the end of summer. So awesome to see our book alongside titles by luminaries like Kieron Gillen, Dan Mora, Jeff Lemire, Michael Moreci, Paul Allor, and others. A truly head-spinning way to launch a book we're all very proud of. The news also got picked up by major outlets like The Hollywood Reporter, and comic trades CBR, Multiversity, Newsarama, Bleeding Cool, and Comics Beat.

I...feel like that's a lot? But before I go, here's what I've been reading:

Becoming Superman: My Journey from Poverty to Hollywood by J. Michael Straczynski: An intense, brutally honest and inspirational memoir from the creator of Babylon 5, Sense8, and various comics. I know JMS in passing, but this is an eye-opening look at how a child from a very tough, abusive background clawed his way to success as a writer.

The Warehouse by Rob Hart: I know, I know, I know. EVERYONE is talking about this book. But I dove back into it to prep for my event with Rob and I was struck by how tightly-written and well-crafted it is. I couldn't put it down, even knowing what was coming next. Please, make sure you pick this up.

Hawkeye by Kelly Thompson, Leonardo Romero, Michael Walsh, and Jordie Bellaire: I've read this run a few times, but I come back to it a lot - I love Kelly's writing, and I feel like Romero's Mazzuchellian art style is totally in my wheelhouse. This entire arc is heartfelt, funny, sharp, and just a lot of fun to read. If you wan ta collection to hand to someone looking to get into modern superhero comics, try this.

Until next time - have a great day!