MIAMI MIDNIGHT - the final Pete Fernandez Mystery - is on sale TODAY!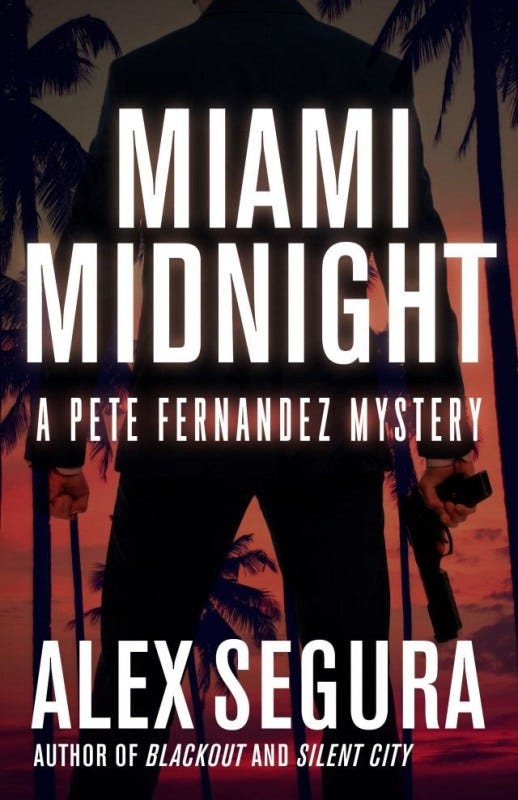 Today's the day!

Miami Midnight, my fifth - and final - Pete Fernandez Mystery is out in the world. If you haven't preordered it yet, you can grab a copy here.

Miami Midnight finds Pete retired and trying to live a quiet, sensible life - shaken from the events at the end of the previous novel, Blackout. But he and his erstwhile partner, Kathy Bentley, get pulled back into the investigative game when aging Cuban gangster Alvaro Mujica enlists them to find out the truth about the death of his son, Javi - a troubled, tragic jazz pianist. The mystery grows more tangled when Pete is approached by one of his father's old police colleagues, who claims to know the truth about a mystery Pete never considered: the death of his mother. But instead of questioning the retired cop, Pete instead finds a dead body. Who wanted to keep the truth about Graciela Fernandez under wraps? And what does it have to do with the mysterious death of Javier Mujica?

Well, now you can find out!

Miami Midnight is the culmination of over five years of storytelling, weaving elements from all four previous Pete novels with a new, haunting mystery to create a finale I'm quite proud of. But don't take my word for it.
In terms of events, I'll be keeping pretty busy for the next month or so.
Here's a rundown of what else I have in store, events-wise: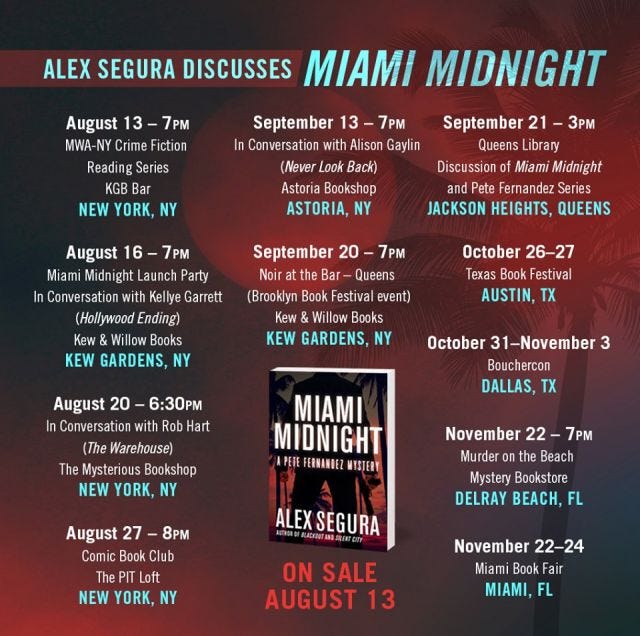 So...that's it? I hope you enjoy the book. Here, again, is where you can pick it up.

With that, I have to admit I'd feel dirty just plugging myself - even on release day. So please allow me to suggest some great crime reads to pick up alongside Miami Midnight, based on my recent reading:
Not enough? Okay, here are a few more that you need to add to your TBR!
And, with that, it's time to sign of! I hope you enjoy Miami Midnight!

Wait - what, you want to know how you can help spread the word? Well...okay! It'd be great if you took a minute to share the below image along with this link:

http://www.alexsegura.com/books/miami-midnight/



Thank you, again, for your support! I hope to see you soon.