Discover more from Alex Segura
News and updates about my novel and comic book-writing work, plus reading recommendations!
Over 3,000 subscribers
Miami Midnight hits in about a month - and I could use your help!
Hi friends! I hope you're doing well. It's been a busy month or so, no?

I won't mince words - I'm in the throes of pre-publication insanity for my next novel, Miami Midnight, the fifth and, yes, final Pete Fernandez Mystery. How final? Well, we'll see.

Since we last spoke, the book's gotten some nice attention, including positive reviews at Publishers Weekly, Sons of Spade, Pop Culture Vulture, Writers Tell All, and inclusion in meaningful lists, like Book Riot, The Milwaukee Journal Sentinel, and SheReads. The Pete books were also spotlighted by Matt Coleman at Book Riot, who gave me a chance to name-check some of my favorite Florida crime novels.

But that's not all! I was a featured guest on Miami's NPR station, WLRN. The Sundial show interviewed me and fellow Florida crime writer Les Standiford (the John Deal series) in a lively discussion about one of the best of the best Miami crime novels, Miami Blues by Charles Willeford. Give it a listen if you can. Last, but not least, I talked about how Spider-Man - aka Peter Parker - was a huge influence on the creation of everyone's favorite stumbling Miami PI, Pete Fernandez. The essay serves as a nice chaser to my new, regular column chronicling my reread of classic Spider-Man comics. My publisher, Polis Books, is also giving away 100 digital copies of Miami Midnight at Goodreads, if that's what you're into.

But that's not what I want to talk to you about! See, authors are always chasing after this theoretical thing known as buzz. We can do a million interviews, get all the right reviews, you-name-it, and still struggle to tap into that magical "word of mouth." So I'd like you, dear reader, to help me with a little experiment.

All you need to do - not immediately, just some time before Miami Midnight drops on August 13 - is share the below image and point people to this preorder link: http://www.alexsegura.com/books/miami-midnight/



Easy, right? You don't have to do it more than once, but obviously, the more the merrier. You can even ask your followers to share/RT/etc. Feel free to tag me on your social media of choice, too. Thank you, thank you, thank you in advance for taking part in this insane little social media flash mob.

One more thing, before I pass the mic to one of my oldest friends in this crazy crime fiction biz, Tim Hennessy: I'll be unveiling more on my Miami Midnight events in a later newsletter, but I can confirm I'll be doing a launch event at my local indie, Kew & Willow Books in Kew Gardens, and co-headlining an event at The Mysterious Bookshop with good friend Rob Hart to celebrate the launch of The Warehouse, THE book of the season. Mark my words. I'll also be reading from Miami Midnight this Sunday at Shade Bar as part of this killer Noir at the Bar lineup.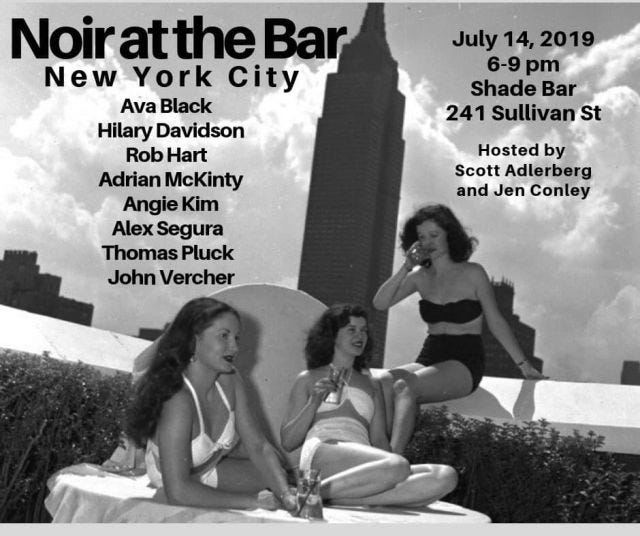 Wait, I forgot - if you want to catch up with the Pete book, it's a good time - Polis Books is releasing my fourth novel, Blackout, in paperback on July 30, with a snazzy, hard-to-ignore ANTHONY AWARD FINALIST sticker!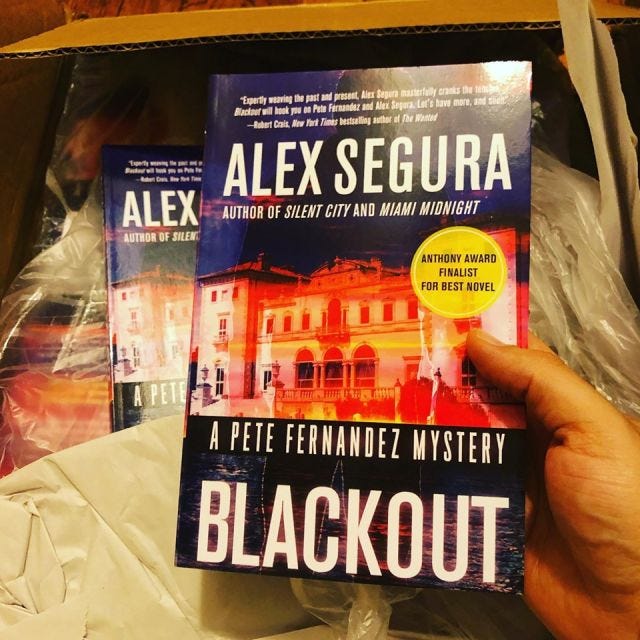 Okay, for real this time - that's enough from me! Here's Tim, sharing some thoughts on his superb crime anthology, Milwaukee Noir. ***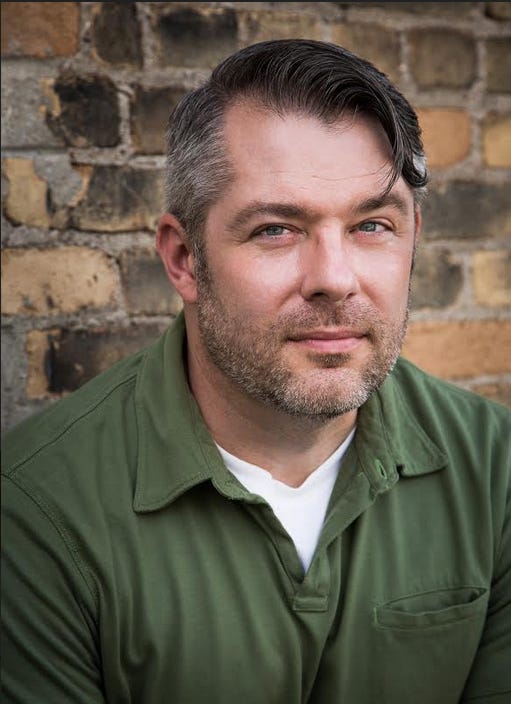 Tim Hennessy is a bookseller who lives in Milwaukee, WI. His work has appeared in Publishers Weekly, Tough, Midwestern Gothic, Crimespree Magazine, and the Milwaukee Journal Sentinel, among other places. He is the editor of the Milwaukee Noir Anthology from Akashic Books.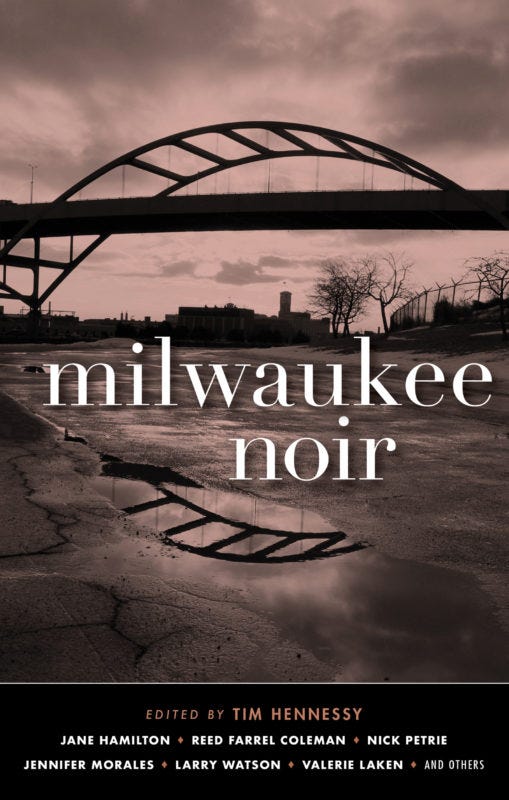 I've been a fan of Akashic Books' globe-spanning Noir Series since it debuted in 2004, hoping to one day read a Milwaukee entry. Rarely Milwaukee is represented in fiction, with any specificity. If mentioned, we're doughy rubes with painful accents who fill a bland Midwestern type. Growing up around storytellers like my mom, who taught in the public school system, and grandma, who grew up during the Depression and lived here her whole life, filled me with pride and fascination for a city more notable for its struggling post-industrial decline than progress. Their early influence blended the blue-collar anxieties of our community with a love of crime and mystery fiction, which they passed on to me.
A few years ago, I had coffee with a friend who was working on an anthology in the Noir series. He knew Akashic had been looking to do a Milwaukee entry and he suggested I pitch them, which I did, and to my surprise, they loved it. Working as a freelance book reviewer as well as at a used bookstore fueled my research. I wanted to showcase the diverse pool of talented writers connected to the city. We didn't have an open submission. I sought out work from writers who wouldn't treat this as just a genre exercise with local references thrown in, but a humanistic look at people living in a city struggling to evolve.
Within the same month, I started working on the project, my wife found out she was pregnant. The process of constructing the anthology and the first few years of my son's life are entwined. I had a mental inventory of reasons I was unsuitable for both, but they challenged me to take on roles I never envisioned for myself, to constantly readjust to obstacles. It's been a surreal thrill to put together a book that brings Milwaukee to the center-stage, filled with characters that represent my unpolished Brew City.

***
Thanks so much, Tim!

Before you go, here are a few links that I have deemed Worth Your Time:

Two of my writing heroes, Megan Abbott and Ed Brubaker, talk noir, comics, Hollywood and more.

Brian de Palma is co-writing a crime novel!

Had the honor and pleasure of interviewing the great Laura Lippman about her fantastic new novel, Lady in the Lake.

That's it for now. Don't forget to chip in on this social media thing, okay? I'll owe you a seltzer.

Thanks again!