DEAL ALERT: Silent City is available for 99 cents (for a very limited time)
Hi there!

I won't make a habit of this, but there's a particularly good deal available for those interested in diving into my Pete Fernandez Miami Mystery series. SILENT CITY, the first book in Pete's saga, is available in ebook form for 99 cents. That's less than a buck. This applies to wherever you get your ebooks - Kobo, Nook, Kindle, etc.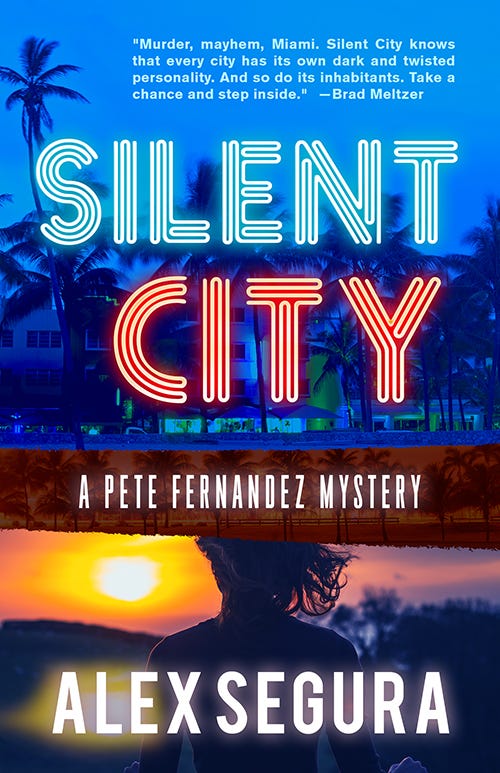 Already have the book? Thanks! If you could spare a minute to share a link for the ebook, that'd be extremely helpful - and hey, it gets people a new book for cheap. What could be better?

Thanks for your patience with this one-off promo email! We will return to our previously scheduled programming very soon.

In case you need more info on SILENT CITY, here's the book description from publisher Polis Books:
Pete Fernandez is a mess. He's on the brink of being fired from his middle-management newspaper job. His fiancée has up and left him. Now, after the sudden death of his father, he's back in his hometown of Miami, slowly drinking himself into oblivion. But when a coworker he barely knows asks Pete to locate a missing daughter, Pete finds himself dragged into a tale of murder, drugs, double-crosses, and memories bursting from the black heart of the Miami underworld—and, shockingly, his father's past.
Making it up as he goes and stumbling as often as he succeeds, Pete's surreptitious quest becomes the wake-up call he's never wanted but has always needed—but one with deadly consequences.
Welcome to Silent City, a story of redemption, broken friendships, lost loves, and one man's efforts to make peace with a long-buried past to save the lives of the few friends he has left. Silent City is a gritty, heartfelt debut novel that harkens back to classic PI tales but infused with the Miami that only Alex Segura knows.
And here are some nice things a few amazing authors have said about the first Pete Fernandez Mystery:

"Murder, mayhem, Miami...and every character has their own great taste in music. Silent City knows that every city has its own dark and twisted personality. And so do its inhabitants. Take a chance and step inside."
—Brad Meltzer, #1 New York Times bestselling author of THE INNER CIRCLE, as well as the bestsellers THE TENTH JUSTICE, DEAD EVEN, THE FIRST COUNSEL, THE MILLIONAIRES, THE ZERO GAME, THE BOOK OF FATE and THE BOOK OF LIES

"Segura's command of tight plotting and realistic characters keeps this energetic debut on track."
—The Miami Herald

"In Silent City, Segura shines a light on a Miami not often seen, one in which neon and glitz are supplanted by the hardscrabble grit of folks just trying to get by. Silent City is a coiled snake, twist after twist bringing you ever closer to its final, stinging bite."
—Chris F. Holm, bestselling author of THE KILLING KIND and RED RIGHT HAND

"Miami glows hot in this debut - Alex Segura is a name to watch." —Jeff Abbott, New York Times bestselling author of DOWNFALL

"Silent City screams off the page! Someone lock Alex Segura in a room until he churns out more tales of Pete Fernandez's Miami! As someone once wrote, 'Please sir, I want more.'"
—Kevin Flynn, author of NOTES ON A KILLING, LEGALLY DEAD and OUR LITTLE SECRET

"Silent City is a top-notch thriller. The action is non-stop, the tension is relentless, and in Pete Fernandez, Alex Segura has created the most compelling, original, and complex multi-layered hero I've encountered in years."
—Andrew Grant, bestselling author of EVEN, DIE TWICE and RUN

"Silent City is a noir page-turner I couldn't put down, a race through the Miami tourists don't see. I loved the book, and can't wait for the next one. Alex Segura is a writer to watch."
—Sara Gran, bestselling author of DOPE and CLAIRE DEWITT AND THE CITY OF THE DEAD

"Silent City is a page-turner right from the get-go, fast and furious and with plenty of bite."
—Adam Christopher, bestselling author of EMPIRE STATE and THE BURNING DARK

"A thrilling read that picks up speed with each page. This book was a fantastic debut in the mystery genre, and I m ecstatic that Pete Fernandez has his own series. Looking forward to more from Segura."
—Steve Weddle, acclaimed author of COUNTRY HARDBALL

"A gritty murder mystery/detective story set in Miami among the ruins of the old guard media."
—The Huffington Post

"Segura is off to a good start with Silent City."
—The Sun-Sentinel

Thanks, and have a great Sunday!